Top Ten Tuesday was created by The Broke and the Bookish and is now hosted by Jana at That Artsy Reader Girl. Check out upcoming Top Ten themes on Jana's blog!
This week's prompt is Books On My Spring 2022 TBR. I have a lot of ARCs to get through this Spring, but I decided to keep them off this list, to make things more interesting.
Books That Are Waiting For Me
There are books that are published and waiting for me on my e-reader!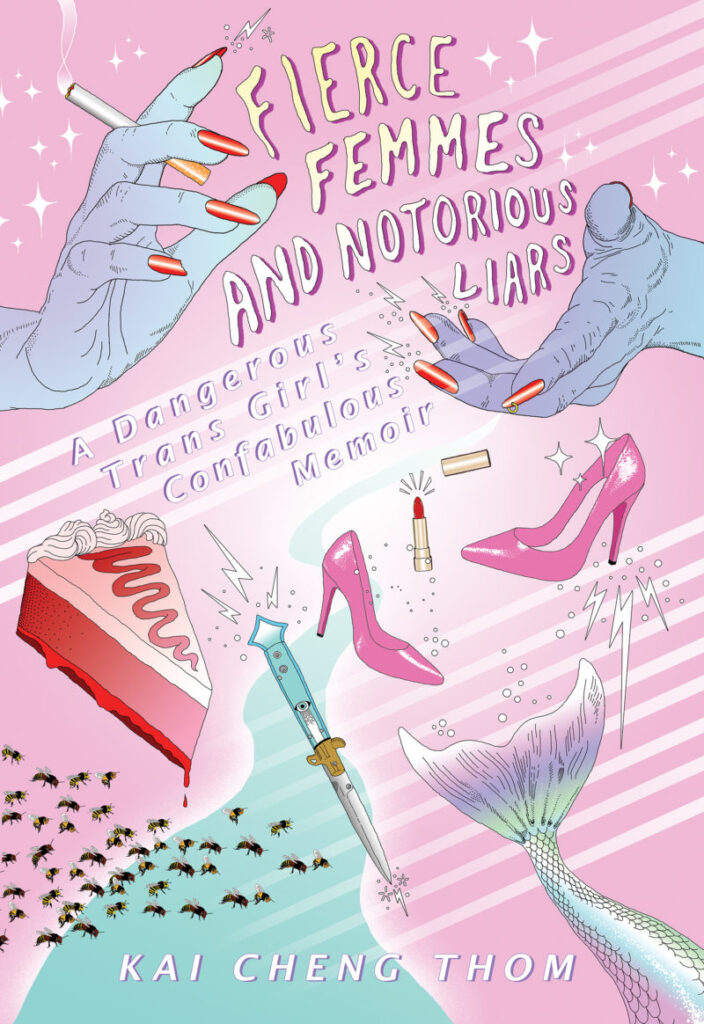 Fierce Femmes and Notorious Liars
by
Kai Cheng Thom
Genres:
Fantasy
,
Magical Realism
,
Queer Protagonists
Goodreads
Fierce Femmes and Notorious Liars: A Dangerous Trans Girl's Confabulous Memoir by Kai Cheng Thom is the highly sensational, ultra-exciting, sort-of true coming-of-age story of a young Asian trans girl, pathological liar, and kung-fu expert who runs away from her parents' abusive home in a rainy city called Gloom. Striking off on her own, she finds her true family in a group of larger-than-life trans femmes who live in a mysterious pleasure district known only as the Street of Miracles. Under the wings of this fierce and fabulous flock, Dearly blossoms into the woman she has always dreamed of being, with a little help from the unscrupulous Doctor Crocodile. When one of their number is brutally murdered, the protagonist joins her sisters in forming a vigilante gang to fight back against the transphobes, violent johns, and cops that stalk the Street of Miracles. But when things go terribly wrong, she must find the truth within herself in order to stop the violence and discover what it really means to grow up and find your family.
This is a book I've been dying to read for years, and when the publisher realised I'd emailed them about it multiple times over those years…they sent me a copy of the ebook!!! Excuse me while I sniffle a bit from Feels and gratitude.
Paradisa
by
Michelle Iannantuono
Genres:
Fantasy
,
Queer Protagonists
Goodreads
Gods may be real, but the true heroes are human. That includes ex-Navy SEAL Connor Bishara, whose life fell apart when a colleague outed him as gay. In the ten years since his discharge, he's lived each day listlessly as a fry cook, supporting his sister Clara's dreams instead of his own.

But as the political tensions of Paradisa - realm of the gods - start to bleed into Earth, a new door opens for saving the world. Taking the fight to them, Connor binds his soul to the enigmatic archangel Raphael—and struggles to cope with the sudden intimacy after years of shutting people out.

With the help of his sister and the varied pantheons of world mythology, Connor must open himself to love and defend men and gods from the encroaching war…or watch an army of evil destroy heaven from within.
This one came up as a recommendation for fans of the Tarot Sequence – and we all know I'm a diehard fan of the Tarot Sequence!
From Dust, a Flame
by
Rebecca Podos
Genres:
Fantasy
,
Queer Protagonists
Goodreads
Hannah's whole life has been spent in motion. Her mother has kept her and her brother, Gabe, on the road for as long as she can remember, leaving a trail of rental homes and faded relationships behind them. No roots, no family but one another, and no explanations.

All of that changes on Hannah's seventeenth birthday when she wakes up transformed, a pair of golden eyes with knife-slit pupils blinking back at her from the mirror—the first of many such impossible mutations. Promising that she knows someone who can help, her mother leaves Hannah and Gabe behind to find a cure. But as the days turn to weeks and their mother doesn't return, they realize it's up to them to find the truth.

What they discover is a family they never knew, and a history more tragic and fantastical than Hannah could have dreamed—one that stretches back to her grandmother's childhood in Prague under the Nazi occupation, and beyond, into the realm of Jewish mysticism and legend. As the past comes crashing into the present, Hannah must hurry to unearth their family's secrets—and confront her own hidden legacy in order to break the curse and save the people she loves most, as well as herself.
I have been waiting for Rebecca Podos to write more fantasy since The Wise and the Wicked – and now she's written one with a Jewish, sapphic MC! Can't believe I haven't started reading this yet.
Our Lady of Mysterious Ailments (Edinburgh Nights #2)
by
T.L. Huchu
Genres:
Fantasy
Goodreads
Ropa Moyo's ghostalking practice has tanked, desperate for money to pay bills and look after her family she reluctantly accepts a job to look into the history of a coma patient receiving treatment at the magical private hospital Our Lady of Mysterious Ailments. The patient is a teenage schoolboy called Max Wu, and healers at the hospital are baffled by the illness which has confounded medicine and magic.

Ropa's investigation leads her to the Edinburgh Ordinary School for Boys, one of only the four registered schools for magic in the whole of Scotland (the oldest and only one that remains closed to female students).
But the headmaster there is hiding something and as more students succumb Ropa learns that a long-dormant and malevolent entity has once again taken hold in this world.

She sets off to track the current host for this spirit and try to stop it before other lives are endangered.
See above – I can't believe I haven't cracked this open yet. I adored the first book in the series and really, really need to know what happens next!!!
Books I've Begun
Books I have actually started reading – I read a lot of books at once – but that are at risk of being overshadowed by the ARCs I need to get read!
Ansible: A Thousand Faces (The Complete Omnibus of Seasons 1-3)
by
Stant Litore
Genres:
Queer Protagonists
,
Sci Fi
Goodreads
This omnibus edition includes the entire Ansible series: Seasons 1-3.

"My mind has touched the stars, wearing a thousand faces..."

In Ansible, 25th century Islamic explorers transfer their minds across space and time to make first contact...and get marooned in alien bodies on alien worlds. Along the way, they encounter the most dangerous predator humanity has ever faced. And that species knows where earth is. Now a hijabi shapeshifter and her band of time travelers are all that stand between humanity and the last dark.
I recently read and loved this anchor's book about sapphic dinosaur riders, Incursion (reviewed here) and couldn't resist pouncing on another of his works – especially when Ansible was pitched to me as featuring a 'bisexual hijabi shapeshifting time traveler'!
Full disclosure, the first few stories in this collection are pretty dark, but I have been assured that things don't stay grim for long.
Base Notes
by
Lara Elena Donnelly
Genres:
Queer Protagonists
,
Speculative Fiction
Goodreads
A lasting impression is worth killing for in this intoxicating novel about memories and murder by the author of the Amberlough Dossier series.

In New York City everybody needs a side hustle, and perfumer Vic Fowler has developed a delicate art that has proved to be very lucrative: creating bespoke scents that evoke immersive memories—memories that, for Vic's clients, are worth killing for. But the city is expensive, and these days even artisanal murder doesn't pay the bills. When Joseph Eisner, a former client with deep pockets, offers Vic an opportunity to expand the enterprise, the money is too good to turn down. But the job is too intricate—and too dangerous—to attempt alone.

Manipulating fellow struggling artists into acting as accomplices is easy. Like Vic, they too are on the verge of burnout and bankruptcy. But as relationships become more complicated, Vic's careful plans start to unravel. Hounded by guilt and a tenacious private investigator, Vic grows increasingly desperate to complete Eisner's commission. Is there anyone—friends, lovers, coconspirators—that Vic won't sacrifice for art?
I'm a complete sucker for sensory prose, and this is a whole book about perfume! Perfume made by a nonbinary murderer! From an author I adore! And I love what I've read of it so far!
So gotta make time to actually keep reading it.
Bitter
by
Akwaeke Emezi
Genres:
Fantasy
Goodreads

From National Book Award finalist Akwaeke Emezi comes a companion novel to the critically acclaimed PET that explores both the importance and cost of social revolution--and how youth lead the way.

After a childhood in foster care, Bitter is thrilled to have been chosen to attend Eucalyptus, a special school where she can focus on her painting surrounded by other creative teens. But outside this haven, the streets are filled with protests against the deep injustices that grip the city of Lucille.

Bitter's instinct is to stay safe within the walls of Eucalyptus . . . but her friends aren't willing to settle for a world that's so far away from what they deserve. Pulled between old friendships, her artistic passion, and a new romance, Bitter isn't sure where she belongs--in the studio or in the streets. And if she does find a way to help the revolution while being true to who she is, she must also ask: at what cost?

This timely and riveting novel--a companion to the National Book Award finalist Pet--explores the power of youth, protest, and art.
See above. Sigh. It's the prequel to one of my favourite books ever, too!
The Embroidered Book
by
Kate Heartfield
Genres:
Fantasy
,
Historical Fantasy
Goodreads
'Power is not something you are given. Power is something you take. When you are a woman, it is a little more difficult, that's all'

1768. Charlotte arrives in Naples to marry a man she has never met. Two years later, her sister Antoine is sent to France to marry another stranger. In the mirrored corridors of Versailles, they rename her Marie Antoinette.

But the sisters are not powerless. When they were only children, Charlotte and Antoine discovered a book of spells – spells that seem to work, with dark and unpredictable consequences.
In a world of vicious court politics, of discovery and dizzying change, Charlotte and Antoine use their secret skills to redefine their lives, becoming the most influential women of the age.

But every spell requires a sacrifice. As love between the sisters turns to rivalry, they will send Europe spiralling into revolution.
I haven't read a book quite like this one before – it does interesting things with, not time-skips but time-skims, maybe? Is that a thing? It should be a thing. The prose is so elegant, and the magic system not quite like any I've seen before (it takes…a lot out of you) and I'm fascinated to see how Heartfield weaves her narrative in with historical events. NEED TO GET BACK TO THIS!
Books I Need to Read For ARCs
A few of my ARCs are sequels, which means I want to reread the earlier books in their respective series to prepare for them!
The Stone in the Skull (Lotus Kingdoms, #1)
by
Elizabeth Bear
Genres:
Fantasy
,
High Fantasy
,
Queer Protagonists
Goodreads
The Stone in the Skull, the first volume in her new trilogy, takes readers over the dangerous mountain passes of the Steles of the Sky and south into the Lotus Kingdoms.

The Gage is a brass automaton created by a wizard of Messaline around the core of a human being. His wizard is long dead, and he works as a mercenary. He is carrying a message from a the most powerful sorcerer of Messaline to the Rajni of the Lotus Kingdom. With him is The Dead Man, a bitter survivor of the body guard of the deposed Uthman Caliphate, protecting the message and the Gage. They are friends, of a peculiar sort.

They are walking into a dynastic war between the rulers of the shattered bits of a once great Empire.
I'm a passionate fan both of Bear's Eternal Sky and Lotus Kingdoms trilogies, which take place in the same verse, and I have an ARC for book three of the Lotus Kingdoms books. But I definitely need a refresher before I dive in!
The Border Keeper
by
Kerstin Hall
Genres:
Fantasy
Published on:
16th July 2019
Goodreads
"Beautifully and vividly imagined. Eerie, lovely, and surreal"—Ann Leckie

"Lush prose weaves around a dark heart in this twisty debut from Kerstin Hall. A fantastical wonder on every page, but one coated in blood, death and suffering."—JY Yang

She lived where the railway tracks met the saltpan, on the Ahri side of the shadowline. In the old days, when people still talked about her, she was known as the end-of-the-line woman.

In The Border Keeper, debut author Kerstin Hall unfolds a lyrical underworld narrative about loss and renewal.

Vasethe, a man with a troubled past, comes to seek a favor from a woman who is not what she seems, and must enter the nine hundred and ninety-nine realms of Mkalis, the world of spirits, where gods and demons wage endless war.

The Border Keeper spins wonders both epic—the Byzantine bureaucracy of hundreds of demon realms, impossible oceans, hidden fortresses—and devastatingly personal—a spear flung straight, the profound terror and power of motherhood. What Vasethe discovers in Mkalis threatens to bring his own secrets into light and throw both worlds into chaos.
This blew me away when I read it the first time, and now I need to reread it so I have everything clear in my head when I dive into Second Spear.
That's my 10! What will you be reading this Spring?
Related Posts