Today is the International Transgender Day of Visibility, and the best way I know to celebrate these things is, obviously, with book recs. So behold my list of SFF featuring trans and nonbinary main characters!
Enjoy!
Wrath Goddess Sing
by
Maya Deane
Genres:
Fantasy
,
Epic Fantasy
,
Historical Fantasy
,
Queer Protagonists
Representation:
Bi/pansexual trans MC
Goodreads
Drawing on ancient texts and modern archeology to reveal the trans woman's story hidden underneath the well-known myths of The Iliad, Maya Deane's Wrath Goddess Sing weaves a compelling, pitilessly beautiful vision of Achilles' vanished world, perfect for fans of Song of Achilles and the Inheritance trilogy.

The gods wanted blood. She fought for love.

Achilles has fled her home and her vicious Myrmidon clan to live as a woman with the kallai, the transgender priestesses of Great Mother Aphrodite. When Odysseus comes to recruit the "prince" Achilles for a war against the Hittites, she prepares to die rather than fight as a man. However, her divine mother, Athena, intervenes, transforming her body into the woman's body she always longed for, and promises her everything: glory, power, fame, victory in war, and, most importantly, a child born of her own body. Reunited with her beloved cousin, Patroklos, and his brilliant wife, the sorceress Meryapi, Achilles sets out to war with a vengeance.

But the gods—a dysfunctional family of abusive immortals that have glutted on human sacrifices for centuries—have woven ancient schemes more blood-soaked and nightmarish than Achilles can imagine. At the center of it all is the cruel, immortal Helen, who sees Achilles as a worthy enemy after millennia of ennui and emptiness. In love with her newfound nemesis, Helen sets out to destroy everything and everyone Achilles cherishes, seeking a battle to the death.

An innovative spin on a familiar tale, this is the Trojan War unlike anything ever told, and an Achilles whose vulnerability is revealed by the people she chooses to fight…and chooses to trust.
Wrath Goddess Sing is a rich, epic power-fantasy, grounded in real history and archaeology and brought to life with some seriously incredible myth-weaving. Deane's take on the gods and the nature of divinity made me starry-eyed, and that's without going into the breathtaking prose and rich, legendary story. Equally approachable for those who have studied the Illiad and those who have never heard of it!
You can read my full review here!
The Story of the Hundred Promises
by
Neil Cochrane
Genres:
Fantasy
,
Queer Protagonists
Representation:
Trans MC, nonbinary MC, aroace rep
Goodreads
A loose retelling of "Beauty and the Beast" that centers queer and trans characters
Trans sailor Darragh Thorn has made a comfortable life for himself among people who love and accept him. Ten years after his exile from home, though, his sister asks him to reconcile with their ailing father. Determined to resolve his feelings rather than just survive them, Darragh sets off on a quest to find the one person who can heal a half-dead man: the mysterious enchanter who once gave him the magic he needed to become his true self. But so far as anyone knows, no one but Darragh has seen the enchanter for a century, and the fairy tales that survive about em give more cause for fear than hope. In lush and evocative prose, and populated with magical trees and a wise fox, The Story of the Hundred Promises is a big-hearted fantasy suffused with queer optimism.
Okay, this really isn't a Beauty and the Beast retelling – it has a few motifs in common with B&B, but anyone looking for a B&B retelling will be disappointed, because this is not that story. What it is is a very sweet, quiet story about magic, transcending the gender binary, and finding or making a place for yourself in the world. There are some scenes of impressive magic, but this isn't a high-paced action thriller thing. Instead, it's heartwarming and hopeful, and definitely deserves to be more well-known!
When the Angels Left the Old Country
by
Sacha Lamb
Genres:
Fantasy
,
Historical Fantasy
,
Queer Protagonists
Representation:
Nonbinary MC, queerplatonic MCs, sapphic MC
Goodreads
A queer immigrant fairytale about individual purpose, the fluid nature of identity, and the power of love to change and endure.

Uriel the angel and Little Ash (short for Ashmedai) are the only two supernatural creatures in their shtetl (which is so tiny, it doesn't have a name other than Shtetl). The angel and the demon have been studying together for centuries, but pogroms and the search for a new life have drawn all the young people from their village to America. When one of those young emigrants goes missing, Uriel and Little Ash set off to find her.

Along the way the angel and demon encounter humans in need of their help, including Rose Cohen, whose best friend (and the love of her life) has abandoned her to marry a man, and Malke Shulman, whose father died mysteriously on his way to America. But there are obstacles ahead of them as difficult as what they've left behind. Medical exams (and demons) at Ellis Island. Corrupt officials, cruel mob bosses, murderers, poverty. The streets are far from paved with gold.
This is extremely cute and sweet, and once again, the stakes are nice and low – saving the world will not be required! Which is good, because, um, Uriel and Little Ash have a tricky time intervening in human affairs.
I promise that it is every bit as adorable as it sounds!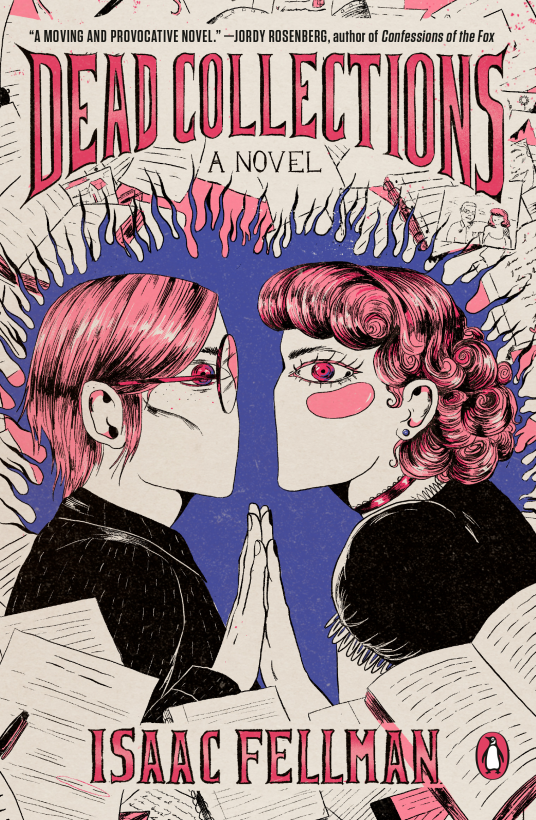 Dead Collections
by
Isaac Fellman
Genres:
Queer Protagonists
,
Speculative Fiction
Representation:
Trans MC, bi/pansexual love interest
Goodreads
A whirlwind romance between an eccentric archivist and a grieving widow explores what it means to be at home in your own body in this clever, humorous, and heartfelt novel.

When archivist Sol meets Elsie, the larger than life widow of a moderately famous television writer who's come to donate her wife's papers, there's an instant spark. But Sol has a secret: he suffers from an illness called vampirism, and hides from the sun by living in his basement office. On their way to falling in love, the two traverse grief, delve into the Internet fandom they once unknowingly shared, and navigate the realities of transphobia and the stigmas of carrying the "vampire disease."

Then, when strange things start happening at the collection, Sol must embrace even more of the unknown to save himself and his job. DEAD COLLECTIONS is a wry novel full of heart and empathy, that celebrates the journey, the difficulties and joys, in finding love and comfort within our own bodies.
The main character of Dead Collections is a vampire archivist who bonds with the love interest over fandom; enough said, surely? This is another very low-key book; Sol's form of vampirism is not very dramatic, and happily there are no vampire hunters or anything like that to deal with! Although the sun does need avoiding still…
These Imperfect Reflections: Short Stories
by
Merc Fenn Wolfmoor
Genres:
Fantasy
,
Queer Protagonists
,
Science Fantasy
Representation:
Queer cast, autistic rep, disability rep
Goodreads
What's the price of revolution backed by artificial intelligence? Can you change the past to free ghosts trapped in endless loops? Do fairy tales always end the same way?

Follow a battle poet on aer quest to save a kingdom; witness the last documentary about alien whales; and travel with the Wolf who is prophesied to eat the sun as they look for alternatives to their fate.
From living trains to space stations populated with monsters, these eleven fantasy and science fiction stories from Merc Fenn Wolfmoor will take you on otherworldly adventures that are tethered to the heart.
This is a GLORIOUS collection of short stories that revolve around the theme of overcoming despair – which usually means giving the finger to totalitarian governments, meaningless wars, and fates you didn't choose for yourself. Seriously, this is utterly breathtaking; Wolfmoor's imagination is matched only by the beauty of their prose, and both together are an indescribable DELIGHT.
A Slice of Mars
by
Guerric Haché
Genres:
Queer Protagonists
,
Sci Fi
Representation:
Nonbinary MC, sapphic autistic MC
Goodreads
Mars is a strange place these days. Corporate overlords, capitalism, and even aging are things of the past on a planet increasingly brimming with biodiversity - yet pizzerias are in short supply!

Siblings Hett and San set out to change that. But a roboticist and a bureaucrat can't run a restaurant alone, so they bring on some help - a bioengineer, a communications scientist, and an unlikely grad student from Earth. Together, this gang of geeks will brave the fires of small business.

But work is just a small part of life. People are complicated. Different brains, different wounds, different values, and one questionably tame wildcat will all collide as they try to grow and succeed together. What comes out of the oven, in the end, is anyone's guess.
This is a long, low-stakes, deliciously self-indulgent standalone set on a pretty utopian Mars (not completely utopian, but damn close!) centuries from now. It's a lot of fun, with lots of interesting ideas I haven't seen before – like new ways of moderating the internet, a form of human immortality I never would have dreamed up, and mandalas on pizzas 🙂
Towards the end of the book there's some conflict, but it's still pretty small-scale and it's resolved quickly. Really, it's just super feel-good, and I loved absolutely EVERYTHING about it!
That's it from me – happy International Transgender Day of Visibility, everyone!
For more recs, see also
Fantasy Featuring Fabulous Trans Leads
Your Gender Binary Is Imaginary: Non-Binary Characters in Fantasy (+ Bonus SciFi)
Your Gender Binary is Still Imaginary: SFF For International Non-Binary People's Day!
SFF Faves From Trans and Non-Binary Authors!
Related Posts