I have been an EXTREMELY busy bee this month!
Read
15 books this month is…pretty bad for me. Especially given that five of them are novellas. I just couldn't focus on anything this month, which made reading a real struggle. But the books I did read were stunning! Dark Breakers, Choir of Lies, and Inheritors of Power were the first-time-read standouts, and it was a joy to reread Radiance and The Last Sun (the latter as part of the #TTSReadalong I and the rest of the TTSPromo team are running on Goodreads and Twitter).
The Body Keeps the Score is the first non-fiction book I've read in a while; I read it on the recommendation of my new therapist. I started it months ago; it's not a quick, easy read, but reading it was like getting my autism diagnosis – it made sense of a lot of things, and that felt like relief.
This month, 26.67% of the books I read were by BIPOC authors. That's down from January's 35%, but it's not terrible.
Reviewed
Five full reviews this month! And I'm pretty pleased with how all of them turned out. (It can be agonising trying to write a review worthy of an amazing books, and there was a lot of that this month!)
DNF-ed
I wrote DNF reviews for these too, most of them quite short. I sweat and bled over my thoughts on Silk Fire, though, and I have a 'real' review for it almost finished. The TL;DR version is that it's a trainwreck. The other books weren't bad, though, it was more a case of my not being the right reader for them.
ARCs Received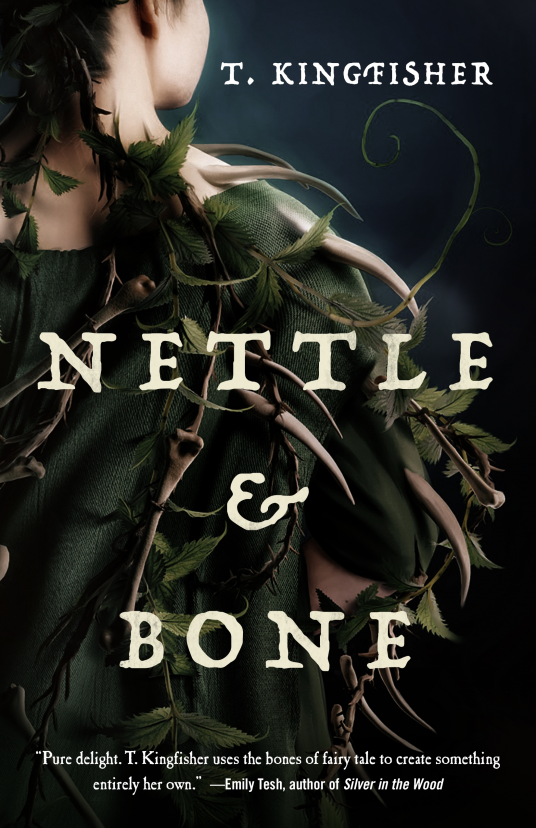 A GREAT DEAL OF DELIGHTED SHRIEKING THIS MONTH! Almost all of these are on my Unmissable SFF of 2022 list, so being approved for ARCs of them was extremely exciting!
The Stardust Thief I unfortunately had to DNF, and I finished reading Nettle & Bone just this morning (fear not, a review is forthcoming). I was really touched that Queen of Swords Press reached out to offer me a copy of The Language of Roses after I featured it in my Can't Wait For post last week – I doubt I'll ever stop feeling flattered and flaily when I'm offered an ARC; it's an even bigger deal than having a request for one be approved!
Ordinary Monsters and The Ballad of Perilous Graves are both gambles – I don't know the authors, have no strong feelings about the publishers, and I wasn't able to find excerpts of the books online – but after dipping into them both, I'm pretty sure they're gambles that are going to pay off…
ARCs Outstanding
Not gonna lie, I'm feeling a bit overwhelmed! But also incredibly excited for each and every one of these! Several I'm currently reading – though I continue to have to read Saint Death's Daughter in sips, because it is so exquisite and gorgeous and wonderful that it's almost overwhelming. IN THE BEST WAY.
The Hourglass Throne I've already read, but I'm going to need to reread it at least once more time before trying to put my thoughts down in any kind of coherent way.
Rec Lists & Misc
This month marked the beginning of the Subjective Chaos Kind of Awards, which I was invited to join as a judge this year! I've managed to gather together almost all of the books I have to read for the categories I'm judging, but I'm waaaay behind on actually reading them. I'm considering cashing in some of my vacation days at work so I can just spend a week doing nothing but read…
I made quite a few changes to my Unmissable SFF of 2022 list; editing pub dates as some books were pushed back, adding covers as they were revealed by the publishers, adding new books that I only just heard of (like Mary McMyne's The Book of Gothel and Silver Under Nightfall by Rin Chupeco, among others), and crossing some off (like Silk Fire by Zabe Ellor, with prejudice). As of this post my Unmissable list is 98 books long!
I've also been hard at work running the TTSPromo Twitter account – as part of the hype campaign for The Hourglass Throne by K.D. Edwards – and arranging the promo tour for the same. The TTSPromo team is freaking incredible, and I've been so impressed by all the people who signed up for the promo tour. That starts next month, and I can't wait to see everyone's posts!
Looking Forward
The 1st of March is my birthday – I'll be 29 years old! – and there's a ton of books I'm excited for. (I don't know why, but my birthday month tends to be packed with awesome SFF every year. I'M NOT COMPLAINING!) From Dust, A Flame is Podos' first fantasy novel since The Wise and the Wicked, which is the book that made me her fan for life; The Bone Orchard is a lush political fantasy with necromancy and comps to Jacqueline Carey; we're getting a NEW MCLEMORE BOOK, which will obviously be epic; and I've fallen head first into the hype for The Shadow Glass. And there are so many more!
MARCH IS GONNA BE A GREAT BOOK-MONTH!