A very good haul indeed: TEN books of interest this week!
(Books are listed in order of pub date, then Adult SFF, Adult Other, YA SFF, YA Other, MG SFF.)
The Winter Knight
by
Jes Battis
Genres:
Fantasy
,
Contemporary or Urban Fantasy
,
Queer Protagonists
Representation:
Gay autistic MC, ace-spectrum sapphic MC, major Asian-American trans character
Published on:
4th April 2023
Goodreads
Arthurian legends are reborn in this upbeat queer urban fantasy with a mystery at its heart

The knights of the round table are alive in Vancouver, but when one winds up dead, it's clear the familiar stories have taken a left turn. Hildie, a Valkyrie and the investigator assigned to the case, wants to find the killer — and maybe figure her life out while she's at it. On her short list of suspects is Wayne, an autistic college student and the reincarnation of Sir Gawain, who these days is just trying to survive in a world that wasn't made for him. After finding himself at the scene of the crime, Wayne is pulled deeper into his medieval family history while trying to navigate a new relationship with the dean's charming assistant, Burt — who also happens to be a prime murder suspect. To figure out the truth, Wayne and Hildie have to connect with dangerous forces: fallen knights, tricky runesmiths, the Wyrd Sisters of Gastown. And a hungry beast that stalks Wayne's dreams.

The Winter Knight is a propulsive urban fairy tale and detective story with queer and trans heroes that asks what it means to be a myth, who gets to star in these tales, and ultimately, how we make our stories our own.
I absolutely adored this very unconventional take on the nature of legends, with reincarnated Arthurian knights running round being queer in Vancouver. It should be noted that this is not a retelling; it's very much its own original story that muses on the Arthurian mythos without just regurgitating it. It's a pretty introspective and dreamy fantasy that also features heavy Nordic influences, which turned out to be a GREAT mix with all the King Arthur stuff!
You can read my review here!
The Way Home: Two Novellas from the World of The Last Unicorn (The Last Unicorn)
by
Peter S. Beagle
Genres:
Fantasy
Published on:
4th April 2023
Goodreads
One brand-new, long-awaited novella, and one Hugo and Nebula award winning novella, both featuring characters from the beloved classic The Last Unicorn, from renowned fantasy writer Peter S. Beagle.

Peter S. Beagle's The Last Unicorn is one of fantasy's most beloved classics, with millions of copies in print worldwide.

Beagle's long-awaited return to the world of that novel came with "Two Hearts," which garnered Hugo and Nebula awards in 2006, and continued the stories of the unicorn, Molly Grue, and Schmendrick the Magician from the point of view of a young girl named Sooz.

In this volume, Peter S. Beagle also presents for the first time "Sooz," a novella that sees the narrator of "Two Hearts," all grown up and with a perilous journey ahead of her, in a tender meditation on love, loss, and finding your true self.
I love unicorns, but I'm actually not much of a Last Unicorn fan (I realise this is basically heresy!) That doesn't mean I'm not interested in revisiting that world, though, and there was no way I wasn't going to include The Way Home as one of this week's releases-of-interest!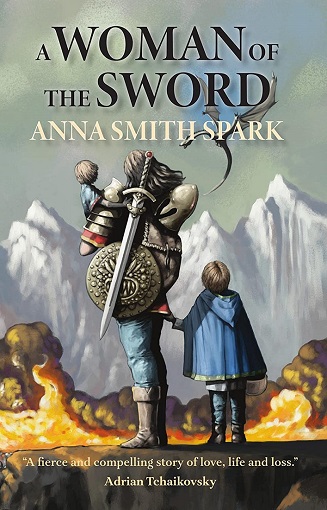 A Woman of the Sword
by
Anna Smith Spark
Genres:
Fantasy
Published on:
4th April 2023
Goodreads
A Woman of the Sword is an epic fantasy seen through the eyes of an ordinary woman. Lidae is a daughter, a wife, a mother - and a great warrior born to fight. Her sword is hungry for killing, her right hand is red with blood.

War is very much a woman's business. But war is not kind to women. And war is not kind to mothers and their sons.
I am wary of Spark's reputation as a writer of grimdark – which I often don't have the stomach for – but I'm really curious about main characters who are also mothers, especially in the kind of setting Spark is likely to create. So I will be checking this one out for sure!
Of Blood, Bones, and Truth (Brimstone and Fire, #1)
by
T.M. Ledvina
Genres:
Fantasy
,
Queer Protagonists
Representation:
M/M
Published on:
4th April 2023
Goodreads
Kellan Manchester, an indentured political assassin, wants to lead a life of his own choosing. But as one of the Fallen - celestial descendants who are still paying for their ancestor's mistakes - he has no choice but to do as he's commanded.

All Cassian Evermore wants is to pay off his father's debts and ensure his mother's safety. Being forced to work for someone he hates is soul-crushing, but when he meets Legion assassin Kellan in the garden of a target's home, he can't help but wonder if he's finally found something interesting.

Thanks to a fortuitous meeting in a nightclub, the two men form a tentative agreement to work together to solve a brutal string of murders in Spiral City. Kellan finds himself struggling to connect the dots, while Cassian juggles the emotional toll of targeting someone he's come to see as a friend.

And neither of them can ignore their budding feelings for one another, even while the bodies continue to pile up.

Kellan and Cassian are two men with no control over their own fates - but this case could spell the same for the entire world.
I am cautiously intrigued by the reference to a 'celestial heritage' – could Ledvina be playing with a new take on the mythos of the Nephilim, maybe? I'm very into angelic lore, so I'll probably give this a go to check out the magic and worldbuilding.
Blood Debts
by
Terry J. Benton-Walker
Genres:
Fantasy
,
Contemporary or Urban Fantasy
,
Queer Protagonists
Representation:
Black MC, Black gay MC
Published on:
4th April 2023
Goodreads
Thirty years ago, a young woman was murdered, a family was lynched, and New Orleans saw the greatest magical massacre in its history. In the days that followed, a throne was stolen from a queen.

On the anniversary of these brutal events, Clement and Cristina Trudeau—the sixteen-year-old twin heirs to the powerful, magical, dethroned family—are mourning their father and caring for their sick mother. Until, by chance, they discover their mother isn't sick—she's cursed. Cursed by someone on the very magic council their family used to rule. Someone who will come for them next.

Cristina, once a talented and dedicated practitioner of Generational magic, has given up magic for good. An ancient spell is what killed their father and she was the one who cast it. For Clement, magic is his lifeline. A distraction from his anger and pain. Even better than the random guys he hooks up with.

Cristina and Clement used to be each other's most trusted confidant and friend, now they barely speak. But if they have any hope of discovering who is coming after their family, they'll have to find a way to trust each other and their family's magic, all while solving the decades-old murder that sparked the still-rising tensions between the city's magical and non-magical communities. And if they don't succeed, New Orleans may see another massacre. Or worse.

Terry J. Benton-Walker's contemporary fantasy debut, Blood Debts, with powerful magical families, intergenerational curses, and deadly drama in New Orleans.
I have heard many good things about Blood Debts, and I always have high hopes for releases from Tor! Pretty excited to finally be getting to read this one!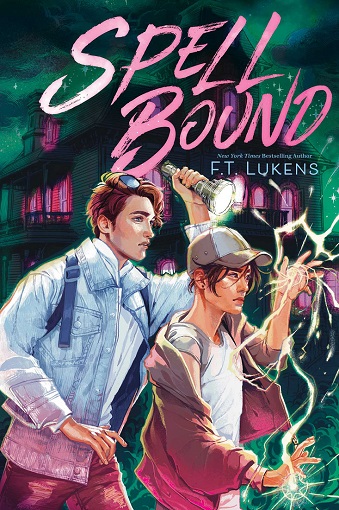 Spell Bound
by
F.T. Lukens
Genres:
Fantasy
,
Contemporary or Urban Fantasy
,
Queer Protagonists
Representation:
M/M
Published on:
4th April 2023
Goodreads
Two rival apprentice sorcerers must team up to save their teachers and protect their own magic in this lively young adult romantic adventure from the New York Times bestselling author of In Deeper Waters and So This Is Ever After.

Edison Rooker isn't sure what to expect when he enters the office of Antonia Hex, the powerful sorceress who runs a call center for magical emergencies. He doesn't have much experience with hexes or curses. Heck, he doesn't even have magic. But he does have a plan—to regain the access to the magical world he lost when his grandmother passed.

Antonia is…intimidating, but she gives him a job and a new name—Rook—both of which he's happy to accept. Now all Rook has to do is keep his Spell Binder, an illegal magical detection device, hidden from the Magical Consortium. And contend with Sun, the grumpy and annoyingly cute apprentice to Antonia's rival colleague, Fable. But dealing with competition isn't so bad; as Sun seems to pop up more and more, and Rook minds less and less.

But when the Consortium gets wind of Rook's Spell Binder, they come for Antonia. All alone, Rook runs to the only other magical person he knows: Sun. Except Fable has also been attacked, and now Rook and Sun have no choice but to work together to get their mentors back…or face losing their magic forever.
I'm intrigued by the premise, and again, I've heard some pretty good things about this one (though I can't remember where). Guess we'll see how it goes!
Once There Was
by
Kiyash Monsef
Genres:
Fantasy
,
Contemporary or Urban Fantasy
Representation:
Iraniam American MC
Published on:
4th April 2023
Goodreads
Fantastic Beasts and Where to Find Them meets Neil Gaiman in this thrilling novel about an Iranian American girl who discovers that her father was secretly a veterinarian to magical creatures—and that she must take up his mantle, despite the many dangers.

Once was, once wasn't.

So began the stories Marjan's father told her as a little girl—fables like the story of the girl who sprung a unicorn from a hunter's snare, or the nomad boy who rescued a baby shirdal. Tales of mythical beasts that filled her with curiosity and wonder.

But Marjan's not a little girl anymore. In the wake of her father's sudden death, she is trying to hold it all together: her schoolwork, friendships, and keeping her dad's shoestring veterinary practice from going under. Then, one day, she receives a visitor who reveals something stunning: Marjan's father was no ordinary veterinarian. The creatures out of the stories he told her were real—and he traveled the world to care for them. And now that he's gone, she must take his place.

Marjan steps into a secret world hidden in plain sight, where magical creatures are bought and sold, treasured and trapped. She finds friends she never knew she needed—a charming British boy who grew up with a griffon, a runaway witch seeking magic and home—while trying to hide her double life from her old friends and classmates.

The deeper Marjan gets into treating these animals, the closer she comes to finding who killed her father—and to a shocking truth that will reawaken her sense of wonder and put humans and beasts in the gravest of danger.
This made it onto my most anticipated SFF of 2023 list, and my excitement has not waned! MAGICAL CREATURES VET HAS GOT TO BE ONE OF THE BEST JOBS EVER! And it's one I don't get to read about nearly often enough, so yes, I am HYPED for this one!!!
Femme Fairytales
by
Monroe Wildrose
Genres:
Fantasy
Representation:
Mid- and plus-sized MCs
Published on:
5th April 2023
Goodreads
Femme Fairytales is a series of short fairytale retellings that feature mid-size and plus-size female main characters. Follow these stories as each author offers a unique take on a classic fairytale, sure to leave you turning pages and wishing all fairytale books were like this one.

Featuring retellings of: Snow White, Sleeping Beauty, Little Mermaid, The Nightingale in the Mosque, The Princess and the Pea, Hansel and Gretel, The Goose Girl, and more!
I'm curious about how different the usual fairytales will be with bigger protagonists; I really hope this is a good collection, because we definitely need more heroines (and heroes!) who get to be fat and awesome. I don't know so much about other genres, but fantasy in particular has a very long history of really blatant fatphobia, which I'd love to see stamped out already.
The Modern Mythos Anomaly
by
Juniper Lake Fitzgerald
Genres:
Fantasy
,
Queer Protagonists
Representation:
M/M
Published on:
7th April 2023
Goodreads
"Memory's haunt conjures the most arrant of ghosts..."

Python is a drifter, a vampire living his eternal life on the road and liking it that way. Beholden to nothing and certainly to no one.But such a lifestyle doesn't come without creating enemies. Most notably, a pesky vampire hunter he cant seem to shake.When he stumbles upon a seemingly abandoned cabin the woods, Python sees the perfect escape and a place to hide.

But what he didn't expect was for someone to be home…

When recluse warlock Calysto's peaceful life is upended by the arrival of a chaotic disaster in the form of a loudmouthed vampire, he and his teleporting house become the target of the hunter, too.

Calysto knows it's all Python's fault that he's in this mess. That is, until Calysto makes a mistake, and in his hurry to flee transports them over one hundred years into the past.

Confronted with lives they both had hoped to forget, not to mention the memories they most definitely did, Calysto and Python must try to put aside their many differences and increasingly complicated feelings to learn to work together. Or else they risk being stuck in the past -- and with each other -- forever.

This is an adult book with themes that are not suitable for minors. Content warnings are included before the title page, available for view within the sample.
Who wouldn't want a teleporting house??? Although the blurb seems to imply it can maybe also teleport through time??? Definitely interesting enough to check out!
Tell Me How It Ends
by
Quinton Li
Genres:
Fantasy
,
Queer Protagonists
Representation:
Autistic lesbian MC with anxiety, nonbinary aroace MC with ADHD
Published on:
9th April 2023
Goodreads
A coming-of-age cozy fantasy with a queer cast, witches, and tarot. Perfect for fans of Legends & Lattes and Our Flag Means Death

Iris Galacia's tarot cards do more than entertain gamblers.

With the flip of her fingers she can predict the future and uncover a person's secrets. But under the watchful eye of her mother, she is on thin ice for pursuing a passion in the family business, and then cracks start to form until she eventually she falls through.
She is given an ultimatum — a test to prove her worth: earn a thousand coins or leave the business, and the family.

Enter Marin Boudreau, a charming young person who can scale buildings and break off doorknobs, who comes for her help to rescue a witch who's been falsely imprisoned in Excava Kingdom.

And Marin is willing to pay a high sum for her talents.

But saving a prisoner from royal hands isn't easy, nor is leaving home for the first time in eighteen years.

Now Iris must learn to trust in herself, Marin, and this new magical world, while racing the clock before the royals decide the fate of the witch, and before any secrets catch up to her.

TELL ME HOW IT ENDS features LGBTQ+, disabled, neurodivergent, cultural, and mental health representation. The main character, Iris Galacia, is a lesbian tarot reader with anxiety and autism. The second main character, Marin Boudreau, is an aromantic asexual non-binary person with ADHD.
I did DNF my arc of this, but it was very much an it's not you it's me thing, so I do encourage you to give it a go if the premise sounds interesting to you!
Will you be reading any of these? Let me know!
Related Posts