Five DNFs this month – three ARCs, and two books I bought myself.
We All Fall Down
by
Rose Szabo
Genres:
Fantasy
,
Contemporary or Urban Fantasy
,
Queer Protagonists
Representation:
Fat Black achillean MC, genderfluid MC, Black trans MC, sapphic MC
Published on:
7th June 2022
ISBN:
0374314330
Goodreads
The first book in a dark fantasy YA duology by Rose Szabo, the author of What Big Teeth, about the power and danger of stories and the untold costs of keeping magic alive, perfect for fans of Aiden Thomas and Marie Rutkoski.

In River City, where magic used to thrive and is now fading, the witches who once ruled the city along with their powerful King have become all but obsolete. The city's crumbling government is now controlled primarily by the new university and teaching hospital, which has grown to take over half of the city.

Moving between the decaying Old City and the ruthless New, four young queer people struggle with the daily hazards of life—work, school, dodging ruthless cops and unscrupulous scientists—not realizing that they have been selected to play in an age-old drama that revives the flow of magic through their world. When a mysterious death rocks their fragile peace, the four are brought into each other's orbits as they uncover a deeper magical conspiracy.

Devastating, gorgeous, and utterly unique, We All Fall Down examines the complex network of pain created by power differentials, even between people who love each other—and how it is possible to be queer and turn out just fine.
I received this book for free from the publisher via NetGalley in exchange for an honest review. This does not affect my opinion of the book or the content of my review.
I didn't hate We All Fall Down…but there's a problem when I'm at 61% and don't care how a book is going to end.
On paper, this should have been a book I adored, and I went in hoping to love it. And I do think some of the critiques I've seen are unfair: I never had any trouble keeping up with what was going on, and it's not misgendering when the characters themselves haven't figured out their genders or pronouns yet. Very few of us wake up one day understanding we want to use nonbinary pronouns from now on, or are ready to come out as girls when people think we're guys. That takes time, and these kind of character arcs should be messy and uncertain and complicated. They should be allowed to be.
Gender stuff aside, We All Fall Down just fell really flat for me. I just didn't care about any of the characters, and I really wasn't invested in most of the plotlines. It's hard to put my finger on why. I was so happy this was written in third-person, not first-person, but the prose itself was nothing special, the worldbuilding felt frustratingly simplistic and yet went mostly unexplained, and the characters all seemed to be defined by just one or two traits. A fair bit of the book moved very slowly, but the story wasn't really introspective enough to make that work – and at other times things seemed convoluted just because, with a very because I said so vibe.
It's very readable – I got to 61% very quickly – but reading it felt like a chore. I don't care about the characters or how this book is going to end, and that means putting it down and walking away.
Adrift in Starlight
by
Mindi Briar
Genres:
Queer Protagonists
,
Sci Fi
ISBN:
B09XSCHFTR
Goodreads

When set adrift in the universe, some things are worth holding onto.

Titan Valentino has been offered a job they can't refuse. Tai, a gender-neutral courtesan, receives a scandalous proposition: seduce an actor's virgin fiancée. The money is enough to pay off Tai's crushing medical debt, a tantalizing prospect.

Too bad Aisha Malik isn't the easy target they expect. A standoffish historian who hates to be touched, she's laser-focused on her career, and completely unaware that her marriage has been arranged behind her back. This could be the one instance where Tai's charm and charisma fail them.

Then an accidental heist throws them together as partners in crime. Fleeing from the Authorities, they're dragged into one adventure after another: alien planets, pirate duels, and narrow escapes from the law. As Tai and Aisha open up to each other, deeper feelings kindle between them. But that reward money still hangs over Tai's head. Telling Aisha the truth could ruin everything...

Their freedom, their career, and their blossoming love all hang in the balance. To save one might mean sacrificing the rest.
I received this book for free from the publisher via NetGalley in exchange for an honest review. This does not affect my opinion of the book or the content of my review.
This was just…not the right tone for me at all. It's light and breezy and really doesn't take itself seriously, and the worldbuilding was pretty stupid. (It's four thousand years in the future, and there's no way to signal/communicate gender or pronouns? How did we backtrack to having nobility? Artifacts that bring dead space ants back to life???)
I think the right reader would find it a lot of fun, but it hit too many nopes! for me.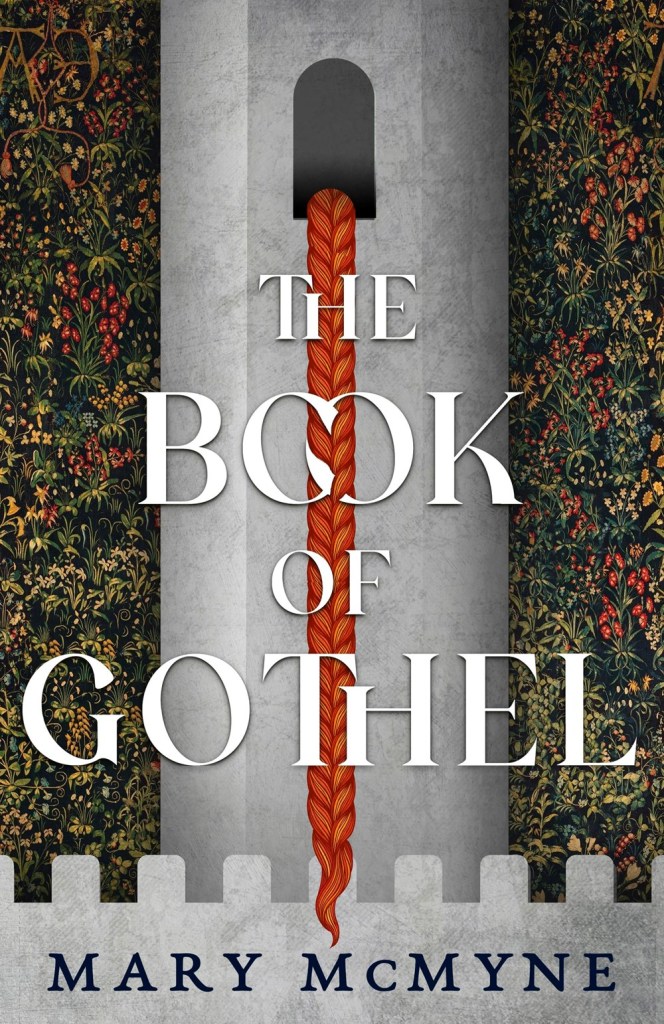 The Book of Gothel
by
Mary McMyne
Genres:
Fantasy
,
Historical Fantasy
Published on:
26th July 2022
ISBN:
9780316393317
Goodreads
"Smart, swift, sure-footed and fleet-winged, The Book of Gothel launches its magic from a most reliable source: the troubled heart. Mary McMyne is a magician."—Gregory Maguire, NYT bestselling author of Wicked

Everyone knows the tale of Rapunzel in her tower, but do you know the story of the witch who put her there?

Haelewise has always lived under the shadow of her mother, Hedda—a woman who will do anything to keep her daughter protected. For with her strange black eyes and even stranger fainting spells, Haelewise is shunned by her medieval village, and her only solace lies in the stories her mother tells of child-stealing witches, of princes in wolf-skins, of an ancient tower cloaked in mist, where women will find shelter if they are brave enough to seek it.

Then, Hedda dies, and Haelewise is left unmoored. With nothing left for her in her village, she sets out to find the legendary tower her mother used to speak of—a place called Gothel, where Haelewise meets a wise woman willing to take her under her wing.
But Haelewise is not the only woman to seek refuge at Gothel. It's also a haven for a girl named Rika, who carries with her a secret the Church strives to keep hidden. A secret that unlocks a dark world of ancient spells and murderous nobles behind the world Haelewise has always known…

"McMyne's shimmering debut gives a fresh, exciting backstory to one of the most famous villains in fairy tale lore: the witch who put Rapunzel in her tower… Fans of Circe and The Wolf and the Woodsman will devour this taut, empowering fairy tale."—Publisher's Weekly (starred review)
I received this book for free from the publisher via NetGalley in exchange for an honest review. This does not affect my opinion of the book or the content of my review.
I had really high expectations for The Book of Gothel, not least because of the excerpts of it I've seen on the author's Insta…but once I had it in my hands, it bored me to tears. The first quarter of the book is just the dull miserable childhood of a young girl in Medieval Germany, and I'm sorry, but unrelenting misery is just not interesting. Every character seems defined by just one or two traits, simplistic and predictable, and the prose isn't lush or pretty, isn't enjoyable for its own sake.
Even once the proper plot showed up, I just wasn't invested or interested. It felt like every aspect of the book – prose, plot, characters, dialogue – was dumbed down for some reason. Like the worst kind of YA, rather than the gorgeous Adult Fantasy I was expecting.
Rebel Skies (Rebel Skies, #1)
by
Ann Sei Lin
Genres:
Fantasy
ISBN:
9781406399592
Goodreads
Teen fantasy adventure set in a world of flying ships and sky cities, where chosen ones have the ability to bring paper to life and work as Crafters - people who hunt wild paper spirits called shikigami. Inspired by Asian culture and exploring themes of empire, slavery and freedom.

Kurara has never known any other life than being a servant on board the Midori, but when her party trick of making paper come to life turns out to be a power treasured across the empire, she joins a skyship and its motley crew to become a Crafter. Taught by the gruff but wise Himura, Kurara learns to hunt shikigami - wild paper spirits who are sought after by the Princess.

But are these creatures just powerful slaves for the Crafters and the empire, or are they beings with their own souls - and yet another thing to be subjugated by the powerful Emperor and his Princess?
This one really isn't the book's fault; it's written and marketed as YA, and it turned out to read far too young for me (unlike, say, Night Shine by Tessa Gratton, or The Scapegracers by Hannah Abigail Clarke).
It would make an absolutely stunning animated film, but in written form it couldn't hold my interest, unfortunately.
The Petting Zoos
by
K.S. Covert
ISBN:
B09CCXY9TZ
Goodreads
In a virus-fearing world, skin hunger can drive you crazy — and human petting zoos can return you to yourself.

Ten years after the deadly virus nicknamed Henny Penny, the world has largely recovered — there's at least an interim government and law and order for its greatly reduced population. But even though there's been a vaccine for years, the law still requires people to wear protective masks and gloves at all times in public. Soft fabrics are dangerous. And people who haven't been touched in years are going crazy from skin hunger. Lily has lived in isolation for ten years, afraid to rejoin the world. But a return-to-work order, and an invitation to go to a petting zoo, the most illegal game in town, start to bring her back to life.

A post-apocalyptic sex adventure, a woman's journey of self-discovery, The Petting Zoos is an erotic love story for an age of extreme caution, in which the value of safety itself is questioned.
This was another one that was very readable, but was also pretty boring – I suspect I'm completely the wrong audience for this, really, since I'm a touch-averse asexual who has been very happy in strict isolation during Covid (granted, I have an amazing hubby with me, and am not alone like the MC of The Petting Zoos). I don't know, I'm a cold terrible person who just had no sympathy for the protagonist – or at least, not enough sympathy.
Fingers crossed for fewer DNFs in June!
Related Posts