TWELVE epic SFF releases this week!
(Books are listed in order of pub date, then Adult SFF, Adult Other, YA SFF, YA Other, MG SFF.)
Angels Before Man
by
rafael nicolás
Genres:
Fantasy
,
Queer Protagonists
Representation:
M/M
Published on:
7th November 2022
Goodreads
A queer retelling of Satan's fall that's part cozy coming of age and part fast-paced tragedy, with a little love story in between –

In an eternal paradise, the most beautiful angel, Lucifer, struggles with shame, identity, and timidity, with little more than the desire to worship his creator.

It isn't until the strongest angel, Michael, comes into his life that Lucifer learns to love himself. Along the way, their friendship begins to bloom into something else. Maybe the first romance in the history of everything.

But this God is a jealous one, and maybe paradise is not paradise.
Hands down the book I'm most excited for this week and it's out TODAY!
The Fall is All There Is
by
C.M. Caplan
Genres:
Sci Fi
Published on:
7th November 2022
Goodreads
You never want to ruin a really good dramatic exit. When you flee home on a cyborg horse the exact second you turn eighteen, you don't really expect to go back to the place you fled from, you know? But sometimes your old life hits you from behind.
Sometimes you spend years away from home, killing dangerous people who had the bad luck to get infected by a lungful of ghostfog, only to find out that your dad, the king, is dead, and now your siblings are ordering you back home for a high stakes family reunion.

But when the heirs are quadruplets, the line of succession tends to get a wee bit murky. So in order to regain your independence, you've got to navigate a deadly web of intrigue, where every sibling wants your allegiance, and any decision might tear your country—and your family—apart.
It's very likely that this features queer and/or autistic characters, but I wasn't able to confirm it. Regardless, you had me at 'cyborg horse'!
Even Though I Knew the End
by
C.L. Polk
Genres:
Fantasy
,
Queer Protagonists
Representation:
F/F
Published on:
8th November 2022
Goodreads
"Stylish supernatural noir with a heart and a thrumming pulse. I devoured it." —Laini Taylor

C. L. Polk turns their considerable powers to a fantastical noir. A magical detective dives into the affairs of Chicago's divine monsters to secure a future with the love of her life. This sapphic period piece will dazzle anyone looking for mystery, intrigue, romance, magic, or all of the above.

An exiled augur who sold her soul to save her brother's life is offered one last job before serving an eternity in hell. When she turns it down, her client sweetens the pot by offering up the one payment she can't resist — the chance to have a future where she grows old with the woman she loves. To succeed, she is given three days to track down the White City Vampire, Chicago's most notorious serial killer. If she fails, only hell and heartbreak await.
Polk slammed onto my Favourite Authors list with Midnight Bargain back in 2020 (you can read my review here) so I'm extremely excited for this new standalone, even though it's very different from Polk's other books, according to early readers. I'M STILL MAKING GRABBY-HANDS AT IT, THOUGH!
Breakable Things
by
Cassandra Khaw
Genres:
Horror
Published on:
8th November 2022
Goodreads
Cassandra Khaw's dynamic and vibrant debut collection, Breakable Things, explores the fragile and nebulous bonds that weave love and grief into our existence. This exquisite and cutting collection of stories showcases a bloody fusion of horrors from cosmic to psychological to body traumas.
Pretty sure this collection is going to scar me for life – Khaw's horror is legit terrifying – but also pretty sure it's going to be worth it!
HellSans
by
Ever Dundas
Genres:
Sci Fi
Published on:
8th November 2022
Goodreads
When every word you read, whatever it says, fills you with euphoric calm - that's HellSans; a typeface used everywhere by the government. To keep people happy. Blissful. And controlled.

Unless you're allergic. And then every word is agony. Then HellSans is hell, and reading it will slowly kill you.

HellSans is the story of two women.

CEO Jane Ward is famous and successful, until she falls ill with the allergy and her life falls apart, dumping her in the ghetto with the other HSAs (HellSans Allergic). Where she meets...

Dr Icho Smith, a scientist who has a cure for the allergy. But she's on the run from the government, and the Seraphs, a terrorist group with their own plan for the HSAs...
HellSans innovative structure allows you to read either Jane or Icho's story first, before their lives meet in the terrifying finale.

HellSans is dystopia writ large. A novel where words can kill.
I think this was out a few weeks ago in the UK, but this week it debuts in the USA! I'm fascinated by the premise, and I'm looking forward to seeing what Dundas has done with it!
The Stars Undying (Empire Without End #1)
by
Emery Robin
Genres:
Queer Protagonists
,
Sci Fi
Representation:
Bi/pansexual MCs, secondary nonbinary character
Published on:
8th November 2022
Goodreads
A spectacular space opera debut perfect for readers of Ann Leckie's Ancillary Justice and Arkady Martine's A Memory Called Empire, inspired by the lives and loves of Cleopatra and Julius Caesar.

Princess Altagracia has lost everything. After a bloody civil war, her twin sister has claimed not just the crown of their planet Szayet but the Pearl of its prophecy, a computer that contains the immortal soul of Szayet's god. Stripped of her birthright, Gracia flees the planet—just as Matheus Ceirran, Commander of the interstellar Empire of Ceiao, arrives in deadly pursuit with his volatile lieutenant, Anita. When Gracia and Ceirran's paths collide, Gracia sees an opportunity to win back her planet, her god, and her throne…if she can win the Commander and his right-hand officer over first.

But talking her way into Ceirran's good graces, and his bed, is only the beginning. Dealing with the most powerful man in the galaxy is almost as dangerous as war, and Gracia is quickly torn between an alliance that fast becomes more than political and the wishes of the god—or machine—that whispers in her ear. For Szayet's sake, and her own, Gracia will need to become more than a princess with a silver tongue. She will have to become a queen as history has never seen before—even if it breaks an empire.
I posted my review of this just a few days ago, but the TL;DR version is that it's queer Cleopatra in space, and yes, it's as fabulous as that sounds!
Empire of Exiles (Books of the Usurper, #1)
by
Erin M. Evans
Genres:
Fantasy
,
High Fantasy
Representation:
Secondary M/M
Published on:
8th November 2022
Goodreads
Magic, mystery, and revolution collide in this fantasy epic where an unlikely team of mages, scribes, and archivists must band together to unearth a conspiracy that might topple their empire.

"What makes this book special, even by Erin's lofty goalposts, is the world she weaves around the characters. Detailed and mysterious, a place to explore and relish. Empire of Exiles is highly recommended!" – R.A. Salvatore, author or "The Legend of Drizzt" and the DemonWars novels

"The beginning of a truly epic tale. Deft worldbuilding and wonderful verbal fencing that is a delight to read. In these pages, you are in the hands of a master." - Ed Greenwood, creator of the Forgotten Realms and internationally bestselling author

Twenty-seven years ago, a Duke with a grudge led a ruthless coup against the empire of Semilla, killing thousands. He failed. The Duke was executed, a terrifyingly powerful sorcerer was imprisoned, and an unwilling princess disappeared.

The empire moved on.

Now, when Quill, an apprentice scribe, arrives in the capital city, he believes he's on a simple errand for another pompous noble: fetch ancient artifacts from the magical Imperial Archives. He's always found his apprenticeship to a lawman to be dull work. But these aren't just any artifacts — these are the instruments of revolution, the banners under which the Duke lead his coup.

Just as the artifacts are unearthed, the city is shaken by a brutal murder that seems to have been caused by a weapon not seen since the days of rebellion. With Quill being the main witness to the murder, and no one in power believing his story, he must join the Archivists — a young mage, a seasoned archivist, and a disillusioned detective — to solve the truth of the attack. And what they uncover will be the key to saving the empire – or destroying it again.

"Empire of Exiles has it all: characters I love, intertwined compelling mysteries in the past and present, plot twists that keep coming, and a unique and fascinating world and magic system!" – Melissa Caruso, author of The Obsidian Tower

"Beautifully wrought and equally ensnaring, this book lived up to and then surpassed all my expectations." – Cat Rambo, author of You Sexy Thing
Some really cool wouldbuilding framing a murder-mystery, where the mystery isn't who's the killer? but why did he kill? With a good bit of intrigue and politicking mixed in, just to keep you on your toes!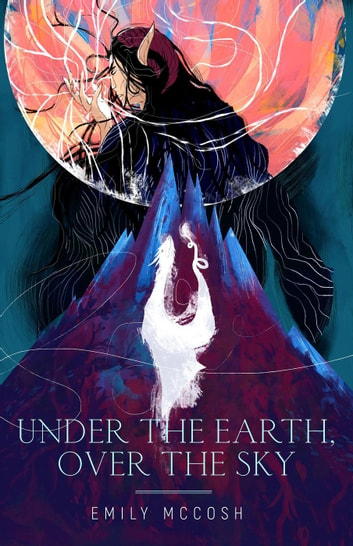 Under the Earth, Over the Sky
by
Emily McCosh
Genres:
Fantasy
Goodreads
In the woods where human lands meet fae, an ancient king born before the history of men finds a dying baby.

Iohmar will take in the child and care for him until a suitable home in the human realm is found. But best laid plans often go awry in the lands of Látwill, where winds carry fae across the star-strewn sky, the woods ensnare the weak-minded with their sinister song, and even Iohmar, King Beneath the Earth, is susceptible to the will of the immortal mountains.

Magic long tethered to Iohmar's soul will crumble. Unknown shadows and monsters of mirrored glass will encroach upon the borders of their land. And memories thousands of years lost will unravel as Iohmar struggles not only to properly rule his fair folk, but protect the fragile human son he never should have saved in the first place.
I'm a softie for stories about non-humans adopting human children, and the pre-release praise for this one has been glowing!
In the Devil's Cradle
by
S. L. Edwards
Genres:
Horror
Published on:
8th November 2022
Goodreads
Senator William Esquival is in a rush to save his family's life. Fleeing political persecution, William takes his family from the capital and flees to the family stronghold of Rio Rojo, a town known as the birthplace of William's ancestor, a powerful former dictator whose legacy haunts the nation of Antioch. But even as the Esquival family seeks refuge, the country continues to fray around them. As Antioch bleeds, ancient hatreds, secrets, and ghosts pour from its wounds.

From S. L. Edwards comes debut novel In the Devil's Cradle, a captivating haunted house story where the house is an entire country, a nation coming apart due to influences both internal and external, both natural and supernatural.
I'm fascinated by the idea of a haunted house that is a country! Not clear on whether the house contains a country within its walls or if the country itself is being treated as a haunted house, but either one sounds very cool!
Bloodmarked (Legendborn, #2)
by
Tracy Deonn
Genres:
Fantasy
,
Contemporary or Urban Fantasy
Representation:
Black MC
Published on:
8th November 2022
Goodreads
The shadows have risen, and the line is law.

All Bree wanted was to uncover the truth behind her mother's death. So she infiltrated the Legendborn Order, a secret society descended from King Arthur's knights—only to discover her own ancestral power. Now, Bree has become someone new:

A Medium. A Bloodcrafter. A Scion.

But the ancient war between demons and the Order is rising to a deadly peak. And Nick, the Legendborn boy Bree fell in love with, has been kidnapped.

Bree wants to fight, but the Regents who rule the Order won't let her. To them, she is an unknown girl with unheard-of power, and as the living anchor for the spell that preserves the Legendborn cycle, she must be protected.

When the Regents reveal they will do whatever it takes to hide the war, Bree and her friends must go on the run to rescue Nick themselves. But enemies are everywhere, Bree's powers are unpredictable and dangerous, and she can't escape her growing attraction to Selwyn, the mage sworn to protect Nick until death.

If Bree has any hope of saving herself and the people she loves, she must learn to control her powers from the ancestors who wielded them first—without losing herself in the process.
It's the sequel to 2020's Legendborn! Which means I have absolutely NOT read the description, because I don't want even the tiniest spoilers!
Nubia: The Awakening
by
Omar Epps
,
Clarence A. Haynes
Genres:
Fantasy
,
Contemporary or Urban Fantasy
,
Sci Fi
Representation:
Black MCs
Published on:
8th November 2022
Goodreads
From beloved actor and producer Omar Epps and writer Clarence A. Haynes comes the biggest epic fantasy of the year. A powerful saga of three teens, the children of refugees from a fallen African utopia, who must navigate their newfound powers in a climate-ravaged New York City. Perfect for fans of Black Panther and Children of Blood and Bone.

For Zuberi, Uzochi, and Lencho, Nubia is a mystery. Before they were born, a massive storm destroyed their ancestral homeland, forcing their families to flee across the ocean to New York City. Nubia, a utopic island nation off the coast of West Africa, was no more, and their parents' sorrow was too deep for them to share much of their history beyond the folklore.

But New York, ravaged by climate change and class division, is far from a safe haven for refugees, and Nubians live as outcasts, struggling to survive in the constantly flooding lower half of Manhattan, while the rich thrive in the tech-driven sky city known as the Up High.

To many, being Nubian means you're fated for a life plagued by difficulties and disrespect. But Zuberi, Uzochi, and Lencho are beginning to feel there might be more. Something within them is changing, giving each of them extraordinary powers. Extraordinary and terrifying powers that seem to be tied to the secrets their parents have kept from them.

And there are people Up High watching, eager to do anything they can to become even more powerful than they already are. Now Zuberi, Uzochi, and Lencho will be faced with the choice--do they use their inheritance to lift their people, or to leave them behind. The fate of their city, and their people, hangs in the balance.
This sounds unbelievably amazing in every way, and I can't wait to check it out!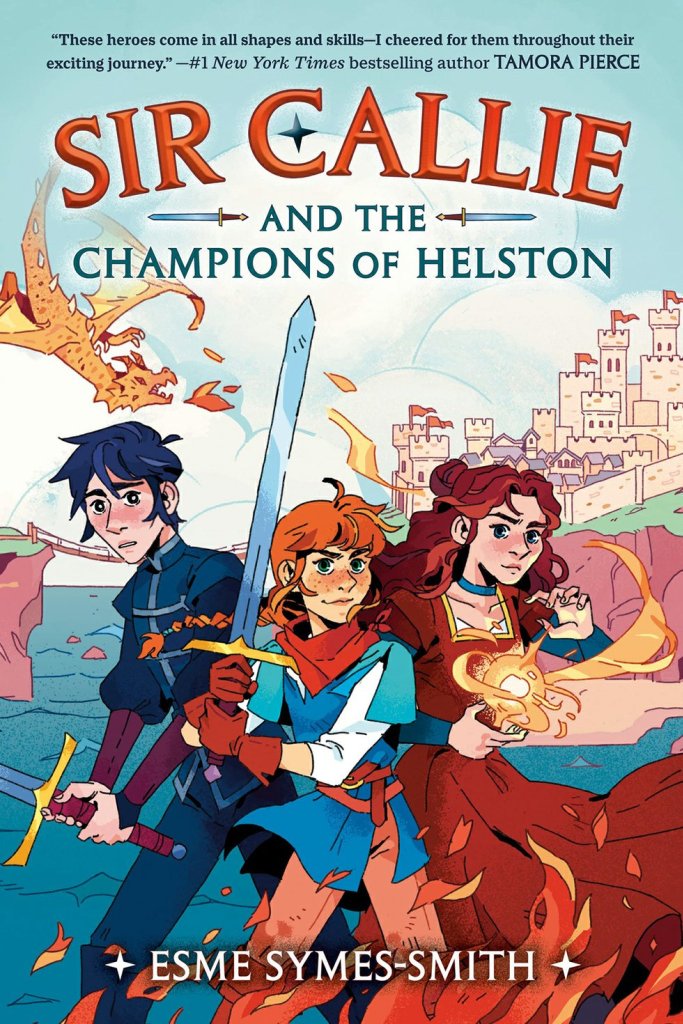 Sir Callie and the Champions of Helston
by
Esme Symes-Smith
Genres:
Fantasy
,
Queer Protagonists
Representation:
Nonbinary MC
Published on:
8th November 2022
Goodreads
In a magical medieval world filled with dragons, shape-shifters, and witches, a twelve-year-old hero will search for their place as an impending war threatens. A thrilling middle-grade series opener that stars a nonbinary tween and explores identity and gender amid sword fights.

My name is Callie, and I'm not a girl. I am here as Papa's squire, and I want to train as a knight.

In a world where girls learn magic and boys train as knights, twelve-year-old nonbinary Callie doesn't fit in anywhere. And you know what? That's just fine. Callie has always known exactly what they want to be, and they're not about to let a silly thing like gender rules stand in their way.

When their ex-hero dad is summoned back to the royal capital of Helston to train a hopeless crown prince as war looms, Callie lunges at the opportunity to finally prove themself worthy to Helston's great and powerful.

Except the intolerant great and powerful look at Callie and only see girl.
Trapped in Helston's rigid hierarchy, Callie discovers they aren't alone--there's Elowen, the chancellor's brilliant daughter, whose unparalleled power is being stifled; Edwyn, Elowen's twin brother, locked in a desperate fight to win his father's approval; and Willow, the crown prince who was never meant to be king.

In this start to an epic series packed with action, humor, and heart, Callie and their new friends quickly find themselves embedded in an ancient war--the only hope to defeat the dragons and witches outside the kingdom lies in first defeating the bigotry within.
This one's been hyped since the publishing deal was announced, and sounds really sweet. And I love that it's the start of a series!
Will you be reading any of these? Let me know!
Related Posts