SIX marvellous new books this week!
(Books are listed in order of pub date, then Adult SFF, Adult Other, YA SFF, YA Other, MG SFF.)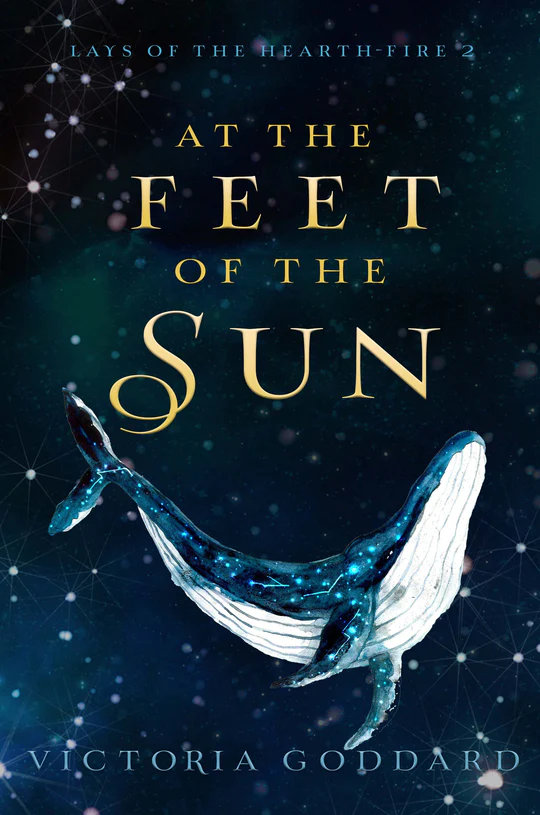 At the Feet of the Sun (Lays of the Hearth-Fire #2)
by
Victoria Goddard
Genres:
Fantasy
,
Secondary World Fantasy
Representation:
Polynesian-coded MC
Published on:
21st November 2022
Goodreads
Cliopher Mdang has been appointed Viceroy of Zunidh by his beloved Radiancy, the Last Emperor, who has now left him behind in the Palace to safeguard the world during his absence on a quest to find an appropriately magical heir. When he returns, he will abdicate, and Cliopher will at last retire, satisfied with having achieved most of his life's political goals--even if his long-suppressed personal dreams are starting to bubble up.

(Surely he used to have hobbies besides running the government?)

All he has to do is wait patiently for his lord's return... until adventure quite literally hits him from behind, and what was once safely hypothetical becomes intensely real.

Cliopher has always followed the stars of his chosen course: the epic oral histories of his people, the poetry of the rebel poet Fitzroy Angursell, decades of devotion and service to his Radiancy... They were enough to change the world. But are they enough to guide Cliopher home?
THE SEQUEL TO HANDS OF THE EMPEROR IS HERE! Or at least, it is if you preordered it from Goddard's website – and even if you didn't, I'm pretty sure you can buy it today from the site! The link is to the ebook edition, but you can preorder the print edition too as of today. If you want to wait and buy through some other retailer, I think it becomes available in early December.
The Hands of the Emperor is a book I have consistently failed to review, because I just can't put into words how utterly perfect it is. I am breathless with anticipation for At the Feet of the Sun, and if you are new to this series, today is the PERFECT day to jump in!
Three Kings
by
Freydís Moon
Genres:
Fantasy
,
Contemporary or Urban Fantasy
,
Queer Protagonists
Representation:
Transmasc MC, M/M/M
Published on:
22nd November 2022
Goodreads
Ethan Shaw—lighthouse keeper and local witch—lives a charmed life in his chilly, coastal hometown. Blessed with a flourishing garden and a stable livelihood, Ethan can't complain. But when his husband, Captain Peter Vásquez, brings home a wounded leopard seal after an impromptu storm, Ethan is faced with a curious situation: caring for a lost selkie named Nico Locke.

As Ethan struggles with the possibility of being infertile, insecurities surrounding his marriage, and a newly formed magical bond with a hostile, handsome selkie, his comfortable life begins to fracture. But could breakage lead to something better?

With autumn at their heels and winter on the horizon, Ethan, Peter, and Nico test the boundaries of a new relationship, shared intimacy, and the chance at a future together.
I included Three Kings last week as well, as it was available early if you bought it through the publisher – but the official release date is tomorrow! This is a very sweet and soft story from an incredible author, so if cosy cottagecore with a bonus selkie sounds good to you, don't miss it!
Consider Pegasus (Starship Teapot #3)
by
Si Clarke
Published on:
22nd November 2022
Goodreads
A secret unicorn, a desperate family, and a cop dead-set on hunting them down.
Lem and the rag-tag gang of galactic adventurers on the starship Teapot are set to become roadies for the galaxy's hottest band – but an urgent call from Bexley's family means the rock stars will have to wait.
Bexley's soon-to-be-born sibling has a big secret: wings. On their world, skeledivergence is outlawed, so the Teapot crew swoop in to help the family escape.
But their planet won't let them go that easily. Hunted across the galaxy by a fanatical and eerily familiar cop, the Teapotters must find a way to outwit their pursuer and secure a future for skeledivergent people everywhere.
Dive into the next adventure in this satirical space opera series. Artfully intertwining deep themes with tongue-in-cheek humour and intergalactic ridiculousness, Consider Pegasus is a must-read for fans of John Scalzi's take on Fuzzy Nation or TJ Berry's Space Unicorn Blues.
'A space tale about unicorn rights'??? GIMME! I have no idea what unicorns are going to look like in this verse, and I do not care; I'm already sold!
The Vermilion Emporium
by
Jamie Pacton
Genres:
Fantasy
,
Queer Protagonists
Representation:
Bisexual MC
Published on:
22nd November 2022
Goodreads
The heart-wrenching story of The Radium Girls meets the enchanting world of Howl's Moving Castle. Jamie Pacton's fantasy debut is a story of timeless love and deadly consequences.

It was a day for finding things . . .   On the morning Twain, a lonely boy with a knack for danger, discovers a strand of starlight on the cliffs outside Severon, a mysterious curiosity shop appears in town. Meanwhile, Quinta, the ordinary daughter of an extraordinary circus performer, chases rumors of the shop, The Vermilion Emporium, desperate for a way to live up to her mother's magical legacy.  

When Quinta meets Twain outside the Emporium, two things happen: One, Quinta starts to fall for this starlight boy, who uses his charm to hide his scars. Two, they enter the store and discover a book that teaches them how to weave starlight into lace.   Soon, their lace catches the eye of the Casorina, the ruler of Severon. She commissions Quinta and Twain to make her a starlight dress and will reward them handsomely enough to make their dreams come true. However, they can't sew a dress without more material, and the secret to starlight's origins has been lost for centuries. As Quinta and Twain search the Emporium for answers, though, they discover the secret might not have been lost—but destroyed. And likely, for good reason.
I love the sound of making lace out of starlight! Honestly that alone would get me to pick it up, but it's also supposed to be deliciously cosy, and I'm in exactly the right mood for that!
The Red Scholar's Wake
by
Aliette de Bodard
Genres:
Queer Protagonists
,
Sci Fi
Representation:
Vietnamese sapphic MCs
Published on:
24th November 2022
Goodreads
Xích Si: bot maker, data analyst, mother, scavenger. But those days are over now-her ship has just been captured by the Red Banner pirate fleet, famous for their double-dealing and cruelty. Xích Si expects to be tortured to death-only for the pirates' enigmatic leader, Rice Fish, to arrive with a different and shocking proposition: an arranged marriage between Xích Si and herself.

Rice Fish: sentient ship, leader of the infamous Red Banner pirate fleet, wife of the Red Scholar. Or at least, she was the latter before her wife died under suspicious circumstances. Now isolated and alone, Rice Fish wants Xích Si's help to find out who struck against them and why. Marrying Xích Si means Rice Fish can offer Xích Si protection, in exchange for Xích Si's technical fluency: a business arrangement with nothing more to it.

But as the investigation goes on, Rice Fish and Xích Si find themselves falling for each other. As the interstellar war against piracy intensifies and the five fleets start fighting each other, they will have to make a stand-and to decide what kind of future they have together...

An exciting space opera and a beautiful romance, from an exceptional SF author.
And of course, the sapphic space-pirates book everyone's been talking about! This is apparently set in the universe of Bodard's Xuya series, but it's very much a standalone – you don't need to read the earlier short stories and novellas to appreciate it.
(I had to include both the UK and US covers – I just couldn't pick a favourite. Could you?!)
Illuminations
by
T. Kingfisher
Genres:
Fantasy
Published on:
25th November 2022
Goodreads
Rosa Mandolini knows in her heart that her family are the greatest painters of magical illuminations in the city. But the eccentric Studio Mandolini has fallen on hard times and the future is no longer certain.

While trying to help her family, Rosa discovers a strange magical box protected by a painted crow. But when she finds a way to open the box, she accidentally releases the Scarling, a vicious monster determined to destroy the Mandolini family at any cost.

With the aid of her former best friend and a painted crow named Payne, it's up to Rosa to stop the Scarling before it unmakes the magical paintings that keep the city running, and hopefully save her family in the process!
IT'S A NEW T KINGFISHER BOOK!!! I only found out about this at the very last minute – my book-sleuthing skills nearly failed me! – and I'm so delighted I didn't miss it! Whether she's writing as T Kingfisher or Ursula Vernon, she's one of my all-time favourite authors, and I am gonna pounce on this one SO HARD!
Will you be reading any of these? Let me know!
Related Posts