I'm only aware of THREE new books this week, but they're both ones I'm extremely excited for!
(Books are listed in order of pub date, then Adult SFF, Adult Other, YA SFF, YA Other, MG SFF.)
The Two Doctors Górski
by
Isaac Fellman
Genres:
Fantasy
,
Contemporary or Urban Fantasy
Published on:
29th November 2022
Goodreads
The Two Doctors Górski is a dazzling contemporary fantasy and an exploration of reclaiming personal power in the aftermath of abuse by Lambda Award-winning author Isaac Fellman

"Confident and lyrical."—Caitlin Starling

A Most Anticipated Pick for Buzzfeed

Annae, a brilliant graduate student in psychiatric magic and survivor of academic abuse, can't stop reading people's minds. This is how she protects herself, by using her abilities to know exactly how her colleagues view her. This is how she escapes the torturous experience of her own existence.

When Annae moves to England to rebuild her life and finish her studies under the seminal magician Marec Górski—infamous for bringing to life a homunculus made from his unwanted better self—she sees, inside his head, a man who is both a destructive force to everyone around him, and her mirror image. For Annae to survive, she'll need to break free of a lifetime of conditioning to embody her own self and forge her own path.
Fellman released another book this year, Dead Collections, which was a lovely and unique take on vampires, fandom and queerness. (And for the record, I loved it!) The Two Doctors Górski sounds like it'll be quite different, but still really interesting – I've been looking forward to it all month!
Geometries of Belonging
by
R.B. Lemberg
Genres:
Fantasy
,
Secondary World Fantasy
,
Queer Protagonists
Representation:
QBIPOC cast
Published on:
29th November 2022
Goodreads
Nebula and Locus award finalist Lemberg returns us to the Birdverse with this powerful collection of poems and stories.

"In the Birdverse, a magic loosely based in geometry is a source of craftsmanship, art, protection and healing. Multiple cultures and countries engage in trade relationships and political alliances. Cultures make use of magic according to their own traditions and rules, and worship the deity Bird, in whichever feathered from Bird takes. And within these countries and cultures, individuals hurt and are hurt, heal and are healed." - Bookslut
If you haven't encountered Lemberg's Birdverse before, this is probably going to be a good place to start! Geometries of Belonging is, like it says on the cover, a collection of stories and poems from the incredibly beautiful setting Lemberg has created (complete with Bird goddess, all kinds of queerness, and a magic system like nothing I've seen elsewhere), and I'm eager to dive in!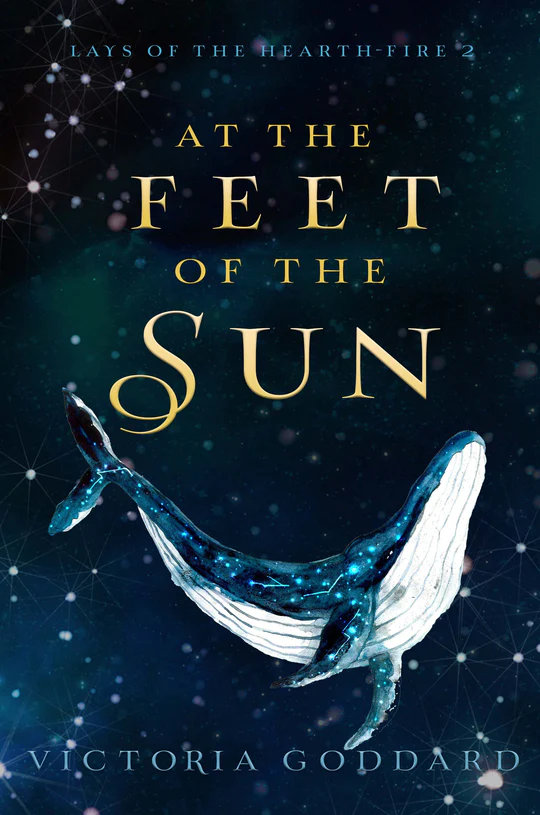 At the Feet of the Sun (Lays of the Hearth-Fire, #2)
by
Victoria Goddard
Genres:
Fantasy
,
Secondary World Fantasy
Representation:
Polynesian-coded MC
Published on:
1st December 2022
Goodreads
Cliopher Mdang has been appointed Viceroy of Zunidh by his beloved Radiancy, the Last Emperor, who has now left him behind in the Palace to safeguard the world during his absence on a quest to find an appropriately magical heir. When he returns, he will abdicate, and Cliopher will at last retire, satisfied with having achieved most of his life's political goals--even if his long-suppressed personal dreams are starting to bubble up.

(Surely he used to have hobbies besides running the government?)

All he has to do is wait patiently for his lord's return... until adventure quite literally hits him from behind, and what was once safely hypothetical becomes intensely real.

Cliopher has always followed the stars of his chosen course: the epic oral histories of his people, the poetry of the rebel poet Fitzroy Angursell, decades of devotion and service to his Radiancy... They were enough to change the world. But are they enough to guide Cliopher home?
At the Feet of the Sun was available from Goddard's website earlier, but it will be available from all the usual places on the 1st! And as someone who's in the middle of reading it, I can promise that it is utterly incredible and you need to read it for yourself!
(Just make sure you've read the first book, Hands of the Emperor, first!)
Will you be reading either of these? Let me know!
Related Posts