2023 is off to a good start with SIX books this week!
(Books are listed in order of pub date, then Adult SFF, Adult Other, YA SFF, YA Other, MG SFF.)
A Chain of Braided Silver (The Norsunder War Book 4)
by
Sherwood Smith
Genres:
Fantasy
,
Epic Fantasy
Published on:
3rd January 2023
Goodreads
"Written with heart-piercing vividness and sly humor, a roller coaster of emotions!"

"Consistently brilliant, this series showcases what fantastic worldbuilding can be."

The long-awaited conclusion to The Norsunder War is also the culmination to the entire Sartorias-deles arc. Find out why one reader on Reddit said, "Beginning with INDA, this entire series utterly ruined me, and then gave me such joy and hope!"

Secrets both ancient and current are revealed, as the alliance—at times uneasy—works together to reclaim Sartorias-deles from Norsunder. Leaders around the world plan a simultaneous counterattack, but that is only a decoy away from the battle in the realm of the mind against a world-devouring power.

Hibern must solve a lethally dangerous puzzle as she dodges the hunter; grief-stricken Senrid must team with the man his beloved has chosen while his kingdom is overrun; Jilo singlehandedly intends to wrench the sinister Chwahir from their overwhelmingly poisonous tyrant; Imry, former commander, is now renegade, and even more dangerous; Marga begins to assert her powers; and everything comes down to Detlev, once the world's chief villain. And yet, in spite of the mounting dangers, some manage to find love . . .

Read the pulse-pounding, heart-lifting conclusion to The Norsunder War.
I really have no idea how to process this – it's the final Norsunder War book, which means the grand finale of the entire Sartorias-dele universe! This is the series Smith's been working on her entire life, so yeah, to say I'm excited for (but also dreading) the ending of it all is an understatement!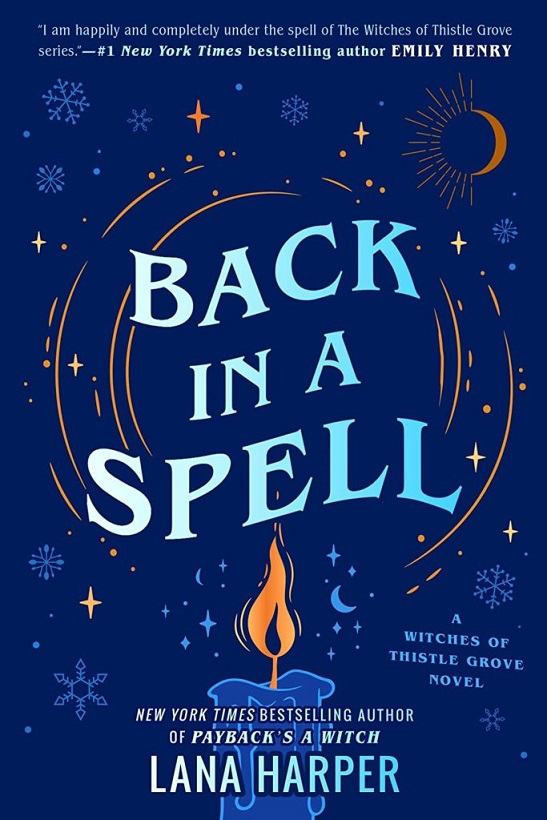 Back in a Spell (The Witches of Thistle Grove, #3)
by
Lana Harper
Genres:
Fantasy
,
Contemporary or Urban Fantasy
Representation:
Nonbinary love interest
Published on:
3rd January 2023
Goodreads
An awkward first date leads to a sparkling romance between one of the most powerful witches in town and a magical newbie in this rom-com by Lana Harper, New York Times bestselling author of Payback's a Witch.

Even though she won't deny her love for pretty (and pricey) things, Nineve Blackmoore is almost painfully down-to-earth and sensible by Blackmoore standards. But after a year of nursing a broken heart inflicted by the fiancée who all but ditched her at the altar, the powerful witch is sick of feeling low and is ready to try something drastically different: a dating app.

At her best friend's urging, Nina goes on a date with Morty Gutierrez, the nonbinary, offbeat soul of spontaneity and co-owner of the Shamrock Cauldron. Their date goes about as well as can be expected of most online dates—awkward and terrible. To make matters worse, once Morty discovers Nina's last name, he's far from a fan; it turns out that the Blackmoores have been bullishly trying to buy the Shamrock out from under Morty and his family.

But when Morty begins developing magical powers—something that usually only happens to committed romantic partners once they officially join a founding family—at the same time that Nina's own magic surges beyond her control, Nina must manage Morty's rude awakening to the hidden magical world, uncover its cause, and face the intensity of their own burgeoning connection. But what happens when that connection is tied to Nina's power surge, a power she's finding nearly as addictive as Morty's presence in her life?
Harper's Witches of Thistle Grove series have consistently been sweet magical romances with really lovely prose and characters who feel like actual grown-ups, which I massively appreciate! Plus, Morty's been one of my favourite background characters of the series, so I'm delighted he's the love interest in this one!
Song of Silver, Flame Like Night (Song of Silver, Flame Like Night, #1)
by
Amélie Wen Zhao
Genres:
Fantasy
Representation:
Chinese-coded cast and setting
Published on:
3rd January 2023
Goodreads
In a fallen kingdom, one girl carries the key to discovering the secrets of her nation's past—and unleashing the demons that sleep at its heart. An epic fantasy series inspired by the mythology and folklore of ancient China.

Once, Lan had a different name. Now she goes by the one the Elantian colonizers gave her when they invaded her kingdom, killed her mother, and outlawed her people's magic. She spends her nights as a songgirl in Haak'gong, a city transformed by the conquerors, and her days scavenging for what she can find of the past. Anything to understand the strange mark burned into her arm by her mother in her last act before she died.

The mark is mysterious—an untranslatable Hin character—and no one but Lan can see it. Until the night a boy appears at her teahouse and saves her life.

Zen is a practitioner—one of the fabled magicians of the Last Kingdom. Their magic was rumored to have been drawn from the demons they communed with. Magic believed to be long lost. Now it must be hidden from the Elantians at all costs.
When Zen comes across Lan, he recognizes what she is: a practitioner with a powerful ability hidden in the mark on her arm. He's never seen anything like it—but he knows that if there are answers, they lie deep in the pine forests and misty mountains of the Last Kingdom, with an order of practitioning masters planning to overthrow the Elantian regime.

Both Lan and Zen have secrets buried deep within—secrets they must hide from others, and secrets that they themselves have yet to discover. Fate has connected them, but their destiny remains unwritten. Both hold the power to liberate their land. And both hold the power to destroy the world.

Now the battle for the Last Kingdom begins.
Definitely one of the most hyped YA Fantasies of the year! And I have to admit that that cover's pretty hypnotising…!
A Ruinous Fate (Heartless Fates, #1)
by
Kaylie Smith
Genres:
Fantasy
,
Queer Protagonists
Representation:
Bisexual MC, almost entirely queer cast
Published on:
3rd January 2023
Goodreads

Fate does not choose the weak. Fate chooses the ready.

Calliope Rosewood is a witch with a long streak of bad luck. Like all witches in Illustros, her fate is directly tied to Witch's Dice—powerful artifacts that have blessed her kind with limitless magic but also set them on a path toward destruction. Cursed with unspeakable powers that terrify even the most dangerous witches and fae, Calla deserted her coven four years ago and has been in hiding with her two best friends since. But Calla is also hiding a grave secret: She is only three Rolls away from becoming the last Blood Warrior and starting the Final War that will decimate her people and eradicate their magic.

After a betrayal from her ex leads her one step closer to fulfilling that age-old prophecy, Calla is desperate to do whatever it takes to reset her fate . . . even if that means journeying into the deadly Neverending Forest with said ex and his enticing, yet enigmatic older brother to find the one being who can help her forge her own path. As Calla ventures farther into the enchanted woods, she finds her heart torn between her past desires and the alluring new possibilities of her future and learns that choosing your own destiny may come with deadly consequences.

Featuring a charming and chaotic ensemble cast of characters, this first book in a planned series by debut author Kaylie Smith will sweep readers away with its utterly immersive world building, swoon-worthy romance, and action-packed storytelling.
I suspect I'm not going to properly understand the dice thing until I sit down and read Ruinous Fate, but I've heard lots of praise for this one, and I'm definitely going to be giving it a go!
Haunted
by
Natalie Zeigler
Genres:
Fantasy
Representation:
Black cast
Published on:
3rd January 2023
Goodreads
Mäzzikim (Maze) is the youngest daughter of a powerful chieftain, but beneath her obedient façade she's haunted by disturbing necromantic visions—a rare power bestowed by the gods. With her ruling father vowing to destroy magic in all its forms, Maze languishes under the weight of her heavy secret.

But as her power grows, Maze's ability to speak to the dead draws her closer to the truth behind the realm's mysterious past. Struggling to find the truth while navigating volatile family tensions and clan politics, Maze has no idea that an evil threat lurks where she least expects it.

Maze's gift could prove to be the salvation of her people, or the ultimate proof that magic corrupts everything it touches. Either way, the destiny she faces will change her and the realm, forever.

Haunted is book one of a gripping YA fantasy series of the same name.
I haven't heard much about Haunted, but this sounds like a take on necromancy that I haven't come across before!
Unseelie
by
Ivelisse Housman
Genres:
Fantasy
Representation:
Autistic MC
Published on:
3rd January 2023
Goodreads
Twin sisters, both on the run, but different as day and night. One, a professional rogue, searches for a fabled treasure; the other, a changeling, searches for the truth behind her origins, trying to find a place to fit in with the realm of fae who made her and the humans who shun her.

Iselia "Seelie" Graygrove looks just like her twin, Isolde… but as an autistic changeling trying to navigate her unpredictable magic, Seelie finds it more difficult to fit in with the humans around her. When Seelie and Isolde are caught up in a heist gone wrong and make some unexpected allies, they find themselves unraveling a larger mystery that has its roots in the history of humans and fae alike.

Both sisters soon discover that the secrets of the faeries may be more valuable than any pile of gold and jewels. But can Seelie harness her magic in time to protect her sister, and herself?
I am automatically here for autistic changelings, okay? Okay then!
Will you be reading any of these? Let me know!
Related Posts