Must-Have Monday is a feature highlighting which of the coming week's new releases I'm excited for. It is not meant to be a comprehensive list of all books being published that week; only those I'm interested in out of those I'm aware of! The focus is diverse SFF, but other genres sneak in occasionally too.
THIRTEEN books this week!
(Books are listed in order of pub date, then Adult SFF, Adult Other, YA SFF, YA Other, MG SFF.)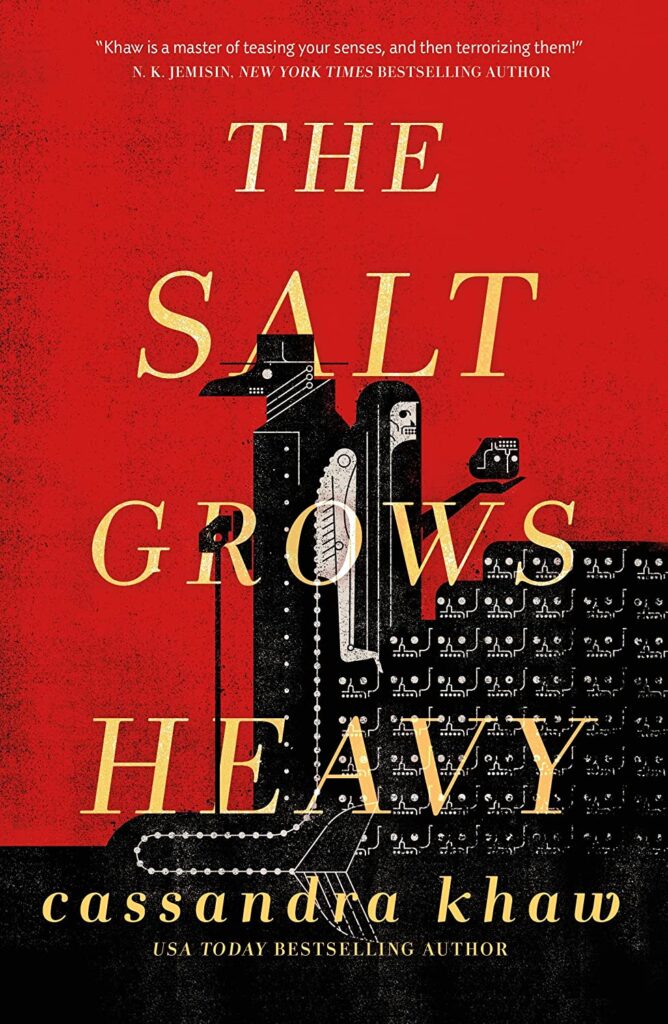 The Salt Grows Heavy
by
Cassandra Khaw
Genres:
Horror
,
Queer Protagonists
Representation:
Pansexual MC, nonbinary partner
Published on:
2nd May 2023
Goodreads
From USA Today bestselling author Cassandra Khaw comes The Salt Grows Heavy, a razor-sharp and bewitching fairytale of discovering the darkness in the world, and the darkness within oneself.

You may think you know how the fairytale goes: a mermaid comes to shore and weds the prince. But what the fables forget is that mermaids have teeth. And now, her daughters have devoured the kingdom and burned it to ashes.

On the run, the mermaid is joined by a mysterious plague doctor with a darkness of their own. Deep in the eerie, snow-crusted forest, the pair stumble upon a village of ageless children who thirst for blood, and the three 'saints' who control them.
The mermaid and her doctor must embrace the cruellest parts of their true nature if they hope to survive.
I got to read this one early, and as usual, Khaw's decadent prose had me utterly hypnotised – even when the horror aspects made me flinch! Strange and gorgeous.
By a Silver Thread (DFZ Changeling #1)
by
Rachel Aaron
Genres:
Fantasy
,
Contemporary or Urban Fantasy
Published on:
2nd May 2023
Goodreads

A new DFZ series

In the world's most magical metropolis where spirits run noodle shops and cash-strapped dragons stage photo-ops for tourists, people still think fairies are nothing but stories, and that's exactly how the fairies like it. It's a lot easier to feast on humanity's dreams when no one believes you exist. But while this arrangement works splendidly for most fair folk, Lola isn't one of the lucky ones.

She's a changeling, a fairy monster made just human enough to dupe unsuspecting parents while fairies steal their real child. The magic that sustains her was never meant to last past the initial theft, leaving Lola without a future. But thanks to Victor Conrath, a very powerful--and very illegal--blood mage, she was given the means to cheat death.

For a price.

Now the only changeling ever to make it to adulthood, Lola has served the blood mage faithfully, if reluctantly, for twenty years. Her unique ability to slip through wards and change her shape to look like anyone has helped make Victor a legend in the DFZ's illegal-magic underground. It's not a great life, but at least the work is stable… until her master vanishes without a trace.

With only a handful left of the pills that keep her human, Lola must find Victor before she turns back into the fairy monster she was always meant to be. But with a whole SWAT team of federal paladins hunting her as a blood-mage accomplice, an Urban Legend on a silent black motorcycle who won't leave her alone, and a mysterious fairy king with the power to make the entire city dream, Lola's chances of getting out of this alive are as slender as a silver thread.

BY A SILVER THREAD is a fast-paced Urban Fantasy featuring cunning fae, a kind heroine, and a magic so destructive that using it even once will stain your soul forever. Buckle up for a wild ride through a near-future, magical Detroit where urban legends ride the streets, fairy queens have mansions uptown, and the City is an actual deity you don't want to cross. Welcome to the DFZ!

I am a BIG FAN of Aaron's Heartstriker series, and I had a ton of fun with the DFZ series. By a Silver Thread is set in the same world as them (although Aaron has made it clear that this new series reads perfectly well as a standalone, as do the others) and I'm SO HAPPY to be getting back to this setting! Especially since there's been no hint, until now, that there are Fae in the DFZ world!
Dragonfall (The Dragon Scales Trilogy, #1)
by
L.R. Lam
Genres:
Fantasy
,
Queer Protagonists
Representation:
Bi/pansexual MC, nonbinary bi/pansexual MC, M/NB
Published on:
2nd May 2023
Goodreads
Long-banished dragons, revered as gods, return to the mortal realm in the first in this magical new epic fantasy trilogy from a bestselling author

Long ago, humans betrayed dragons, stealing their magic and banishing them to a dying world. Centuries later, their descendants worship dragons as gods. But the gods remember, and they do not forgive.

Thief Arcady scrapes a living on the streets of Vatra. Desperate, Arcady steals a powerful artifact from the bones of the Plaguebringer, the most hated person in Lumet history. Only Arcady knows the artifact's magic holds the key to a new life among the nobles at court and a chance for revenge.

The spell connects to Everen, the last male dragon foretold to save his kind, dragging him through the Veil. Disguised as a human, Everen soon learns that to regain his true power and form and fulfil his destiny, he only needs to convince one little thief to trust him enough to bond completely--body, mind, and soul--and then kill them.

Yet the closer the two become, the greater the risk both their worlds will shatter.
Okay, this one ended up not being for me – I DNFed it, but in fairness, that was mostly because I was hoping it would be something it's not. Dragonfall doesn't have super lush prose or really intricate worldbuilding, but as long as you know that going in, I think anyone interested in the premise still has the potential to enjoy it massively!
Fourth Wing (The Empyrean, #1)
by
Rebecca Yarros
Genres:
Fantasy
Representation:
MC with chronic pain
Published on:
2nd May 2023
Goodreads
Enter the brutal and elite world of a war college for dragon riders from USA Today bestselling author Rebecca Yarros

Twenty-year-old Violet Sorrengail was supposed to enter the Scribe Quadrant, living a quiet life among books and history. Now, the commanding general—also known as her tough-as-talons mother—has ordered Violet to join the hundreds of candidates striving to become the elite of Navarre: dragon riders.

But when you're smaller than everyone else and your body is brittle, death is only a heartbeat away...because dragons don't bond to "fragile" humans. They incinerate them.

With fewer dragons willing to bond than cadets, most would kill Violet to better their own chances of success. The rest would kill her just for being her mother's daughter—like Xaden Riorson, the most powerful and ruthless wingleader in the Riders Quadrant.
She'll need every edge her wits can give her just to see the next sunrise.

Yet, with every day that passes, the war outside grows more deadly, the kingdom's protective wards are failing, and the death toll continues to rise. Even worse, Violet begins to suspect leadership is hiding a terrible secret.

Friends, enemies, lovers. Everyone at Basgiath War College has an agenda—because once you enter, there are only two ways out: graduate or die.
The premise of Fourth Wing is undeniably awesome, and I'm even more interested since I learned that the MC has a chronic pain condition! You can read an excerpt over here.
Spring's Arcana (The Dead God's Heart #1)
by
Lilith Saintcrow
Genres:
Fantasy
Published on:
2nd May 2023
Goodreads
American Gods vs. Baba Yaga in this Russian-inspired contemporary fantasy Spring's Arcana, by New York Times bestseller Lilith Saintcrow.

Nat Drozdova is desperate to save a life. Doctors can do little for her cancer-ridden mother, who insists there is only one cure—and that Nat must visit a skyscraper in Manhattan to get it.

Amid a snow-locked city, inside a sleek glass-walled office, Nat makes her plea and is whisked into a terrifying new world. For the skyscraper holds a hungry winter goddess who has the power to cure her mother…if Nat finds a stolen object of great power.

Now Nat must travel with a razor-wielding assassin across an American continent brimming with terror, wonder, and hungry divinities with every reason to consume a young woman. For her ailing mother is indeed suffering no ordinary illness, and Nat Drozdova is no ordinary girl. Blood calls to blood, magic to magic, and a daughter may indeed save what she loves...

…if it doesn't consume her first.

This is the way to the Dead God's Heart.
Saintcrow is an author I've loved for years who has never gotten the recognition she's deserved, so I'm really happy to see that Spring's Arcana has been getting more of a marketing push. I probably wouldn't pick up a book with this blurb if it wasn't Saintcrow, but her worldbuilding and take on magic are always enchanting and thrillingly unique, so I'll be pouncing on it!
A Portrait in Shadow
by
Nicole Jarvis
Genres:
Fantasy
,
Historical Fantasy
Published on:
2nd May 2023
Goodreads
Enter the sumptuous world of 17th century Florence, where art and magic are interwoven. Artemisia Gentileschi is a bright talent mired in shadows and will stop at nothing to make her mark, or exact her revenge – perfect for fans of Susanna Clarke.

When Artemisia Gentileschi arrives in Florence seeking a haven for her art, she faces instant opposition from the powerful Accademia, self-proclaimed guardians of the healing and necrotic magic that protect the city from plague and curses. The all-male Accademia jealously guards its power over art and architecture, and has no place for an ambitious young woman arriving from Rome under a cloud of scandal.

Alone and fighting for every commission, Artemisia begins winning allies among luminaries such Galileo and Michelangelo the Younger, as well as the wealthy and powerful Cristina de' Medici. But when the shadow of her infamous rape trial in Rome turns her thoughts to vengeance, and an incendiary preacher turns his ire from Galileo to Florence's art world, Artemisia must choose between revenge and her dream of creating a legacy that will span the generations.
This sounds like it features a really interesting magic system, and Jarvis demonstrated that she has a lovely writing style in her previous book, The Lights of Prague. I'm kind of TiredTM of stories where women fighting asshole misogynists is a major part of the plot, so I may not get to this one right away, but it's definitely going on my tbr!
Loki: A Novel
by
Melvin Burgess
Genres:
Fantasy
,
Queer Protagonists
Representation:
Genderfluid MC
Published on:
2nd May 2023
Goodreads
Melvin Burgess revolutionised children's literature with the infamous cult novels Junk and Doing It. In his first adult novel, Loki, he breathes new life into Norse myths.Starting with the Norse creation myths, the trickster god Loki takes the reader on a wild ride through Norse mythology, from the time the gods - the founders of Asgard - defeated races of monsters, and hurtling through famous stories, including Odin hanging himself on the World Tree, the theft of the corrupting gold ring and the murder of Baldr, the god of love and the Sun. This narrative may seem familiar enough at first, but the reader should beware.

Born within the heart of a fire in the hollow of a tree-trunk, Loki arrives in Asgard as an outsider. He is a trickster, an unreliable narrator, the god of intelligence and politics. In spite of his cleverness and sparkling wit (or, perhaps, because of this...) Loki struggles to find his place among the old patriarchal gods of supernatural power and is constantly at odds with the god of thunder - Thor.

This retelling contemporary in tone, at once amusing and relatable. It is a heartfelt plea to overthrow the old gods of power and authority and instigate a new era ruled by love and intelligence. Alongside the politics of Asgard, it charts the course of Loki's many loves and families, from his mothering of Odin's famous horse to his intense, turbulent, and, eventually, fatal relationship with Baldr the Beautiful - a tender and moving story of love that goes wrong, jealousy and a transitioning that is forbidden by society.
This was released in the UK last year, where it's gathered quite a lot of love! It's also apparently very 'vulgar', which makes me laugh; clearly the reviewers who said so weren't familiar with Burgess as a writer. Being ShockingTM is kind of his thing. Consider yourself warned!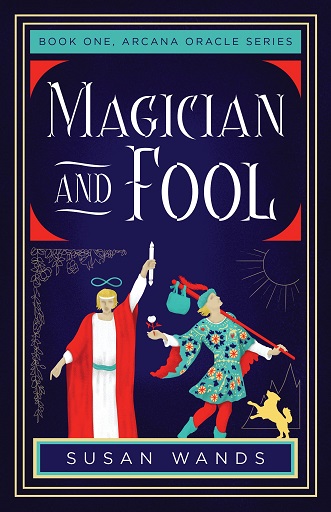 Magician and Fool: Book One, Arcana Oracle Series
by
Susan Wands
Genres:
Fantasy
,
Historical Fantasy
Published on:
2nd May 2023
Goodreads
Pamela Colman Smith, newly arrived from New York to her birthplace of London, is received as an oddball in Victorian society. Her second sight helps her in her new job: illustrating tarot cards for the Golden Dawn, a newly formed occult group. But when Pamela refuses to share her creations with Aleister Crowley, a controversial magician, he issues a threat: give up the cards' power, or he'll harm her muses.

In the midst of this battle, two of Pamela's idols, the actors Henry Irving and William Terriss, take her under their wing. Henry, who tutors her as the leader of the Lyceum Theatre, becomes the muse for her Magician card. William Terriss, teaching her by examples of instinct and courage, becomes the muse for her Fool card. As Pamela begins to create the tarot deck, she is almost overwhelmed by the race to possess the magical power of her cards. In order to defeat Aleister, Henry and William will have to transform into living incarnations of the Magician and the Fool—and Pamela will have to learn how to conjure her own magic.
I love tarot, so a novel about Pamela Colman Smith, who illustrated the first tarot deck, definitely caught my attention! (As did the fact that the author's name is Wands, when wands are one of the suits in tarot. Minor detail, but it delights me!)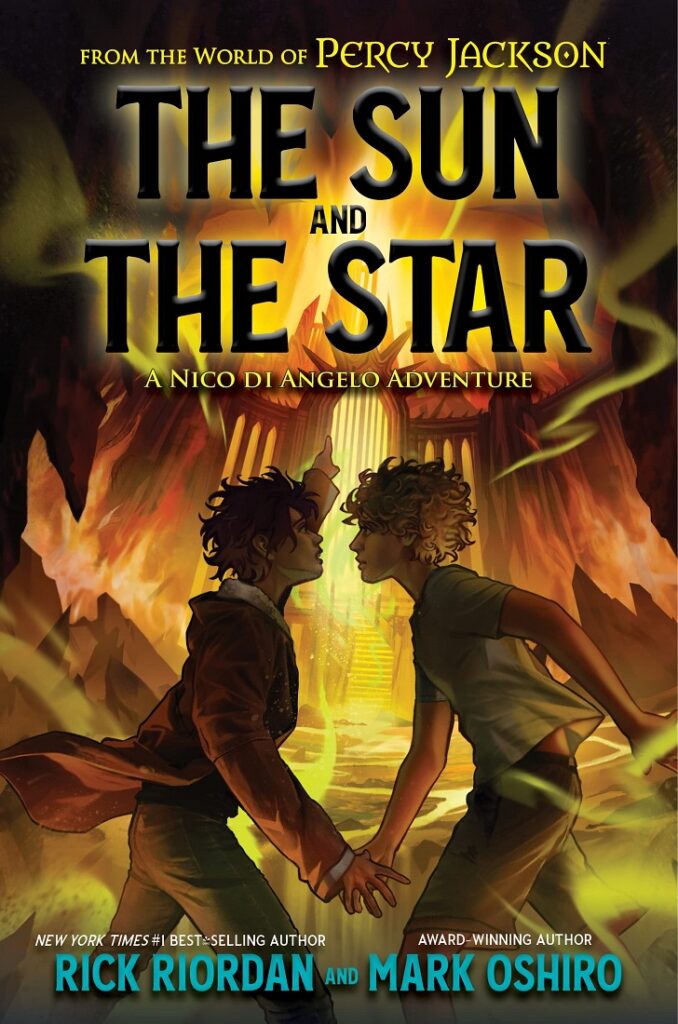 The Sun and the Star: A Nico di Angelo Adventure
by
Rick Riordan
,
Mark Oshiro
Genres:
Fantasy
,
Contemporary or Urban Fantasy
,
Queer Protagonists
Representation:
M/M
Published on:
2nd May 2023
Goodreads
Demigods Nico di Angelo and Will Solace must endure the terrors of Tartarus to rescue an old friend in this thrilling adventure co-written by New York Times #1 best-selling author Rick Riordan and award-winning author Mark Oshiro.

As the son of Hades, Nico di Angelo has been through so much, from the premature deaths of his mother and sister, to being outed against his will, to losing his friend Jason during the trials of Apollo. But there is a ray of sunshine in his life–literally: his boyfriend, Will Solace, the son of Apollo. Together the two demigods can overcome any obstacle or foe. At least, that's been the case so far...

Now Nico is being plagued by a voice calling out to him from Tartarus, the lowest part of the Underworld. He thinks he knows who it is: a reformed Titan named Bob whom Percy and Annabeth had to leave behind when they escaped Hades's realm. Nico's dreams and Rachel Dare's latest prophecy leave little doubt in Nico's mind that Bob is in some kind of trouble. Nico has to go on this quest, whether Mr. D and Chiron like it or not. And of course Will insists on coming with. But can a being made of light survive in the darkest part of the world? and what does the prophecy mean that Nico will have to "leave something of equal value behind?"

Nico will have to face demons both internal and external as his relationship with Will is tested to the core in this standalone adventure featuring two of the most popular characters in the Percy Jackson saga.
It's been a while since I read the Percy Jackson books, and I never reached the ones where Nico appeared – but I know he's a major fan-favourite, and that the fandom's been waiting for him to get his own book for a LONG time!
Lion's Legacy (Tennessee Russo, #1)
by
Lev A.C. Rosen
Genres:
Fantasy
,
Contemporary or Urban Fantasy
,
Queer Protagonists
Representation:
Gay MC
Published on:
2nd May 2023
Goodreads
Seventeen-year-old Tennessee Russo's life is imploding. His boyfriend has been cheating on him, and all his friends know about it. Worse, they expect him to just accept his ex's new relationship and make nice. So when his father, a famous archaeologist and reality show celebrity whom he hasn't seen in two years, shows up unexpectedly and offers to take him on an adventure, Tennessee only has a few choices:

1. Stay, mope, regret it forever.
2. Go, try to reconcile with Dad, become his sidekick again.
3. Go, but make it his adventure, and Dad will be the sidekick.

The object of his father's latest quest, the Rings of the Sacred Band of Thebes, is too enticing to say no to. Finding artifacts related to the troop of ancient Greek soldiers, composed of one-hundred-and-fifty gay couples, means navigating ruins, deciphering ancient mysteries, and maybe meeting a cute boy.

But will his dad let Tennessee do the right thing with the rings if they find them? And what is the right thing? Who does queer history belong to?

Against the backdrop of a sunlit Greek landscape, author L. C. Rosen masterfully weaves together adventure, romance, and magic in a celebration of the power of claiming your queer legacy.
I haven't been able to find out what form the magical elements in this book take, but I've been assured there are some. Even if there weren't, I'm definitely interested in the question who does queer history belong to? And let's be honest, queer Indiana Jones is a premise that's amazing all by itself!
Orphia and Eurydicius
by
Elyse John
Genres:
Fantasy
,
Queer Protagonists
Representation:
Genderqueer MCs
Published on:
3rd May 2023
Goodreads
A stunning, enthralling story about unconventional love, the power of creativity and the courage of women who struggle to make their voices heard - for fans of Jennifer Saint, Madeline Miller and Pat Barker.

Their love transcends every boundary. Can it cheat death?

Orphia dreams of something more than the warrior crafts she's been forced to learn. Hidden away on a far-flung island, her blood sings with poetry and her words can move flowers to bloom and forests to grow ... but her father, the sun god Apollo, has forbidden her this art.

A chance meeting with a young shield-maker, Eurydicius, gives her the courage to use her voice. After wielding all her gifts to defeat one final champion, Orphia draws the scrutiny of the gods. Performing her poetry, she wins the protection of the goddesses of the arts: the powerful Muses, who welcome her to their sanctuary on Mount Parnassus. Orphia learns to hone her talents, crafting words of magic infused with history, love and tragedy.

When Eurydicius joins her, Orphia struggles with her desire for fame and her budding love. As her bond with the gentle shield-maker grows, she joins the Argonauts on their quest for the Golden Fleece. Facing dragons, sirens and ruthless warriors on the voyage, Orphia earns unparalleled fame, but she longs to return to Eurydicius.
Yet she has a darker journey to make - one which will see her fight for her love with all the power of her poetry.


PRAISE
'Orphia and Eurydicius spins a bewitching tale of courage, love, and defiance, giving voice and agency to the women in Greek tales who are so often defined by the men they are associated with. Orphia's poetry may bring the gods to tears; John's words have the same effect on us mere mortals. Tragic and triumphant, a must-read!' Andrea Stewart, author of The Bone Shard Daughter
Hands down the book I'm most excited for this week! Elyse John is the same author who wrote The Councillor, one of my all-time faves, and the snippets I've seen of Orphia and Eurydicius have me starry-eyed! Do NOT expect me to be taking any calls once this drops!!!
Bitterthorn
by
Kat Dunn
Genres:
Fantasy
,
Queer Protagonists
Representation:
F/F
Published on:
4th May 2023
Goodreads
Blumwald is a town overshadowed by an ancient curse: in a sinister castle in the depths of the wild wood lives a monstrous Witch. Once a generation, she comes to claim a companion to return with her – never to be seen again. Now that time is drawing near once more...

Mina, daughter of the duke, is grieving and lonely. She has lost all hope of any future for herself in Blumwald. So when the Witch demands her next companion, Mina offers herself up – though she has no idea what fate awaits her. Stranded with her darkly alluring captor, the mystery of what happened to the previous companions draws Mina into the heart of a terrifying secret that could save her life, or end it.
As best I can tell, this is a UK-only release right now, but I think I'm going to need to jump through some hoops and get my hands on it, because it sounds darkly wonderful!
Stargun Messenger
by
Darby Harn
Genres:
Queer Protagonists
,
Sci Fi
Representation:
Sapphic MC
Published on:
5th May 2023
Goodreads
Astra Idari is a mess.

She drinks too much, remembers too little, and barely pays for it all as a Stargun Messenger. She hunts down thieves who steal filamentium, the fuel that allows for faster-than-light travel. When Idari meets Gen Emera, she meets the girl of her dreams and the last living star. There's just one problem.

Filamentium is only found in the blood of living stars.

Everyone wields knives and justifications for butchering the living stars to get around, but once Idari knows the truth, she faces a stark choice. Either she turns Emera over to her employers who control the filamentium monopoly, or risks everything to help Emera fulfill her quest to save her people.

The choice should be simple, but it's not losing her life that terrifies Idari. It's finally living. Idari knows she's human despite outwardly appearing to be an android with a failing memory stitched together by her ship's irascible AI, CR-UX. She's been just getting by for longer than she remembers, assured in her humanity, but not enough to risk it.

Idari has lived her entire life in darkness. The dark comforts and shields. The dark preserves in its cold, and Idari may not be able to keep her star out of her shadow.
This sounds…strange but fascinating??? STARS ARE LIVING PEOPLE??? No idea how that's going to work, but definitely invested in finding out!
Will you be reading any of these? Let me know!
Related Posts