Must-Have Monday is a feature highlighting which of the coming week's new releases I'm excited for. It is not meant to be a comprehensive list of all books being published that week; only those I'm interested in out of those I'm aware of! The focus is diverse SFF, but other genres sneak in occasionally too.
We have FOURTEEN books to feature this week!
(Books are listed in order of pub date, then Adult SFF, Adult Other, YA SFF, YA Other, MG SFF.)
The Battle Drum (Ending Fire, #2)
by
Saara El-Arifi
Genres:
Fantasy
,
High Fantasy
,
Queer Protagonists
Representation:
Black cast, F/F
Published on:
23rd May 2023
Goodreads
Murder. Secrets. Sacrifice: Three women seek the truth of the empire's past. And the truth they find has the power to ignite a war in the sequel to The Final Strife, the continuation of a visionary fantasy trilogy inspired by Africa and Arabia.

Anoor is the first blue-blooded ruler of the Wardens' Empire. But when she is accused of a murder she didn't commit, her reign is thrown into turmoil. She must solve the mystery and clear her name without the support of her beloved, Sylah.

Sylah braves new lands to find a solution for the hurricane that threatens to destroy her home. But in finding answers, she must make a decision, does she sacrifice her old life in order to raise up her sword once more?

Hassa's web of secrets grows ever thicker as she finds herself on a trail of crimes in the city. Her searching uncovers the extent of the atrocities of the empire's past and present. Now, she must guard both her heart and her land.

The three women find their answers, but they're not the answers they wanted. The drumbeat of change thrums throughout the world.

And it sings a song of war.

Ready we will be, when the Ending Fire comes,
When the Child of fire brings the Battle Drum,
The Battle Drum,
The Battle Drum.
Ready we will be, for war will come.
The second book in the Ending Fire trilogy!!! Enough said.
The Untimely Undeath of Imogen Madrigal
by
Grayson Daly
Genres:
Fantasy
,
Queer Protagonists
Representation:
Sapphic MC
Published on:
23rd May 2023
Goodreads
Death is Both an End and a Beginning.

On the island city of Lenorum, Maeve serves the Sisterhood of Good Death, a convent whose purpose is to shepherd lost souls from one world to the next. But her life of devotion to the unquiet dead is upended by an encounter with the haughty poet Imogen Madrigal, who has mysteriously returned from beyond the veil not in spirit, but in the flesh--and determined to obtain justice, whatever the cost. Maeve agrees to help Imogen solve her murder, which propels her headlong into the hedonistic and heretical world of the extravagant and influential Poets' Court.

THE UNTIMELY UNDEATH OF IMOGEN MADRIGAL delivers a metaphysical mystery in the richly imagined, darkly fantastic and urbane world of Lenorum, as Maeve comes to terms with her own path and learns what living a good life truly means.
Murder mysteries don't typically interest me – but you've got to admit this doesn't sound like your typical murder mystery! Plus, I'd be pouncing on this one for the 'hedonistic and heretical world of the extravagant and influential Poets' Court' alone! WHAT IS A POETS' COURT??? I MUST KNOW!!!
Heir of Fates (The Shadow Sequence)
by
Katie Collupy
Genres:
Fantasy
Published on:
23rd May 2023
Goodreads
A hidden prince running from his destiny.
A nightmare seeking vengeance on a king.
A god waiting for a vessel.

Centuries ago, both the gods and their magic were banished from the human kingdom of Mystwood. The kings have since violently erased the Church of the Nine. But when history has been erased so has the truth, and an exiled god is done sleeping.

SILAS SCHOLAR has never known his destiny among the Fates, a group of individuals blessed with the foresight of the gods, until he discovers his true identity. Fearing that he will be locked in another gilded cage, Silas plans his escape.

MAURA FIORNE, an assassin and spy, has been haunted by a sentient shadow for as long as she can remember. Driven to pay reparations for her past, Maura is on a path of murderous vengeance against the land that cursed her, and its king.

SERAPHINE AU FIRE, a royal elven warrior, has been crafted into the perfect weapon to use against the human kingdom. Desperate to prove her worth, she sets out to destroy the monarchy from within.

NERISHA ADELYSE, an orphan taken in by the royal family of Mystwood, has always been perfectly content with her position at court, until she uncovers a treasonous secret about her mother.

'Ruin of Kings' meets 'Game of Thrones' in a world ravaged by war and full of hidden gods waiting to possess any willing soul to take back what was theirs.
I could tell you it wasn't the cover that caught my attention here, but I would obviously be lying – look at that cover!!! So pretty. Gods and vessels are a trope that I'm genuinely interested in, though, and it also sounds like there might be some kind of divine conflict – gods out to take back what is theirs??? Yes PLEASE.
Though I have no idea what you get when you cross Ruin of Kings with Game of Thrones. That is, uh. Not a pairing I would ever have thought of? We are talking about Jenn Lyons' Ruin of Kings, right? Not some other one? Because, um. I actually got to speak to Lyons at WorldCon in Dublin and it was pretty clear she was writing specifically to subvert books like Game of Thrones. So I don't know how that'll work. But judging from the ecstatic early reviews, Collupy has it figured out!
The Blighted Stars (The Devoured Worlds, #1)
by
Megan E. O'Keefe
Genres:
Queer Protagonists
,
Sci Fi
Representation:
Trans MC
Published on:
23rd May 2023
Goodreads
When a spy is stranded on a dead planet with her mortal enemy, she must first figure out how to survive before she can uncover the conspiracy that landed them both there in the first place.

She's a revolutionary. Humanity is running out of options. Habitable planets are being destroyed as quickly as they're found and Naira Sharp knows the reason why. The all-powerful Mercator family has been controlling the exploration of the universe for decades, and exploiting any materials they find along the way under the guise of helping humanity's expansion. But Naira knows the truth, and she plans to bring the whole family down from the inside.

He's the heir to the dynasty. Tarquin Mercator never wanted to run a galaxy-spanning business empire. He just wanted to study rocks and read books. But Tarquin's father has tasked him with monitoring the mining of a new planet, and he doesn't really have a choice in the matter.

Disguised as Tarquin's new bodyguard, Naira plans to destroy his ship before it lands. But neither of them expects to end up stranded on a dead planet. To survive and keep her secret, Naira will have to join forces with the man she's sworn to hate. And together they will uncover a plot that's bigger than both of them.
This has gotten a LOT of pre-release love, and I'm curious. Although I think I'll need to be in a very specific headspace when I pick it up – otherwise the evil of the Mercators is going to be too rage-inducing to handle. That being said, from early reviews it sounds like this is more a romance than anything else, so it might be more escapist and sweet than not!
When Oceans Rise
by
Robin Alvarez
Genres:
Fantasy
,
Contemporary or Urban Fantasy
Representation:
Filipino-American MC
Published on:
23rd May 2023
Goodreads
Submerged in a toxic relationship and disconnected from everyone, she turns to the sea to decide her fate. Its decision? Toss her to the sea witch.

Seventeen-year-old Malaya is cursed. In her family, every girl's first love ends in death after falling for someone evil. Good thing Malaya's dream guy isn't monstrous.

Except the curse is real and preventing Malaya from noticing how much he has gaslit and isolated her until she can't be saved. With no other options, the sea witch is the only one to help her. Bartering her voice for a new life where she and her abusive boyfriend never met, Malaya accidentally swaps places with an alternate timeline version of herself who didn't make her mistakes. As she tries to undo the switch, the sea witch uses Malaya's voice to unleash Filipino mythological creatures into the worlds.

Can a champion, an alternate timeline sister, and Malaya fight these beasts and stop the sea witch before she destroys both timelines?
This is the oddest (and therefore most interesting) take on a Little Mermaid retelling I've seen in a WHILE. Or, well – it doesn't really sound much like the Little Mermaid, just a few familiar beats woven into a very different story, and to be honest, that's how I prefer it.
BLAHOM
by
April Q. Russell
Genres:
Fantasy
Representation:
Black MC
Published on:
23rd May 2023
Goodreads
Beautiful, poised, and adored by the Zaed society her family rules over, Blahom has spent her young life preparing for her future as a ruler and royal. The war between her people, who value culture and connection, and the Delions, who aim to rule Sirius with technology, has raged on for years—but since the disappearance of a cousin and countless other women in her community, the stakes have suddenly become higher…and much more personal.

Lacking solutions for how to end the conflict, Blahom's mother shares a plan to end the war that was revealed to her in a visionary dream —if only her family would agree. As the rulers—including Blahom's younger sister Katyana and fierce warrior brother Vasco—come to accept their changing roles in the battles to come, the brief moment of hope is shattered by a shocking murder that strikes at the core of Blahom's inner circle. Touching off a hero's journey that sees Blahom and her sister come to embrace their strength and power to defend their beautiful land, the two young women will endure grueling training, skepticism, tragedy, and risk a young new love in order to save their people and way of life.

With unforgettable characters, sizzling romance, and page-turning suspense, Book One is the first book in a new, richly inventive urban fantasy series that marks the debut of author April Q. Russell. It certainly won't be the last.
I admit, this one confuses me, and I haven't gotten a much clearer picture of what it's about or like from early reviews – but I still plan on taking a peek at it!
Magic Has No Borders
by
Sona Charaipotra
,
Samira Ahmed
,
Sabaa Tahir
,
Sayantani DasGupta
,
Tanaz Bhathena
,
Sangu Mandanna
,
Olivia Chadha
,
Nafiza Azad
,
Tracey Baptiste
,
Naz Kutub
,
Nikita Gill
,
Swati Teerdhala
,
Shreya Ila Anasuya
,
Tahir Abrar
,
Preeti Chhibber
Genres:
Fantasy
Representation:
South Asian cast
Published on:
23rd May 2023
Goodreads
A pair of star-crossed lovers search for a way back to one another against all odds…
A girl fights for her life against a malignant, generations-old evil…

A peri seeks to reclaim her lost powers…

A warrior rebels against her foretold destiny…

From chudails and peris to jinn and goddesses, this lush collection of South Asian folklore, legends, and epics reimagines stories of old for a modern audience. This fantasy and science fiction teen anthology edited by Samira Ahmed and Sona Charaipotra contains a wide range of stories from fourteen bestselling, award-winning, and emerging writers from the South Asian diaspora that will surprise, delight, and move you. So read on, for after all, magic has no borders.

With stories by:
▪Sabaa Tahir, #1 New York Times bestselling author of the Ember in the Ashes series, and winner of the National Book Award and Printz Award for All My Rage
▪Sayantani DasGupta, New York Times bestselling author of the Kiranmala and the Kingdom Beyond series
▪Preeti Chhibber, author of Spider-Man's Social Dilemma
▪Sona Charaipotra, author of Symptoms of a Heartbreak and How Maya Got Fierce, and coauthor of The Rumor Game and Tiny Pretty Things, now a Netflix original series.
▪Tanaz Bhathena, award-winning author of Hunted by the Sky and Of Light and Shadow
▪Sangu Mandanna, bestselling author of The Very Secret Society of Irregular Witches and the Celestial Trilogy
▪Olivia Chadha, author of Rise of the Red Hand
▪Nafiza Azad, author of William C. Morris Award nominee, The Candle and the Flame
▪Tracey Baptiste, New York Times bestselling author of The Jumbies series and Minecraft: The Crash
▪Naz Kutub, author of The Loophole
▪Nikita Gill, bestselling author of Wild Embers and Fierce Fairytales
▪Swati Teerdhala, author of the Tiger at Midnight trilogy
▪Shreya Ila Anasuya, New Voices selection
▪Tahir Abrar, New Voices selection
SOUTH ASIAN FANTASY, HELLS YES!!! Specifically dealing with the myths and legends of that part of the world, I think? I'm so excited; I'm a total myth-geek and I KNOW this collection is going to engulf me in myths I've never heard of before! (In case my phrasing is unclear: that is an EXTREMELY AWESOME THING!)
Of Light and Shadow
by
Tanaz Bhathena
Genres:
Fantasy
Representation:
Indian setting and cast
Published on:
23rd May 2023
Goodreads
Of Light and Shadow is a novel about magic, mayhem, love, and betrayal--the story of a bandit and a prince who change each other in unexpected ways.

When they don't give us our birthright, we steal it.

Roshan Chaya is out for justice. Abandoned by her parents at birth and adopted by the kingdom of Jwala's most notorious bandit before his brutal murder, she is now leader of the Shadow Clan, a gang of farmers-turned-bandits impoverished by the provincial governor's atrocities and corruption. Roshan's goal: to avenge her adoptive father and earn back rights and dignity for her people.

Prince Navin has always felt like an outcast. Second in line for the throne, he has never been close to his grandmother, Queen Bhairavi of Jwala. When a night out drinking with friends leads to his capture by the infamous Shadow Clan, Navin schemes to befriend Roshan and use her as a means to escape. His ploy, however, brings Navin closer to the corruption and poverty at the heart of Roshan's province, raising questions about its governor and Navin's own family.

To further complicate things, the closer Roshan and Navin get, the harder it becomes to fight their growing attraction. But how can they trust each other when the world as they know it starts to fall apart?

Set in a magical world inspired by the badlands of 17th century India, this standalone epic fantasy novel by Tanaz Bhathena is packed with political tensions, dangerous schemes, and swoon-worthy romance that asks the age old question: can love conquer all?
Another book that's been making early readers happy! I have a soft spot for ruthless girls, so Roshan definitely has my attention. Also, inconsequential, I Iknow, but I'm fascinated by the dagger-thing she's holding on the cover; I don't think I've seen a weapon with that kind of handle/hilt before.
Kill Your Darlings
by
L.E. Harper
Genres:
Fantasy
,
Portal Fantasy
Representation:
MC with depression
Published on:
24th May 2023
Goodreads
"INKHEART meets INCEPTION in this allegorical masterpiece."

Fantasy author Kyla knows dreams don't come true. Isolated and grappling with debilitating depression, she copes by writing about the realm of Solera. Fearless heroes, feisty shapeshifters, and mighty dragons come alive on her pages. She adores her characters, but she doesn't believe in happy endings. And if she can't have one, why should they?

Kyla's on the verge of giving up on everything when she wakes one morning, magically trapped in her fictional world. Now she's with her most cherished characters: the friends she's always yearned for, the family she's never known. There's even someone who might be Prince Charming (if Kyla could get her act together and manage some honest communication). She'd surrender to the halcyon fantasy, except she knows a nightmarish ending awaits. Solera is at war, and its defenders are losing against the insidious villain spawned in the depths of Kyla's mind. He feeds on the energy of dreams, seeks the destruction of all who oppose him—and Kyla's become his number one target.

Kyla must trade her pen for a sword and fight to change her story's ending, but this isn't a fantasy anymore. No happily-ever-after is guaranteed. And mental illness has robbed her of everything she needs to succeed: love, fighting spirit, hope. If Kyla can't overcome the darkness inside her, she'll die with her darlings.

CONTENT WARNINGS:Depictions of mental illness including depression, anxiety, suicidal ideation, and self-harm.
I see a LOT of potential for this to be a trainwreck – it does not fill me with confidence that the freaking cover looks like it's an illustration of self-harm or a suicide attempt, who thought that was a good idea? – but if it manages to avoid the potential pitfalls, that is definitely a great premise. I'm crossing my fingers for this to be epic and for it to deal with the issues it's tackling really beautifully well!
Perilous Times
by
Thomas D. Lee
Genres:
Fantasy
,
Contemporary or Urban Fantasy
Representation:
Brown Muslim MC, bisexual MC
Published on:
25th May 2023
Goodreads
An immortal Knight of the Round Table faces his greatest challenge yet—saving the politically polarized, rapidly warming world from itself—in this slyly funny contemporary take on Arthurian legend.

Legends don't always live up to reality.

Being reborn as an immortal defender of the realm gets awfully tiring over the years—or at least that's what Sir Kay's thinking as he claws his way up from beneath the earth yet again.

Kay once rode alongside his brother, King Arthur, as a Knight of the Round Table. Since then, he has fought at Hastings and at Waterloo and in both World Wars. But now he finds himself in a strange new world where oceans have risen, the army's been privatized, and half of Britain's been sold to foreign powers. The dragon that's running amok—that he can handle. The rest? He's not so sure.

Mariam's spent her life fighting what's wrong with her country. But she's just one ordinary person, up against a hopelessly broken system. So when she meets Kay, she dares to hope that the world has finally found the savior it needs.

Yet as the two travel through this bizarre and dangerous land, they discover that a magical plot of apocalyptic proportions is underway. And Kay's too busy hunting dragons—and exchanging blows with his old enemy Lancelot—to figure out what to do about it.

In perilous times like these, the realm doesn't just need a knight. It needs a true leader.

Luckily, Excalibur lies within reach.

But who will be fit to wield it?

With a cast that includes Merlin, Morgan le Fay, the Lady of the Lake, and King Arthur himself—all reimagined in joyous, wickedly subversive fashion— Perilous Times is an Arthurian retelling that looks forward as much as it looks back . . . and a rollicking, deadpan-funny, surprisingly touching fantasy adventure.
I have only just now noticed the image of Big Ben on the sword, that is very clever and I approve! Ahem. This is the third King Arthur story on my radar this year – we've had Winter Knight and Blackheart Ghosts, which were very different but both excellent. I've heard MANY good things about Perilous Times, so I'm hoping this will complete an epic Arthurian Trifecta of 2023! That would be extremely cool.
Also, I have been told there is at least one (1) talking squirrel in this book, and that's all I really need to hear.
A Kind Voice in Hell
by
Ames Mullery
Genres:
Fantasy
,
Contemporary or Urban Fantasy
,
Queer Protagonists
Representation:
Queer cast, trans MC, disability rep
Published on:
25th May 2023
Goodreads
What's a few years of bloody gladiator matches and witchcraft-for-hire when your best friend's life is on the line?

To save Max from the soaring costs of life-saving healthcare, Lark signs away everything he's got—his body, his freedom, even his witchcraft—to a billionaire who plays at philanthropy for entertainment. Although Lark may have the heart of a saint, he doesn't have the patience of one. It isn't long before he begins to rock the boat and ends up threatening the very people he wants to save in his reckless heroics.

A KIND VOICE IN HELL is a story about an occult-obsessed billionaire looking for away to bring gladiators into the twenty-first century, a trans man with a hero complex who has never known illness a day in his life, and the disabled people caught in the middle. It contains queer love, found family, and a hero who needs to sit down and shut up before he tries to help anyone.

Follow Lark as he forges an unlikely alliance on the inside and weaves masterful spellwork in hopes of changing the world for the better.
If you pitch your book to me as featuring 'trans rights AND trans wrongs', as Mullery did on twitter, then you may consider me instantly sold! As I indeed am; I think this is the book I'm most excited for this week!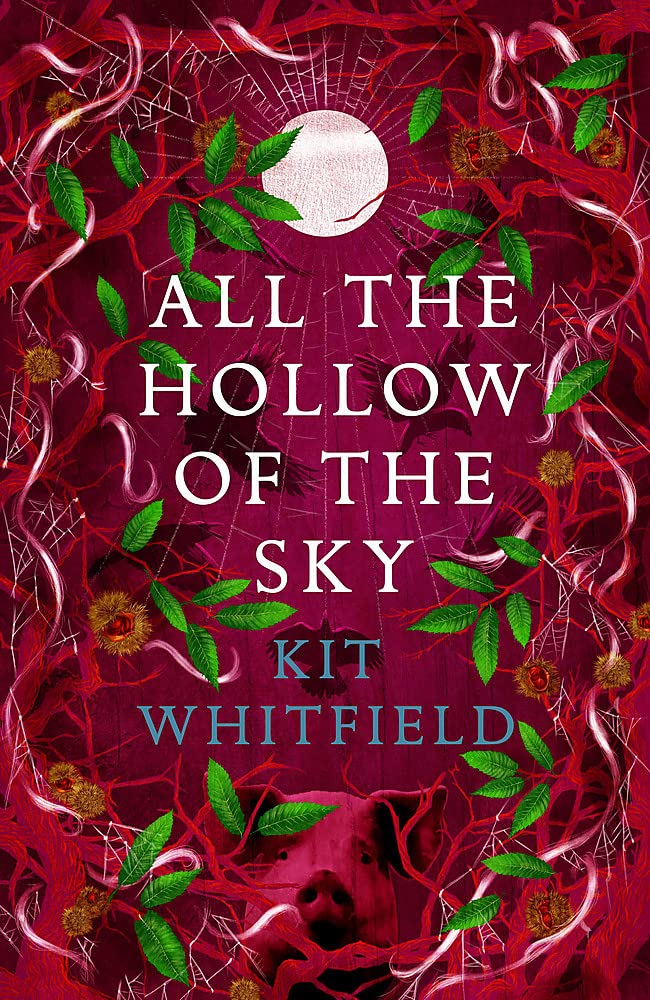 All the Hollow of the Sky (The Gyrford Series, #2)
by
Kit Whitfield
Genres:
Fantasy
,
Historical Fantasy
Published on:
25th May 2023
Goodreads
Jedediah's father walked out of his life forty years ago. Now he's back. He won't apologise, he doesn't explain - and, impossibly, he hasn't aged a day.

If you asked the folks of Gyrford, they'd tell you Jedediah Smith looked up to his father. After all, Corbie Mackem was the Sarsen the man who saved the Smith clan from Ab, the terrifyingly well-meaning fey who blighted a whole generation with unwanted gifts.

Corbie was a good fairy-smith. And if he wasn't a good father, well, that isn't something Jedediah likes to talk about. Especially since no one knows where Corbie's body lies: the day of his son's wedding, forty-odd years ago, he set off to travel and was never seen again.

These days Jedediah is a respectable elder, more concerned with his wayward grandson John than with his long-buried past, and he has other problems on his mind. There's the preparations for Saint Clement's Day, and the odd fact that birds all over the county have taken to hiding themselves, and the misbehaviour of Left-Lop the pig - which has grown vegetation all over its back, escaped its farm and taken to making personal remarks at folks in alarmingly alliterative verse.

But then disaster strikes. Ab is back. And Corbie, thought long dead, returns to Gyrford - younger than his son . . .
I think this is the first time Whitfield has written a sequel! When I read In The Heart of Hidden Things last year I had no idea it was the start of a series, and I didn't love it, but I'm happy to go back to this world and take another look!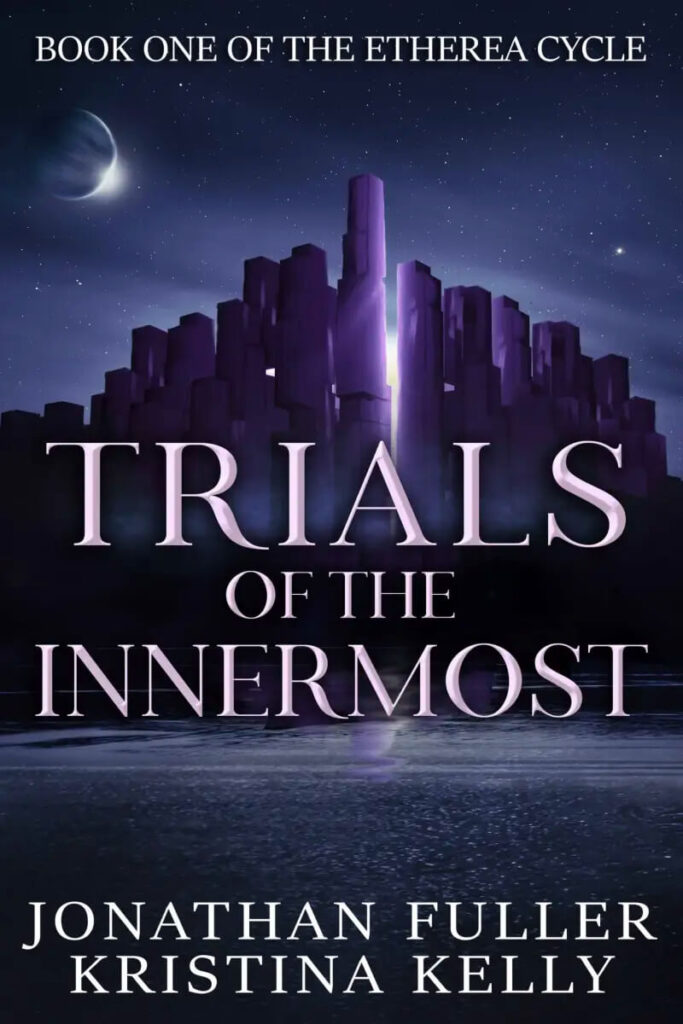 Trials of the Innermost (The Etherea Cycle, #1)
by
Jonathan Fuller
,
Kristina Kelly
Genres:
Fantasy
,
Queer Protagonists
Representation:
Bisexual MC, gay MC, ace MC
Published on:
26th May 2023
Goodreads
A cataclysm in Etherea's past stopped its rotation, leaving three distinct realms: one of light, one of dark, and one of twilight. Years of war followed until the establishment of the Trials of the Innermost.

A new set of six Truthseekers is chosen for this quest of learning and cooperation, but the fragile peace created by the Trials is crumbling even as they begin their first task. The group consists of each realm's best and brightest, and their talents range from magic channeled through music to explosive crystals. They will need all their unique abilities to survive the Trials, which take them through scorched wastes, a wall of storms, and the shadowed Fellwood.

Along their journey, a shared lost past is rediscovered, forcing the Truthseekers to question all they believed. As they grapple with their new reality, a deadly secret is unveiled. A fragment of an alien force called the Penumbra has possessed one of their own, granting him preternatural abilities. One realm seeks to control the entity, but the Penumbra has other plans. If it succeeds in reuniting its broken pieces, it will gain the power to consume Etherea's abundant life force. The Truthseekers must overcome their differences and work together before they lose their friend—and their world—to the Penumbra's hunger.
I'm a wee bit confused about Trials of the Innermost – I think maybe it was self-published before? This seems to be an indie release, and I had a lot of trouble nailing down the release date for a while there! But I'm Intensely InterestedTM in this Penumbra being from the blurb…
Into Shadow
by
Morgan Daimler
Genres:
Fantasy
,
Queer Protagonists
Representation:
Fat bi/pansexual MC, F/F/M
Published on:
26th May 2023
Goodreads
Muireann spent six months planning to kill the dragon that killed her family. Now the dragon is dead, and she's realized that it was actually the lesser threat guarding a devastating weapon that, if it falls into almost anyone's hands, will bring war and destruction to her world. It can't be left where it is. It can't be hidden. It can't be trusted in the hands of anyone in power or who seeks power. Muireann's only option becomes a reluctant quest with the elf she rescued from the dragon, a would-be knight, a selkie, and an elven mage to find out as much as she can about the weapon and seek a way to understand the magic that created it. Pursued by a dragon-worshipping cult bent on revenge and a hidden enemy that will do anything to remake the world, the five friends must try to find answers before all is lost. Muireann thought that killing a dragon was going to be impossible. Saving the world is going to be much harder.
Okay, I am joint-most excited for Into Shadow as well. A plus-sized MC, her selkie wife, their mage boyfriend, and a couple of friends have to save the world??? SIGN ME THE FUCK UP!!! Sia neeeeeeeeeeeeeeeeds!!!
Will you be reading any of these? Let me know!
Related Posts