This week is PACKED with awesome books – we have EIGHT (that I know about!) to look forward to!
BEHOLD!
Wild Sky
by
Zaya Feli
Genres:
Fantasy
,
Queer Protagonists
Representation:
M/M or mlm
Published on:
24th August 2020
Goodreads
Tauran Darrica has been retired from the Valreus Sky Guard for four years following the Battle of the Broken Wings that resulted in the death of his dragon. Now, all Tauran wants to do is spend his days forgetting the past and gambling his way to an unsteady income.

So when his old general from the Sky Guard hunts Tauran down to request his help with staving off the increasingly aggressive wild dragon population, Tauran refuses. But a fire ruins his rented room and leaves him without a place to stay, and Tauran finds himself on the road to Valreus, after all.

Tauran is determined to stay as far away from dragons as he can get, but a starry-eyed young man from Sharoani, land of the wild dragons, might just ruin his plans.

Kalai Ro-Ani has spent his life watching the stars, knowing he could never reach them. With his wild dragon Arrow, he sets out for the city of Valreus in the hope of building himself a better future than he could have stuck at the foot of the Kel Visal dragon temples.

But nobody told Kalai that only the Sky Guard is allowed to own dragons, so when Arrow kills a guard in Kalai's defense, it looks like his adventure might be over before it can begin. But a chance encounter at the old Valreus archive offers Kalai the future he'd been hoping for. In the span of a single day, he has a home, a job, and a purpose.

In Valreus, something much bigger falls into his lap – along with a tall and striking Valrean man with a rather strange disposition.

A new, LGBT+ fantasy story from Zaya Feli, featuring dragons, aerial battles and epic journeys through dangerous wilderness.
Um, queer dragon riders??? SAY NO MORE I AM SO HERE FOR THIS!
The Memory of Souls (A Chorus of Dragons, #3)
by
Jenn Lyons
Genres:
Epic Fantasy
,
Queer Protagonists
Representation:
Bisexual MC, NB MC, assorted queer cast
Published on:
25th August 2020
Goodreads
WHAT IF YOU'RE THE ONE WHO HAS TO DIE?

Now that the city of Atrine has been destroyed and Relos Var's plan to free the dark god Vol Karoth has been revealed—the end of the world is closer than ever.

To buy time for humanity, Kihrin, Janel, and Thurvishar must convince the king of the Manol vané to perform an ancient ritual that will strip the vané of their immortality—a ritual that certain vané will do anything to prevent. Including assassinating the ones bringing the news.

Worse, Kihrin must come to terms with the horrifying possibility that his connection to Vol Karoth is steadily growing in strength. How can Kihrin hope to save anyone when he might turn out to be the greatest threat of them all?
I love this series so much! I'm not going to be finished with my re-read in time for Memory of Souls coming out tomorrow, but it'll be on my Kindle waiting!
Elatsoe
by
Darcie Little Badger
,
Rovina Cai
Genres:
Queer Protagonists
Representation:
Indigenous Asexual MC
Published on:
25th August 2020
Goodreads
Imagine an America very similar to our own. It's got homework, best friends, and pistachio ice cream.

There are some differences. This America been shaped dramatically by the magic, monsters, knowledge, and legends of its peoples, those Indigenous and those not. Some of these forces are charmingly everyday, like the ability to make an orb of light appear or travel across the world through rings of fungi. But other forces are less charming and should never see the light of day.

Elatsoe lives in this slightly stranger America. She can raise the ghosts of dead animals, a skill passed down through generations of her Lipan Apache family. Her beloved cousin has just been murdered, in a town that wants no prying eyes. But she is going to do more than pry. The picture-perfect facade of Willowbee masks gruesome secrets, and she will rely on her wits, skills, and friends to tear off the mask and protect her family.
I have been looking forward to this book for SO LONG! Asexual leads in fantasy are so rare, and Indigenous ones even rarer, and this whole premise sounds absolutely incredible. I'm so excited to start it!
Where Dreams Descend (Kingdom of Cards, #1)
by
Janella Angeles
Genres:
Fantasy
Representation:
Characters of Colour
Published on:
25th August 2020
Goodreads
In a city covered in ice and ruin, a group of magicians face off in a daring game of magical feats to find the next headliner of the Conquering Circus, only to find themselves under the threat of an unseen danger striking behind the scenes.

As each act becomes more and more risky and the number of missing magicians piles up, three are forced to reckon with their secrets before the darkness comes for them next.

The Star: Kallia, a powerful showgirl out to prove she's the best no matter the cost

The Master: Jack, the enigmatic keeper of the club, and more than one lie told

The Magician: Demarco, the brooding judge with a dark past he can no longer hide

Where Dreams Descend is the startling and romantic first book in Janella Angeles' debut Kingdom of Cards fantasy duology where magic is both celebrated and feared, and no heart is left unscathed.
I've seen this described as 'a red velvet cake of a book', and since that's my very favourite cake… It's also supposed to have a plotline about women magicians regaining their power, in a society that hasn't questioned women's loss of magic… I initially wasn't so interested in this one, but it's gotten so much praise pre-publication that I'm now looking forward to it!
Ironspark
by
C.M. McGuire
Genres:
Queer Protagonists
Representation:
Lesbian MC, queer love interests
Published on:
25th August 2020
Goodreads
A teen outcast must work together with new friends to keep her family and town safe from murderous Fae while also dealing with panic attacks, family issues, and a lesbian love triangle in C.M. McGuires's kick-butt paranormal YA debut, Ironspark.

For the past nine years, ever since a bunch of those evil Tinkerbells abducted her mother, cursed her father, and forced her family into hiding, Bryn has devoted herself to learning everything she can about killing the Fae. Now it's time to put those lessons to use.

Then the Court Fae finally show up, and Bryn realizes she can't handle this on her own. Thankfully, three friends offer to help: Gwen, a kindhearted water witch; Dom, a new foster kid pulled into her world; and Jasika, a schoolmate with her own grudge against the Fae.

But trust is hard-won, and what little Bryn has gained is put to the test when she uncovers a book of Fae magic that belonged to her mother. With the Fae threat mounting every day, Bryn must choose between faith in her friends and power from a magic that could threaten her very humanity.
A lesbian love triangle, plus fae? Yeah, there was literally no way I wasn't going to nab this one!
Emerald Blaze (Hidden Legacy, #5)
by
Ilona Andrews
Published on:
25th August 2020
Goodreads
As Prime magic users, Catalina Baylor and her sisters have extraordinary powers—powers their ruthless grandmother would love to control. Catalina can earn her family some protection working as deputy to the Warden of Texas, overseeing breaches of magic law in the state, but that has risks as well. When House Baylor is under attack and monsters haunt her every step, Catalina is forced to rely on handsome, dangerous Alessandro Sagredo, the Prime who crushed her heart.

The nightmare that Alessandro has fought since childhood has come roaring back to life, but now Catalina is under threat. Not even his lifelong quest for revenge will stop him from keeping her safe, even if every battle could be his last. Because Catalina won't rest until she stops the use of the illicit, power-granting serum that's tearing their world apart.
Although I eventually lost interest in the Kate Daniels series, Andrews' Hidden Legacy series has continued to be fun reading. I was a bit wary when the focus shifted from Nevada, who was the mc of the first trilogy, to her sister Catalina, but Sapphire Flames (the last book, and Catalina's debut) was great! So I have high hopes for Emerald.
Beowulf: A New Translation
by
Maria Dahvana Headley
Published on:
25th August 2020
Goodreads
'BEOWULF: A NEW TRANSLATION' IS A NEW, FEMINIST TRANSLATION OF BEOWULF BY THE AUTHOR OF THE MUCH-BUZZED-ABOUT NOVEL 'THE MERE WIFE'.

Nearly 20 years after Seamus Heaney's translation of 'Beowulf' - and 50 years after the translation that continues to torment high-school students around the world - there is a radical new verse translation of the epic poem by Maria Dahvana Headley that brings to light elements that have never before been translated into English, re-contextualizing the binary narrative of monsters and heroes into a tale in which the two categories often entwine, justice is rarely served, and dragons live among us.

A man seeks to prove himself as a hero. A monster seeks silence in his territory. A warrior seeks to avenge her murdered son. A dragon ends it all. The familiar elements of the epic poem are seen with a novelist's eye toward gender, genre, and history - 'Beowulf' has always been a tale of entitlement and encroachment, powerful men seeking to become more powerful, and one woman seeking justice for her child, but this version brings new context to an old story. While crafting her contemporary adaptation of 'Beowulf', Headley unearthed significant shifts lost over centuries of translation.
I actually studied Beowulf a little in high school, and I wouldn't be interested in this at all if it wasn't a translation by Headley, whose every work so far I have adored. And to be honest, I'm here for any epic poem that starts with 'Bro'!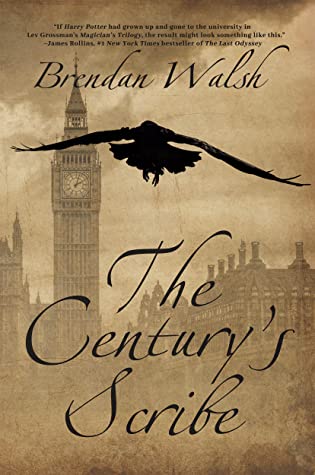 The Century's Scribe
by
Brendan Walsh
Genres:
Secondary World Fantasy
,
Queer Protagonists
Representation:
M/M or mlm
Published on:
27th August 2020
Goodreads
Dreden Sharpstand and his father are poor. All the humans and avehos of Kroonsaed are hardly getting by. If not for the bright, enigmatic sea of gas called the Sunitian Sea, life and resources in the town would be prosperous.

But the Sea has secrets of its own...

One night Dreden and his friends are attacked by mysterious men, with weapons they cannot understand. When they strike a second time, they chase the men into the Sea, and are transported to an alternate world, to a city called Brunswald, where technology exists centuries ahead of their time. Since the new world is only populated by humans, Dreden's friend Gerrika the aveho, a flightless, humanoid bird, becomes an instant celebrity. When Dreden meets Morell Edland, the son of the richest family in the country, he falls in love with him, and can hardly remember why he ended up in the new world in the first place. Slowly, things start to reveal themselves. A secret, lost history between their two worlds is becoming unraveled, and a seemingly omnipotent force is killing thousands across the world. Just one thing is for sure: Dreden and his friends didn't end up in Brunswald by accident.

From the author of the Kirkus-acclaimed Immortale, The Century's Scribe is a must read for devourers of new adult fiction and high fantasy. Brendan Walsh delivers on his most personal novel yet.
I stumbled upon Century's Scribe by complete accident, but I'm glad I did – it sounds so odd that I really want to give it a try!
That's it! Did I miss any? Will you be reading any of these? Let me know in the comments!