We have SEVEN new releases to feature this week, from wolf races to queer Sleeping Beauty retellings to spellcasting anarchists!
Cold the Night, Fast the Wolves
by
Meg Long
Genres:
Sci Fi
Published on:
11th January 2022
Goodreads
After angering a local gangster, seventeen-year-old Sena Korhosen must flee with her prize fighting wolf, Iska, in tow. A team of scientists offer to pay her way off her frozen planet on one condition: she gets them to the finish line of the planet's infamous sled race. Though Sena always swore she'd never race after it claimed both her mothers' lives, it's now her only option.

But the tundra is a treacherous place, and as the race unfolds and their lives are threatened at every turn, Sena starts to question her own abilities. She must discover whether she's strong enough to survive the wild – whether she and Iska together are strong enough to get them all out alive.

A captivating debut about survival, found family, and the bond between a girl and a wolf that delivers a fresh twist on classic survival stories and frontier myths.
Let's be honest, 'the bond between a girl and a wolf' is really all I need to hear. And I can't stop staring at that cover!
To Paradise
by
Hanya Yanagihara
Genres:
Queer Protagonists
,
Sci Fi
Representation:
Achillean MC, Hawaiian MC, queernorm
Published on:
11th January 2022
Goodreads
From the author of the classic A Little Life, a bold, brilliant novel spanning three centuries and three different versions of the American experiment, about lovers, family, loss and the elusive promise of utopia.

In an alternate version of 1893 America, New York is part of the Free States, where people may live and love whomever they please (or so it seems). The fragile young scion of a distinguished family resists betrothal to a worthy suitor, drawn to a charming music teacher of no means. In a 1993 Manhattan besieged by the AIDS epidemic, a young Hawaiian man lives with his much older, wealthier partner, hiding his troubled childhood and the fate of his father. And in 2093, in a world riven by plagues and governed by totalitarian rule, a powerful scientist's damaged granddaughter tries to navigate life without him—and solve the mystery of her husband's disappearances.

These three sections are joined in an enthralling and ingenious symphony, as recurring notes and themes deepen and enrich one another: A townhouse in Washington Square Park in Greenwich Village; illness, and treatments that come at a terrible cost; wealth and squalor; the weak and the strong; race; the definition of family, and of nationhood; the dangerous righteousness of the powerful, and of revolutionaries; the longing to find a place in an earthly paradise, and the gradual realization that it can't exist. What unites not just the characters, but these Americas, are their reckonings with the qualities that make us human: Fear. Love. Shame. Need. Loneliness.

To Paradise is a fin de siècle novel of marvellous literary effect, but above all it is a work of emotional genius. The great power of this remarkable novel is driven by Yanagihara's understanding of the aching desire to protect those we love – partners, lovers, children, friends, family and even our fellow citizens – and the pain that ensues when we cannot.
Apparently Yanagihara is very well known for her contemporary fiction? I don't know about her earlier books, but this one goes into alternate history and futuristic sci fi, which is how it pinged my radar!
Daughter of the Moon Goddess (The Celestial Kingdom Duology, #1)
by
Sue Lynn Tan
Genres:
Fantasy
Published on:
11th January 2022
Goodreads
A captivating debut fantasy inspired by the legend of Chang'e, the Chinese moon goddess, in which a young woman's quest to free her mother pits her against the most powerful immortal in the realm.

Growing up on the moon, Xingyin is accustomed to solitude, unaware that she is being hidden from the feared Celestial Emperor who exiled her mother for stealing his elixir of immortality. But when Xingyin's magic flares and her existence is discovered, she is forced to flee her home, leaving her mother behind.

Alone, powerless, and afraid, she makes her way to the Celestial Kingdom, a land of wonder and secrets. Disguising her identity, she seizes an opportunity to learn alongside the emperor's son, mastering archery and magic, even as passion flames between her and the prince.

To save her mother, Xingyin embarks on a perilous quest, confronting legendary creatures and vicious enemies across the earth and skies. But when treachery looms and forbidden magic threatens the kingdom, she must challenge the ruthless Celestial Emperor for her dream—striking a dangerous bargain in which she is torn between losing all she loves or plunging the realm into chaos.

Daughter of the Moon Goddess begins an enchanting, romantic duology which weaves ancient Chinese mythology into a sweeping adventure of immortals and magic—where love vies with honor, dreams are fraught with betrayal, and hope emerges triumphant.
I'm always so happy when we get mythology retellings that aren't Ancient Greek, and I hope this is a wonderful introduction to Chinese mythology for Western readers!
Battle of the Linguist Mages
by
Scotto Moore
Genres:
Queer Protagonists
,
Science Fantasy
Representation:
Sapphic MC
Published on:
11th January 2022
Goodreads
In modern day Los Angeles, a shadowy faction led by the Governor of California develops the arcane art of combat linguistics, planting the seeds of a future totalitarian empire in Scotto Moore's Battle of the Linguist Mages.

Isobel is the Queen of the medieval rave-themed VR game Sparkle Dungeon. Her prowess in the game makes her an ideal candidate to learn the secrets of "power morphemes"—unnaturally dense units of meaning that warp perception when skilfully pronounced.

But Isobel's reputation makes her the target of a strange resistance movement led by spellcasting anarchists, who may be the only thing stopping the cabal from toppling California over the edge of a terrible transformation, with forty million lives at stake.

Time is short for Isobel to level up and choose a side—because the cabal has attracted much bigger and weirder enemies than the anarchist resistance, emerging from dark and vicious dimensions of reality and heading straight for planet Earth!
You can say 'power morphemes' all you want, what I'm hearing is 'magic words'! And 'spellcasting anarchists'?! Who can resist THAT? And any hesitation I might have had over the video games angle is negated by the fact that this is a Tordotcom book, which means it's pretty much guaranteed to be awesome. I'M MAKING GRABBY HANDS AT THIS ONE!
The Bone Spindle (The Bone Spindle, #1)
by
Leslie Vedder
Genres:
Fantasy
,
Queer Protagonists
Representation:
Lesbian MC, F/F
Published on:
11th January 2022
Goodreads

Sleeping Beauty meets Indiana Jones in this thrilling fairytale retelling for fans of Sorcery of Thorns and All the Stars and Teeth.

Fi is a bookish treasure hunter with a knack for ruins and riddles, who definitely doesn't believe in true love.
Shane is a tough-as-dirt girl warrior from the north who likes cracking skulls, pretty girls, and doing things her own way.
Briar Rose is a prince under a sleeping curse, who's been waiting a hundred years for the kiss that will wake him.

Cursed princes are nothing but ancient history to Fi--until she pricks her finger on a bone spindle while exploring a long-lost ruin. Now she's stuck with the spirit of Briar Rose until she and Shane can break the century-old curse on his kingdom.

Dark magic, Witch Hunters, and bad exes all stand in her way--not to mention a mysterious witch who might wind up stealing Shane's heart, along with whatever else she's after. But nothing scares Fi more than the possibility of falling in love with Briar Rose.

Set in a lush world inspired by beloved fairytales, The Bone Spindle is a fast-paced young adult fantasy full of adventure, romance, found family, and snark.
A queer take on Sleeping Beauty??? An axe-weilding huntress??? HI YES GIMME!!!
The Girl in the Corn
by
Jason Offutt
Genres:
Horror
Published on:
11th January 2022
Goodreads
Beware of what lurks in the corn.

Fairies don't exist. At least that's what Thomas Cavanaugh's parents say. But the events of that one night, when he follows a fairy into the cornfield on his parents' farm, prove them wrong. What seems like a destructive explosion was, Thomas knows, an encounter with Dauðr, a force that threatens to destroy the fairy's world and his sanity.

Years later, after a troubled childhood and a series of dead-end jobs, he is still haunted by what he saw that night. One day he crosses paths with a beautiful young woman and a troubled young man, soon realizing that he first met them as a kid while under psychiatric care after his encounters in the cornfield. Has fate brought them together? Are they meant to join forces to save the fairy's world and their own? Or is one of them not who they claim to be?
I said I wanted to read more horror this year, and this sounds right up my alley – fairies! Fairies can definitely be terrifying, but I get the sense that The Girl in the Corn might be something I can handle without nightmares, and that blurb has my attention!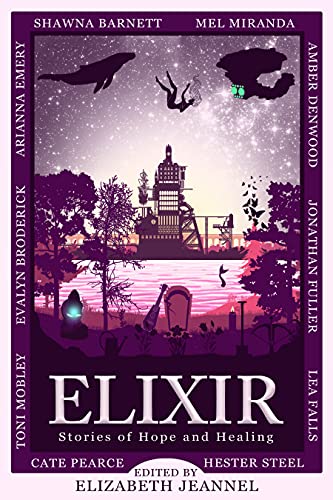 Elixir: Stories of Hope and Healing
by
Elizabeth Jeannel
,
Cate Pearce
,
Shawna Barnett
,
Evalyn Broderick
,
Mel Miranda
,
Lea Falls
,
Toni Mobley
,
Amber Denwood
,
Arianna Emery
,
Jonathan Fuller
,
Hester Steel
Genres:
Fantasy
,
Queer Protagonists
,
Sci Fi
,
Science Fantasy
Representation:
Queer MCs
Published on:
14th January 2022
Goodreads
For those looking to escape, discover, heal, and believe, Elixir will take you to worlds where light always finds its way.

Elixir is a collection of LGBT science fiction fantasy stories themed in hope and healing. If you've ever wanted characters to go through the ringer but end happy regardless, this is the escape you've been looking for. Featuring space travelers, aliens, witches, alternate realities, alternate planets, mermaids, and demon hunters, Elixir very well has something for everyone.

With original stories from:
Hester Steel
Toni Mobley
Mel Miranda
Lea Falls
Amber Denwood
Jonathan Fuller
Cate Pearce
Shawna Barnett
Arianna Emery
Evalyn Broderick
I love optimistic SFF, and these stories are queer too! Sounds like a wonderful book to curl up with, especially on a grey day.
That's it from me! Will you be reading any of these? Did I miss any books I should know about? Let me know!
Related Posts