It's another week packed full of new books! This week we have ELEVEN, including Korean myths, monster girls, and space-faring nuns!
Inheritors of Power
by
Juliette Wade
Genres:
Queer Protagonists
,
Sci Fi
Representation:
Two ace MCs, gay major secondary character, secondary trans character, secondary nonbinary character, queernorm castes
Published on:
22nd February 2022
Goodreads
The third book of The Broken Trust continues a deadly battle for power in this sociological sci-fi novel where brother is pitted against brother.

Many years have passed since the Eminence Nekantor and Heir Adon seized power, and life in Pelismara has found a fragile equilibrium under Nekantor's thumb. Now the Imbati Service Academy suspects that Xinta, Manservant to the Eminence, may have taken control of Nekantor for his own sinister purposes, endangering what peace still remains. Imbati Catín, an Academy prodigy, vows service to Adon, balancing two core purposes — to advance her Master's designs on power, and to determine the full extent of Xinta's influence.

When a trash hauler named Akrabitti Corbinan walks into a place he doesn't belong, everything falls out of balance. Catín, who is investigating this newly discovered hidden library, immediately arrests Corbinan for trespassing. Nekantor then seizes Corbinan, believing he's a spy who sought to topple the government, and Xinta vanishes him before Catín can determine his intent.

What was Corbinan really seeking? What dangerous information does the library contain, that Xinta might seek to control? And what might happen if someone more dangerous finds Corbinan first?
The Broken Trust is one of my favorite series of all time, and it just keeps getting better. You definitely can't start here – Inheritors of Power is the third instalment – but if you aren't reading these books yet, you should be, and it you've read the first two books, you definitely need to read this one!
You can read my review here!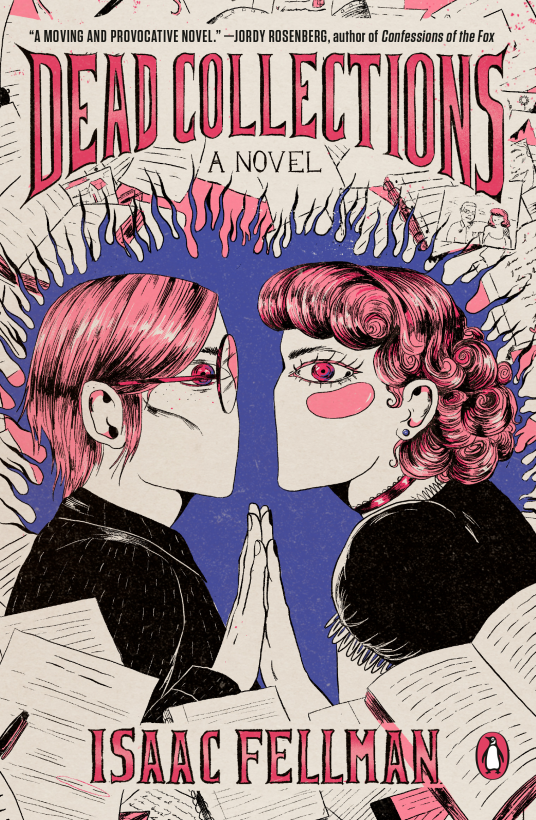 Dead Collections
by
Isaac Fellman
Genres:
Fantasy
,
Queer Protagonists
Representation:
Trans MC, bi/pansexual MC
Published on:
22nd February 2022
Goodreads
A whirlwind romance between an eccentric archivist and a grieving widow explores what it means to be at home in your own body in this clever, humorous, and heartfelt novel.

When archivist Sol meets Elsie, the larger than life widow of a moderately famous television writer who's come to donate her wife's papers, there's an instant spark. But Sol has a secret: he suffers from an illness called vampirism, and hides from the sun by living in his basement office. On their way to falling in love, the two traverse grief, delve into the Internet fandom they once unknowingly shared, and navigate the realities of transphobia and the stigmas of carrying the "vampire disease."

Then, when strange things start happening at the collection, Sol must embrace even more of the unknown to save himself and his job. DEAD COLLECTIONS is a wry novel full of heart and empathy, that celebrates the journey, the difficulties and joys, in finding love and comfort within our own bodies.
I've been excited for this one for over a YEAR, and I can't wait to finally dive into it! A trans vampire, libraries, and fandom??? HI YES PLEASE AND THANK YOU!
Manhunt
by
Gretchen Felker-Martin
Genres:
Horror
,
Queer Protagonists
,
Sci Fi
Representation:
Trans MCs, fat sapphic MC with chronic pain, F/F, F/NB,
Published on:
22nd February 2022
Goodreads
Y: The Last Man meets The Girl With All the Gifts in Gretchen Felker-Martin's Manhunt, an explosive post-apocalyptic novel that follows trans women and men on a grotesque journey of survival.

Beth and Fran spend their days traveling the ravaged New England coast, hunting feral men and harvesting their organs in a gruesome effort to ensure they'll never face the same fate.

Robbie lives by his gun and one hard-learned motto: other people aren't safe.
After a brutal accident entwines the three of them, this found family of survivors must navigate murderous TERFs, a sociopathic billionaire bunker brat, and awkward relationship dynamics―all while outrunning packs of feral men, and their own demons.

Manhunt is a timely, powerful response to every gender-based apocalypse story that failed to consider the existence of transgender and non-binary people, from a powerful new voice in horror.
This isn't the book to read if you're squeamish, but if you enjoy properly fucked-up horror? If you've been wondering where the hell all the trans people are in the apocalypse? Felker-Martin has written a gory glory of a horror novel, one that doesn't play nice for a second – and is exquisitely, brutally well-written. If you can stomach it, you should definitely read it!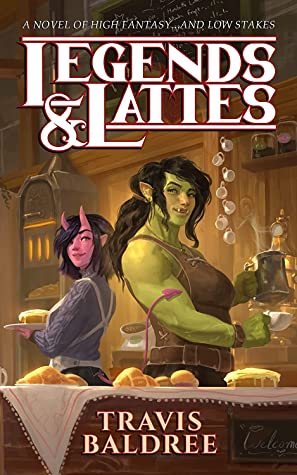 Legends & Lattes: A Novel of High Fantasy and Low Stakes
by
Travis Baldree
Genres:
Fantasy
,
Queer Protagonists
Representation:
Sapphic MC, F/F
Published on:
22nd February 2022
Goodreads
High Fantasy with a double-shot of self-reinvention

Worn out after decades of packing steel and raising hell, Viv the orc barbarian cashes out of the warrior's life with one final score. A forgotten legend, a fabled artifact, and an unreasonable amount of hope lead her to the streets of Thune, where she plans to open the first coffee shop the city has ever seen.

However, her dreams of a fresh start pulling shots instead of swinging swords are hardly a sure bet. Old frenemies and Thune's shady underbelly may just upset her plans. To finally build something that will last, Viv will need some new partners and a different kind of resolve.

A hot cup of fantasy slice-of-life with a dollop of romantic froth.
'A novel of high fantasy and low stakes'??? YES PLEASE! This sounds very sweet, with the potential to be very funny, and I'm not going to lie: I have been loving low-stakes fantasy lately. That this one is about coffees and pastries is a (delicious) bonus. I'm in love with this book before I've even read it!
The Girl Who Fell Beneath the Sea
by
Axie Oh
Genres:
Fantasy
Representation:
Korean-coded setting and cast
Published on:
22nd February 2022
Goodreads
Axie Oh's The Girl Who Fell Beneath the Sea is an enthralling feminist retelling of the classic Korean folktale "The Tale of Shim Cheong," perfect for fans of Wintersong, Uprooted, and Miyazaki's Spirited Away.

Deadly storms have ravaged Mina's homeland for generations. Floods sweep away entire villages, while bloody wars are waged over the few remaining resources. Her people believe the Sea God, once their protector, now curses them with death and despair. In an attempt to appease him, each year a beautiful maiden is thrown into the sea to serve as the Sea God's bride, in the hopes that one day the "true bride" will be chosen and end the suffering.

Many believe that Shim Cheong, the most beautiful girl in the village—and the beloved of Mina's older brother Joon—may be the legendary true bride. But on the night Cheong is to be sacrificed, Joon follows Cheong out to sea, even knowing that to interfere is a death sentence. To save her brother, Mina throws herself into the water in Cheong's stead.

Swept away to the Spirit Realm, a magical city of lesser gods and mythical beasts, Mina seeks out the Sea God, only to find him caught in an enchanted sleep. With the help of a mysterious young man named Shin—as well as a motley crew of demons, gods and spirits—Mina sets out to wake the Sea God and bring an end to the killer storms once and for all.

But she doesn't have much time: A human cannot live long in the land of the spirits. And there are those who would do anything to keep the Sea God from waking…

Praise for The Girl Who Fell Beneath the Sea:"Shim Cheong is Korea's most famous legend and one I've heard all my life, but as a feminist it has always been my least favorite. Axie's book retells the fairy tale and empowers the girl protagonist while still preserving the beloved classic tale, set in a fantastical world so unique and fascinating. I absolutely loved every word!" —Ellen Oh, author of Prophecy and co-founder of We Need Diverse Books
When I was a mini!Sia living in Japan, I was read a few stories involving undersea divine realms, and loved them – so I very much want to see how different the Korean mythology is, since I know next to nothing about it. I'm especially excited by the promise of mythical beasties – I'm always on the look-out for more magical creatures to add to the bestiary in my head!
Only a Monster (Monsters, #1)
by
Vanessa Len
Genres:
Fantasy
Published on:
22nd February 2022
Goodreads
With the sweeping romance of Passenger and the dark fantasy edge of This Savage Song, this standout YA contemporary fantasy debut from Vanessa Len, is the first in a planned trilogy.

It should have been the perfect summer. Sent to stay with her late mother's eccentric family in London, sixteen-year-old Joan is determined to enjoy herself. She loves her nerdy job at the historic Holland House, and when her super cute co-worker Nick asks her on a date, it feels like everything is falling into place.

But she soon learns the truth. Her family aren't just eccentric: they're monsters, with terrifying, hidden powers. And Nick isn't just a cute boy: he's a legendary monster slayer, who will do anything to bring them down.

As she battles Nick, Joan is forced to work with the beautiful and ruthless Aaron Oliver, heir to a monster family that hates her own. She'll have to embrace her own monstrousness if she is to save herself, and her family. Because in this story . . .

. . . she is not the hero.
I am very much here for monster girls who are unabashedly monstrous, and I have my fingers crossed that that's what we're getting here! Alternatively, I may just have been seduced by the cover – isn't it stunning?! I had to leave it full-sized just so you can see all the incredible details! THERE'S EVEN SOME KIND OF (SEA-?)DRAGON AT THE BOTTOM THERE!
(Which, for the record, is the best background for the author name I've ever seen on a cover. If I ever publish a book, I want my name backed by a dragon!!!)
League of Liars
by
Astrid Scholte
Genres:
Fantasy
Published on:
22nd February 2022
Goodreads

In this fantasy thriller, four teens charged with murder and the illegal use of magic band together to devise the ultimate jailbreak. Perfect for fans of Six of Crows and How to Get Away with Murder.

Ever since his mother was killed, seventeen-year-old Cayder Broduck has had one goal--to see illegal users of magic brought to justice. People who carelessly use extradimensional magic for their own self-interest, without a care to the damage it does to society or those around them, deserve to be punished as far as Cayder is concerned. Because magic always has a price. So when Cayder lands a once-in-a-lifetime opportunity to apprentice under a premier public defender, he takes it. If he can learn all the tricks of public defense, the better he'll be able to dismantle defense arguments when he's a prosecutor. Then he'll finally be able to make sure justice is served.

But when he meets the three criminals he's supposed to defend, it no longer seems so black and white. They're teenagers, like him, and their stories are . . . complicated, like his. Vardean, the prison where Cayder's new clients are incarcerated, also happens to be at the very heart of the horrible tear in the veil between their world and another dimension--where all magic comes from.

League of Liars is a dark and twisty mystery set in a richly-drawn world where nothing is as it seems, rife with magic, villains and danger.
I am cautiously intrigued by this premise, and I've heard good things from early reviews. Characters who wake up to the fact they're part of a corrupt system are always fascinating, as are stories that acknowledge that ethics and the law are complicated… I really want to see how this take on it goes!
Extasia
by
Claire Legrand
Genres:
Fantasy
,
Queer Protagonists
Representation:
F/F
Published on:
22nd February 2022
Goodreads
From New York Times bestselling author Claire LeGrand comes a new, bone-chilling YA horror novel about a girl who joins a coven to root out a vicious evil that's stalking her village. Perfect for fans of The Handmaid's Tale and The Grace Year.

Her name is unimportant.

All you must know is that today she will become one of the four saints of Haven. The elders will mark her and place the red hood on her head. With her sisters, she will stand against the evil power that lives beneath the black mountain—an evil which has already killed nine of her village's men.

She will tell no one of the white-eyed beasts that follow her. Or the faceless gray women tall as houses. Or the girls she saw kissing in the elm grove.

Today she will be a saint of Haven. She will rid her family of her mother's shame at last and save her people from destruction. She is not afraid. Are you?

This searing and lyrically written novel by the critically acclaimed author of Sawkill Girls beckons readers to follow its fierce heroine into a world filled with secrets and blood—where the truth is buried in lies and a devastating power waits, seething, for someone brave enough to use it.
Legrand's Sawkill Girls is one of my all-time favourite books, so I'm really excited for her latest release! This sounds like my kind of dark, with fucked-up religion and heavy girls-against-the-patriarchy vibes, and again, lots of praise from early readers! Definitely at the hop of my tbr.
Sisters of the Forsaken Stars (Our Lady of Endless Worlds #2)
by
Lina Rather
Genres:
Queer Protagonists
,
Sci Fi
Representation:
F/F
Published on:
22nd February 2022
Goodreads
The sisters of the Order of Saint Rita navigate the far reaches of space and challenges of faith in Sisters of the Forsaken Stars, the follow-up to Lina Rather's Sisters of the Vast Black, winner of the Golden Crown Literary Society Award.

"We lit the spark, maybe we should be here for the flames."

Not long ago, Earth's colonies and space stations threw off the yoke of planet Earth's tyrannical rule. Decades later, trouble is brewing in the Four Systems, and Old Earth is flexing its power in a bid to regain control over its lost territories.

The Order of Saint Rita—whose mission is to provide aid and mercy to those in need—bore witness to and defied Central Governance's atrocities on the remote planet Phyosonga III. The sisters have been running ever since, staying under the radar while still trying to honor their calling.

Despite the sisters' secrecy, the story of their defiance is spreading like wildfire, spearheaded by a growing anti-Earth religious movement calling for revolution. Faced with staying silent or speaking up, the Order of Saint Rita must decide the role they will play—and what hand they will have—in reshaping the galaxy.
I loved the first novella in this series, and like everyone else I'm delighted we're getting a sequel! I'm going to have to reread the first book before diving into this one, but it's definitely a must-read for me!
Nightside of the Sun (Rise of the Alliance, #4)
by
Sherwood Smith
Genres:
Fantasy
,
Epic Fantasy
Published on:
22nd February 2022
Goodreads
The climax to the Rise of the Alliance saga begins with Detlev's boys taking two prisoners as they retreat to their lair on Five, the sister world that has been lifeless for nearly five thousand years. Reviled by both sides, the one thing they can trust is their strength, their training, and each other. Or so it seems.

Meanwhile, unknown to both Norsunder and the Sartoran mages, there are secrets living within that world that will change everything.

The high-stakes hunt continues on two worlds as the surviving allies step into adult roles one by one, just to find themselves with greater challenges as the world hurtles inexorably toward war . . .
What? What?? WHAT??? Another installment of Rise of the Alliance, already?! I'm now completely convinced that Smith had the entire thing written while her publisher…well, I don't know what was going on behind the scenes, but the first book was trad-pubbed, then nothing for ages, and now three full (and self-published) books in as many months??? She HAS to have had these ready to go!
I am not even close to being ready to dive in to Nightside of the Sun – I'm several books behind! – but that hasn't stopped me preordering it. I want to have it waiting on my ereader when I'm ready to read it!
(Also, to clarify: the paperback was available earlier this month, but the ebook's being released this week!)
The Hidden Saint
by
Mark Levenson
Genres:
Fantasy
,
Historical Fantasy
Representation:
Jewish MC + cast
Published on:
22nd February 2022
Goodreads
THIS NEW FANTASY NOVEL TAKES READERS TO A WORLD THEY'VE NEVER ENCOUNTERED BEFORE, IN WHICH THE VAST SWEEP OF JEWISH MYTH AND MAGIC IS COMPLETELY REAL.

The historical horrors of eighteenth-century Eastern Europe are interwoven with fantastic creatures drawn from 3,500 years of Jewish myth and magic. For the first time, THE HIDDEN SAINT conjures up a very human origin story for one of the greatest superheroes of Jewish folklore: Rabbi Adam, famous for battling wizards, witches, and demons.

The story opens on a long-awaited family wedding, which turns to horror as Rabbi Adam's children are abducted by an ancient supernatural evil.

To save them, the rabbi is joined by a golem, a man of clay pained by the burden of living among, but always apart from, humans. He's goaded and mentored by an elderly, wisecracking housekeeper who is secretly one of the thirty-six hidden saints, or Lamed-Vavniks, upon whom the fate of the world depends.

And he's blessed and challenged by his wife, Sarah, who leads him to a garden named Eden.

As tidal waves and fires ravage the earth and the very stars above begin to disappear, can Rabbi Adam and his companions succeed in time?
What little I know of Jewish folklore I find very interesting, and this sounds like both a great dive into an important folkloric figure and a genuinely exciting read! Golems and hidden saints and the garden of Eden??? Plus a parent out to save his kids, which is a trope I'm a complete sucker for every time! I very much need to check this one out!
Will you be reading any of these? Did I miss any books I should know about? Let me know!
Related Posts