SEVENTEEN new books this week! SEVENTEEN!!! Not including a bonus book that I found out about too late for last week's Must-Have Monday!
This week's releases range from Jewish folklore and all-girl musketeers, to moth girls and aliens!
From Dust, a Flame
by
Rebecca Podos
Genres:
Fantasy
,
Queer Protagonists
Representation:
Sapphic Jewish MC
Published on:
8th March 2022
Goodreads
Hannah's whole life has been spent in motion. Her mother has kept her and her brother, Gabe, on the road for as long as she can remember, leaving a trail of rental homes and faded relationships behind them. No roots, no family but one another, and no explanations.

All of that changes on Hannah's seventeenth birthday when she wakes up transformed, a pair of golden eyes with knife-slit pupils blinking back at her from the mirror—the first of many such impossible mutations. Promising that she knows someone who can help, her mother leaves Hannah and Gabe behind to find a cure. But as the days turn to weeks and their mother doesn't return, they realize it's up to them to find the truth.

What they discover is a family they never knew, and a history more tragic and fantastical than Hannah could have dreamed—one that stretches back to her grandmother's childhood in Prague under the Nazi occupation, and beyond, into the realm of Jewish mysticism and legend. As the past comes crashing into the present, Hannah must hurry to unearth their family's secrets—and confront her own hidden legacy in order to break the curse and save the people she loves most, as well as herself.
I fell head over heads in love with The Wise and the Wicked a few years back, and I could not be more excited for a new fantasy book from this author! Jewish myth and magic? A sapphic MC? Siblings working together? Yes yes yes!!!
Lakelore
by
Anna-Marie McLemore
Genres:
Queer Protagonists
,
Magical Realism
Representation:
Brown nonbinary dyslexic MC, brown trans MC with ADHD
Published on:
8th March 2022
Goodreads
In this young adult novel by award-winning author Anna-Marie McLemore, two non-binary teens are pulled into a magical world under a lake - but can they keep their worlds above water intact?

Everyone who lives near the lake knows the stories about the world underneath it, an ethereal landscape rumored to be half-air, half-water. But Bastián Silvano and Lore Garcia are the only ones who've been there. Bastián grew up both above the lake and in the otherworldly space beneath it. Lore's only seen the world under the lake once, but that one encounter changed their life and their fate.

Then the lines between air and water begin to blur. The world under the lake drifts above the surface. If Bastián and Lore don't want it bringing their secrets to the surface with it, they have to stop it, and to do that, they have to work together. There's just one problem: Bastián and Lore haven't spoken in seven years, and working together means trusting each other with the very things they're trying to hide.
McLemore is rightly famous for their fabulous magical realism, and Lakelore features neurodiverse, nonbinary MCs, a magical lake, and alebrijes!!! MUCH YAY!
Last Exit
by
Max Gladstone
Genres:
Fantasy
,
Portal Fantasy
,
Queer Protagonists
Representation:
Sapphic MC, Indigenous American MC, Achillean hispanic MC, major secondary Black character
Published on:
8th March 2022
Goodreads
Ten years ago, Zelda led a band of merry adventurers whose knacks let them travel to alternate realities and battle the black rot that threatened to unmake each world. Zelda was the warrior; Ish could locate people anywhere; Ramon always knew what path to take; Sarah could turn catastrophe aside. Keeping them all connected: Sal, Zelda's lover and the group's heart.

Until their final, failed mission, when Sal was lost. When they all fell apart.

Ten years on, Ish, Ramon, and Sarah are happy and successful. Zelda is alone, always traveling, destroying rot throughout the US.

When it boils through the crack in the Liberty Bell, the rot gives Zelda proof that Sal is alive, trapped somewhere in the alts.

Zelda's getting the band back together—plus Sal's young cousin June, who has a knack none of them have ever seen before.

As relationships rekindle, the friends begin to believe they can find Sal and heal all the worlds. It's not going to be easy, but they've faced worse before.

But things have changed, out there in the alts. And in everyone's hearts.

Fresh from winning the Hugo and Nebula Awards, Max Gladstone weaves elements of American myth--the muscle car, the open road, the white-hatted cowboy--into a deeply emotional tale where his characters must find their own truths if they are to survive.
In the end I had to DNF this one, but it's a dnf-for-now, not -for-ever; it's too dark for me to handle right now, but as usual Gladstone has come up with a brilliant premise and run with it. It very much feels like he's tapped into the dark side of the Millennial mindset and let it loose on the page, but combated it with found-family and dig-your-heels-in defiance. You know? Well, maybe you don't, but I encourage you to pick this up and find out for yourself, as long as you don't mind your fantasy with a streak of horror running through it.
Our Lady of Mysterious Ailments
by
T.L. Huchu
Genres:
Fantasy
Representation:
Black MC
Published on:
5th April 2022
Goodreads
Our Lady of Mysterious Ailments by T. L. Huchu is the second spellbinding book in the Edinburgh Nights series.

"Stupendously engaging." – Ben Aaronovitch, bestselling author of Rivers of London

Some secrets are meant to stay buried

When Ropa Moyo discovered an occult underground library, she expected great things. She's really into Edinburgh's secret societies – but turns out they are less into her. So instead of getting paid to work magic, she's had to accept a crummy unpaid internship. And her with bills to pay and a pet fox to feed.

Then her friend Priya offers her a job on the side. Priya works at Our Lady of Mysterious Maladies, a very specialized hospital, where a new illness is resisting magical and medical remedies alike. The first patient was a teenage boy, Max Wu, and his healers are baffled. If Ropa can solve the case, she might earn as she learns – and impress her mentor, Sir Callander.

Her sleuthing will lead her to a lost fortune, an avenging spirit and a secret buried deep in Scotland's past. But how are they connected? Lives are at stake and Ropa is running out of time.
This released in the UK last week, but this week it's the US's turn! If you've read the first book in this series, then you probably already have this preordered; and if you haven't read the first book, go do that!!!
One for All
by
Lillie Lainoff
Representation:
MC with chronic illness, major lesbian character, major demi bisexual character, secondary asexual character
Published on:
8th March 2022
Goodreads
An OwnVoices, gender-bent retelling of The Three Musketeers, in which a girl with a chronic illness trains as a Musketeer and uncovers secrets, sisterhood, and self-love.

Tania de Batz is most herself with a sword in her hand. Everyone in town thinks her near-constant dizziness makes her weak, nothing but "a sick girl"; even her mother is desperate to marry her off for security. But Tania wants to be strong, independent, a fencer like her father—a former Musketeer and her greatest champion.

Then Papa is brutally, mysteriously murdered. His dying wish? For Tania to attend finishing school. But L'Académie des Mariées, Tania realizes, is no finishing school. It's a secret training ground for a new kind of Musketeer: women who are socialites on the surface, but strap daggers under their skirts, seduce men into giving up dangerous secrets, and protect France from downfall. And they don't shy away from a swordfight.

With her newfound sisters at her side, Tania feels for the first time like she has a purpose, like she belongs. But then she meets Étienne, her first target in uncovering a potential assassination plot. He's kind, charming, and breathlessly attractive—and he might have information about what really happened to her father. Torn between duty and dizzying emotion, Tania will have to lean on her friends, listen to her own body, and decide where her loyalties lie…or risk losing everything she's ever wanted.

This debut novel is a fierce, whirlwind adventure about the depth of found family, the strength that goes beyond the body, and the determination it takes to fight for what you love.
There's been so much love for this book, and I couldn't be more excited for fem musketeers and a MC with a chronic illness! As someone with fibromyalgia, I love getting stories where characters have chronic conditions – I almost never see that in SFF. (And even if there's no magic in One For All, alt-history counts as spec-fic!) VERY grabby hands for this one!
All That's Left in the World
by
Erik J. Brown
Genres:
Queer Protagonists
,
Sci Fi
Representation:
M/M
Published on:
8th March 2022
Goodreads
When Andrew stumbles upon Jamie's house, he's injured, starved, and has nothing left to lose. A deadly pathogen has killed off most of the world's population, including everyone both boys have ever loved. And if this new world has taught them anything, it's to be scared of what other desperate people will do . . . so why does it seem so easy for them to trust each other?

After danger breaches their shelter, they flee south in search of civilization. But something isn't adding up about Andrew's story, and it could cost them everything. And Jamie has a secret, too. He's starting to feel something more than friendship for Andrew, adding another layer of fear and confusion to an already tumultuous journey.

The road ahead of them is long, and to survive, they'll have to shed their secrets, face the consequences of their actions, and find the courage to fight for the future they desire, together. Only one thing feels certain: all that's left in their world is the undeniable pull they have toward each other.
Again, a lot of early praise for this one. I've been looking forward to it for ages, but I might not jump into it immediately – not sure I'm up to reading about apocalypses right now!
Blood Scion (Blood Scion, #1)
by
Deborah Falaye
Genres:
Fantasy
Representation:
Black cast
Published on:
8th March 2022
Goodreads
This is what they deserve. They wanted me to be a monster. I will be the worst monster they ever created.

Fifteen-year-old Sloane can incinerate an enemy at will—she is a Scion, a descendant of the ancient Orisha gods.

Under the Lucis' brutal rule, her identity means her death if her powers are discovered. But when she is forcibly conscripted into the Lucis army on her fifteenth birthday, Sloane sees a new opportunity: to overcome the bloody challenges of Lucis training, and destroy them from within.

Sloane rises through the ranks and gains strength but, in doing so, risks something greater: losing herself entirely, and becoming the very monster that she abhors.
I'm so happy we're slowly getting more books inspired by African mythology – although I admit I don't know if the Orishas here will be very close to the myths of them. But Blood Scion has gotten a lot of hype, and I'm curious to take a look at it!
Sorcerers and Saints
by
Amy Kuivalainen
Genres:
Fantasy
Published on:
8th March 2022
Goodreads
Melbourne's magic is broken, and it's going to take a cursed saint, a surly sorcerer, and a hell of a miracle to fix.

Born into a family of cursed saints, Mara Corvo has never met a heart ache she couldn't heal. The price she pays for such a gift is that no one can remember her afterward…except for a drunk sorcerer that should never have been able to find her tea shop to begin with.

Augustus Vance has lived with his failure for over a century. In his effort to stop a rogue sorcerer, he killed the woman he loved, and left a hole in Melbourne's magic that he's never been able to fix. When a chance encounter accidentally lands him in Mara's store, he has his first dangerous dose of hope in decades.

If the women of the Corvo family have one golden rule, it's to stay the hell away from sorcerers, and yet there's a wild, dangerous magic in play, that keeps bringing Augustus to Mara's door.

Only together, can they heal the hole in magic, and maybe with a big enough miracle, they might even be able to heal each other.

'Sorcerer's and Saints' is a new fantasy romance for readers who loved 'The Night Circus,' 'Chocolat,' and 'The Invisible Life of Addie LaRue.' Please note, this is an adult fantasy and it has swearing and sex scenes.
Comps to The Night Circus, Chocolat, and The Invisible Life of Addie LaRue are pretty enormous shoes to fill, but I'm willing to give this a go and see how it plays out – especially because it's set in Melbourne, which isn't a setting I see in fantasy very often!
The Moth Girl
by
Heather Kamins
Genres:
Magical Realism
Published on:
8th March 2022
Goodreads
Anna is a regular teenaged girl. She runs track with her best friend, gets good grades, and sometimes drinks beer at parties.

But one day at track practice, Anna falls unconscious . . . but instead of falling down, she falls up, defying gravity in the disturbing first symptom of a mysterious disease.

This begins a series of trips to the hospital that soon become Anna's norm. She's diagnosed with lepidopsy: a rare illness that causes symptoms reminiscent of moths: floating, attraction to light, a craving for sugar, and for an unlucky few, more dangerous physical manifestations.

Anna's world is turned upside down, and as she learns to cope with her illness, she finds herself drifting further and further away from her former life. Her friends don't seem to understand, running track is out of the question, and the other kids at the disease clinic she attends once a week are a cruel reminder that things will never be the same.

From debut author Heather Kamins comes a beautiful and evocative story about one girl's journey of choosing who she wants to be--in a life she never planned for.
This sounds delightfully strange, and as someone with real-world chronic illnesses, I have to admit I'm charmed by the idea of a condition that makes you fly and…turn into a moth? I don't know, it sounds like a good balance of angst and whimsy, and I can't wait to give it a go!
A Far Wilder Magic
by
Allison Saft
Representation:
Jewish-coded MC, Irish Catholic-coded MC, queernorm world, minor queer characters
Published on:
8th March 2022
Goodreads
When Margaret Welty spots the legendary hala, the last living mythical creature, she knows the Halfmoon Hunt will soon follow. Whoever is able to kill the hala will earn fame and riches, and unlock an ancient magical secret. If Margaret wins the hunt, it may finally bring her mother home. While Margaret is the best sharpshooter in town, only teams of two can register, and she needs an alchemist.
Weston Winters isn't an alchemist--yet. Fired from every apprenticeship he's landed, his last chance hinges on Master Welty taking him in. But when Wes arrives at Welty Manor, he finds only Margaret and her bloodhound Trouble. Margaret begrudgingly allows him to stay, but on one condition: he must join the hunt with her.
Although they make an unlikely team, Wes is in awe of the girl who has endured alone on the outskirts of a town that doesn't want her, in this creaking house of ghosts and sorrow. And even though Wes disrupts every aspect of her life, Margaret is drawn to him. He, too, knows what it's like to be an outsider. As the hunt looms closer and tensions rise, Margaret and Wes uncover dark magic that could be the key to winning the hunt - if they survive that long.
In A Far Wilder Magic, Allison Saft has written an achingly tender love story set against a deadly hunt in an atmospheric, rich fantasy world that will sweep you away.
I got to read this one early, and absolutely loved it! You can read my full review here, but the TL;DR version is that it's a beautifully lyrical, unexpected love story, in a really well-crafted queernorm world. Massive stamp of approval from me!
The Book of Living Secrets
by
Madeleine Roux
Representation:
Sapphic MC
Published on:
8th March 2022
Goodreads
Perfect for fans of The Hazel Wood, this genre-bending page-turner from New York Times bestselling author Madeleine Roux follows two girls who transport themselves into the world of their favorite book only to encounter the sinister alternate reality that awaits them.
No matter how different best friends Adelle and Connie are, one thing they've always had in common is their love of a little-known gothic romance novel called Moira. So when the girls are tempted by a mysterious stranger to enter the world of the book, they hardly suspect it will work. But suddenly they are in the world of Moira, living among characters they've obsessed about for years.
Except…all is not how they remembered it. The world has been turned upside down: The lavish balls and star-crossed love affairs are now interlaced with unspeakable horrors. The girls realize that something dark is lurking behind their foray into fiction—and they will have to rewrite their own arcs if they hope to escape this nightmare with their lives.
I'm an outlier among bookwyrms – I definitely don't want to be zapped into one of my favorite books! Not without a lot of prerequisites. But I empathise with those who do want to, which makes the premise of Living Secrets pretty interesting. Early reviews have been mixed, but I still want to check it out!
Gravity and Lies
by
C.G. Volars
Genres:
Queer Protagonists
,
Sci Fi
Representation:
Brown queer MC
Published on:
8th March 2022
Goodreads
Most cosmopolitan city in the universe, and a guy can't even get a freakin' sandwich.
It should be the least of Izo's concerns. Afterall, he's already been kidnapped by aliens and dragged halfway across the galaxy so they can make a buck off his abilities. And sure, he knew being able to fly made him a little unique. But he had no idea the cult-like—yet strangely marginalized—reputation Avarians held beyond Earth's boundaries. As he arrives on the Imperial Capital, IA, he's got one choice: cooperate with his captors so they'll get him back home, or split and head out on his own, taking his best shot at returning to Earth—a planet no one's ever heard of.

It isn't much of a choice. Being extorted by a mean reptile, a tele-empathic linguist, and a giant teddy bear who could crush a car seems as bad as it gets—until a powerful CEO-Senator appears from deep within the IA's darkest corners. With things changing from annoying to alarming, it's up to Izo to navigate a dangerous game of befriend and befraud, or be trapped on the wrong side of the universe forever—several million lightyears from the nearest deli.
I got to read an ARC of this, and it's very light-hearted (despite the whole kidnapped-by-aliens thing) and readable. If you can roll with the premise and are looking for something fun, this should be a pretty good fit!
Glory
by
NoViolet Bulawayo
Genres:
Speculative Fiction
Published on:
8th March 2022
Goodreads
From the award-winning author of the Booker-prize finalist We Need New Names, a blockbuster of a novel that chronicles the fall of an oppressive regime, and the chaotic, kinetic potential for real liberation that rises in its wake.

Glory centers around the unexpected fall of Old Horse, a long-serving leader of a fictional country, and the drama that follows for a rumbustious nation of animals on the path to true liberation. Inspired by the unexpected fall by coup, in November 2017, of Robert Mugabe, Zimbabwe's president of nearly four decades, Bulawayo's bold, vividly imagined novel shows a country imploding, narrated by a chorus of animal voices who unveil the ruthlessness and cold strategy required to uphold the illusion of absolute power, and the imagination and bullet-proof optimism to overthrow it completely.

As with her debut novel We Need New Names, Bulawayo's fierce voice and lucid imagery immerses us in the daily life of a traumatized nation, revealing the dazzling life force and irrepressible wit that lies barely concealed beneath the surface of seemingly bleak circumstances. At the center of this tumult is Destiny, who has returned to Jidada from exile to bear witness to revolution--and focus on the unofficial history and the potential legacy of the women who have quietly pulled the strings in this country.

The animal kingdom--its connection to our primal responses and resonance in the mythology, folktales, and fairytales that define cultures the world over--unmasks the surreality of contemporary global politics to help us understand our world more clearly, even as Bulwayo plucks us right out of it. Glory is a blockbuster, an exhilarating ride, and crystalizes a turning point in history with the texture and nuance that only the greatest of fiction can.
This sounds extremely strange and outside of my usual wheelhouse, but I really want to read it! The comparison to Animal Farm is obvious – cast of non-human animals + allegory for real-world politics – but it does sound like Bulawayo is going in a different direction than Orwell; I'm especially interested in the bit at the end of the synopsis, the part that talks about 'its connection to our primal responses and resonance in the mythology, folktales, and fairytales that define cultures the world over'.
The Damage Done
by
Michael Landweber
Genres:
Speculative Fiction
Published on:
8th March 2022
Goodreads
Perfect for fans of Ben Winters and Sarah Pinsker, violence is a thing of the past—but could new horrors lie in wait?

Imagine a world devoid of violence—a world where fists can't hit, guns,don't kill, and bombs can't destroy. In this tantalizing novel of possibility, this has become our new reality.

The U.S. president must find a new way to wage war. The Pope ponders whether the Commandment "Thou Shalt Not Kill" is still relevant. A dictator takes his own life after realizing that the violence he used to control his people is no longer an option.

In the first days after the change, seven people who have experienced violence struggle to adapt to this radical new paradigm: Dab, a bullied middle schooler; Marcus, a high school student whose brother is the last victim of gun violence in America; Ann, a social worker stuck in an abusive marriage; Richard, a professor whose past makes him expect the worst inthe present; Gabriela, who is making a dangerous border crossing into the U.S.; the Empty Shell, a dissident writer waiting to be tortured in a notorious prison; and Julien, a white supremacist plotting a horrific massacre.

As their fates intertwine, the things each of the seven experience become emblematic of the promise and perils of the new world. The future holds bright new possibilities for ending terrorism, racism, and even hatred itself. But although violence is no longer possible, that doesn't mean that some among us won't keep trying. Mindless cruelty is still alive and well—and those bent on destruction will seek the most devious means to achieve it.
The early reviews for this are quite mixed, but the premise is so interesting that I still want to give it a go. A world without violence? Who doesn't want to see what that might look like?
Eleutheria
by
Allegra Hyde
Genres:
Queer Protagonists
,
Speculative Fiction
Representation:
Queer MC
Published on:
8th March 2022
Goodreads

A story of idealism, activism, and systemic corruption, centered on a naïve young woman's quest for agency in a world ravaged by climate change.

Willa Marks has spent her whole life choosing hope. She chooses hope over her parents' paranoid conspiracy theories, over her dead-end job, over the rising ocean levels. And when she meets Sylvia Gill, renowned Harvard professor, she feels she's found the justification of that hope. Sylvia is the woman-in-black: the only person smart and sharp enough to compel the world to action. But when Sylvia betrays her, Willa fears she has lost hope forever.

And then she finds a book in Sylvia's library: a guide to fighting climate change called Living the Solution. Inspired by its message and with nothing to lose, Willa flies to the island of Eleutheria in the Bahamas to join the author and his group of ecowarriors at Camp Hope. Upon arrival, things are not what she expected. The group's leader, author Roy Adams, is missing, and the compound's public launch is delayed. With time running out, Willa will stop at nothing to realize Camp Hope's mission—but at what cost?
This is listed as spec-fic, but I'm not sure if there will be overtly scifi or fantastical elements? I'd still like to take a look at it – it sounds like on optimistic eco-fiction thing, and I could definitely use some of that.
And They Lived . . .
by
Steven Salvatore
Genres:
Queer Protagonists
Representation:
Queer MCs
Published on:
8th March 2022
Goodreads
From the author of Can't Take That Away comes a sex-positive, fairytale-inspired YA novel that celebrates first love and self-acceptance, perfect for fans of What If It's Us.

"My heart didn't stand a chance. I loved it from once upon a time all the way to its joyfully complex ever after." - New York Times bestselling author Becky Albertalli

Chase Arthur is a budding animator and hopeless romantic obsessed with Disney films and finding his true love, but he's plagued with the belief that he's not enough for anyone: he's recovering from an eating disorder and suffers from body dysmorphia fueled by his father, and can't quite figure out his gender identity. When Chase starts his freshman year of college, he has to navigate being away from home and missing his sister, finding his squad, and contending with his ex-best friend Leila who is gunning for the same exclusive mentorship. If only he can pull together a short for the freshman animation showcase at the end of the semester.

Then Chase meets Jack Reid, a pragmatic poet who worships words and longs to experience life outside of his sheltered world. But Chase throws everything into question for Jack, who is still discovering his sexual identity, having grown up in close-knit conservative family. Jack internalized a lot of homophobia from his parents and childhood best friend, who unexpectedly visit campus, which threatens to destroy their relationship. Chase will have to learn to love--and be enough for--himself, while discovering what it means to truly live.
Not SFF, as far as I can tell, but there's been a lot of early praise for this, and it sounds very sweet and escapist. I probably won't read it right away, but it's definitely going on my tbr!
The Reinvented Heart
by
Cat Rambo
,
Jennifer Brozek
,
Jane Yolen
,
Seanan McGuire
,
AnaMaria Curtis
,
Lisa Morton
,
Madeline Pine
,
Sam Fleming
,
Felicity Drake
,
Premee Mohamed
,
Beth Cato
,
Naomi Kritzer
,
Sophie Giroir
,
Maria Dong
,
Lyda Morehouse
,
Devin Miller
,
Aimee Ogden
,
Anita Ensal
,
Fran Wilde
,
Mercedes M. Yardley
,
Lauren Ring
,
Xander Odell
,
Claire Smith
,
Justina Robson
Genres:
Queer Protagonists
,
Sci Fi
Published on:
10th March 2022
Goodreads
What happens when emotions like love and friendship span vast distances — in space, in time, and in the heart?

Science fiction often focuses on future technology and science without considering the ways social structures will change as tech changes — or not. What will relationships look like in a complicated future of clones, uploaded intelligences, artificial brains, or body augmentation? What stories emerge when we acknowledge possibilities of new genders and ways of thinking about them?

The Reinvented Heart presents stories that complicate sex and gender by showing how shifting technology may affect social attitudes and practices, stories that include relationships with communities and social groups, stories that reinvent traditional romance tropes and recast them for the 21st century, and above all, stories that experiment, astonish, and entertain.
I'm a polyamorous person who's been interested in non-traditional family structures since reading about the three-adult-families of the aliens in J.M. Frey's Triptych – which for the record, I strongly recommend. (As the eldest of NINE children, baby!Sia immediately saw the benefit of having more than two adults involved in child-raising!) So an anthology that is all about what families and romance in the future might look like??? GIMME!
(And talk about a star-studded author line-up!!!)
Bonus Book!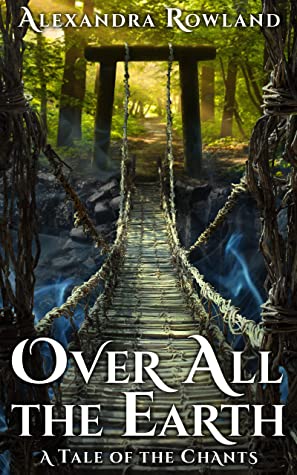 Over All The Earth (The Tales of the Chants)
by
Alexandra Rowland
Genres:
Fantasy
,
Queer Protagonists
Representation:
Gay MC, queernorm world
Published on:
1st March 2022
Goodreads
High in the mountains, there is a ravine.
Across the ravine, a bridge.
And deep at the bottom of the ravine, a god.

Eisl has lived on the ledge between the ravine and the cliffs since he was born. He has only ever crossed the bridge once—the terror of the god dwelling far beneath it is too much for him to bear. But when a wandering storyteller, named Ylfing and called Chant, arrives in the village, Eisl's longing to see the world of his stories with his own eyes becomes too powerful to resist.

But the ravine, the bridge, and the god are all still there, and if Eisl wishes to free himself and cross over to the other side, he must first face his greatest fear.
I only discovered this when it was mentioned in Rowland's latest newsletter (which I received at 6am this morning – time differences!) which is why it's only making it into this Must-Have Monday, not last week's. BUT EEEEEEEEEEEEE! I just finished reading Choir of Lies (which I loved) and now we have a brand-new novella all about Ylfing!!! PERFECT TIMING IS PERFECT, THANK YOU ROWLAND <3
Will you be reading any of these? Did I miss any books I should know about? Let me know!
Related Posts