I read so many incredible books this year, and if I had the spoons, I would make another post featuring all the riveting reads I read that were released before 2022, because they deserve love too. But here and now are the SFF books published in 2022 that I genuinely think were, and are, the very best of those released this year.
(How much I wrote here about each book has no bearing on how great they are, though I did try to write more for the books I haven't yet reviewed.)
In publication order, because I am not capable of ranking them in order of best-ness – THE TOTALLY DEFINITIVE BEST FANTASY AND SCI-FI BOOKS OF 2022!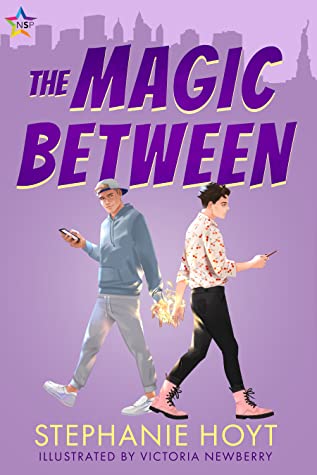 The Magic Between
by
Stephanie Hoyt
Genres:
Fantasy
,
Contemporary or Urban Fantasy
,
Queer Protagonists
Representation:
Bisexual MC with clinical anxiety, bisexual MC, M/M, secondary sapphic character, tertiary bisexual, trans
Published on:
14th February 2022
ISBN:
164890436X
Goodreads
In a world where everyone has magic coursing through them, legend says magic itself craves a mate. Legend says those with opposite magics have the greatest chance of forming the unbreakable Bond it desires.

A.B. Cerise is an obsessive-compulsive pop star with the ability to turn invisible. He's an out bisexual with absolutely no belief in Bonds. He has a love-bruised heart, thinks dating in the spotlight is a hassle at best and a nightmare at worst, and has no intention of going through it all over again.

Matthew Hellman-Levoie is the NHL's number one goalie prospect, the youngest in a hockey dynasty, and one of the rare few who can see the unseeable. He's a straight man who wears his heart on his sleeve, has grown up searching for a Bond, and dreams of finding the love of his life.

Their magic is magnetic. Their touch is electric. They're the textbook case for Bonding. But legend never said anything about what to do when sparks fly between people opposite in more ways than magic.
Oh, sorry, were you expecting only Epic Fantasy??? That's just not how we do things here. But The Magic Between is fantasy and it is epic(ally awesome), and rarely have I come across a book that fills me with so much sheer glittery joy.
Dark Breakers
by
C.S.E. Cooney
,
Sharon Shinn
,
Brett Massé
Genres:
Fantasy
,
Queer Protagonists
Representation:
Sapphic MC, pansexual MC, major nonbinary character, significant trans character, F/F/NB polyamory, bi/pansexual secondary character
Published on:
15th February 2022
ISBN:
1732644063
Goodreads
NEW FROM WORLD FANTASY AWARD WINNER C. S. E. COONEY

A young human painter and an ageless gentry queen fall in love over spilled wine—at the risk of his life and her immortality. Pulled into the Veil Between Worlds, two feuding neighbors (and a living statue) get swept up in a brutal war of succession. An investigative reporter infiltrates the Seafall City Laundries to write the exposé of a lifetime, and uncovers secrets she never believed possible. Returning to an oak grove to scatter her husband's ashes, an elderly widow meets an otherworldly friend, who offers her a momentous choice. Two gentry queens of the Valwode plot to hijack a human rocketship and steal the moon out of the sky.

DARK BREAKERS gathers three new and two previously uncollected tales from World Fantasy Award-winning writer C. S. E. Cooney that expand on the thrice-enfolded worlds first introduced in her Locus and World Fantasy award-nominated novella DESDEMONA AND THE DEEP. In her introduction to DARK BREAKERS, Crawford Award-winning author Sharon Shinn advises those who pick up this book to "settle in for a fantastical read" full of "vivid world-building, with layer upon layer of detail; prose so dense and gorgeous you can scoop up the words like handfuls of jewels; a mischievous sense of humor; and a warm and hopeful heart."
A companion collection to Cooney's novella Desdemona and the Deep (which can be comfortably read before, after, or even alongside/during this book) Dark Breakers is quite simply an enchantment manifested in paper and ink. Breathtaking prose and Fae that are as beautiful as they are terrifying are the big draws for this one!
Inheritors of Power
by
Juliette Wade
Genres:
Queer Protagonists
,
Sci Fi
Representation:
Two ace MCs, gay major secondary character, secondary trans character, secondary nonbinary character, queernorm castes
Published on:
22nd February 2022
ISBN:
0756418011
Goodreads
The third book of The Broken Trust continues a deadly battle for power in this sociological sci-fi novel where brother is pitted against brother.

Many years have passed since the Eminence Nekantor and Heir Adon seized power, and life in Pelismara has found a fragile equilibrium under Nekantor's thumb. Now the Imbati Service Academy suspects that Xinta, Manservant to the Eminence, may have taken control of Nekantor for his own sinister purposes, endangering what peace still remains. Imbati Catín, an Academy prodigy, vows service to Adon, balancing two core purposes — to advance her Master's designs on power, and to determine the full extent of Xinta's influence.

When a trash hauler named Akrabitti Corbinan walks into a place he doesn't belong, everything falls out of balance. Catín, who is investigating this newly discovered hidden library, immediately arrests Corbinan for trespassing. Nekantor then seizes Corbinan, believing he's a spy who sought to topple the government, and Xinta vanishes him before Catín can determine his intent. What was Corbinan really seeking? What dangerous information does the library contain, that Xinta might seek to control? And what might happen if someone more dangerous finds Corbinan first?
The third book in the Broken Trust series is a complete gamechanger – Wade levels the fuck up with this one! It was one of the earliest releases this year, but I'm still thinking about it and screaming internally. Everyone needs to be reading this series!!!
Manhunt
by
Gretchen Felker-Martin
Genres:
Horror
,
Queer Protagonists
,
Sci Fi
Representation:
Sapphic trans woman MC, bi/pansexual trans woman MC, Indigenous American trans man MC, brown bi/pansexual fat MC with chronic pain, queer cis woman MC
Published on:
22nd February 2022
ISBN:
1250794641
Goodreads
Y: The Last Man meets The Girl With All the Gifts in Gretchen Felker-Martin's Manhunt, an explosive post-apocalyptic novel that follows trans women and men on a grotesque journey of survival.

Beth and Fran spend their days traveling the ravaged New England coast, hunting feral men and harvesting their organs in a gruesome effort to ensure they'll never face the same fate.

Robbie lives by his gun and one hard-learned motto: other people aren't safe.

After a brutal accident entwines the three of them, this found family of survivors must navigate murderous TERFs, a sociopathic billionaire bunker brat, and awkward relationship dynamics―all while outrunning packs of feral men, and their own demons.

Manhunt is a timely, powerful response to every gender-based apocalypse story that failed to consider the existence of transgender and non-binary people, from a powerful new voice in horror.
Honestly, if you have the stomach for it, I consider Manhunt mandatory reading. It's unflinchingly gross and painfully on-point, a gender-apocalypse story that remembers that trans and nonbinary people exist – and puts them front and centre. It is not easy to read – I mean, the actual writing is compulsively readable, but the themes and imagery are often not. It is extremely worth it, though.
Saint Death's Daughter
by
C.S.E. Cooney
Genres:
Fantasy
,
Secondary World Fantasy
,
Queer Protagonists
Representation:
Queer MC, nonbinary love interest, queerplatonic-coded F/F
Published on:
12th April 2022
ISBN:
1786184702
Goodreads
Fun, froofy and glorious: a coming-of-age story in a new trilogy from World Fantasy Award-winning author C.S.E. Cooney.

Nothing complicates life like Death.

Lanie Stones, the daughter of the Royal Assassin and Chief Executioner of Liriat, has never led a normal life. Born with a gift for necromancy and a literal allergy to violence, she was raised in isolation in the family's crumbling mansion by her oldest friend, the ancient revenant Goody Graves.

When her parents are murdered, it falls on Lanie and her cheerfully psychotic sister Nita to settle their extensive debts or lose their ancestral home—and Goody with it. Appeals to Liriat's ruler to protect them fall on indifferent ears… until she, too, is murdered, throwing the nation's future into doubt.

Hunted by Liriat's enemies, hounded by her family's creditors and terrorised by the ghost of her great-grandfather, Lanie will need more than luck to get through the next few months—but when the goddess of Death is on your side, anything is possible.
I called this 'the most perfect book to ever book' and I stand by that.
One cannot inoculate oneself to Cooney's prose or imagination; reading all her short stories, poems and novellas is not enough to prepare you for her first full-length novel. Saint Death's Daughter will have you seeing gods and stars and a world you'll never want to leave, all wrapped up in gloriously silly footnotes and delightedly decadent prose. This is a book that loves itself; not in an arrogant way, but in a freely joyful way, full of wonder, revelling in its own stunning strangeness and laughing at the idea that it should tone itself down for anyone.
I literally had to invent two whole new words to describe it, because none of the words I knew could do it justice.
Siren Queen
by
Nghi Vo
Genres:
Fantasy
,
Historical Fantasy
,
Queer Protagonists
Representation:
Chinese-American lesbian MC, F/F, secondary gay character
Published on:
10th May 2022
ISBN:
B09C4F52CS
Goodreads
"No maids, no funny talking, no fainting flowers."

Luli Wei is beautiful, talented, and desperate to be a star. Coming of age in pre-Code Hollywood, she knows how dangerous the movie business is and how limited the roles are for a Chinese American girl from Hungarian Hill—but she doesn't care. She'd rather play a monster than a maid.

But in Luli's world, the worst monsters in Hollywood are not the ones on screen. The studios want to own everything from her face to her name to the women she loves, and they run on a system of bargains made in blood and ancient magic, powered by the endless sacrifice of unlucky starlets like her. For those who do survive to earn their fame, success comes with a steep price. Luli is willing to do whatever it takes—even if that means becoming the monster herself.

Siren Queen offers up an enthralling exploration of an outsider achieving stardom on her own terms, in a fantastical Hollywood where the monsters are real and the magic of the silver screen illuminates every page.
Vo has yet to write anything that fails to completely take my breath away; Siren Queen may be my favourite of her works yet! Set in a Hollywood run by monsters and bound by recognisably Fae rules, where actors and actresses can become literal stars, this is simultaneously a glorious historical fantasy – where Fridays are spent by eldritch fires and your roommate can be a creature right out of Swedish folklore – and a rich, decadent exploration of, and musing on, the intersection of being a woman, not-white, and not-straight. Luli is an amazing character, and I'm so glad Vo wrote Siren Queen in first-person, let her tell her own story; she's selfish, sharp, shameless, proud, hungry, and I adored her utterly. Being along for the ride as her star rose was a joy.
You really don't need me to tell you Vo knocked it out of the park again, okay? I'm not sure she's capable of writing anything that doesn't.
The Hourglass Throne (The Tarot Sequence, #3)
by
K.D. Edwards
Genres:
Fantasy
,
Contemporary or Urban Fantasy
,
Queer Protagonists
Representation:
Gay MC, M/M, secondary asexual character, secondary Hispanic character, secondary Black sapphic character, queernorm culture
Published on:
17th May 2022
ISBN:
1645060551
Goodreads
As Rune Saint John grapples with the challenges of assuming the Sun Throne, a powerful barrier appears around New Atlantis's famed rejuvenation center. But who could have created such formidable magic . . . what do they want from the immortality clinic . . . and what remains of the dozens trapped inside?

Though Rune and his lifelong bodyguard Brand are tasked with investigating the mysterious barrier, Rune is also busy settling into his new life at court. Claiming his father's throne has irrevocably thrown him into the precarious world of political deception, and he must secure relationships with newfound allies in time to keep his growing found family safe. His relationship with his lover, Addam Saint Nicholas, raises additional political complications they must navigate. But he and Brand soon discover that the power behind the barrier holds a much more insidious, far-reaching threat to his family, to his people, and to the world.

Now, the rulers of New Atlantis must confront an enemy both new and ancient as the flow of time itself is drawn into the conflict. And as Rune finds himself inexorably drawn back to the fall of his father's court and his own torture at the hands of masked conspirators, the secrets that he has long guarded will be dragged into the light—changing the Sun Throne, and New Atlantis, forever.

The climax of the first trilogy in the nine-book Tarot Sequence, The Hourglass Throne delivers epic urban fantasy that blends humor, fast-paced action, and political intrigue.
This book made me laugh, cheer, cry, and fucking scream – and I know I'm far from the only one! Impossibly, this series just gets better and better with every book, and Hourglass Throne is a more than worthy finale to the first trilogy in this (9-book!) Sequence.
Be warned though; despite not being a cliffhanger, the ending will make you absolutely rabid for the next installment!
Darknesses (Darknesses #1)
by
Lachelle Seville
Genres:
Fantasy
,
Contemporary or Urban Fantasy
,
Queer Protagonists
Representation:
Black bisexual MC, Black pansexual love interest, F/F, Black secondary characters
Published on:
22nd May 2022
ISBN:
B09KB5XK5F
Goodreads
It's been a year since Oasis stumbled away from Blessed Falls with wings carved into her back and too many scars to count.

A year spent razing delusions of being an angel's vessel, proving to her brother that she doesn't belong in a psych ward, and mourning the loss of her mother's vinyl pressed ashes.

A year spent struggling to feel human again.

Enter Laura, the mesmerizing stranger who claims to hear Oasis' heartbeat, who reads her hand-written memoir like scripture, who makes her feel closer to found than lost.

Laura is the most recent face of the eternal Count Dracula, ruler of the shadows, chimera of the Devil, and embittered victim of libel.

The Van Helsing Institute have been waiting for a glimpse of the dragon's underbelly, and eagerly approach Oasis for her help in a ploy to kill Dracula for good. But not every wound from Blessed Falls has cicatrized, and Oasis realizes she may be a danger to Laura—and to herself.

Yet no one is as dangerous as Laura—the first vampire, the Devil's plaything, and the person with whom Oasis finally feels human.

Oceans of time have passed since she last had a drink, and she will not let Oasis go easily.
Hi, no, I am in fact not done screeching about Darknesses: I need everyone who likes vampires to read this book! It is hilarious and thrilling and absolutely wicked, in every sense of the word; it's Black as hell and queer as fuck; Leville has done some seriously cool worldbuilding; and I guarantee that whatever you expect of this book – whatever the cover and/or synopsis suggests to you – you will not see where this book is going. I'm not sure I've ever read as unpredictable a book in my life. And not in the twists-just-for-shock-value way, either, but in the "WHAT? WHAT?? OH FUCK YEAH!!!" way.
Also??? Leville's take on the Dracula story is the only version I will now accept. #sorrynotsorry.
It staked the competition and is now, officially, my favourite vampire book of all time. I need so many more people to read it so I have someone to scream about it with!!!
Wrath Goddess Sing
by
Maya Deane
Genres:
Fantasy
,
Epic Fantasy
,
Historical Fantasy
,
Queer Protagonists
Representation:
Bi/pansexual trans MC, F/F, multiple secondary trans characters
Published on:
7th June 2022
ISBN:
0063161206
Goodreads
Drawing on ancient texts and modern archeology to reveal the trans woman's story hidden underneath the well-known myths of The Iliad, Maya Deane's Wrath Goddess Sing weaves a compelling, pitilessly beautiful vision of Achilles' vanished world, perfect for fans of Song of Achilles and the Inheritance trilogy.

The gods wanted blood. She fought for love.

Achilles has fled her home and her vicious Myrmidon clan to live as a woman with the kallai, the transgender priestesses of Great Mother Aphrodite. When Odysseus comes to recruit the "prince" Achilles for a war against the Hittites, she prepares to die rather than fight as a man. However, her divine mother, Athena, intervenes, transforming her body into the woman's body she always longed for, and promises her everything: glory, power, fame, victory in war, and, most importantly, a child born of her own body. Reunited with her beloved cousin, Patroklos, and his brilliant wife, the sorceress Meryapi, Achilles sets out to war with a vengeance.

But the gods—a dysfunctional family of abusive immortals that have glutted on human sacrifices for centuries—have woven ancient schemes more blood-soaked and nightmarish than Achilles can imagine. At the center of it all is the cruel, immortal Helen, who sees Achilles as a worthy enemy after millennia of ennui and emptiness. In love with her newfound nemesis, Helen sets out to destroy everything and everyone Achilles cherishes, seeking a battle to the death.

An innovative spin on a familiar tale, this is the Trojan War unlike anything ever told, and an Achilles whose vulnerability is revealed by the people she chooses to fight…and chooses to trust.
Wrath Goddess Sing was everything I ever wanted and more than I ever dreamed of from a 'trans woman Achilles' story! Epic in scope and execution, with prose that took my breath away and a take on gods-and-divinity that filled my pagan little heart with joy, this is a book that gets my heart pounding even now, months after reading it. I no longer have any interest in the Illiad; Wrath Goddess Sing is the only tale of the Trojan War I care about, complete with Egyptian sorceresses, absolutely terrible dolphins, and a sense of glory and wonder that has this book inscribed in gold on my bones.
I cannot even, okay? There is so much richness here; plenty to geek out about if you're at all interested in this period of history or the Illiad, but I think someone who's never studied Homer can still fall head over heels in love with this book too. And I have no idea where to even start talking about how, as a nonbinary person, this book filled my heart to overflowing. Just. Just go read it, all right?
A Half-Built Garden
by
Ruthanna Emrys
Genres:
Queer Protagonists
,
Sci Fi
Representation:
Queernorm world, Jewish sapphic MC, Jewish trans spouse, F/F, major character with prosthetic limb, major trans character, multiple neogenders
Published on:
26th July 2022
ISBN:
B09CNDZSYK
Goodreads
On a warm March night in 2083, Judy Wallach-Stevens wakes to a warning of unknown pollutants in the Chesapeake Bay. She heads out to check what she expects to be a false alarm--and stumbles upon the first alien visitors to Earth. These aliens have crossed the galaxy to save humanity, convinced that the people of Earth must leave their ecologically-ravaged planet behind and join them among the stars. And if humanity doesn't agree, they may need to be saved by force.

The watershed networks aren't ready to give up on Earth. Decades ago, they rose up to exile the last corporations to a few artificial islands, escape the dominance of nation-states, and reorganize humanity around the hope of keeping their world liveable. By sharing the burden of decision-making, they've started to heal the wounded planet.

But now corporations, nation-states, and networks all vie to represent humanity to these powerful new beings, and if any one accepts the aliens' offer, Earth may be lost. With everyone's eyes turned skyward, everything hinges on the success of Judy's effort to create understanding, both within and beyond her own species.
Seanan McGuire said this 'deserves to be the first contact novel that defines a generation', and you know what? Yes. No one is going to be able to put it better than that. This is such a powerfully hopeful book, beautiful and almost painfully poignant – not to mention, ridiculously clever and inventive! Half-Built Garden instantly put Ruthanna Emrys on my list of auto-buy authors – I'll buy everything she writes after this!
Daughter of Redwinter (The Redwinter Chronicles, #1)
by
Ed McDonald
Genres:
Fantasy
,
High Fantasy
,
Queer Protagonists
Representation:
Bisexual MC, sapphic love interest
Published on:
28th June 2022
ISBN:
B09C4G1C8P
Goodreads
Those who see the dead soon join them.

From the author of the critically-acclaimed Blackwing trilogy comes Ed McDonald's Daughter of Redwinter, the first of a brilliant fantasy series about how one choice can change a universe.

Raine can see—and more importantly, speak—to the dead. It's a wretched gift with a death sentence that has her doing many dubious things to save her skin. Seeking refuge with a deluded cult is her latest bad, survival-related decision. But her rare act of kindness—rescuing an injured woman in the snow—is even worse.

Because the woman has escaped from Redwinter, the fortress-monastery of the Draoihn, warrior magicians who answer to no king and who will stop at nothing to retrieve what she's stolen. A battle, a betrayal, and a horrific revelation forces Raine to enter Redwinter. It becomes clear that her ability might save an entire nation.

Pity she might have to die for that to happen…
Daughter of Redwinter took me by surprise in a lot of ways; it has a…vibe or aesthetic that I don't read a lot of any more – and yet it held me completely captivated from the very first page. I still can't tell you what exactly made me pick it up, but I'm so glad I did, because this is the start of a series that is definitely going to be a favourite.
Everything for Everyone: An Oral History of the New York Commune, 2052–2072
by
M.E. O'Brien
,
Eman Abdelhadi
Genres:
Queer Protagonists
,
Sci Fi
,
Speculative Fiction
Representation:
QBIPOC cast
Published on:
2nd August 2022
ISBN:
B09TXZDDSB
Goodreads
By the middle of the twenty-first century, war, famine, economic collapse, and climate catastrophe had toppled the world's governments. In the 2050s, the insurrections reached the nerve center of global capitalism—New York City. This book, a collection of interviews with the people who made the revolution, was published to mark the twentieth anniversary of the New York Commune, a radically new social order forged in the ashes of capitalist collapse.

Here is the insurrection in the words of the people who made it, a cast as diverse as the city itself. Nurses, sex workers, antifascist militants, and survivors of all stripes recall the collapse of life as they knew it and the emergence of a collective alternative. Their stories, delivered in deeply human fashion, together outline how ordinary people's efforts to survive in the face of crisis contain the seeds of a new world.
Like A Half-Built Garden, this is a book about a hopeful future. But as well as being incredibly readable, and incredibly imaginative and thoughtful and unique…it's also…practical.
It's not dry. At all. It's profoundly emotional. But it feels like…
Most fiction doesn't go into detail on how The Revolution happened. It's glossed over. Skipped. But in a lot of ways, Everything For Everyone feels like…like a practical guide on how to build a better future. (One version of a better future, anyway.) And that is…huge. Because imagining a better future isn't hard – but figuring out how to get there is hard. Terrifyingly hard. So a book like this is…honestly? It feels priceless.
And like I said, it's an incredible book even if none of that matters to you. Taken purely as a work of fiction, it's compelling, fascinating, and thought-provoking in the best kind of way. I treasure it because it gives me real hope…and also because it's freaking awesome! So check it out, and think seriously about picking it up, because more people should!
The Women Could Fly
by
Megan Giddings
Genres:
Fantasy
,
Contemporary or Urban Fantasy
,
Queer Protagonists
Representation:
Bisexual Black MC, lesbian secondary character, F/F
Published on:
9th August 2022
ISBN:
0063117029
Goodreads
Reminiscent of the works of Margaret Atwood, Shirley Jackson, and Octavia Butler, a biting social commentary from the acclaimed author of Lakewood that speaks to our times--a piercing dystopian novel about the unbreakable bond between a young woman and her mysterious mother, set in a world in which witches are real and single women are closely monitored.

Josephine Thomas has heard every conceivable theory about her mother's disappearance. That she was kidnapped. Murdered. That she took on a new identity to start a new family. That she was a witch. This is the most worrying charge because in a world where witches are real, peculiar behavior raises suspicions and a woman--especially a Black woman--can find herself on trial for witchcraft.

But fourteen years have passed since her mother's disappearance, and now Jo is finally ready to let go of the past. Yet her future is in doubt. The State mandates that all women marry by the age of 30--or enroll in a registry that allows them to be monitored, effectively forfeiting their autonomy. At 28, Jo is ambivalent about marriage. With her ability to control her life on the line, she feels as if she has her never understood her mother more. When she's offered the opportunity to honor one last request from her mother's will, Jo leaves her regular life to feel connected to her one last time.
In this powerful and timely novel, Megan Giddings explores the limits women face--and the powers they have to transgress and transcend them.
The Women Could Fly blew me away and made my heart soar. It's written in a much more literary-fiction style then what I'm used to, but it was perfect for the story Giddings told – a story that features one of my favourite takes on magic ever, by the way! This thrilled me from start to finish – even when the themes it dealt with horrified or enraged me – and is another one I keep thinking about, half a year after I read it.
I said in my review that The Women Could Fly is to the 2020s what Handmaid's Tale was to the 80s, and I stand by that. So if you're looking for a magical novel that's intersectionally feminist, powerful, and modern? This right here is what you need.
The Oleander Sword (The Burning Kingdoms, #2)
by
Tasha Suri
Genres:
Fantasy
,
Epic Fantasy
,
Queer Protagonists
Representation:
Desi-coded setting and cast, F/F
Published on:
16th August 2022
ISBN:
B09N5S3FFC
Goodreads
The prophecy of the nameless god—the words that declared Malini the rightful empress of Parijatdvipa—has proven a blessing and curse. She is determined to claim the throne that fate offered her. But even with the strength of the rage in her heart and the army of loyal men by her side, deposing her brother is going to be a brutal and bloody fight.

The power of the deathless waters flows through Priya's blood. Thrice born priestess, Elder of Ahiranya, Priya's dream is to see her country rid of the rot that plagues it: both Parijatdvipa's poisonous rule, and the blooming sickness that is slowly spreading through all living things. But she doesn't yet understand the truth of the magic she carries.

Their chosen paths once pulled them apart. But Malini and Priya's souls remain as entwined as their destinies. And they soon realize that coming together is the only way to save their kingdom from those who would rather see it burn—even if it will cost them.
There are quite a few sequels on my list, and that's because all of them rock. I actually loved Oleander Sword even more than I did Jasmine Throne! I did not expect that, I didn't think it was POSSIBLE, but I should know better by now than to underestimate Suri!
The way the characters got to stretch and be their best worst full selves in this book – how much the worldbuilding was expanded upon – the extremely unexpected reveal – gah! I loved everything about it. IT ROCKS.
A Taste of Gold and Iron
by
Alexandra Rowland
Genres:
Fantasy
,
Secondary World Fantasy
,
Queer Protagonists
Representation:
Brown cast, gay MC, bisexual/demisexual autistic-coded MC, secondary pansexual character, secondary asexual nonbinary character, tertiary nonbinary characters, queernorm world
Published on:
30th August 2022
ISBN:
1250800404
Goodreads
The Goblin Emperor meets "Magnificent Century" in Alexandra Rowland's A Taste of Gold and Iron, where a queer central romance unfolds in a fantasy world reminiscent of the Ottoman Empire.

Kadou, the shy prince of Arasht, finds himself at odds with one of the most powerful ambassadors at court—the body-father of the queen's new child—in an altercation which results in his humiliation.

To prove his loyalty to the queen, his sister, Kadou takes responsibility for the investigation of a break-in at one of their guilds, with the help of his newly appointed bodyguard, the coldly handsome Evemer, who seems to tolerate him at best. In Arasht, where princes can touch-taste precious metals with their fingers and myth runs side by side with history, counterfeiting is heresy, and the conspiracy they discover could cripple the kingdom's financial standing and bring about its ruin.
A Taste of Gold and Iron is a deliciously indulgent book, one that's meant to make you squiggle with happy sighs and hug your hardcover to your chest so hard it hurts. It's lush and gorgeous and full of queer yearning, and – I just cannot stress enough how this a book that makes you happy. It'll also make you laugh, shriek, and outright hiss at the bad guys, but it's fundamentally a story that promises you a happy ending from the first page, and, with that assurance given, invites you to linger and savour the journey.
And the worldbuilding.
And the beautiful clothes.
And–
Look, it's just a must-read, okay?
Moon Dark Smile (Night Shine, #2)
by
Tessa Gratton
Genres:
Fantasy
,
Queer Protagonists
Representation:
Queer MC, nonbinary MC, trans MC, secondary polyamory M/NB/F
Published on:
30th August 2022
ISBN:
B09JPHLF2G
Goodreads
The fate of an Empire lies with a headstrong Heir and a restless demon in this lush YA fantasy for fans of Laini Taylor and Girl, Serpent, Thorn.

Ever since she was a girl, Raliel Dark-Smile's best friend has been the great demon that lives in the palace. As the daughter of the Emperor, Raliel appears cold and distant to those around her, but what no one understands is that she and the great demon, Moon, have a close and unbreakable bond and are together at all times. Moon is bound to the Emperor and his two consorts, Raliel's parents, and when Raliel comes of age, she will be bound to Moon as well, constrained to live in the Palace for the rest of her days.

Raliel is desperate to see the Empire Between Five Mountains, and she feels a deep kinship with Moon, who longs to break free of its bonds. When the time finally arrives for Raliel's coming of age journey, she discovers a dangerous way to take Moon with her, even as she hides this truth from her travel companion, the beautiful, demon-kissed bodyguard Osian Redpop. But Osian is hiding secrets of his own, and when a plot surfaces that threatens the Empire, Raliel will have to decide who she can trust and what she'll sacrifice for the power to protect all that she loves.
I knew I was going to love this the moment I heard it was set in the same world as Night Shine, and I was not wrong! This is a book for those of us who want to be the monster as much, if not more, than we want to love the monster, and it's silky-delicious and beautiful.
The Spear Cuts Through Water
by
Simon Jimenez
Genres:
Fantasy
,
High Fantasy
,
Queer Protagonists
Representation:
Brown cast, amputee MC, M/M
Published on:
30th August 2022
ISBN:
B08MPV7Z6Q
Goodreads

A reluctant warrior goes on the run with an ancient goddess through a lush world full of wild magic, wondrous creatures, and hidden enemies in this beautiful epic fantasy from the author of The Vanished Birds.

In the land of the Strangled Throat, the people suffer under the rule of a despotic Emperor. His sons, the Three Terrors, despoil the countryside and oppress its citizens. When Keema Daware--a fierce warrior who lost his left arm in battle--finds the mythic Empress, who has escaped from her royal imprisonment, at his sentry outpost, he must make a choice: turn her in and evade the wrath of the Three Terrors, or help her overthrow the government and free a nation.
I'm still not sure if I like The Spear Cuts Through Water, but there's no question that it's objectively amazing, both story-wise and from a technical writing perspective. Parts of it are extremely dark, but it's also beautiful, and strange, and very clever. I'm very glad I read it. I think it will probably be taught in schools someday – or maybe universities – and I would especially recommend it to any fledgling writers out there. Or even very experienced writers! Anyone with an interesting in writing craft should seriously think about giving this a try, because there's so much to study and learn in what Jimenez has done here.
Babel, or The Necessity of Violence: An Arcane History of the Oxford Translators' Revolution
by
R.F. Kuang
Genres:
Fantasy
,
Historical Fantasy
Representation:
Chinese MC, Muslim Desi MC, Haitian MC
Published on:
1st September 2022
ISBN:
B09MJTDVTJ
Goodreads
A new dark academic fantasy by the New York Times bestselling author of The Poppy War

Traduttore, traditore: An act of translation is always an act of betrayal.
Oxford, 1836.

The city of dreaming spires.

It is the centre of all knowledge and progress in the world.

And at its centre is Babel, the Royal Institute of Translation. The tower from which all the power of the Empire flows.

Orphaned in Canton and brought to England by a mysterious guardian, Babel seemed like paradise to Robin Swift.

Until it became a prison…

But can a student stand against an empire?

An incendiary new novel from award-winning author R.F. Kuang about the power of language, the violence of colonialism, and the sacrifices of resistance.
The only reason for this to not be on your best of 2022 list is if you didn't read it, because honestly, Babel is every bit as phenomenal as you have no doubt heard. The magic system is simple to wrap your head around but really, really clever and unique; the worldbuilding is seamless; the prose drags you in and doesn't let you go for a moment. I literally could not love the main characters more. And the story, the book, is exactly as powerful, as gut-punching, as heart-rending, as it should be to tell the tale it's telling. To convey the message – messages, really – that Kuang has imbued into this work.
It's not a preachy book, if you're worried about that. I never felt like I was being lectured, or beaten around the head with what Kuang wanted me to understand. Just that these issues were, are, all-pervasive for people who don't look like me. Which is very much something that people who look like me need to hear more often.
And like, aside from all of that, it's just an incredible book? An amazing read that I couldn't put down?? A beautiful and inventive piece of historical fantasy??? Don't think of it as an 'issues book', think of it as an excellent book. Because it is!
Nona the Ninth (The Locked Tomb, #3)
by
Tamsyn Muir
Genres:
Queer Protagonists
,
Science Fantasy
Representation:
Queer cast
Published on:
13th September 2022
ISBN:
B09G14BQMM
Goodreads
Her city is under siege.

The zombies are coming back.

And all Nona wants is a birthday party.

In many ways, Nona is like other people. She lives with her family, has a job at her local school, and loves walks on the beach and meeting new dogs. But Nona's not like other people. Six months ago she woke up in a stranger's body, and she's afraid she might have to give it back.

The whole city is falling to pieces. A monstrous blue sphere hangs on the horizon, ready to tear the planet apart. Blood of Eden forces have surrounded the last Cohort facility and wait for the Emperor Undying to come calling. Their leaders want Nona to be the weapon that will save them from the Nine Houses. Nona would prefer to live an ordinary life with the people she loves, with Pyrrha and Camilla and Palamedes, but she also knows that nothing lasts forever.

And each night, Nona dreams of a woman with a skull-painted face...
Did I have any idea of what to expect from Nona? No I did not. Did Muir nonetheless manage to subvert the expectations I definitely didn't have? Yes she did. And I enjoyed every single minute of it. Nona the Ninth gives us a view of the Locked Tomb universe – and its history – that we've never had, once again changing the angles from which the story is told and shaking up the kaleidoscope so that every time we look, we see something new.
I mean, what is there to say? It's Tamsyn Muir. It's the Locked Tomb series. Kind of goes without saying that it's marvellous, don't you think?
The Golden Enclaves (The Scholomance, #3)
by
Naomi Novik
Genres:
Fantasy
,
Contemporary or Urban Fantasy
,
Queer Protagonists
Representation:
Biracial Desi bisexual MC, Desi secondary character, Chinese secondary character, secondary bi/pansexual character
Published on:
27th September 2022
ISBN:
B09MVM8R7T
Goodreads
Saving the world is a test no school of magic can prepare you for in the triumphant conclusion to the New York Times bestselling trilogy that began with A Deadly Education and The Last Graduate.

The one thing you never talk about while you're in the Scholomance is what you'll do when you get out. Not even the richest enclaver would tempt fate that way. But it's all we dream about: the hideously slim chance we'll survive to make it out the gates and improbably find ourselves with a life ahead of us, a life outside the Scholomance halls.

And now the impossible dream has come true. I'm out, we're all out—and I didn't even have to turn into a monstrous dark witch to make it happen. So much for my great-grandmother's prophecy of doom and destruction. I didn't kill enclavers, I saved them. Me and Orion and our allies. Our graduation plan worked to perfection: We saved everyone and made the world safe for all wizards and brought peace and harmony to all the enclaves everywhere.

Ha, only joking! Actually, it's gone all wrong. Someone else has picked up the project of destroying enclaves in my stead, and probably everyone we saved is about to get killed in the brewing enclave war. And the first thing I've got to do now, having miraculously gotten out of the Scholomance, is turn straight around and find a way back in.
This is another book that completely flipped the tables on me – The Golden Enclaves did not go anywhere I was expecting it to, and that's a good thing, because the finale to the Scholomance trilogy is so much more epic than anything I could have imagined! By itself, it's freaking brilliant; as a finale, it's jaw-dropping, and yet now that I've read it, it seems like the only correct way this series could have ended.
Just replace all those eyes on the cover with heart-eyes, and you'll have some idea of much I swoon just thinking about this one!
Practice (The Heretic's Guide to Homecoming #2)
by
Sienna Tristen
Genres:
Fantasy
,
Secondary World Fantasy
Representation:
Asexual POC MC, nonbinary MC
Published on:
22nd October 2022
ISBN:
B0BFXP2G4X
Goodreads
"All good theory stands up to the test of practice."

Freshly-risen from the underworld of his insecurities, Ronoah Genoveffa Elizzi-denna Pilanovani is halfway through his journey to the fabled Pilgrim State. But the world this side of the Iphigene Sea is not an easy one: violence and subterfuge litter the way forward, and something meaner stalks the edges of Ronoah's certainty, something that threatens to turn the very reason for his pilgrimage to dust.

To survive, he will have to be clever and kind in equal measure. To ask for help from the acrobats and queens-to-be and foreigners' gods that cross his path. To confront that beguiling, bewildering companion he travels with, the one whose secrets are so vast and unforgivable. He will have to draw on every story he knows in order to make it to the Pilgrim State with his soft heart intact—and then make it home again.

Mythic and multilayered, the final installment of the Heretic's Guide to Homecoming duology is a love letter to losing and regaining faith in the ways you move through the world.
This is the sequel to The Heretic's Guide to Homecoming: Theory, and you can read my review of that first book here. (And if I did make a list of the best books read-but-not-published this year, Theory would most definitely be on it.) Suffice to say, Tristen brought it to a whole 'nother level here; I really didn't think anything could be better than Theory, but…well, maybe it's not better, but it's equally excellent in a very different way, and as a reader, editor, and fledgeling writer I can only say…
Kudos, Tristen. Kudos. Good gods. This is an author to keep track of, folx; the Homecoming duology is such an unconventional, exquisite masterpiece that I can't even dream of what Tristen might write next.
I just know I'll definitely be sticking around to find out.
The Scratch Daughters (Scapegracers, #2)
by
H. A. Clarke
Genres:
Fantasy
,
Contemporary or Urban Fantasy
,
Queer Protagonists
Representation:
Sapphic MC, bisexual Asian-American secondary character, queer Black secondary character, nonbinary secondary character, bi/pansexual tertiary character, background M/M
Published on:
25th October 2022
ISBN:
B08GFKNQWZ
Goodreads
It's been a wild year for Sideways Pike. After forming a coven with the three most popular girls in school and developing a huge crush on a mysterious stranger named Madeline, Sideways' Halloween was ruined by finding out that Madeline wasn't trying to make out with her, but to steal Sideways' specter, the force that gives witches the ability to cast magic spells. From Madeline's perspective, it's not her fault: after a doomed relationship with one of the creepy near-identical Chantry Boys turned into a witch hunt, they took her specter, so, really, she's only borrowing Sideways' until she can recover her own and punish the Chantrys.

The specter-less Sideways is in a horrid, distracted mood, unable to do magic and with part of her consciousness tied to Madeline's, on the lam as she uses Sideways' specter to hunt Chantrys. The other Scapegracers are much jollier, heading into the winter holidays having set up shop as curse crafters for girls in their school who've been done wrong by guys. When Sideways—through Madeline—gets a flash of how to track down both her foes at once, she asks the Scapegracers to help entrap them, only to be told her plan is unsafe and unwise. So if she's going to find Madeline, her only ally is Mr. Scratch, the inky book demon currently inhabiting her as life support until she gets her spectre back.

Sideways is used to being an outcast loner, and is desperate to do magic again, so she's not going to let little barriers like facing an betraying crush and a family of six demented witch hunters practically alone stop her. But she and her trusty stolen bike are in for a bumpy ride...
What are you even doing with your life if you're not reading HA Clarke??? WASTING IT. WASTING IT IS WHAT YOU ARE DOING. I don't care if you're a grown up who doesn't read YA, this series is the quintessential queer witches series and you absolutely need to be reading it!
Again, The Scratch Daughters is another sequel that just…look, middle-book-syndrome is simply not a thing here, okay? If anything, I think Scratch Daughters might actually outshine its predecessor – and before reading Daughters I would have sworn that was impossible! Between Clarke's prose, which slices like a diamond knife, and the profoundly queer story, and the magic that sizzles from every page?
Just. MIND. BLOWN. That is all.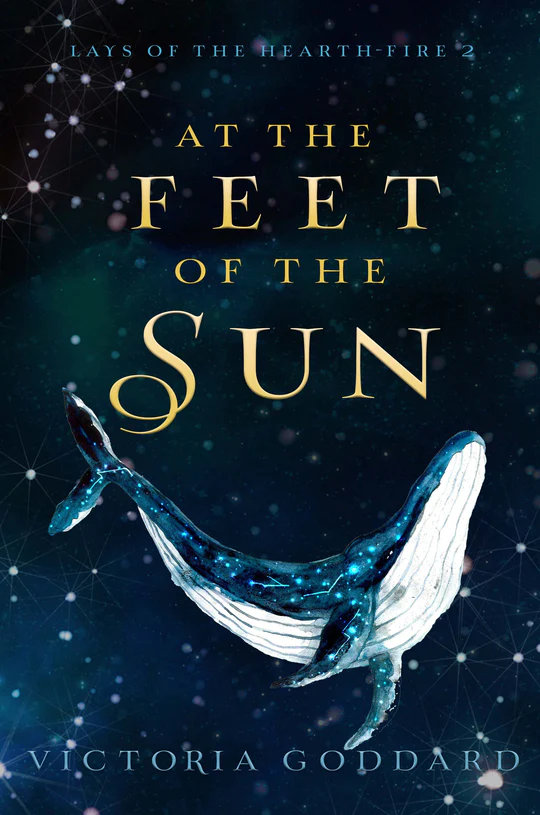 At the Feet of the Sun (Lays of the Hearth-Fire, #2)
by
Victoria Goddard
Genres:
Fantasy
,
Secondary World Fantasy
,
Queer Protagonists
Representation:
Ace-spectrum Polynesian-coded MC, queerplatonic M/M, secondary M/M
Published on:
1st December 2022
ISBN:
B0BK34XVVP
Goodreads
Cliopher Mdang has been appointed Viceroy of Zunidh by his beloved Radiancy, the Last Emperor, who has now left him behind in the Palace to safeguard the world during his absence on a quest to find an appropriately magical heir. When he returns, he will abdicate, and Cliopher will at last retire, satisfied with having achieved most of his life's political goals--even if his long-suppressed personal dreams are starting to bubble up.

(Surely he used to have hobbies besides running the government?)

All he has to do is wait patiently for his lord's return... until adventure quite literally hits him from behind, and what was once safely hypothetical becomes intensely real.
Cliopher has always followed the stars of his chosen course: the epic oral histories of his people, the poetry of the rebel poet Fitzroy Angursell, decades of devotion and service to his Radiancy... They were enough to change the world. But are they enough to guide Cliopher home?
I had no idea what to expect from At the Feet of the Sun, except that of course it would be excellent – and it absolutely is. It's significantly different to the first book, Hands of the Emperor, in a few ways – the only way I can think to put it is to describe At the Feet of the Sun as mythic, in a way that Hands was not.
And that's a massively inadequate description, but I can only promise that, as moving and awe-inspiring and, actually, just plain inspiring Hands was? At the Feet of the Sun strikes even deeper. The ending of Hands brought me to tears from all the…all the Feels; but I actually lost count of how many times At the Feet of the Sun had me tearing up or literally breathless.
If you've been at all concerned that no sequel could possibly live up to Hands of the Emperor, fear not – At the Feet of the Sun is simply perfect, and a more than worthy successor.
The Map and the Territory (Spell and Sextant #1)
by
A.M. Tuomala
Genres:
Fantasy
,
Secondary World Fantasy
,
Queer Protagonists
Representation:
QBIPOC cast, brown gay MC, brown aromantic asexual MC, M/M, background trans and nonbinary rep
Published on:
12th December 2022
ISBN:
9781952456138
Goodreads
When the sky breaks apart and an earthquake shatters the seaside city of Sharis, cartographer Rukha Masreen is far from home. Caught in the city's ruins with only her tools and her wits, she meets a traveling companion who will change her course forever: the wizard Eshu, who stumbles out of a mirror with hungry ghosts on his heels.

He's everything that raises her hackles: high-strung, grandiloquent, stubborn as iron. But he needs to get home, too, and she doesn't want him to have to make the journey alone.

As they cross the continent together, though, Rukha and Eshu soon realize that the disaster that's befallen their world is much larger than they could have imagined. The once-vibrant pathways of the Mirrorlands are deserted. Entire cities lie entombed in crystal. And to make matters worse, a wild god is hunting them down. The further they travel from familiar territory, the more their fragile new friendship cracks under the strain.

To survive the end of their world, Rukha and Eshu will need more than magic and science—they'll need each other.
The moment I started reading The Map and The Territory, I knew it was going to make it onto this list. I held off on publishing this post so that I could finish this book and include it with certainty – and now I have, and I can.
I hope I can write a full, proper review of it very soon, but for this post, let me say: this is one of the most beautiful, unique, and fully-realised worlds I've ever read about. I lost count of how many passages I highlighted because the writing was just that beautiful, or that clever, or that poignant. I read so many bits of it aloud to my hubby – moments that made me cry or made me cackle or made me ache – because they were too good not to share. Eshu is hilarious and hedonistic and fragile; Ruhka is passionate and determined and full of wonder for the world. I loved the friendship that grew between them – I loved that the main characters were a man and a woman and there was no romance whatsoever between them! I loved how casually and completely queer the world Tuomala has created is; I loved how genuinely magical the magic is; I loved the different cultures and faiths and foods and how cohesive it all is, how it feels like a real, living world.
It's so different from anything I've ever read before – so original, so completely itself. So honest and so hopeful, even when it hurts.
And seriously, seriously: it is so exquisitely beautiful. The prose, the poetry, the imagery, the magic, the strangeness; it's all breathtaking. The moment I finish up this post, I'm going to go and buy everything else Tuomala has ever published, because I am so in love with their imagination and their writing that I can't not.
If you give The Map and The Territory a go, I think you will be too.
And that right there is my list! Did you read any of these? What were YOUR faves this year? I'd love to know!
Related Posts