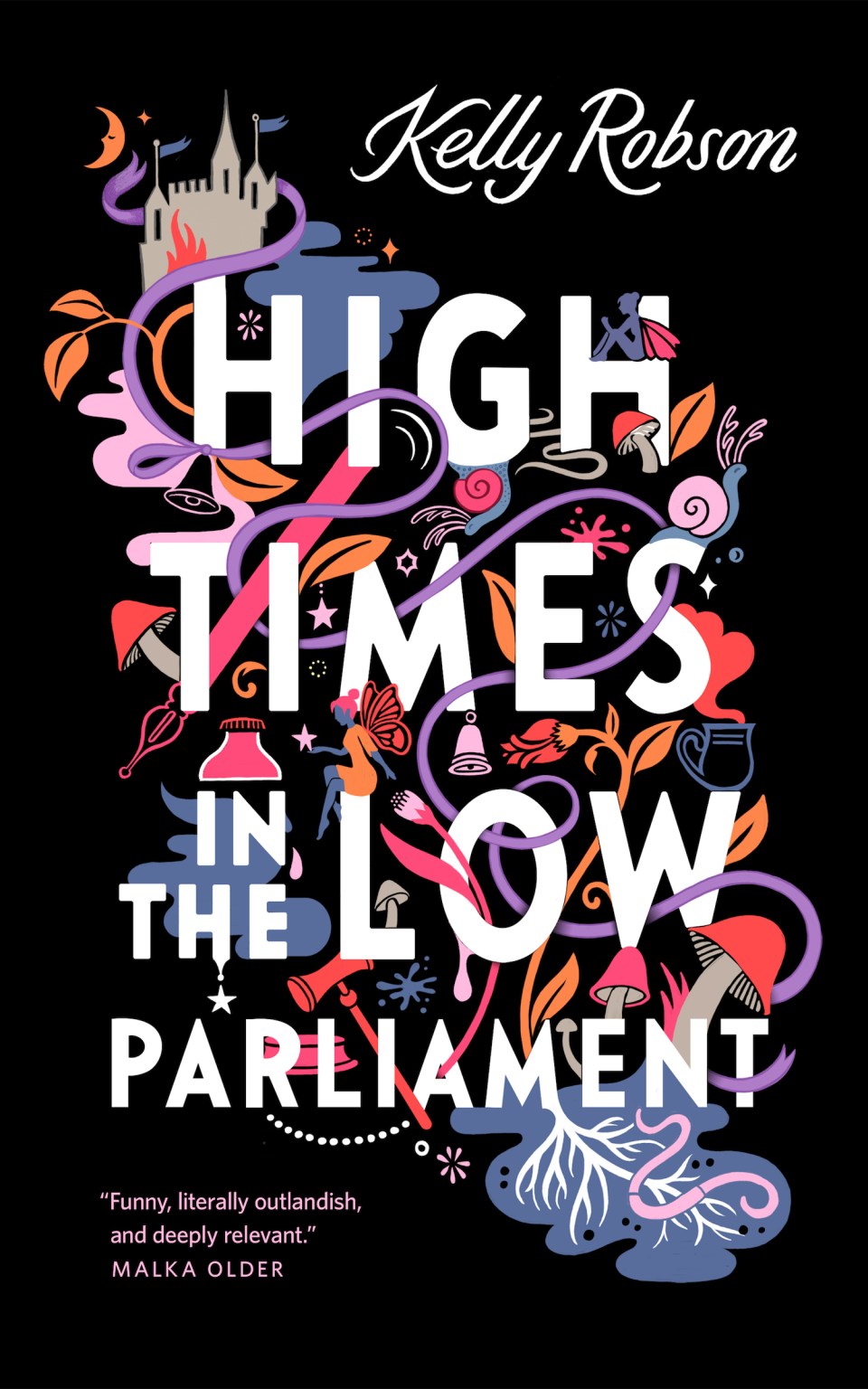 High Times in the Low Parliament
by
Kelly Robson
Genres:
Fantasy
,
Queer Protagonists
Representation:
Sapphic MC, queernorm world, F/F
PoV:
Third-person, past-tense
Published on:
9th August 2022
ISBN:
1250824532
Goodreads
Award-winning author Kelly Robson returns with High Times in the Low Parliament, a lighthearted romp through an 18th-century London featuring flirtatious scribes, irritable fairies, and the dangers of Parliament.

"Funny, literally outlandish, and deeply relevant."—Malka Older

Lana Baker is Aldgate's finest scribe, with a sharp pen and an even sharper wit. Gregarious, charming, and ever so eager to please, she agrees to deliver a message for another lovely scribe in exchange for kisses and ends up getting sent to Low Parliament by a temperamental fairy as a result.

As Lana transcribes the endless circular arguments of Parliament, the debates grow tenser and more desperate. Due to long-standing tradition, a hung vote will cause Parliament to flood and a return to endless war. Lana must rely on an unlikely pair of comrades—Bugbite, the curmudgeonly fairy, and Eloquentia, the bewitching human deputy—to save humanity (and maybe even woo one or two lucky ladies), come hell or high water.
I received this book for free from the publisher via NetGalley in exchange for an honest review. This does not affect my opinion of the book or the content of my review.
Highlights
~politicians now have CONSEQUENCES
~yeast is hallucinogenic now???
~you'll never guess where babies come from
~fairies > men
I'm sure I'm not the first one to say this, but: this book is a trip.
High Times in the Low Parliament has much the same vibe as its main character Lana: charming, delightful, and here to have a good time. But just as Lana – to her own surprise – finds herself having to knuckle down and get at least reasonably serious, so too does High Times reveal an unexpectedly genuine heart beneath the giggles and glitter.
See, in Lana's world, parliament isn't the ruling body of a single country: it's where representatives of all the countries on Earth hash out international law. And to force them all to get along, the fairies have a law of their own: if parliament can't keep its shit together, the fairies will drown it under the waves.
Honestly, I can think of more than one government in our world which might benefit from that kind of magical threat. Ahem.
Anyway. Due to dastardly trickery, Lana ends up appointed one of the scribes recording everything that's said on the parliament floor…and maybe that wouldn't be so bad, in another year. But at the moment? Parliament can't seem to agree on anything. They're deadlocked, and the end of the parliamentary session is rapidly approaching. If they can't come to an agreement by then, they're all going to drown.
This could have been a super-serious book, full of intrigue and plots and the importance of democracy, or whatever – but instead, Lana makes friends by sharing hallucinogens and spends her time gazing adoringly at the most beautiful of the representatives. Which is not to say it's empty-headed fluff-fic, because it most certainly is not – there's some sobering stuff about the sheer awfulness of the worst of humanity, and the friendship that develops between Lana and Bugbite, the fairy overseeing the scribes, is pretty literally game-changing in a way I massively appreciated. Plus, a huge amount of the tension is in seeing how the stupidity of the ruling class/politicians has direct consequences for civilians – the representatives are far from the only humans in parliament, and all the cooks and cleaners and everyone else will drown too.
It's not the subtlest of metaphors.
The prose is quite light and breezy, and maybe that's why it took me a little while to realise something was nagging at me about Lana's world. At first, I was just delighted that we were getting so many women in positions of power – from running their own bakeries and taverns, to being representatives in parliament. And that didn't stop delighting me…but eventually I realised that there are no men at all here. At all. Not anywhere in this world. Babies come from being respectable enough for a baby-giving fairy to bless you with one, as best I can make out, and folx, I love everything about this. I have so many questions, and I would really like more stories set in this world to see more of the backstory and how this all works, but I just. Find this absolutely fabulous.
Is there a causal link between the lack of men and world peace??? Hmmmm…
No, not really – the people causing trouble at parliament are women, after all. It's pretty clear that things got magically fixed by fairies, not by an absence of men. But I am really curious about why Robson decided to craft her world like that. Maybe she, like me, just finds the idea really fun?
Because High Times in the Low Parliament is fundamentally fun. It's a short, gleeful little read that will have you grinning, making weird shapes with your eyebrows, and definitely rolling your eyes at the ridiculousness of our heroine – even if you can't help being extremely fond of her, too.
Highly recommended for anyone looking for fun, sneakily clever, and unexpected fantasy.
Related Posts