This week is PACKED with some seriously exciting new releases, including several I've been waiting all year for!
(Books are listed in order of pub date, then Adult SFF, Adult Other, YA SFF, YA Other, MG SFF.)
The Golden Enclaves (The Scholomance, #3)
by
Naomi Novik
Genres:
Fantasy
,
Contemporary or Urban Fantasy
Representation:
Biracial Desi MC
Published on:
27th September 2022
Goodreads
Saving the world is a test no school of magic can prepare you for in the triumphant conclusion to the New York Times bestselling trilogy that began with A Deadly Education and The Last Graduate.

Almost singlehandedly--although backed by an increasingly large cadre of genuine friends--El has changed the nature of the Scholomance forever. But now that she is back in the real world, how will the lessons she learned inside the school apply? Will her grandmother's prophecy come true? Will she really spell the doom of all the enclaves forever?

As the quest to save her one true love ramps up, however, El is about to learn the most significant lesson of all--the dire truth on which the enclaves and the whole stability of the magical world are founded. And being El, she is not likely to let it lie....
The previous book ended with SUCH a cliffhanger that it's making me actually jittery to know book three is out tomorrow! Plus, I can't WAIT to see El take on the enclaves – BURN 'EM DOWN, GIRL!
Leech
by
Hiron Ennes
Genres:
Horror
,
Queer Protagonists
,
Sci Fi
Representation:
Agender MC, minor F/F
Published on:
27th September 2022
Goodreads
In an isolated chateau, as far north as north goes, the baron's doctor has died. The doctor's replacement has a mystery to solve: discovering how the Institute lost track of one of its many bodies.

For hundreds of years the Interprovincial Medical Institute has grown by taking root in young minds and shaping them into doctors, replacing every human practitioner of medicine. The Institute is here to help humanity, to cure and to cut, to cradle and protect the species from the apocalyptic horrors their ancestors unleashed.

In the frozen north, the Institute's body will discover a competitor for its rung at the top of the evolutionary ladder. A parasite is spreading through the baron's castle, already a dark pit of secrets, lies, violence, and fear. The two will make war on the battlefield of the body. Whichever wins, humanity will lose again.
I picked this up for its promises of gender-fuckery and hiveminds, and stayed for the lovely prose, unique setting, and alllll the creepy, body-horror Gothic SciFi you could ask for!
You can read my review here!
House of Hunger
by
Alexis Henderson
Genres:
Horror
,
Queer Protagonists
Representation:
Sapphic MC
Published on:
27th September 2022
Goodreads
WANTED - Bloodmaid of exceptional taste. Must have a keen proclivity for life's finer pleasures. Girls of weak will need not apply. A young woman is drawn into the upper echelons of a society where blood is power, in this dark and enthralling gothic novel from the author of The Year of the Witching. Marion Shaw has been raised in the slums, where want and deprivation is all she knows. Despite longing to leave the city and its miseries, she has no real hope of escape until the day she spots a peculiar listing in the newspaper, seeking a bloodmaid.

Though she knows little about the far north--where wealthy nobles live in luxury and drink the blood of those in their service--Marion applies to the position. In a matter of days, she finds herself the newest bloodmaid at the notorious House of Hunger. There, Marion is swept into a world of dark debauchery--and at the center of it all is her.
Countess Lisavet, who presides over this hedonistic court, is loved and feared in equal measure. She takes a special interest in Marion. Lisavet is magnetic, and Marion is eager to please her new mistress. But when her fellow bloodmaids begin to go missing in the night, Marion is thrust into a vicious game of cat and mouse. She'll need to learn the rules of her new home--and fast--or its halls will soon become her grave.
This sounds sinfully delicious, and I am so very here for it! Might save it to start reading it in October…if I can make myself wait that long!
Black Dove
by
Colin McAdam
Genres:
Fantasy
,
Contemporary or Urban Fantasy
,
Sci Fi
Published on:
27th September 2022
Goodreads
"I have long been convinced that Colin McAdam is a literary genius. What's extraordinary is that each of the books he writes is a totally distinct type of genius. Every time. He's in a league of his own." --Max Porter, author of Grief Is the Thing with Feathers

From Giller Prize finalist Colin McAdam, a chilling tale of a grieving novelist and his son who fall sway to a twilit world of desperate wanderers, mad geneticists, and noble, dangerous beasts.

In a tall and narrow house, on a stained and busy street, live twelve-year-old Oliver and his father, a story-loving writer. Haunted by the ghost of his alcoholic mother, Oliver finds comfort in his father's impromptu tales: the Black Dove, an elusive flower that gives strength; the girl who consumes it as she battles attackers and yearns for happier realms. Stories where lonely souls keep searching despite their losses and grief.

Running from a bully one night, Oliver finds refuge in a junk shop owned by an enigmatic man. Soon, instead of hiding in the janitor's closet after school, Oliver spends afternoons in the shop, a cavernous place full of storied oddities and grubby wonders where creatures rise up from the basement. A snake in the shape of a boy. A hunter named Night, part panther, part hound, who proves to Oliver that the world holds invisible wonder.

Wanting to forget his mother, afraid of his own genes, constantly harassed by bullies, Oliver decides to follow the shop-owner down the path of genetic editing. As he begins his transformation he meets the girl from across the street, and their friendship grows in a neighbourhood where magic is real, where murderers gather, and where the darker consequences of fantasies play out.

A twisting story of grief and revenge, Black Dove is a thrilling read with its own kind of magic. In rich but tightly reined prose, McAdam celebrates the value and shortfalls of storytelling, finding a light in all the darkness to conjure a tender portrait of childhood's end.
Despite the age of the protagonist, I'm quite sure this is Adult, not MG or even YA. I don't know much about it, though – I haven't found many early reviews. But I'm intrigued by the 'monsters' described in the blurb, and the idea of magic and gene-editing coexisting!
The Genesis of Misery
by
Neon Yang
Genres:
Queer Protagonists
,
Sci Fi
Representation:
Nonbinary MC, nonbinary secondary characters, NB/F, NB/M
Published on:
27th September 2022
Goodreads
An immersive, electrifying space-fantasy from Neon Yang, author of The Black Tides of Heaven, full of high-tech space battles and political machinations, starring a queer and diverse array of pilots, princesses, and prophetic heirs.

This is the story of Misery Nomaki (she/they) – a nobody from a nowhere mining planet who possesses the rare stone-working powers of a saint. Unfortunately, these saint-like abilities also manifest in those succumbing to voidmadness, like that which killed Misery's mother. Knowing they aren't a saint but praying they aren't voidmad, Misery keeps quiet about their power for years, while dreaming and scheming up ways off their Forge-forsaken planet.

But when the voice of an angel, or a very convincing delusion, leads Misery to the center of the Empire, they find themself trapped between two powerful and dangerous factions, each hoping to use Misery to win a terrible war.

Still waiting to be convinced of their own divinity and secretly training with a crew of outlaws and outcasts, Misery grows close to a rebel royal, Lady Alodia Lightning, who may know something of saints and prophecy herself. The voice that guides Misery grows bolder by the day, and it seems the madness is catching…
This was pitched as 'nonbinary Joan of Arc in space', and yep, that's pretty accurate – if Joan of Arc was convinced her visions were hallucinations and was out to trick the Pope. Also, angelic mechas!
We're Here: The Best Queer Speculative Fiction 2021
by
L.D. Lewis
,
Charles Payseur
Genres:
Fantasy
,
Horror
,
Queer Protagonists
,
Sci Fi
Representation:
Queer MCs
Published on:
27th September 2022
Goodreads
This second volume in Neon Hemlock's yearly series celebrating the wonder and breadth of queer speculative fiction contains stories of science fiction, fantasy, horror, and many spaces in between. Edited by LD Lewis and series editor Charles Payseur.

Enjoy stories from C.L. Clark, H. Pueyo, Aliette de Bodard, Watson Neith, Sam J. Miller, Laurel Beckley, Alexandra Seidel, LA Knight, Bogi Takács, Fargo Tbakhi, Ann LeBlanc, Cheri Kamei, Sharang Biswas, Jen Brown & Shingai Njeri Kagunda.

Praise for the previous volume, We're Here 2020: "This promising start to a new anthology series will appeal to any reader of contemporary short SFF, queer or otherwise, and reinforces Neon Hemlock's spot at the apex of queer speculative fiction publishing." ―Publishers Weekly
Obviously I am here for the second instalment of Neon Hemlock's We're Here series! The 2020 edition was a great way to discover new authors I need to check out, and I'm hoping this one will be the same!
My Name Is Magic
by
Xan van Rooyen
Genres:
Fantasy
,
Contemporary or Urban Fantasy
,
Queer Protagonists
Representation:
Nonbinary MC
Published on:
27th September 2022
Goodreads
Taika Turunen has no magic.

Despite coming from a long line of powerful Finnish mages, and their name literally meaning magic, Taika can't perform the simplest of spells.

Forced to attend Myrskyjärvi International School for the Magically Gifted on account of their mom being principal, Taika has a hard time fitting in. Sometimes, they wonder if not having magic has something to do with the fact they're neither a girl nor a boy and if they're fated to be Taika the Talentless forever.

Life goes from bad to worse when Taika sees a liekkiö and recognizes the spirit's voice begging for help as that of their former BFF and major crush, Natalie Khumalo, whose recent absence from class hadn't gone unnoticed. When more students go missing, Taika must take the lead in a race against time to save friends old and new before a powerful group of chaos mages can unleash the legendary Sampo, an artifact capable of either renewing the world's waning magic or destroying everything Taika holds dear.

To rescue Natalie, Taika will have to journey to the liminal space between worlds where they'll be forced to battle mythical monsters and their own flagging self-esteem. In doing so, Taika might just discover that magic—and love—comes in many different forms.

For fans of witchcraft and wizardry looking for a new, inclusive story, My Name Is Magic, is a story about finding strength from within and potential where you least expected it.
I have been waiting for My Name Is Magic for what feels like FOREVER, and I'm so excited to finally be getting my grubby paws on it! There is literally nothing about this premise that doesn't make me go starry-eyed!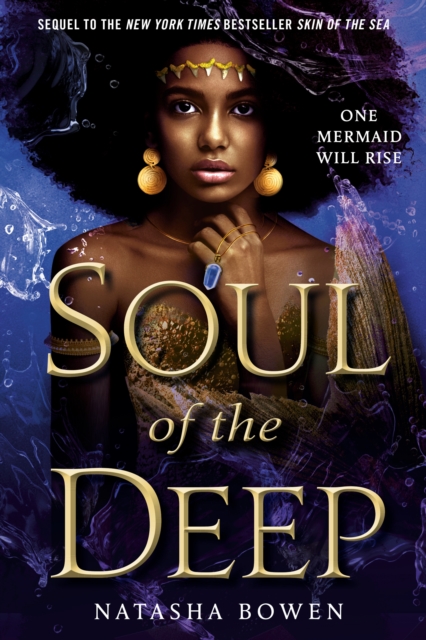 Soul of the Deep (Skin of the Sea, #2)
by
Natasha Bowen
Genres:
Fantasy
Representation:
Black MC
Published on:
27th September 2022
Goodreads
The highly anticipated sequel to the New York Times bestseller Skin of the Sea, in which the world must pay the price for one mermaid's choice, and a dark force reverberates across realms. Perfect for fans of Children of Blood and Bone and those eagerly anticipating the live-action film adaptation of The Little Mermaid.

One life.
One choice.
One sacrifice.

To save those closest to her, Simi traded away everything: her freedom, her family, and the boy she loves. Now she is sworn to serve a new god, watching over the Land of the Dead at the bottom of the ocean.

But when signs of demons begin to appear, it's clear there are deeper consequences of Simi's trade. These demons spell the world's ruin . . . and because of Simi, they now have a way into the human realm.

With the fate of the world at stake, Simi must break her promise and team up with a scheming trickster of a god. And if they succeed, perhaps Simi can also unbreak her heart along the way, and find herself again.
I doubt anyone deliberately timed Soul of the Deep's release to come so close on the heels of our first look at the new Little Mermaid film – how could they? – but still, great timing!
Take note: this is a sequel, so make sure you've read the first book first!
How to Succeed in Witchcraft
by
Aislinn Brophy
Genres:
Fantasy
,
Contemporary or Urban Fantasy
Representation:
QTBIPOC cast
Published on:
27th September 2022
Goodreads
An overachieving teen witch vies for a prestigious scholarship at her elite high school in this contemporary YA fantasy for fans of Never Have I Ever and Sabrina the Teen Witch!

Magically brilliant, academically perfect, chronically overcommitted...
Shay Johnson has all the makings of a successful witch. Now that she's a junior at T.K. Anderson Magical Magnet School, she's one step closer to winning the full-ride Brockton Scholarship--her ticket into the university of her dreams. Her main competition? Ana freaking Álvarez. The key to victory? Impressing Mr. B, drama teacher and head of the scholarship committee.

When Mr. B persuades Shay to star in this year's aggressively inclusive, racially diverse musical--at their not-quite-diverse school--she agrees, wearily, even though she'll have to put up with Ana playing the other lead. But with rehearsals underway, Shay realizes Ana is...not the despicable witch she'd thought. Perhaps she could even be a friend--or more. And Shay could use someone in her corner once she finds herself on the receiving end of Mr. B's unpleasant and unwanted attention. When Shay learns she's not the first witch to experience his inappropriate behavior, she must decide if she'll come forward. But how can she speak out when the scholarship--and her future--are on the line?

An unforgettable debut, How to Succeed in Witchcraft conjures up searing social commentary, delightfully awkward high school theater, and magical proclamations of love.
More mermaids! I adore these 'field guide' type books about magical creatures, and I'm looking forward to seeing Martin's take on the trope, and on mermaids in general!
A Field Guide to Mermaids
by
Emily B. Martin
Genres:
Fantasy
Published on:
27th September 2022
Goodreads
A magical and lushly illustrated field guide to the mermaids that inhabit our ponds, streams and oceans, based on real ecological details—with a strong environmental focus—perfect for fans of The Magical Unicorn Society series.

A glimmer of fish scales.A splash from a colorful fin.The echo of a mysterious song across the water. . .

Few mythical creatures are more instantly recognizable or more mysterious than mermaids. Whether seen perched on a rock at the water's edge or spied only as a dim outline beneath the waves, mermaids have long fascinated sailors, scientists, storytellers, and surprised onlookers alike.

Now, for the first time, thanks to dedicated research and a hint of magic, comes A Field Guide to Mermaids, introducing the many species of mermaids native to the United States. With an eye toward the preservation of our natural habitats, Emily B. Martin shares the never-before-told stories of the mermaids who share our waters in this enchanting and beautifully illustrated guidebook.
ANOTHER magic school book this week! We're being SPOILED and I love it!
Terry Pratchett: A Life With Footnotes: The Official Biography
by
Rob Wilkins
Published on:
29th September 2022
Goodreads
'PEOPLE THINK THAT STORIES ARE SHAPED BY PEOPLE. IN FACT, IT'S THE OTHER WAY AROUND.'

At the time of his death in 2015, award-winning and bestselling author Sir Terry Pratchett was working on his finest story yet - his own.

At six years old, Terry was told by his headteacher that he would never amount to anything.

He spent the rest of his life proving that teacher wrong. At sixty-six, Terry had lived a life full of achievements: becoming one of the UK's bestselling writers, winning the Carnegie Medal and being awarded a knighthood for services to literature.

Following his untimely death from Alzheimer's disease, the mantle of completing Terry's memoir was passed to Rob Wilkins, his former assistant, friend and now head of the author's literary estate.

Drawing on his own extensive memories, along with those of Terry's family, friends, fans and colleagues, Rob recounts Terry's extraordinary story - from his early childhood to the literary phenomenon that his Discworld series became; and how he met and coped with the challenges that 'The Embuggerance' of Alzheimer's brought with it.
'Of all the dead authors in the world, Terry Pratchett is the most alive.' - John Lloyd
I tend to focus on SFF here on this blog, but like hell I'm not going to feature Pratchett's biography! I'm really looking forward to it, although I expect it will break my heart all over again. GNU, Terry.
The Bride Hunt of Elk Mountain
by
Lumen Reese
Genres:
Queer Protagonists
,
Sci Fi
Representation:
Deaf MC, sapphic MC
Published on:
30th September 2022
Goodreads
Every five years the girls of Elk Mountain wake up in the woods, where the simple farm boys they grew up with become predators and hunt them for brides.

Dan Lightman returns to the mountain to help the Marlow sisters. Lizzie is twenty, deaf since childhood and worried that she could end up married to a man who won't learn to communicate with her, that she won't have a voice in her own home. Beck is seventeen, exchanging secret letters with a girl from the other side of the mountain, and she'll kill or die before she'll marry anyone else. Nellie is only fourteen, and all she wants is a few more years, to grow up on her own terms.

All three girls live in the shadow of their beautiful eldest sister, Julia. Five years ago -at the last Bride Hunt- she refused the man who caught her, and she was killed for it. The barbaric ritual is a sacred rite of passage to a fringe sect of Catholicism in post-apocalyptic, small-town Appalachia. Dan is one of the hunt's only critics. He was once too afraid to fight for the girl he loved, but now he's back with a hired cutthroat and a plan to save the remaining Marlow sisters from their gruesome fate...
Right at the end of the week we get Bride Hunt, which I am reading at the moment and am struggling with (not because it's bad, but because I'd like to burn institutions like the one in this book to the ground). So far it's pretty good, and I'm loving the Deaf and queer rep.
Will you be reading any of these? Let me know!
Related Posts