FIVE new SFF books to get your hands on this week!
(Books are listed in order of pub date, then Adult SFF, Adult Other, YA SFF, YA Other, MG SFF.)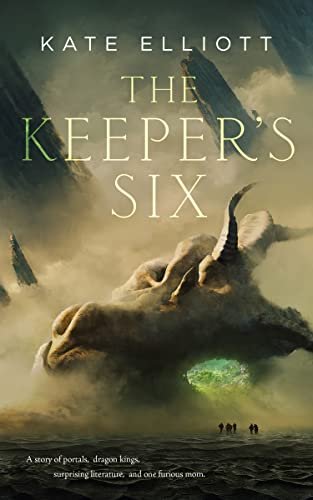 The Keeper's Six
by
Kate Elliott
Genres:
Fantasy
,
Contemporary or Urban Fantasy
,
Portal Fantasy
Published on:
17th January 2023
Goodreads
Kate Elliott's action-packed The Keeper's Six features a world-hopping, bad-ass, spell-slinging mother who sets out to rescue her kidnapped son from a dragon lord with everything to lose.

There are terrors that dwell in the space between worlds.

It's been a year since Esther set foot in the Beyond, the alien landscape stretching between worlds, crossing boundaries of space and time. She and her magical travelling party, her Hex, haven't spoken since the Concilium banned them from the Beyond. But when she wakes in the middle of the night to her son's cry for help, the members of her Hex are the only ones she can trust to help her bring him back from wherever he has been taken.

Esther will have to risk everything to find him. Undercover and hidden from the Concilium, she and her Hex will be tested by dragon lords, a darkness so dense it can suffocate, and the bones of an old crime come back to haunt her.
It's Kate Elliot, so of course I'm excited – but I'm EXTRA excited because for the first time ever (as far as I know) it's a Kate Elliot book with a contemporary setting!!!
Of course, the characters immediately jump away from the world we know to go adventuring, but it still counts! And completely aside from the setting, I have a big soft spot for stories about parents out to rescue their kids.
I Keep My Exoskeletons to Myself
by
Marisa Crane
Genres:
Queer Protagonists
,
Sci Fi
Representation:
Sapphic MC
Published on:
17th January 2023
Goodreads
In a United States not so unlike our own, the Department of Balance has adopted a radical new form of law enforcement: rather than incarceration, wrongdoers are given a second (and sometimes, third, fourth, and fifth) shadow as a reminder of their crime—and a warning to those they encounter. Within the Department, corruption and prejudice run rampant, giving rise to an underclass of so-called Shadesters who are disenfranchised, publicly shamed, and deprived of civil rights protections.

Kris is a Shadester and a new mother to a baby born with a second shadow of her own. Grieving the loss of her wife and thoroughly unprepared for the reality of raising a child alone, Kris teeters on the edge of collapse, fumbling in a daze of alcohol, shame, and self-loathing. Yet as the kid grows, Kris finds her footing, raising a child whose irrepressible spark cannot be dampened by the harsh realities of the world.

With a first-person register reminiscent of the fierce self-disclosure of Sheila Heti and the poetic precision of Ocean Vuong, I Keep My Exoskeletons to Myself is a bold debut novel that examines the long shadow of grief, the hard work of parenting, and the power of queer resistance.
This sounds grim enough that I'll probably need to be in the right headspace when I pick it up, but I really want to know how the multiple shadows work and I'm always here for queer resistance!
Tell Me I'm Worthless
by
Alison Rumfitt
Genres:
Horror
,
Queer Protagonists
Representation:
Trans MC, sapphic WoC MC
Published on:
17th January 2023
Goodreads
Three years ago, Alice spent one night in an abandoned house with her friends, Ila and Hannah. Since then, Alice's life has spiraled. She lives a haunted existence, selling videos of herself for money, going to parties she hates, drinking herself to sleep.

Memories of that night torment Alice, but when Ila asks her to return to the House, to go past the KEEP OUT sign and over the sick earth where teenagers dare each other to venture, Alice knows she must go.

Together, Alice and Ila must face the horrors that happened there, must pull themselves apart from the inside out, put their differences aside, and try to rescue Hannah, whom the House has chosen to make its own.
I read the UK indie edition of this last year, and it blew me the fuck away – I couldn't put it down, couldn't tear my eyes away, couldn't stop thinking about it when I finished it. (Why have I not reviewed it? Because WORDS FAIL ME, is why!) I don't know if non-UK readers will catch all the nuance – Rumfitt is very specifically writing about transphobia in the UK, and some familiarity with the situation there definitely doesn't hurt – but if you like queer horror, it is not to be missed under any circumstances!
Godkiller
by
Hannah Kaner
Genres:
Fantasy
,
Queer Protagonists
Representation:
Bisexual MC
Published on:
19th January 2023
Goodreads
Kissen kills gods for a living, and she enjoys it. That is until she finds a god she cannot kill: Skediceth, god of white lies, who is connected to a little noble girl on the run.

Elogast fought in the god war, and helped purge the city of a thousand shrines before laying down his sword. A mysterious request from the King sends him racing back to the city he destroyed.

On the way he meets a godkiller, a little girl and a littler god, who cannot find out about his quest.
There's been so much hype for Godkiller, and from the early reviews it sounds like the hype is well-deserved! I love stories about gods, and I'm looking forward to seeing Kaner's take on what a god is and how they work. Plus, a god of white lies? That's definitely not something I've seen before!
Beautiful Undone
by
Melissa Polk
Genres:
Fantasy
,
Queer Protagonists
Representation:
Achillean MC
Published on:
19th January 2023
Goodreads
It's been nearly ten years since Quade last heard from Victor, his childhood friend and eventual lover. Resigned to a life of work and drudgery, the last thing Quade could have anticipated was an ominous summons from Victor to attend him at his home, Suriyel. With little thought to the consequences of his actions, Quade makes immediate plans to leave the city. After all, no matter the time or distance between them, Quade could never deny Victor anything.

Victor, a powerful and reclusive mage, is now the Lord of Suriyel. With all the years he's spent hiding from the world, he's no longer able to imagine a life outside the boundaries of his lands. His every moment is devoted to untangling the curse wrapped around his sister, compounding her already failing health.

Unbeknownst to the world at large, the tarn at Suriyel acts as a gateway to myriad alternate worlds. That gateway has been breached by Tristan Armoni, a power-hungry duke from another dimension–a duke who happens to be Victor's mirror image and seeks to control more than just his own world. All that stands between Suriyel and Tristan is Victor's magic. Without knowing the full extent of Tristan's goals, Victor is desperate to find a way to save both his world and his sister.

For Tristan, no act is too depraved and no step too far. He will stop at nothing to see his mysterious plans through to the end.
Alternate worlds! This is apparently a retelling of Poe's House of Usher, about which I know nothing, but regardless, I love the sound of this synopsis and am itching to give Beautiful Undone a try!
Will you be reading any of these? Let me know!
Related Posts