THIRTEEN books to be excited for this week!
(Books are listed in order of pub date, then Adult SFF, Adult Other, YA SFF, YA Other, MG SFF.)
Derring-Do for Beginners (The Red Company, 1)
by
Victoria Goddard
Genres:
Fantasy
Published on:
16th April 2023
Friends by chance--or is it fate?

Damian Raske and Jullanar Thistlethwaite are about as different as can be. Damian is a young swordsman, dreaming of being the best in the world, hardly aware of what lies beyond the outskirts of his city, let alone that there is a great empire on the other side of the horizon.

Jullanar is a gently-raised young woman from deep inside the Empire of Astandalas, aware that there are worlds beyond its sway but hardly daring to dream she'd ever see outside of her own country, let alone beyond the empire's borders.

And yet they both dream of friendship, of adventure, of what else there might be. And it's Jullanar whose exam results turn out to matter in a way no one could expect.

The first book of The Red Company, because even the greatest of folk heroes have to start somewhere.
Goddard announced the release of her newest book Sunday night on her Discord, which is why it's being listed here instead of last week's post. But!!! We're FINALLY getting the origin story of the Red Company!!!
If you've been devouring Goddard's books, you know most of them take place in the same universe, often intersecting, overlapping, or referencing the events or characters of other books. The Red Company is legendary in all of them, SO YES, THE FANDOM IS EXCITED!!!
If you're new to Goddard, I don't know if this is the best book to start with? Although it is one of the earliest now, chronologically. I'd check out the recommended reading order and dive in! As for the rest of us, Deering-Do is currently available on Goddard's website and will be for sale in the usual places shortly!
Any Other City
by
Hazel Jane Plante
Genres:
Queer Protagonists
,
Speculative Fiction
Representation:
Trans MC
Published on:
18th April 2023
Goodreads
Any Other City is a two-sided fictional memoir by Tracy St. Cyr, who helms the beloved indie rock band Static Saints. Side A is a snapshot of her life from 1993, when Tracy arrives in a labyrinthine city as a fledgling artist and unexpectedly falls in with a clutch of trans women, including the iconoclastic visual artist Sadie Tang.

Side B finds Tracy, now a semi-famous musician, in the same strange city in 2019, healing from a traumatic event through songwriting, queer kinship, and sexual pleasure. While writing her memoir, Tracy perceives how the past reverberates into the present, how a body is a time machine, how there's power in refusing to dust the past with powdered sugar, and how seedlings begin to slowly grow in empty spaces after things have been broken open.

Motifs recur like musical phrases, and traces of what used to be there peek through, like a palimpsest. Any Other City is a novel about friendship and other forms of love, travelling in a body across decades, and transmuting trauma through art making and queer sex—a love letter to trans femmes and to art itself.
After Jes Battis (author of the wonderful Winter Knight) talked about Any Other City in their interview for Ada Hoffman's Autistic Reader series, I have been obsessed. Luckily I didn't have to wait too long between finding out about it and its pub day!
The Bone Shard War (The Drowning Empire, #3)
by
Andrea Stewart
Genres:
Fantasy
,
Epic Fantasy
,
Queer Protagonists
Representation:
Sapphic MC
Published on:
18th April 2023
Goodreads
The Bone Shard Daughter was hailed as "one of the best debut fantasy novels of the year" (BuzzFeed News). Now, Andrea Stewart brings us the final book in this unmissable, action-packed, magic-laced epic fantasy trilogy, The Bone Shard War.

Lin Sukai has won her first victory as Emperor, but the future of the Phoenix Empire hangs in the balance – and Lin is dangerously short of allies.

As her own governors plot treason, the Shardless Few renew hostilities. Worse still, Lin discovers her old nemesis Nisong has joined forces with the rogue Alanga, Ragan. Both seek her death.

Yet hopes lies in history. Legend tells of seven mythic swords, forged in centuries past. If Lin can find them before her enemies, she may yet be able to turn the tide. If she fails, the Sukai dynasty – and the entire empire – will fall.
The finale to the Drowning Empire trilogy!!! If you haven't been reading this series, you officially have no more excuse not to!
The Warden (The Warden Series, 1)
by
Daniel M. Ford
Genres:
Fantasy
,
Queer Protagonists
Representation:
Bi/pansexual MC
Published on:
18th April 2023
Goodreads
Aelis de Lenti is a young woman of means, intelligence, and magical ability. A gifted graduate of the Lyceum, she is poised to begin her career as a Warden, a wizard trusted to investigate crimes and enforce laws. A city girl through and through, Aelis is shocked to find herself headed to a sheep-herding village hundreds of miles away from the world she knows. Her expectations of working out her contract in the comfort and wine cellars of the city of Antraval are substituted for clearing out her ruin of a wizard's tower and helping farmers fix fences. What's worse, her speciality is Necromancy, and her academic enthusiasm for her subject is not winning her any friends.

Then a war-wagon full of adventurers – including one particularly beautiful half-elf – and a golden treasure rolls into town from the war-torn wilderness over the mountains. As brother is set against brother, neighbour against friend, Aelis must use all her training as a Warden to solve the mystery. With the help of the half-orc trapper Tun, she chases her suspect into the wilderness, uncovering a partisan plot to reinstate a leader in the abandoned lands and beginning to unravel the mysteries and secrets surrounding Lone Pine.

THE WARDEN is the first book in a new fantasy series set in a vividly realised world with a wonderfully complex supporting cast. Aelis de Lenti is impatient and bossy, and used to getting her way – but she's responsible for the people of Lone Pine, and no-one's getting away with murder on her watch.
I quite enjoyed the sneak peek Tor published a while back for this one, so even though I have no idea what Twin Peaks is, I'm looking forward to getting to know Aelis and her wards!
Bound in Flesh: An Anthology of Trans Body Horror
by
Lor Gislason
,
L.C. von Hessen
,
Theo Hendrie
,
Derek Des Agnes
,
Winter Holmes
,
gaast
,
Charles-Elizabeth Boyle
,
Hailey Piper
,
Joe Koch
,
Layne Van Rensburg
,
Bitter Karella
,
Amanda M. Blake
,
Lillian Boyd
,
Taliesin Neith
Genres:
Horror
,
Queer Protagonists
Representation:
Trans and nonbinary MCs
Published on:
18th April 2023
Goodreads
BOUND IN FLESH: An Anthology of Trans Body Horror brings together 13 trans and non-binary writers, using horror to both explore the darkest depths of the genre and the boundaries of flesh. A disgusting good time for all! Featuring stories by Hailey Piper, Joe Koch, Bitter Karella, and others. Edited by Lor Gislason.

TABLE OF CONTENTS
"Wormspace" by L.C. von Hessen
"The Haunting of Aiden Finch" by Theo Hendrie
"Coming Out" by Derek Des Agnes
"Mama is a Butcher" by Winter Holmes
"Fall Apart" by gaast
"Lady Davelina's Last Pet" by Charles-Elizabeth Boyle
"In The Garden of Horn, The Naked Magic Thrives" by Hailey Piper
"A Scream Lights Up The Sky" by Joe Koch
"Long Fingers" by Layne Van Rensburg
"A Brief History of The Santa Carcossa Archipelago" by Bitter Karella
"Show Me" by Amanda M. Blake
"Man of The House" by Lillian Boyd
"Looking for the Big Death" by Taliesin Neith
Pretty sure trans body horror is likely to be the most horrifying body horror…which means this is probably going to give me nightmares. Not sure that's going to stop me!
Rose/House
by
Arkady Martine
Genres:
Sci Fi
Published on:
18th April 2023
Goodreads
Arkady Martine, the acclaimed author of the Teixcalaan Series, returns with an astonishing new novella.

Basit Deniau's houses were haunted to begin with.

A house embedded with an artificial intelligence is a common thing: a house that is an artificial intelligence, infused in every load-bearing beam and fine marble tile with a thinking creature that is not human? That is something else altogether. But now Deniau's been dead a year, and Rose House is locked up tight, as commanded by the architect's will: all his possessions and files and sketches are confined in its archives, and their only keeper is Rose House itself. Rose House, and one other.

Dr. Selene Gisil, one of Deniau's former protégé, is permitted to come into Rose House once a year. She alone may open Rose House's vaults, look at drawings and art, talk with Rose House's animating intelligence all she likes. Until this week, Dr. Gisil was the only person whom Rose House spoke to.

But even an animate intelligence that haunts a house has some failsafes common to all AIs. For instance: all AIs must report the presence of a dead body to the nearest law enforcement agency.

There is a dead person in Rose House. The house says so. It is not Basit Deniau, and it is not Dr. Gisil. It is someone else. Rose House, having completed its duty of care and informed Detective Maritza Smith of the China Lake police precinct that there is in fact a dead person inside it, dead of unnatural causes—has shut up.

No one can get inside Rose House, except Dr. Gisil. Dr. Gisil was not in North America when Rose House called the China Lake precinct. But someone did. And someone died there. And someone may be there still.
A new book from Arkady Martine!!! The ebook goes live on Tuesday; you can buy it from Sub Press directly, or all the usual places!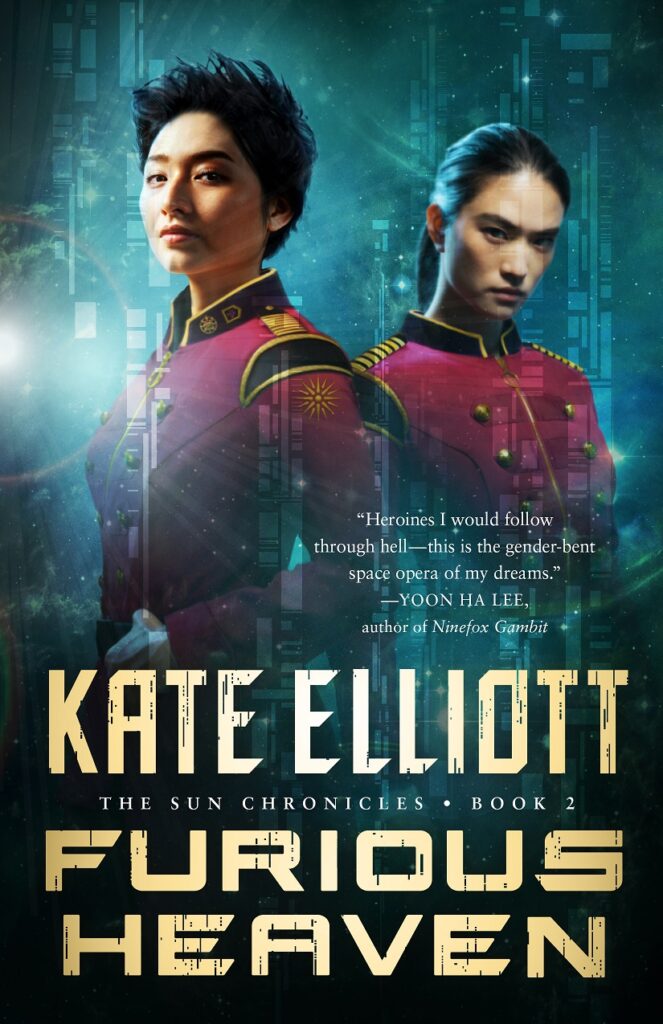 Furious Heaven (The Sun Chronicles, #2)
by
Kate Elliott
Genres:
Queer Protagonists
,
Sci Fi
Representation:
East Asian-coded cast, sapphic MC, F/F, queernorm world
Published on:
18th April 2023
Goodreads
Non-stop action, space battles and intrigue abound in the second in a galactic-scale, gender-swapped space opera trilogy inspired by the life of Alexander The Great.

The Republic of Chaonia fleets under the joint command of Princess Sun and her formidable mother, Queen-Marshal Eirene, have defeated and driven out an invading fleet of the Phene Empire, although not without heavy losses. But the Empire remains strong and undeterred. While Chaonia scrambles to rebuild its military, the Empire's rulers are determined to squash Chaonia once and for all by any means necessary.

On the eve of Eirene's bold attack on the rich and populous Karnos System, an unexpected tragedy strikes the republic. Sun must take charge or lose the throne. Will Sun be content with the pragmatic path laid out by her mother for Chaonia's future? Or will she forge her own legend despite all the forces arrayed against her?
The US release of the second book in the Sun Chronicles! I love Kate Elliott's incredible worldbuilding so much, and although I did DNF this one, it wasn't because of anything wrong with the book – I've just realised I'm not very good at enjoying books about war lately.
The Blue Is Where God Lives
by
Sharon Sochil Washington
Genres:
Speculative Fiction
Representation:
Black cast
Published on:
18th April 2023
Goodreads
A powerful work of Afro-magic realism that interrogates the legacy of slavery and roots of poverty, witnesses the beauty and power in survival, and asks whether belief, magic, and intention can forge new realities

Blue's daughter, Tsitra, is dying a horrific death. Thousands of miles away, Blue feels time slowing and hears voices, followed by an 18-month stillness. More than a century before, Blue's grandparents, Amanda and Palmer, attend a salon party in New Orleans. It's a veritable array of who's-who within pre–Civil War social circles. Conversations get heated quickly as Ismay, the hostess who hails from French royalty, antagonizes Palmer, a landowner whose parents had been sold into American slavery and who's there to seek revenge, and Amanda, a shapeshifter and puzzlemaker who had been enslaved until this very gathering. At this party, Amanda learns of a plot that will doom a line of her—and Palmer's—family to poverty. She devises her own counter-plot to undo the damage.

Meanwhile, Blue comes out of her stillness, broke and devoid of inspiration. In profound grief and consumed by guilt, Blue travels to The Ranch where the voices grow louder and she has visions of two women from the distant past. As time collapses and Blue and Amanda meet in the space of possibility, Blue feels the spark of a power and creative energy she has only glimpsed. A novel of invention but grounded in the real, The Blue Is Where God Lives is a dual-timeline, time-bending novel of undeniable beauty, magic, and possibility.
I haven't been able to get a very clear picture of this book, but I've seen nothing but praise for it, and I'm curious about the speculative fiction elements.
The Thick and the Lean
by
Chana Porter
Genres:
Queer Protagonists
,
Speculative Fiction
Representation:
Bisexual MC, Indigenous MC
Published on:
18th April 2023
Goodreads
In Lambda Award finalist Chana Porter's highly anticipated new novel, an aspiring chef, a cyberthief, and a kitchen maid each break free of a society that wants to constrain them.

In the quaint religious town of Seagate, abstaining from food brings one closer to God.
But Beatrice Bolano is hungry. She craves the forbidden: butter, flambé, marzipan. As Seagate takes increasingly extreme measures to regulate every calorie its citizens consume, Beatrice must make a choice: give up her secret passion for cooking or leave the only community she has known.

Elsewhere, Reiko Rimando has left her modest roots for a college tech scholarship in the big city. A flawless student, she is set up for success...until her school pulls her funding, leaving her to face either a mountain of debt or a humiliating return home. But Reiko is done being at the mercy of the system. She forges a third path—outside of the law.

With the guidance of a mysterious cookbook written by a kitchen maid centuries ago, Beatrice and Reiko each grasp for a life of freedom—something more easily imagined than achieved in a world dominated by catastrophic corporate greed.

A startling fable of the entwined perils of capitalism, body politics, and the stigmas women face for appetites of every kind, Chana Porter's profound new novel explores the reclamation of pleasure as a revolutionary act.
I am VERY INTO books about food, especially the decadence of it, which – it sounds like that might be a fairly big part of this? I've also heard that the society that has all this shame tied up in food has completely scrapped the idea of sexual shame, and I'm very curious as to what that might look like!
A Hunger of Thorns (A Hunger of Thorns, #1)
by
Lili Wilkinson
Genres:
Fantasy
,
Contemporary or Urban Fantasy
,
Queer Protagonists
Representation:
Queer MC, secondary F/F
Published on:
18th April 2023
Goodreads
Maude is the daughter of witches. She spent her childhood running wild with her best friend, Odette, weaving stories of girls who slayed dragons and saved princes. Then Maude grew up and lost her magic—and her best friend.

These days, magic is toothless, reduced to glamour patches and psychic energy drinks found in supermarkets and shopping malls. Odette has always hungered for forbidden, dangerous magic, and two weeks ago she went searching for it. Now she's missing, and everyone says she's dead. Everyone except Maude.

Storytelling has always been Maude's gift, so she knows all about girls who get lost in the woods. She's sure she can find Odette inside the ruins of Sicklehurst, an abandoned power plant built over an ancient magical forest—a place nobody else seems to remember is there. The danger is, no one knows what remains inside Sicklehurst, either. And every good story is sure to have a monster.
I picked this one up almost on a whim – and it turned out to be such a treasure! Ridiculously gorgeous prose; a twisty, all-bets-are-off plot that constantly surprised me; an intriguing urban fantasy setting; and a powerful theme of Let Girls Be Wild! I still can't believe that this is Wilkinson's first fantasy novel!
Damsel
by
Evelyn Skye
Genres:
Fantasy
Published on:
18th April 2023
Goodreads
A damsel in distress takes on the dragon herself in this epic twist on classic fantasy—a groundbreaking collaboration between New York Times bestselling author Evelyn Skye and the team behind the upcoming Netflix film Damsel, starring Millie Bobby Brown.

Elodie never dreamed of a lavish palace or a handsome prince. Growing up in the famine-stricken realm of Inophe, her deepest wish was to help her people survive each winter. So when a representative from a rich, reclusive kingdom offers her family enough wealth to save Inophe in exchange for Elodie's hand in marriage, she accepts without hesitation. Swept away to the glistening kingdom of Aurea, Elodie is quickly taken in by the beauty of the realm—and of her betrothed, Prince Henry.

But as Elodie undertakes the rituals to become an Aurean princess, doubts prick at her mind as cracks in the kingdom's perfect veneer begin to show: A young woman who appears and vanishes from the castle tower. A parade of torches weaving through the mountains. Markings left behind in a mysterious "V." Too late, she discovers that Aurea's prosperity has been purchased at a heavy cost—each harvest season, the kingdom sacrifices its princesses to a hungry dragon. And Elodie is the next sacrifice.

This ancient arrangement has persisted for centuries, leading hundreds of women to their deaths. But the women who came before Elodie did not go quietly. Their blood pulses with power and memory, and their experiences hold the key to Elodie's survival. Forced to fight for her life, this damsel must use her wits to defeat a dragon, uncover Aurea's past, and save not only herself, but the future of her new kingdom as well.
Urgh, I can't believe someone slapped that ugly Netflix sticker on such a beautiful cover! Sigh. That won't stop me from checking our the book, of course. I'm cautiously interested in a feminist take on the sacrificing-a-damsel story; we'll see how it goes!
The Remarkable Retirement of Edna Fisher
by
E.M. Anderson
Genres:
Fantasy
,
High Fantasy
Representation:
Elderly MC, queer secondary character
Published on:
21st April 2023
Goodreads
You're never too old for adventure.

When you're a geriatric armed with nothing but gumption and knitting needles, stopping a sorcerer from wiping out an entire dragon-fighting organization is a tall order. No one understands why 83-year-old Edna Fisher is the Chosen One, destined to save the Knights from a dragon-riding sorcerer bent on their destruction. After all, Edna has never handled a magical weapon, faced down a dragon, or cast a spell. And everyone knows the Council of Wizards always chooses a teenager—like the vengeful girl ready to snatch Edna's destiny from under her nose.

Still, Edna leaps at the chance to leave the nursing home. With her son long dead in the Knights' service, she's determined to save dragon-fighters like him and to ensure other mothers don't suffer the same loss she did. But as Edna learns about the abuse in the ranks and the sorcerer's history as a Knight, she questions if it's really the sorcerer that needs stopping—or the Knights she's trying to save.

"Beyond the utterly charming premise of this wonderful book, you will find dazzling wit, a cast of delightful characters, and a plot that will sweep you away. At heart, this is a love story, but one that shows the depth and complexity of love in all its permutations. But my very favourite thing about this book is how it makes me believe in a kinder, better world."
- SJ Whitby, author of the Cute Mutants series
I've been dying to read Remarkable Retirement ever since I heard of it – I was even part of the cover reveal! I love it when storytellers play with the Chosen One trope, and I'm so happy to see an elderly protagonist – how often do we get one of those?! But the thing that probably has me most excited is the blurb-quote from SJ Whitby – "my very favourite thing about this book is how it makes me believe in a kinder, better world." I love books like that, and I've been craving more of them lately. This sounds like it'll be perfect!
Life Beyond Us: An Original Anthology of SF Stories and Science Essays
by
Julie Nováková
,
Eugen Bacon
,
Gregory Benford
,
Renan Bernardo
,
Jana Bianchi
,
Tobias S. Buckell
,
Eric Choi
,
Julie E. Czerneda
,
Tessa Fisher
,
Simone Heller
,
Valentin D. Ivanov
,
Lisa Jenny Krieg
,
Geoffrey A. Landis
,
Liu Yang
,
Ladon Gao
,
Lucie Lukačovičová
,
Premee Mohamed
,
G. David Nordley
,
Malka Ann Older
,
Deji Bryce Olukotun
,
Tomáš Petrásek
,
Brian Rappatta
,
Arula Ratnakar
,
D.A. Xiaolin Spires
,
Bogi Takács
,
Peter Watts
,
B. Zelkovich
,
Jacques Arnould
,
William Bains
,
José A. Caballero
,
Dimitra Demertzi
,
Martina Dimoska
,
Dennis Höning
,
Fabian Klenner
,
Nina Kopacz
,
Natuschka Lee
,
Ania Losiak
,
Stephen Francis Mann
,
Connor Martini
,
Tony Milligan
,
Philippe Nauny
,
Erik Persson
,
Joanna Piotrowska
,
Giovanni Poggiali
,
Amedeo Romagnolo
,
Stefano Sandrelli
,
Floris Van Der Tak
,
Jan Toman
,
Sheri Wells-Jensen
,
Raymond M. Wheeler
,
Stephen Baxter
,
Lucas K. Law
,
Wolf D. Geppert
,
Susan Forest
,
Rich Larson
Genres:
Sci Fi
Published on:
22nd April 2023
Goodreads
How would first contact—on earth, in space, on another planet—transform our understandings of technology, philosophy, and what it means to be human? What kind of cognitive dissonance would society experience, if we discovered a previously unrecognized sentience on Earth?

What would life be like if it originated in a frigid ocean beneath an impenetrable shell of ice? Or on a world whose haze obscures any view of the universe beyond? Or on an unfathomable scale in the depths ofspace? Or . . .

Life—beyond us.

Dive in as the European Astrobiology Institute presents fifty-four original SF Stories and Science Essays on life, from microbial to macro, from automatic to sagacious. Each speculative story is followed by a professional essay illuminating the scientific underpinnings of the story and providing a new window into the cutting-edge knowledge about exploration for life in the universe.
This is such a cool idea – sci fi stories each accompanied by real scientific essays explaining the concepts used in each story! Hopefully the essays aren't too impenetrable, but I am hopeful – and as a worldbuilding nut, you'd better believe that I am MASSIVELY interested in seeing so many takes on what alien life might be like!
Will you be reading any of these? Let me know!
Related Posts