Must-Have Monday is a feature highlighting which of the coming week's new releases I'm excited for. It is not meant to be a comprehensive list of all books being published that week; only those I'm interested in out of those I'm aware of! The focus is diverse SFF, but other genres sneak in occasionally too.
This week is SUCH A COOL WEEK! We have SEVENTEEN books – even if some of them are new editions of older books, and some aren't SFF, that still makes it the joint-biggest Must-Have Monday we've ever had!!!
(Books are listed in order of pub date, then Adult SFF, Adult Other, YA SFF, YA Other, MG SFF.)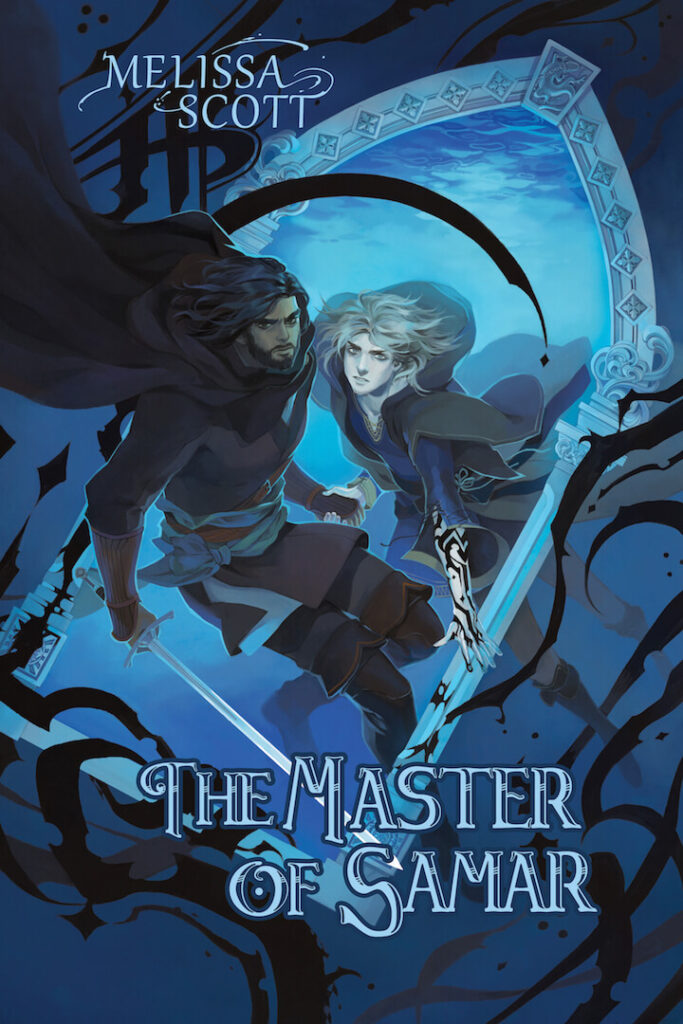 The Master of Samar
by
Melissa Scott
Genres:
Fantasy
,
Queer Protagonists
Representation:
M/M
Published on:
5th June 2023
Goodreads
Rejected by his aristocratic family, Gil Irichels has been content to make his living as a traveling cursebreaker, working with his lover, the feral mage Envar Cassi, and their bodyguard, swordswoman Arak min'Aroi. After a series of deaths leave him the sole heir to the family's house and fortune, Irichels's main concern is to do whatever he must to settle the estate and return to his previous life. But these is something very wrong in seaborne Bejanth, starting with the deaths of his kin and spreading into the complex web of politics and magic that holds the city together. As he struggles to discover the truth behind his family's losses, he realizes that there is more at stake than the fall of one house. Someone is unraveling the web of curses on which the city depends, and Irichels is the only person who can stop them—if it's not already too late.
I have been LOSING MY DAMN MIND since this was first announced, and if you think I am actually here instead of buried in my blanket fort reading it, you are deluding yourself. This post is scheduled, people; by the time you read this, I will be reading Master of Samar. ANYONE ATTEMPTING TO INTERRUPT WILL BE GLITTER-BOMBED. YOU HAVE BEEN WARNED.
The Library of Broken Worlds
by
Alaya Dawn Johnson
Genres:
Fantasy
,
Epic Fantasy
Published on:
6th June 2023
Goodreads
A girl matches wits with a war god in this kaleidoscopic, epic tale of oppression and the cost of peace, where stories hide within other stories, and narrative has the power to heal… or to burn everything in its path.

In the winding underground tunnels of the Library, the great celestial peacekeeper of the three systems, a terrible secret lies buried.

As the daughter of a Library god, Freida has spent her whole life exploring the Library's ever-changing tunnels and communing with the gods. Her unparalleled access makes her unique – and dangerous.

When Freida meets Joshua, a mortal boy desperate to save his people, and Nergüi, a Disciple from a persecuted religious minority, Freida is compelled to break ranks with the gods and help them. But in order to do so, she will have to venture deeper into the Library than she has ever known. There she will discover the atrocities of the past, the truth of her origins, and the impossibility of her future…

With the world at the brink of war, Freida embarks on a journey to fulfill her destiny, one that pits her against an ancient war god. Her mission is straightforward: Destroy the god before he can rain hellfire upon thousands of innocent lives – if he doesn't destroy her first.
How am I supposed to sleep tonight, knowing this is out tomorrow??? HOW?! This is another book I want so bad it makes my stomach hurt. IT'S ALAYA DAWN JOHNSON, WRITING ABOUT GODS AND LIBRARIES AND MULTIPLE WORLDS, IF YOU ARE NOT EXCITED YOU ARE SIMPLY WRONG.
And there's an excerpt up at Tor.com to prove it!!!
Relentless Melt
by
Jeremy P. Bushnell
Genres:
Fantasy
,
Historical Fantasy
,
Queer Protagonists
Published on:
6th June 2023
Goodreads
Stranger Things meets the Golden Age of Detective fiction in a rollicking supernatural detective thriller that introduces Artie Quick, a sales assistant at Filene's in Boston, who moonlights as a amateur detective.

The year is 1909, and Artie Quick—an ambitious, unorthodox and inquisitive young Bostonian—wants to learn about crime. By day she holds down a job as a salesgirl in women's accessories at Filene's; by night she disguises herself as a man to pursue studies in Criminal Investigation at the YMCA's Evening Institute for Younger Men.
Eager to put theory into practice, Artie sets out in search of something to investigate. She's joined by her pal Theodore, an upper-crust young bachelor whose interest in Boston's occult counterculture has drawn him into the study of magic. Together, their journey into mystery begins on Boston Common—where the tramps and the groundskeepers swap rumors about unearthly screams and other unsettling anomalies—but soon Artie and Theodore uncover a series of violent abductions that take them on an adventure from the highest corridors of power to the depths of an abandoned mass transit tunnel, its excavation suspiciously never completed.

Will Theodore ever manage to pull off a successful spell? Is Artie really wearing that men's suit just for disguise or is there something more to it? And what chance do two mixed-up young people stand up against the greatest horror Boston has ever known, an ancient, deranged evil that feeds on society's most vulnerable?
I discovered Relentless Melt last-minute, but I'm already obsessed with it??? This sounds so weird and so queer and so great??? SEND HELP!
Open Throat
by
Henry Hoke
Genres:
Queer Protagonists
,
Magical Realism
Representation:
Queer MC
Published on:
6th June 2023
Goodreads
A lonely, lovable, queer mountain lion narrates this star-making fever dream of a novel.

A queer and dangerously hungry mountain lion lives in the drought-devastated land under the Hollywood sign. Lonely and fascinated by humanity's foibles, the lion spends their days protecting the welfare of a nearby homeless encampment, observing obnoxious hikers complain about their trauma, and, in quiet moments, grappling with the complexities of their gender identity, memories of a vicious father, and the indignities of sentience. "I have so much language in my brain," our lion says, "and nowhere to put it."

When a man-made fire engulfs the encampment, the lion is forced from the hills down into the city the hikers call "ellay." As the lion confronts a carousel of temptations and threats, they take us on a tour that spans the cruel inequalities of Los Angeles and the toll of climate grief, while scrambling to avoid earthquakes, floods, and the noise of their own conflicted psyche. But even when salvation finally seems within reach, they are forced to face down the ultimate question: Do they want to eat a person, or become one?

In elegiac prose woven with humor, imagination, sensuality, and tragedy, Henry Hoke's Open Throat is a marvel of storytelling, a universal journey through a wondrous and menacing world told by a lovable mountain lion. Both feral and vulnerable, profound and playful, Open Throat is a star-making novel that brings mythmaking to real life.
I heard about Open Throat via one of my favourite booktubers, Jesse On Youtube, and yep, yes, absolutely, GIVE IT TO ME NOW!
Kushiel's Dart (Kushiel's Legacy, 1)
by
Jacqueline Carey
Genres:
Fantasy
,
High Fantasy
,
Queer Protagonists
Representation:
Bisexual MC, secondary Roma-coded character, queernorm setting
Published on:
6th June 2023
Goodreads
The lush epic fantasy that inspired a generation with a single precept: Love As Thou Wilt

The first book in the Kushiel's Legacy series is a novel of grandeur, luxuriance, sacrifice, betrayal, and deeply laid conspiracies. A world of cunning poets, deadly courtiers, deposed rulers and a besieged Queen, a warrior-priest, the Prince of Travelers, barbarian warlords, heroic traitors, and a truly Machiavellian villainess...all seen through the unflinching eyes of an unforgettable heroine.

A nation born of angels, vast and intricate and surrounded by danger... a woman born to servitude, unknowingly given access to the secrets of the realm...

Born with a scarlet mote in her left eye, Phédre nó Delaunay is sold into indentured servitude as a child. When her bond is purchased by an enigmatic nobleman, she is trained in history, theology, politics, foreign languages, the arts of pleasure. And above all, the ability to observe, remember, and analyze. Exquisite courtesan, talented spy...and unlikely heroine. But when Phédre stumbles upon a plot that threatens her homeland, Terre d'Ange, she has no choice.

Betrayed into captivity in the barbarous northland of Skaldia and accompanied only by a disdainful young warrior-priest, Phédre makes a harrowing escape and an even more harrowing journey to return to her people and deliver a warning of the impending invasion. And that proves only the first step in a quest that will take her to the edge of despair and beyond.

Phédre nó Delaunay is the woman who holds the keys to her realm's deadly secrets, and whose courage will decide the very future of her world.
Phedre's Trilogy of the Kushiel's Legacy series is being reissued in extra-shiny editions! The original covers by Jude Palancar are getting foiling – I especially love the pattern added to Kushiel's Avatar.
What's the occasion? I'm actually not sure – initially I thought it was for an anniversary, but I'm pretty sure the first book came out in 2001, so it's at least not that anniversary. PERHAPS SOMEONE EXTREMELY SMART SIMPLY THOUGHT IT WAS TIME TO MAKE SURE THESE INCREDIBLE BOOKS REACHED A NEW GENERATION OF READERS. I am very good with that!
To the best of my knowledge these contain no new or bonus content. But: shiny!
Translation State (Imperial Radch)
by
Ann Leckie
Genres:
Queer Protagonists
,
Sci Fi
Representation:
Nonbinary MCs, queernorm setting
Published on:
6th June 2023
Goodreads
The mystery of a missing translator sets three lives on a collision course that will have a ripple effect across galaxies in this powerful new novel by one of the masters of modern science fiction. Translation State is at once a sweeping space adventure and a brilliant exploration of how in order to belong, we must first become.

When Enae's grandmaman passes away, Enae inherits something entirely unexpected: a diplomatic assignment to track down a fugitive who has been missing for over 200 years. No one actually expects Enae to succeed; it's an empty assignment meant to keep hir occupied. But Enae has never had a true purpose—no one ever expected hir to do more than care for grandmaman—so sie is determined to accomplish this task to the best of hir ability.

Reet knows nothing about his biological family. He loves his adoptive parents, but has always secretly yearned to understand his identity, the roots that would explain why he seems to operate just a bit differently. After all, no one else hungers to study the world by ripping it apart, by slicing into those around them in order to make sense of things. So when a political group approaches him with the claim that he has ties to a genetically mysterious, long-deceased family, Reet is only too eager to believe them.

Qven was created to be a Presgr translator. The pride of their Clade, they always had a clear path before them: learn human ways, and eventually, make a match and serve as an intermediary between the dangerous alien Presgr and the human worlds. The realization that they might want something different isn't "optimal behavior". It's the type of behavior that will have you eliminated. But Qven rebels anyway, determined to find a way to belong on their own terms.

As a Conclave of the various species approaches—and the long-standing treaty between the humans and the Presgr is on the line—the paths of all three will collide in a chain of events that will have ripple effects across galaxies.
My feelings on Translation State ended up a bit mixed, but I did have a ton of fun reading it!
Mortal Follies
by
Alexis Hall
Genres:
Fantasy
,
Historical Fantasy
,
Queer Protagonists
Representation:
Sapphic MC, Black gay secondary character, F/F
Published on:
6th June 2023
Goodreads
A young noblewoman must pair up with a rumoured witch to ward off a curse.
It is the year 1814 and life for a young lady of good breeding has many difficulties. There are balls to attend, fashions to follow, marriages to consider and, of course, the tiny complication of existing in a world swarming with fairy spirits, interfering deities, and actual straight-up sorcerers.

Miss Maelys Mitchelmore finds her entry into high society hindered by an irritating curse. It begins innocuously enough with her dress slowly unmaking itself over the course of an evening at a high-profile ball, a scandal she narrowly manages to escape.
However, as the curse progresses to more fatal proportions, Miss Mitchelmore must seek out aid, even if it means mixing with undesirable company. And there are few less desirable than Lady Georgianna Landrake—a brooding, alluring young woman sardonically nicknamed "the Duke of Annadale"—who may or may not have murdered her own father and brothers to inherit their fortune. If one is to believe the gossip, she might be some kind of malign enchantress. Then again, a malign enchantress might be exactly what Miss Mitchelmore needs.

With the Duke's help, Miss Mitchelmore delves into a world of angry gods and vindictive magic, keen to unmask the perpetrator of these otherworldly attacks. But Miss Mitchelmore's reputation is not the only thing at risk in spending time with her new ally. For the rumoured witch has her own secrets that may prove dangerous to Miss Mitchelmore's heart—not to mention her life.
Sadly, I think I've somehow drifted away from Alexis Hall's sense of humour, since I haven't clicked with his last several books. But I do think Mortal Follies is objectively lots of fun, and perfectly lovely in its own right – if the blurb sounds good to you, you should definitely give it a go!
We Could Be So Good
by
Cat Sebastian
Genres:
Queer Protagonists
Representation:
M/M
Published on:
6th June 2023
Goodreads
Casey McQuiston meets The Seven Husbands of Evelyn Hugo in this mid-century romdram about a scrappy reporter and a newspaper mogul's son--perfect for Newsies shippers.

Nick Russo has worked his way from a rough Brooklyn neighborhood to a reporting job at one of the city's biggest newspapers. But the late 1950s are a hostile time for gay men, and Nick knows that he can't let anyone into his life. He just never counted on meeting someone as impossible to say no to as Andy.

Andy Fleming's newspaper-tycoon father wants him to take over the family business. Andy, though, has no intention of running the paper. He's barely able to run his life--he's never paid a bill on time, routinely gets lost on the way to work, and would rather gouge out his own eyes than deal with office politics. Andy agrees to work for a year in the newsroom, knowing he'll make an ass of himself and hate every second of it.
Except, Nick Russo keeps rescuing Andy: showing him the ropes, tracking down his keys, freeing his tie when it gets stuck in the ancient filing cabinets. Their unlikely friendship soon sharpens into feelings they can't deny. But what feels possible in secret--this fragile, tender thing between them--seems doomed in the light of day. Now Nick and Andy have to decide if, for the first time, they're willing to fight.
I continuously hear amazing things about Cat Sebastian, it is past time I read her work, and We Could Be So Good sounds like a wonderful place to start. I already feel swoony and I haven't even got a copy yet!
Show Girl
by
Alyson Greaves
Genres:
Queer Protagonists
Representation:
Trans MC
Published on:
6th June 2023
Goodreads
Alex is a young man in the employ of James McCain, founder of McCain Applied Computing and old family friend. But when their trade show models fall ill just days before the event that could make or break the company, someone has to step in and fill their shoes... and their dresses.

A romance, and a journey of self-discovery.
I admit, I was not expecting sweet romance from the same author who wrote Dorley Hall, but that is wholly down to my own lack of imagination. I'm convinced Greaves can do no wrong, which means this is going to be excellent!
The Grimoire of Grave Fates
by
Hanna Alkaf
,
Margaret Owen
,
Preeti Chhibber
,
Kat Cho
,
Mason Deaver
,
Natasha Diaz
,
Hafsah Faizal
,
Victoria Lee
,
Jessica Lewis
,
Darcie Little Badger
,
Kwame Mbalia
,
L.L. McKinney
,
Tehlor Kay Mejia
,
Yamile Saied Méndez
,
Candice Montgomery
,
Marieke Nijkamp
,
Karuna Riazi
,
Randy Ribay
,
Kayla Whaley
,
Julian Winters
Genres:
Fantasy
,
Contemporary or Urban Fantasy
,
Queer Protagonists
Representation:
Q/BIPOC MCs
Published on:
6th June 2023
Goodreads
Crack open your spell book and enter the world of the illustrious Galileo Academy for the Extraordinary. There's been a murder on campus, and it's up to the students of Galileo to solve it. Follow 18 authors and 18 students as they puzzle out the clues and find the guilty party.

Professor of Magical History Septimius Dropwort has just been murdered, and now everyone at the Galileo Academy for the Extraordinary is a suspect.

A prestigious school for young magicians, the Galileo Academy has recently undergone a comprehensive overhaul, reinventing itself as a roaming academy in which students of all cultures and identities are celebrated. In this new Galileo, every pupil is welcome—but there are some who aren't so happy with the recent changes. That includes everyone's least favorite professor, Septimius Dropwort, a stodgy old man known for his harsh rules and harsher punishments. But when the professor's body is discovered on school grounds with a mysterious note clenched in his lifeless hand, the Academy's students must solve the murder themselves, because everyone's a suspect.

Told from more than a dozen alternating and diverse perspectives, The Grimoire of Grave Fates follows Galileo's best and brightest young magicians as they race to discover the truth behind Dropwort's mysterious death. Each one of them is confident that only they have the skills needed to unravel the web of secrets hidden within Galileo's halls. But they're about to discover that even for straight-A students, magic doesn't always play by the rules. . . .

Contributors include: Cam Montgomery, Darcie Little Badger, Hafsah Faizal, Jessica Lewis, Julian Winters, Karuna Riazi, Kat Cho, Kayla Whaley, Kwame Mbalia, L. L. McKinney, Marieke Nijkamp, Mason Deaver, Natasha Díaz, Preeti Chhibber, Randy Ribay, Tehlor Kay Mejia, Victoria Lee, and Yamile Saied Méndez
Give me all your magic school stories – especially the diverse ones! Plus, this remains a ridiculously cool concept, having every author write part of the same overarching story. I'm more than willing to put up with a murder investigation if the trade-off promises this much fun!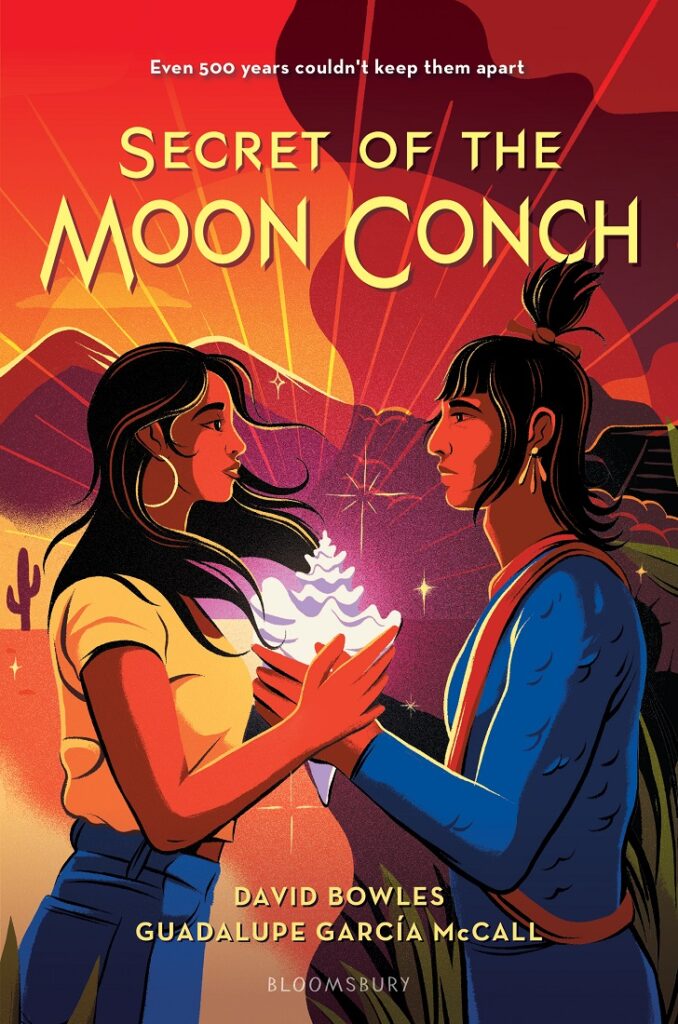 Secret of the Moon Conch
by
David Bowles
,
Guadalupe Garcia McCall
Genres:
Fantasy
,
Contemporary or Urban Fantasy
,
Historical Fantasy
Representation:
Mexican and Aztec MCs
Published on:
6th June 2023
Goodreads
Award-winning authors David Bowles and Guadalupe García McCall join forces to craft a sweeping fantasy romance about falling in love despite all odds.

In modern-day Mexico, Sitlali has no family left and has caught the attention of a dangerous gang leader. She has no choice but to make the perilous trip to the US border and track down her long-absent father. The night before her journey, she finds a beautiful conch shell detailed with ancient markings.

In 1521, Calizto is an Aztec young warrior in Tenochtitlan, fighting desperately to save his city from Spanish imperialists. With his family dead and the horrors of war surrounding him, Calizto asks a sacred moon conch for guidance.

Connected by the magical conch, Sitlali and Calizto can communicate across centuries, finding comfort in each other as they fight to survive. With each conversation, they fall deeper in love, but will they be able to find a way to each other?
I immediately want to go OH NO because I am already invested and desperately want Sitlali and Calizto's love story to work out, BUT THEY ARE CENTURIES APART HOW CAN IT??? Time travel??? It's gonna have to be time travel, I will not stand for a tragic ending where they're parted forever, okay???
The Byways
by
Mary Pascual
Genres:
Fantasy
,
Contemporary or Urban Fantasy
Representation:
Neurodiverse MC
Published on:
6th June 2023
Goodreads
High school student CeeCee Harper has special needs, a temper, and a reputation for trouble. Angry at the rumors and afraid she'll never fit in, she makes a wrong move—and lands in the Byways, a world of alleys, magic, and forgotten people . . . some that aren't even human. And if she doesn't escape quickly, CeeCee learns, she'll be trapped for good.

Searching for a way out, she gets lost among monsters, drug pushers, the homeless, and political upheaval, and soon finds there are those who will stop at nothing to keep her from leaving. But the Byways pull people in for a reason. CeeCee must figure out why she got stuck in the first place—before her loved ones are put in danger and she loses them forever.

A dark retelling of Alice in Wonderland meets Neverwhere, this contemporary fantasy will enchant Neil Gaiman and Christina Henry fans.
Alice in Wonderland crossed with Neverwhere…with a neurodiverse MC??? Pascual, you have my attention.
A Spark in the Cinders
by
Jenny Elder Moke
Genres:
Fantasy
,
Queer Protagonists
Representation:
Sapphic MC
Published on:
6th June 2023
Goodreads
Holly Black's The Cruel Prince meets Jennifer Donnelly's Stepsister in this fairytale reimagining about a kingdom on the brink of ruin, and one wicked stepsister's journey from side character to heroine of her own quest

The story has reached it's happily ever after, the peasant girl has married her prince and become queen, all is well in the kingdom. . . But for Aralyn, the princesses stepsister, the story is only just beginning. The kingdom of Novador has had a streak of misfortunes, with drought, famine, and disease plaguing the lands. According to a prophecy, restoring an ancient magical artifact-- the Protector's Blade-- is the only thing that can pull the kingdom back from the brink of destruction. With inside information from her fairy godmother, Aralyn teams up with lady knight Vee to go questing for the shattered pieces of the blade that have been scattered to the furthest reached of Novador. To win each element of the dagger, the girls must prove themselves by using their strengths to conquer their greatest fear. Aralyn uses wisdom, Vee physical prowess, and Queen Ellarose who is ruling the kingdom, uses benevolence. Together, these three powerful women fight to take their place as the rightful heirs to the kingdom.
I would really like to applaud whichever genius realised Tran Nguyen needs to be painting All The Covers – I've been seeing more books with covers by her lately, and I just massively approve. KEEP IT UP PUBLISHERS!
Saint Juniper's Folly
by
Alex Crespo
Genres:
Fantasy
,
Contemporary or Urban Fantasy
,
Queer Protagonists
Representation:
Gay MC, M/M
Published on:
6th June 2023
Goodreads
Cemetery Boys meets The Haunting of Bly Manor in this spellbinding debut! Alex Crespo's queer haunted house mystery is equal parts spine-tingling thrills, a celebration of found family, and must-read for paranormal romance fans.

For Jaime, returning to the tiny Vermont town of Saint Juniper means returning to a past he's spent eight years trying to forget. After shuttling between foster homes, he hopes he can make something out of this fresh start. But every gossip in town already knows his business, and with reminders of his past everywhere, he seeks out solitude into the nearby woods, called Saint Juniper's Folly, and does not return.

For Theo, Saint Juniper means being stuck. He knows there's more out there, but he's scared to go find it. His senior year is going to be like all the rest, dull and claustrophobic. That is until he wanders into the Folly and stumbles on a haunted house with an acerbic yet handsome boy stuck—as in physically stuck—inside.

For Taylor, Saint Juniper is a mystery. The surrounding woods speak to her, while she tries—and fails—to practice the magic her dad banned from the house after her mother died. Taylor can't seem break out of her spiral of grief, until a wide-eyed teenager barges into her life, rambling on about a haunted house, a trapped boy, and ghosts. He needs a witch.

The Folly and its ghosts will bring these three teenagers together. But they will each have to face their own internal struggles in order to forge a bond strong enough to escape the Folly's shadows.
I have been assured that this really isn't horror-y at all, just spooky-cute, so I will probably be giving it a try, since I've heard so many great things about it!
Winter's Gifts (Rivers of London #9.5; Kimberley Reynolds)
by
Ben Aaronovitch
Genres:
Fantasy
,
Contemporary or Urban Fantasy
Published on:
8th June 2023
Goodreads
he brand new novella in the Sunday Times #1 bestselling Rivers of London series.

THEY DO THINGS DIFFERENTLY ACROSS THE POND...

When retired FBI Agent Patrick Henderson calls in an 'X-Ray Sierra India' incident, the operator doesn't understand. He tells them to pass it up the chain till someone does.

That person is FBI Special Agent Kimberley Reynolds. Leaving Quantico for snowbound Northern Wisconsin, she finds that a tornado has flattened half the town - and there's no sign of Henderson.

Things soon go from weird to worse, as neighbours report unsettling sightings, key evidence goes missing, and the snow keeps rising - cutting off the town, with no way in or out...

Something terrible is awakening. As the clues lead to the coldest of cold cases - a cursed expedition into the frozen wilderness - Reynolds follows a trail from the start of the American nightmare, to the horror that still lives on today...
I will almost certainly read this, because I can't imagine skipping a Rivers of London book, but I have to admit I'm not especially interested in Kimberly. Eh. Aaronovitch is an amazing writer; I'm sure I'll end up enjoying myself anyway!
Will you be reading any of these? Let me know!
Related Posts