There are NINE books to feature this week, ranging from a magical collection of flash fiction, to werewolf #squadgoals, to hydropunk – and a surprise T Kingfisher book!!!
Scales and Sensibility (Regency Dragons, #1)
by
Stephanie Burgis
Genres:
Fantasy
,
Historical Fantasy
Published on:
4th October 2021
Goodreads
Sensible, practical Elinor Tregarth really did plan to be the model poor relation when she moved into Hathergill Hall. She certainly never meant to kidnap her awful cousin Penelope's pet dragon. She never expected to fall in love with the shameless - but surprisingly sweet - fortune hunter who came to court Penelope. And she never dreamed that she would have to enter into an outrageous magical charade to save her younger sisters' futures.



However, even the most brilliant scholars of 1817 England still haven't ferreted out all the lurking secrets of rediscovered dragonkind...and even the most sensible of heroines can still make a reckless wish or two when she's pushed. Now Elinor will have to find out just how rash and resourceful she can be when she sets aside all common sense. Maybe, just maybe, she'll even be impractical enough to win her own true love and a happily ever after...with the unpredictable and dangerous "help" of the magical creature who has adopted her.

A frothy Regency rom-com full of pet dragons and magical misadventures, Scales and Sensibility is a full-length novel and the first in a new series of standalone romantic comedies.
Out today is Burgis' newest novel – a historical-fantasy romantic-comedy with DRAGONS! I mean – do you really need to hear anything else??? Really???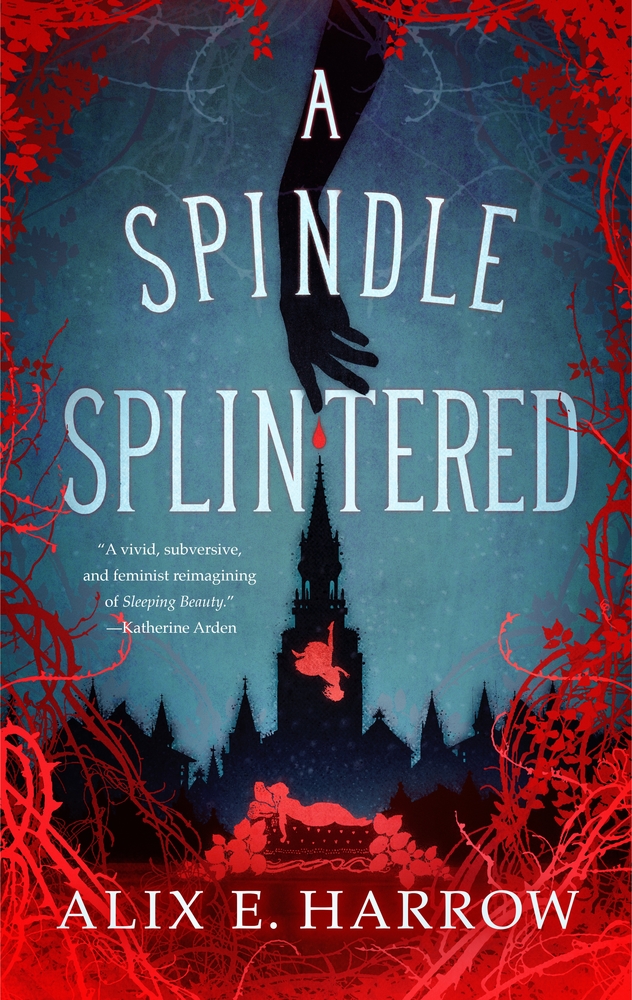 A Spindle Splintered (Fractured Fables #1)
by
Alix E. Harrow
Genres:
Fantasy
,
Portal Fantasy
,
Queer Protagonists
Representation:
Queer MC, secondary F/F
Published on:
5th October 2021
Goodreads
USA Today bestselling author Alix E. Harrow's A Spindle Splintered brings her patented charm to a new version of a classic story.

It's Zinnia Gray's twenty-first birthday, which is extra-special because it's the last birthday she'll ever have. When she was young, an industrial accident left Zinnia with a rare condition. Not much is known about her illness, just that no one has lived past twenty-one.

Her best friend Charm is intent on making Zinnia's last birthday special with a full sleeping beauty experience, complete with a tower and a spinning wheel. But when Zinnia pricks her finger, something strange and unexpected happens, and she finds herself falling through worlds, with another sleeping beauty, just as desperate to escape her fate.
I've yet to read anything by Harrow – novels or short stories – that I haven't adored, and the book that was pitched as Sleeping Beauty meets Into the Spiderverse?! Yeah, I think that's gonna be my thing. Just a little bit.
The Fox's Tower and Other Tales: A Collection of Magical Short Stories
by
Yoon Ha Lee
Genres:
Fantasy
,
Queer Protagonists
,
Sci Fi
Representation:
Queer MCs, MCs of Colour
Published on:
5th October 2021
Goodreads
"Locus Award winner Lee (Phoenix Extravagant) takes on the folktale form in a collection of 25 gorgeous, magical stories, tiny jewels of worldbuilding that tap into mythic themes to feel somehow both ancient and delightfully fresh… The result is breathtaking in its playful grace."—Publisher's Weekly Starred Review

Enter a world of magic and myth, where foxes fall in love and robots build their own dragons. In The Fox's Tower and Other Tales, New York Times bestselling author Yoon Ha Lee crafts together short and moving stories of love, adventure, magic, and nature. With poetic language and intricate world building, readers will be whisked away to a different adventure with every new story. Full of fascinating creatures and LGBT+ romances, this flash fiction collection combines the classic with the contemporary in Yoon's captivating style.
This is a new edition of a previously-published anthology – and what's especially interesting to me is that these short stories are 'flash fiction' stories, meaning that they're super short. I don't have much experience with flash fiction, but this look like the perfect collection to introduce me to them!
Payback's a Witch
by
Lana Harper
Genres:
Fantasy
,
Queer Protagonists
Representation:
Bi/pansexual MC, bi/pansexual love interest, F/F or wlw
Published on:
5th October 2021
Goodreads
Chilling Adventures of Sabrina meets The L Word in this fresh, sizzling rom-com by Lana Harper.

Emmy Harlow is a witch but not a very powerful one—in part because she hasn't been home to the magical town of Thistle Grove in years. Her self-imposed exile has a lot to do with a complicated family history and a desire to forge her own way in the world, and only the very tiniest bit to do with Gareth Blackmoore, heir to the most powerful magical family in town and casual breaker of hearts and destroyer of dreams.

But when a spellcasting tournament that her family serves as arbiters for approaches, it turns out the pull of tradition (or the truly impressive parental guilt trip that comes with it) is strong enough to bring Emmy back. She's determined to do her familial duty; spend some quality time with her best friend, Linden Thorn; and get back to her real life in Chicago.

On her first night home, Emmy runs into Talia Avramov—an all-around badass adept in the darker magical arts—who is fresh off a bad breakup . . . with Gareth Blackmoore. Talia had let herself be charmed, only to discover that Gareth was also seeing Linden—unbeknownst to either of them. And now she and Linden want revenge. Only one question stands: Is Emmy in?

But most concerning of all: Why can't she stop thinking about the terrifyingly competent, devastatingly gorgeous, wickedly charming Talia Avramov?
I already know this one's amazing – I got to read it early, and you can see how much I loved it in my review! This is beautiful prose + enchanting setting + characters you'll adore, and it's a wonderfully witchy Halloween read!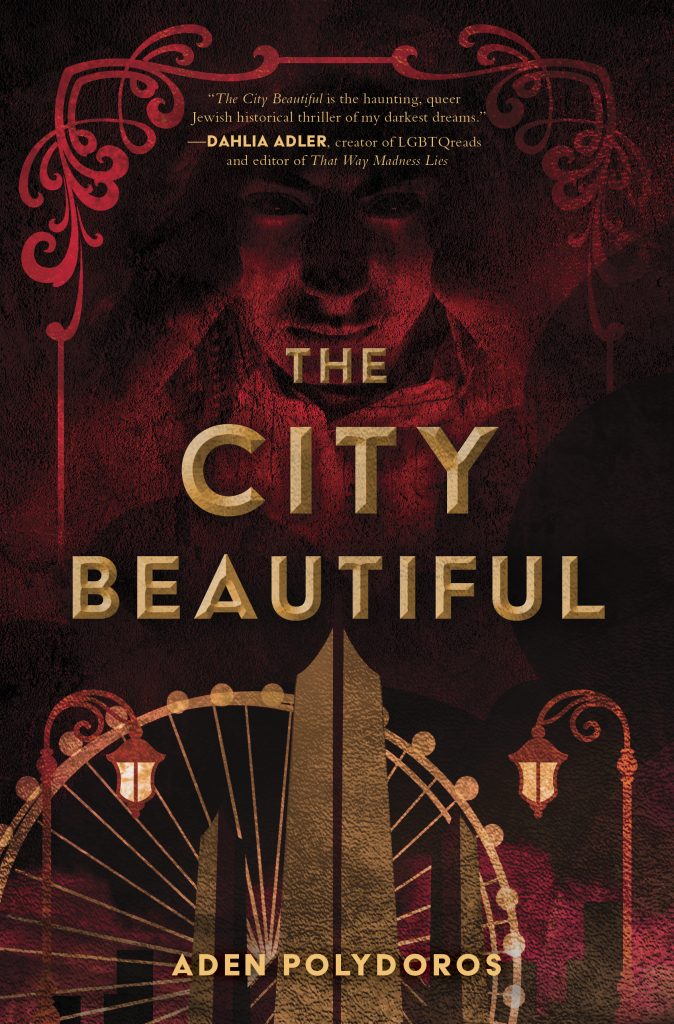 The City Beautiful
by
Aden Polydoros
Genres:
Fantasy
,
Historical Fantasy
,
Queer Protagonists
Representation:
Jewish gay MC
Published on:
5th October 2021
Goodreads
Chicago, 1893. For Alter Rosen, this is the land of opportunity, and he dreams of the day he'll have enough money to bring his mother and sisters to America, freeing them from the oppression they face in his native Romania.

But when Alter's best friend, Yakov, becomes the latest victim in a long line of murdered Jewish boys, his dream begins to slip away. While the rest of the city is busy celebrating the World's Fair, Alter is now living a nightmare: possessed by Yakov's dybbuk, he is plunged into a world of corruption and deceit, and thrown back into the arms of a dangerous boy from his past. A boy who means more to Alter than anyone knows.

Now, with only days to spare until the dybbuk takes over Alter's body completely, the two boys must race to track down the killer—before the killer claims them next.

Death lurks around every corner in this unforgettable Jewish historical fantasy about a city, a boy, and the shadows of the past that bind them both together.
I didn't realise before, but from the early reviews it seems that this one edges closer to horror than I thought. Perfect timing to release it during spooky season, then!
Squad
by
Maggie Tokuda-Hall
,
Lisa Sterle
Genres:
Fantasy
,
Queer Protagonists
Representation:
Sapphic MC, major Black character
Published on:
5th October 2021
Goodreads
Pretty Little Liars meets Teen Wolf in this fast-paced, sharply funny, and patriarchy-smashing graphic novel from author Maggie Tokuda-Hall and artist Lisa Sterle. When the new girl is invited to join her high school's most popular clique, she can't believe her luck—and she can't believe their secret, either: they're werewolves. Fans of Mariko Tamaki and Elana K. Arnold will devour the snappy dialogue, vivid artwork, and timely social commentary.

When Becca transfers to a high school in an elite San Francisco suburb, she's worried she's not going to fit in. To her surprise, she's immediately adopted by the most popular girls in school. At first glance, Marley, Arianna, and Mandy are perfect. But at a party under a full moon, Becca learns that they also have a big secret.

Becca's new friends are werewolves. Their prey? Slimy boys who take advantage of unsuspecting girls. Eager to be accepted, Becca allows her friends to turn her into a werewolf, and finally, for the first time in her life, she feels like she truly belongs.

But things get complicated when Arianna's predatory boyfriend is killed, and the cops begin searching for a serial killer. As their pack begins to buckle under the pressure—and their moral high ground gets muddier and muddier—Becca realizes that she might have feelings for one of her new best friends.

Lisa Sterle's stylish illustrations paired with Maggie Tokuda-Hall's sharp writing make Squad a fun, haunting, and fast-paced thriller that will resonate with fans of Riverdale, and with readers of This Savage Song, Lumberjanes, and Paper Girls.
This one's a graphic novel, and sounds ridiculously awesome?!
Shattered Midnight (The Mirror, #2)
by
Dhonielle Clayton
Genres:
Fantasy
,
Historical Fantasy
Representation:
Black MC
Published on:
5th October 2021
Goodreads
The Mirror: Shattered Midnight is the second novel in the innovative four-book fairy-tale series written by Julie C. Dao, Dhonielle Clayton, J.C. Cervantes, and L. L. McKinney, following one family over several generations, and the curse that plagues it.

Zora Broussard has arrived in New Orleans with not much more than a bag of clothes, a beautiful voice, and a pair of enchanted red shoes. Running from a tragic accident caused by her magic, Zora wants nothing more than to blend in, as well as to avoid her overbearing aunt and mean-spirited cousins. Music becomes Zora's only means of escape, yet she wonders if she should give it all up to remove the powers that make her a target, especially as a Black woman in the South.

But when Zora gets the chance to perform in a prominent jazz club, she meets a sweet white pianist named Phillip with magic of his own, including a strange mirror that foretells their future together. Falling into a forbidden love, Zora and Phillip must keep their relationship a secret. And soon the two discover the complicated connection between their respective families, a connection that could lead to catastrophe for them both. In the era of segregation and speakeasies, Zora must change her destiny and fight for the one she loves . . . or risk losing everything.
I'm unclear on whether the books in this series are standalones or not – they sound like they are? But I can't swear to it. Regardless, this is a series set in a shared universe, with each novel being written by a different author. This one pinged my radar because Clayton has the most gorgeous prose, so I'll definitely be investigating this series a little more and see whether I need to read the previous book before diving into this one!
A Clockwork River
by
J.S. Emery
Genres:
Fantasy
Published on:
7th October 2021
Goodreads
A sister searches for her missing brother as a new power rises amid the splendour and the squalor of a once great city.

Time is running out for the Clockwork River.

Lower Rhumbsford is a city far removed from its glory days. On the banks of the great river Rhumb, its founding fathers channelled the river's mighty flow into a subterranean labyrinth of pipes, valves and sluices, a feat of hydraulic prowess that would come to power an empire. But a thousand years have passed since then, and something is wrong: the pipes are leaking, the valves stuck, the sluices silted and the once torrential Rhumb has been reduced to a sluggish trickle.

The fortunes of the Locke family, descendants of the city's most celebrated engineer, are similarly reduced. In a once fashionable quarter of the once great city, siblings Samuel and Briony Locke distract themselves: Sam tends to his vast lock collection instead of finishing his engineering thesis; facing the prospect of a disagreeable marriage, Briony occupies herself with alchemical experiments.

One night Samuel leaves the house carrying five of his most precious locks and doesn't come back. As she searches for her brother, Briony will be drawn into a web of ancestral secrets and imperial intrigues as a ruthless new power arises. If brother and sister are to be reunited, they will need the help of a tight-lipped house spirit, a convict gang, a tribe of troglodytes, an association of antiques enthusiasts, a travelling theatrical troupe, the Ladies Whist Club, the Deep State, and a lovesick mouse.

Epic, rollicking and in love with language, Jacob and Sara Emery's sprawling debut novel of humble kitchen magics and awe-inspiring civil engineering is a rare and delicious commodity - the world's first hydropunk novel.
Alas, this is only releasing in the UK this week, but hopefully it'll reach the rest of the world soon! Because I am INTENSELY interested in the concept of 'hydropunk' – aren't you?
Paladin's Hope (The Saint of Steel, #3)
by
T. Kingfisher
Genres:
Fantasy
,
Secondary World Fantasy
Representation:
M/M
Published on:
9th October 2021
Goodreads
Piper is a lich-doctor, a physician who works among the dead, determining causes of death for the city guard's investigations. It's a peaceful, if solitary profession…until the day when he's called to the river to examine the latest in a series of mysterious bodies, mangled by some unknown force.

Galen is a paladin of a dead god, lost to holiness and no longer entirely sane. He has long since given up on any hope of love. But when the two men and a brave gnole constable are drawn into the web of the mysterious killer, it's Galen's job to protect Piper from the traps that await them.

He's just not sure if he can protect Piper from the most dangerous threat of all…
Last but CERTAINLY not least, A NEW SAINT OF STEEL BOOK!!! I can't believe we're getting it so soon – it was just revealed with a dramatic TA-DA on Twitter just a week ago! And I thought the Saint of Steel series was a duology – I wasn't expecting any more books after the last one, which makes this book feel EVEN MORE like a gift!
PLUS it's M/M! We've had nonbinary secondary and background characters throughout the World of the Rat books, but I think this is the first time we're getting a queer MC! (Please feel free to correct me if I've forgotten someone! I need to reread all of the books anyway…) This is definitely the book I'm most excited about this week!!!
There you have it – NINE new releases that should be on your radar this week! Did I miss any I should know about? Will you be reading any of these? Let me know!
Related Posts