Next week is the Trans Rights Readerthon, when readers all over will be reading books by trans and nonbinary authors in order to raise awareness, and raise funds for trans charities and organisations in the process!
For all the details, author and creator of the readathon Sim Kern has a video here – and if you're interested in taking part yourself, the sign up sheet is here!
I'm going to be donating $10 for every book I finish to the Place For Marsha project. My hope is to read at least five books, making for a $50 goal. (Well, really my goal is to manage more than that. But that's my official target!)
Because I've been such a mood reader lately, I'm not setting myself a strict tbr. Instead, I've gathered a bunch of books, and I'll choose between them as the mood strikes!
I'll be tracking my progress on Twitter, and doing a wrap-up post at the end (probably on the 28th, since the 27th is the last day of the readathon). If you can, I would love it if you would 'sponsor' me – donate a set amount, whatever you like, every time I finish a book! But just interacting with and boosting the #TransRightsReadathon hashtag, my posts and other peoples', is a big help too.
Here are the books I want to read!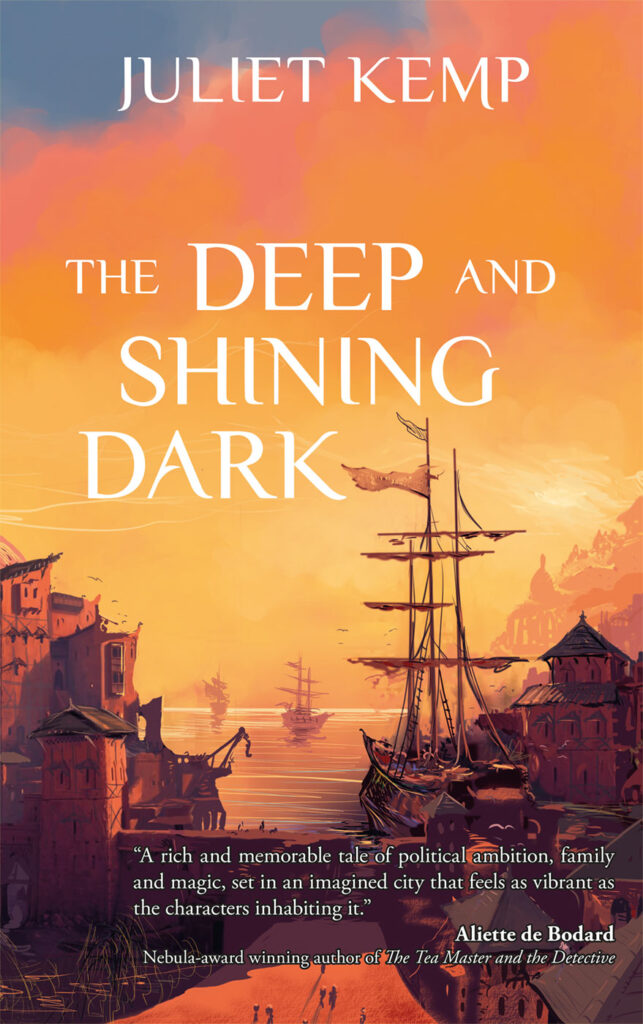 The Deep and Shining Dark (Marek #1)
by
Juliet Kemp
,
Tony Allcock
Genres:
Fantasy
Goodreads
You know something's wrong when the cityangel turns up at your door

Magic within the city-state of Marek works without the need for bloodletting, unlike elsewhere in Teren, thanks to an agreement three hundred years ago between an angel and the founding fathers. It also ensures that political stability is protected from magical influence. Now, though, most sophisticates no longer even believe in magic or the cityangel.

But magic has suddenly stopped working, discovers Reb, one of the two sorcerers who survived a plague that wiped out virtually all of the rest. Soon she is forced to acknowledge that someone has deposed the cityangel without being able to replace it. Marcia, Heir to House Fereno, and one of the few in high society who is well-aware that magic still exists, stumbles across that same truth. But it is just one part of a much more ambitious plan to seize control of Marek.

Meanwhile, city Council members connive and conspire, unaware that they are being manipulated in a dangerous political game. A game that threatens the peace and security not just of the city, but all the states around the Oval Sea, including the shipboard traders of Salina upon whom Marek relies.

To stop the impending disaster, Reb and Marcia, despite their difference in status, must work together alongside the deposed cityangel and Jonas, a messenger from Salina. But first they must discover who is behind the plot, and each of them must try to decide who they can really trust.

Book 1 of Juliet Kemp's gripping new series
The "absolutely gorgeous" cover artwork is by renowned artist Tony Allcock
This sounds intricate and gorgeous, and it's been on my tbr for YEARS. About time I get to it!
You Always Cry At Endings
by
S.J. Whitby
Goodreads
The new standalone genrebent novella from SJ Whitby, author of Cute Mutants.

You will find yourself in possession of a book. One who holds secrets and beauty, revelations and grief. She will draw close in a rustle of pages, an inkstained whisper in your ear.

It will only hurt for a moment, being unravelled sentence by sentence until we find the truth scrawled upon your heart.

You will look into her eyes and see a story of you written in the blank space there:

A monster came to the city to stand before the Queen...

And so you will listen when she speaks again.

Let me take your hand and lead you into the dark...

You will fall inside her covers and be lost. But your trembling fingers still turn to the first page...
Do I have any idea what to expect from this book? Only second-person narration and incredible weirdness! But when it comes from Whitby, that's more than I need to know!
Tell Me How It Ends
by
Quinton Li
Genres:
Fantasy
,
Contemporary or Urban Fantasy
,
Queer Protagonists
Representation:
Autistic lesbian MC with anxiety, major nonbinary aroace character with ADHD
Published on:
9th April 2023
Goodreads
A coming-of-age cozy fantasy with a queer cast, witches, and tarot. Perfect for fans of Legends & Lattes and Our Flag Means Death

Iris Galacia's tarot cards do more than entertain gamblers.

With the flip of her fingers she can predict the future and uncover a person's secrets. But under the watchful eye of her mother, she is on thin ice for pursuing a passion in the family business, and then cracks start to form until she eventually she falls through.

She is given an ultimatum — a test to prove her worth: earn a thousand coins or leave the business, and the family.

Enter Marin Boudreau, a charming young person who can scale buildings and break off doorknobs, who comes for her help to rescue a witch who's been falsely imprisoned in Excava Kingdom.

And Marin is willing to pay a high sum for her talents.

But saving a prisoner from royal hands isn't easy, nor is leaving home for the first time in eighteen years.

Now Iris must learn to trust in herself, Marin, and this new magical world, while racing the clock before the royals decide the fate of the witch, and before any secrets catch up to her.

TELL ME HOW IT ENDS features LGBTQ+, disabled, neurodivergent, cultural, and mental health representation. The main character, Iris Galacia, is a lesbian tarot reader with anxiety and autism. The second main character, Marin Boudreau, is an aromantic asexual non-binary person with ADHD.
The author Li was lovely enough to offer arcs of Tell Me How It Ends to those taking part in the readathon – and I eagerly reached out to request one! Can you blame me?!
Viscera
by
Gabrielle Squailia
Genres:
Fantasy
Representation:
Trans MC, queer and nonbinary rep
Goodreads
"A dystopian fantasy of earthquakes, killing fields, drug addiction, and routine eviscerations that is also profoundly humane and laugh-out-loud funny." —Camille DeAngelis, author of Bones and All

The Gone-Away gods were real, once, and taller than towers.

But they're long dead now, buried in the catacombs beneath the city of Eth, where their calcified organs radiate an eldritch power that calls out to anyone hardy enough to live in this cut-throat, war-torn land. Some survivors are human, while others are close enough, but all are struggling to carve out their lives in a world both unforgiving and wondrous. Darkly comic and viciously original, Viscera is an unforgettable journey through swords-and-sorcery fantasy where strangeness gleams from every nook and cranny.

"Exquisitely imagined, deeply insightful yet scathingly witty, Viscera barrels along at a scorching pace after vividly realized characters whose separate quests—for identity, for revenge, for release—find themselves on a collision course in a world that's simultaneously both grimdark and surreal. Lusciously weird and utterly unique." —Nicole Kornher-Stace, author of Archivist Wasp

"Viscera is a work of gleeful weirdness, set in a world that calls to mind China Miéville's Bas-Lag novels, and full of characters fighting to reshape themselves and their destinies, in search of deep and resonant truth." —Kat Howard, author of Roses and Rot
From everything I've heard, this is weird as fuck, and possibly horror-y, but I'm excited for the weirdness and determined to get through the possible horror-ness to give this a proper go!
Let the Mountains Be My Grave
by
Francesca Tacchi
Genres:
Fantasy
,
Historical Fantasy
,
Queer Protagonists
Representation:
Queer MC, M/M
Goodreads
Let the Mountains Be My Grave unfolds at breakneck pace in 1944 Italy, where partisan Veleno thinks of nothing but killing as many Nazis as he can before leaving this world. Beloved by the ancient Italic goddess Angitia, Veleno is the perfect person to recover a strange weapon the Nazis are planning to use against the Allies in the battle of Montecassino, but doing so may force him to confront his death differently than he expects.

Part of the 2022 Neon Hemlock Novella Series.

Advanced praise for Let the Mountains Be My Grave:
"A touching story about finding hope in times of war and desolation, with a fascinating take on the survival of pagan magic."—Xiran Jay Zhao, author of Iron Widow

"If you liked Inglorious Basterds but wish there was more kissing and ancient theology, this is the book for you!"—R.J. Theodore, author of Flotsam and Salvage

"A novella that reads like a shot of adrenaline, Let the Mountains Be My Grave is an explosive, high-octane queer Nazi-fighting fantasy packed with tightly-paced action, ancient Gods, and unexpected allies." —Anya Ow, author of Cradle and Grave

"An intense and thrilling historical fantasy that combines bloody action, sharp character work, ancient gods, and a touch of romance." —Charles Payseur, author of The Burning Day
Queer magic-users killing Nazis? I LITERALLY need to hear no more!
Màgòdiz
by
Gabe Calderón
Genres:
Queer Protagonists
,
Science Fantasy
Representation:
QBIPOC cast
Goodreads
Màgòdiz (Anishinabemowin, Algonquin dialect): a person who refuses allegiance to, resists, or rises in arms against the government or ruler of their country.

Everything that was green and good is gone, scorched away by a war that no one living remembers. The small surviving human population scavenges to get by; they cannot read or write and lack the tools or knowledge to rebuild. The only ones with any power are the mindless Enforcers, controlled by the Madjideye, a faceless, formless spiritual entity that has infiltrated the world to subjugate the human population.

A'tugwewinu is the last survivor of the Andwànikàdjigan. On the run from the Madjideye with her lover, Bèl, a descendant of the Warrior Nation, they seek to share what the world has forgotten: stories. In Pasakamate, both Shkitagen, the firekeeper of his generation, and his life's heart, Nitàwesì, whose hands mend bones and cure sickness, attempt to find a home where they can raise children in peace, without fear of slavers or rising waters. In Zhōng yang, Riordan wheels around just fine, leading xir gang of misfits in hopes of surviving until the next meal. However, Elite Enforcer H-09761 (Yun Seo, who was abducted as a child, then tortured and brainwashed into servitude) is determined to arrest Riordan for theft of resources and will stop at nothing to bring xir to the Madjideye. In a ruined world, six people collide, discovering family and foe, navigating friendship and love, and reclaiming the sacredness of the gifts they carry.

With themes of resistance, of ceremony as the conduit between realms, and of transcending gender, Màgòdiz is a powerful and visionary reclamation that Two-Spirit people always have and always will be vital to the cultural and spiritual legacy of their communities.
A terrifying future where two-spirit and other nonbinary folx have to band together with magic and stories to bring down the monsters? Yes PLEASE!
Two Dark Moons (Sãoni Cycle, #1)
by
Avi Silver
,
Haley Rose Szereszewski
Genres:
Fantasy
,
Secondary World Fantasy
,
Queer Protagonists
Representation:
Nonbinary MC
Goodreads
Sohmeng Par is sick of being treated like a child. Ever since a tragic accident brought her mountain community's coming-of-age ritual to a halt, she's caused nothing but trouble in her impatience to become an adult. But when she finally has the chance to prove herself, she's thrown from her life in the mountains and into the terror of the jungle below.

Cornered by a colony of reptilian predators known as the sãoni, Sohmeng is rescued by Hei, an eccentric exile with no shortage of secrets. As likely to bite Sohmeng as they are to cook her breakfast, this stranger and their family of lizards are like nothing she's ever seen before. If she wants to survive, she must find a way to adapt to the vibrant, deadly world of the rainforest and the creatures that inhabit it—including Hei themself. But Sohmeng has secrets of her own, and sharing them could mean losing everything a second time.
Two Dark Moons is another that's been on my tbr for far too long – I'm slightly guilty it's taken me so long, and really happy to have an excuse to finally sit down and read it!
Foxen Bloom
by
Parker Foye
Genres:
Fantasy
,
Queer Protagonists
Representation:
M/M
Goodreads
Season after season, hunters have attempted to capture the white-tailed stag. Local legend holds that its capture promises prosperity, and in a land that is dying—to hunger, to war; to a magical curse, some say—even a whisper of hope is a powerful lure. Yet every hunter who tries fails, never to leave the forest. Fenton, god of the forest, yet imprisoned within its borders, watches from his place in the trees as the hunters first despoil and then fall to his land, dispassionate as his deadwood heart.

Prior doesn't hope to capture the stag or secure prosperity. He has a far bolder hunt in mind: to entreat the god of the forest to save his sister from the sickness sweeping the land. It's a desperate attempt without much hope of success. He doesn't imagine he'll meet the god in person, much less that he'll find himself agreeing to a favour in turn: his sister's life will be spared, and in exchange, Prior will kill the god's sibling. And he certainly hadn't imagined that a god would be so... human.

When Fenton leaves the forest, he has little but revenge on his mind. As he spends more time with Prior, though, he discovers that the world isn't as simple as the hunt, and he's not the only hunter with teeth—but sometimes the chase is worth the risk of being caught.

Content Warnings: contagious magical illness; bloody violence; magical violence; bodily injury; death, including the death of animals for food, and magical animals in battle; abduction; vomiting; minor self-harm; bodyhorror; sex.
Cover artwork by Tiferet Design with illustration by Mar Espinosa.
I've been a fan of Parker Foye's since I discovered Nine Years of Silver YEARS ago – it's frankly embarrassing that I haven't gotten to this standalone novel by now!
Friends For Robots: Short Stories
by
Merc Fenn Wolfmoor
Genres:
Fantasy
,
Queer Protagonists
,
Science Fantasy
,
Speculative Fiction
Goodreads
In this upbeat, positive collection of SFF short stories from Merc Fenn Wolfmoor, author of So You Want to Be A Robot, you'll find hope, humor, friendship—and of course, robots.

Have you heard the one about......a neural network who wants humans to drink more water?...a person stranded on Mars with only an obsolete robotic toy?...a cyborg caught in a time loop with a frightened ship?...a self-aware mech who doesn't want to be a weapon anymore?...an AI sent into the deepest part of the ocean—and finds a god?

You'll also meet entrepreneurial barbarians, an astronaut making first contact, a boy who might have (accidentally) started Armageddon, magical birds, a bot who wants to tell jokes, and more. Whether you're a robot or not, come make some new friends. 🙂
So far, I've utterly adored everything of Wolfmoor's that I've read, and I'm very eager to dive into another of their short story collections!
Rituals (Rhapsody of Blood, #1)
by
Roz Kaveney
Genres:
Fantasy
,
Contemporary or Urban Fantasy
,
Epic Fantasy
,
Queer Protagonists
Representation:
Brown sapphic MC, white sapphic MC, F/F
Goodreads
Two women - and the workings of Time and Fate.

In a time too long ago for most human memory, a god asked Mara what she most wanted. She got her wish: to protect the weak against the strong. For millennia, she has avenged that god, and her dead sisters, against anyone who uses the Rituals of Blood to become a god through mass murder. And there are few who can stand against her.

A sudden shocking incident proves to Emma that the modern world is not what she thought it was, that there are demons and gods and elves and vampires. Her weapon is knowledge, and she pursues it wherever it leads her. The one thing she does not know is who she - and her ghostly lover, Caroline - are working for.

RHAPSODY OF BLOOD is a five-part epic fantasy not quite like anything you've read before: a helter-skelter ride through history and legend, from Tenochitlan to Los Angeles, from Atlantis to London. It is a story of death, love and the end of worlds - and of dangerous, witty women.
After including this series in yesterday's rec post, the author reached out to say that the concluding fifth volume is out next month!!! So I'm going to do my best to reread them all before then!
(Can I manage them all in a week??? Well, fingers crossed!)
Venom & Vow
by
Anna-Marie McLemore
,
Elliott McLemore
Genres:
Fantasy
,
Queer Protagonists
Representation:
Trans MC, bigender MC
Goodreads
Keep your enemy closer.

Cade McKenna is a transgender prince who's doubling for his brother.
Valencia Palafox is a young dama attending the future queen of Eliana.
Gael Palma is the infamous boy assassin Cade has vowed to protect.
Patrick McKenna is the reluctant heir to a kingdom, and the prince Gael has vowed to destroy.

Cade doesn't know that Gael and Valencia are the same person.
Valencia doesn't know that every time she thinks she's fighting Patrick, she's fighting Cade.
And when Cade and Valencia blame each other for a devastating enchantment that takes both their families, neither of them realizes that they have far more dangerous enemies.

Cowritten by married writing team Anna-Marie and Elliott McLemore, this is a lush and powerful YA novel about owning your power and becoming who you really are - no matter the cost.
Another arc, this one from Netgalley – one of my most anticipated reads of the year! I've loved almost every one of Anna-Marie McLemore's books, and I'm very interested to see how their writing pairs with their spouse's. (The idea of writing a book with your spouse has to be THE most romantic thing I've ever heard!)
Let me know if you'll be taking part in the readathon – especially if you decide to sponsor me! – or your thoughts if you've already read any of these!
Related Posts