If you haven't heard, the Trans Rights Readathon is an event taking place on 20th-27th March! The idea is to read as many books by trans (and nonbinary) authors as possible, and raise money for trans organisations, charities, and/or individuals in the process. You can get the full rundown here on the TikTok video of Sim Kern, the author and booktokker who came up with the readathon!
I'm going to be taking part – I'll be posting my tbr tomorrow! – and if you're interested, feel free to sign-up here.
This post is a rec list of SFF books by trans and nonbinary authors. I don't usually keep track of an author's sexual or gender identity, because there is no way to know who isn't out and it's not our business, either – but for this readathon, I made an exception. Because supporting trans and nonbinary authors is a good thing. Alas that we can only do that for authors who are out.
(For those authors who are not out, or publicly out – you get my love and support too, wherever you are <3)
You can add these books to your own Trans Rights Readathon tbr, or just consider them a list of (very queer) recommendations from yours truly.
I have very loosely grouped these by genre, which I hope makes it easier for you to find something you might like!
Fantasy
The Map and the Territory (Spell and Sextant #1)
by
A.M. Tuomala
Genres:
Fantasy
,
Secondary World Fantasy
,
Queer Protagonists
Representation:
Brown autistic aroace MC, brown achillean MC, queernorm world
Goodreads
When the sky breaks apart and an earthquake shatters the seaside city of Sharis, cartographer Rukha Masreen is far from home. Caught in the city's ruins with only her tools and her wits, she meets a traveling companion who will change her course forever: the wizard Eshu, who stumbles out of a mirror with hungry ghosts on his heels.

He's everything that raises her hackles: high-strung, grandiloquent, stubborn as iron. But he needs to get home, too, and she doesn't want him to have to make the journey alone.

As they cross the continent together, though, Rukha and Eshu soon realize that the disaster that's befallen their world is much larger than they could have imagined. The once-vibrant pathways of the Mirrorlands are deserted. Entire cities lie entombed in crystal. And to make matters worse, a wild god is hunting them down. The further they travel from familiar territory, the more their fragile new friendship cracks under the strain.

To survive the end of their world, Rukha and Eshu will need more than magic and science—they'll need each other.
The Map and the Territory is one of the most exquisite books I've ever read, with incredibly beautiful prose, imagery, and magic. I fell completely in love with both Rukha and Eshu both, and the world they live in, which has to be one of my favourite queernorm settings EVER. (Not because it's a utopia, but because it's so detailed and unique and feels like a real world just waiting on the other side of a mirror.) I have completely failed to review this book because it's left me speechless with awe and joy – I think I'd need interpretive dance to fully convey how wonderful it is and how much I love it!
The Scapegracers (Scapegracers, #1)
by
H. A. Clarke
Genres:
Fantasy
,
Contemporary or Urban Fantasy
,
Queer Protagonists
Representation:
Sapphic MC, queer Black secondary character, bisexual Asian-American MC, sapphic love interest
Goodreads
An outcast teenage lesbian witch finds her coven hidden amongst the popular girls in her school, and performs some seriously badass magic in the process.

Skulking near the bottom of West High's social pyramid, Sideways Pike lurks under the bleachers doing magic tricks for Coke bottles. As a witch, lesbian, and lifelong outsider, she's had a hard time making friends. But when the three most popular girls pay her $40 to cast a spell at their Halloween party, Sideways gets swept into a new clique. The unholy trinity are dangerous angels, sugar-coated rattlesnakes, and now–unbelievably–Sideways' best friends.

Together, the four bond to form a ferocious and powerful coven. They plan parties, cast curses on dudebros, try to find Sideways a girlfriend, and elude the fundamentalist witch hunters hellbent on stealing their magic. But for Sideways, the hardest part is the whole 'having friends' thing. Who knew that balancing human interaction with supernatural peril could be so complicated?

Rich with the urgency of feral youth, The Scapegracers explores growing up and complex female friendship with all the rage of a teenage girl. It subverts the trope of competitive mean girls and instead portrays a mercilessly supportive clique of diverse and vivid characters. It is an atmospheric, voice-driven novel of the occult, and the first of a three-book series.
Fierce, defiant, gorgeous-glorious – the way Clarke uses language is nothing short of sorcerous, and, just – GAH! These books are searing. Words fail me. Brilliant and dazzling and vicious and queer as in fuck you. These are the definitive queer witchy books, okay? Okay.
My review of The Scapegracers!
My review of The Scratch Daughters!
A Taste of Gold and Iron
by
Alexandra Rowland
Genres:
Fantasy
,
Queer Protagonists
Representation:
Brown cast, gay MC, bisexual/demisexual autistic-coded MC, secondary pansexual character, secondary asexual nonbinary character, tertiary nonbinary characters, queernorm world
Goodreads
The Goblin Emperor meets "Magnificent Century" in Alexandra Rowland's A Taste of Gold and Iron, where a queer central romance unfolds in a fantasy world reminiscent of the Ottoman Empire.

Kadou, the shy prince of Arasht, finds himself at odds with one of the most powerful ambassadors at court—the body-father of the queen's new child—in an altercation which results in his humiliation.

To prove his loyalty to the queen, his sister, Kadou takes responsibility for the investigation of a break-in at one of their guilds, with the help of his newly appointed bodyguard, the coldly handsome Evemer, who seems to tolerate him at best. In Arasht, where princes can touch-taste precious metals with their fingers and myth runs side by side with history, counterfeiting is heresy, and the conspiracy they discover could cripple the kingdom's financial standing and bring about its ruin.
I've seen other readers complain that there's not enough plot in this book, and while I disagree – I think there's plenty! – I'll allow that A Taste of Gold and Iron is maybe not the right book if you're looking for fast-paced action. What it is is rich and luxurious and deliciously self-indulgent, all yearning and beautiful imagery and rich emotion. Simply superb.
Wrath Goddess Sing
by
Maya Deane
Genres:
Fantasy
,
Epic Fantasy
,
Queer Protagonists
Representation:
Bi/pansexual trans MC
Goodreads
Drawing on ancient texts and modern archeology to reveal the trans woman's story hidden underneath the well-known myths of The Iliad, Maya Deane's Wrath Goddess Sing weaves a compelling, pitilessly beautiful vision of Achilles' vanished world, perfect for fans of Song of Achilles and the Inheritance trilogy.

The gods wanted blood. She fought for love.

Achilles has fled her home and her vicious Myrmidon clan to live as a woman with the kallai, the transgender priestesses of Great Mother Aphrodite. When Odysseus comes to recruit the "prince" Achilles for a war against the Hittites, she prepares to die rather than fight as a man. However, her divine mother, Athena, intervenes, transforming her body into the woman's body she always longed for, and promises her everything: glory, power, fame, victory in war, and, most importantly, a child born of her own body. Reunited with her beloved cousin, Patroklos, and his brilliant wife, the sorceress Meryapi, Achilles sets out to war with a vengeance.

But the gods—a dysfunctional family of abusive immortals that have glutted on human sacrifices for centuries—have woven ancient schemes more blood-soaked and nightmarish than Achilles can imagine. At the center of it all is the cruel, immortal Helen, who sees Achilles as a worthy enemy after millennia of ennui and emptiness. In love with her newfound nemesis, Helen sets out to destroy everything and everyone Achilles cherishes, seeking a battle to the death.

An innovative spin on a familiar tale, this is the Trojan War unlike anything ever told, and an Achilles whose vulnerability is revealed by the people she chooses to fight…and chooses to trust.
This is absolutely everything I could ever have wanted from a trans retelling of the Illiad – and so much more. Deane pulls from real history and writes with passion and power – her take on the nature of divinity alone is enough to make Wrath Goddess Sing worth reading, in the extremely odd event that you don't want to read about trans woman Achilles.
Because who doesn't want to read about trans woman Achilles?!
The Story of the Hundred Promises
by
Neil Cochrane
Genres:
Fantasy
,
Queer Protagonists
Representation:
Trans MC, nonbinary MC, aromantic rep
Goodreads
A loose retelling of "Beauty and the Beast" that centers queer and trans characters

Trans sailor Darragh Thorn has made a comfortable life for himself among people who love and accept him. Ten years after his exile from home, though, his sister asks him to reconcile with their ailing father. Determined to resolve his feelings rather than just survive them, Darragh sets off on a quest to find the one person who can heal a half-dead man: the mysterious enchanter who once gave him the magic he needed to become his true self. But so far as anyone knows, no one but Darragh has seen the enchanter for a century, and the fairy tales that survive about em give more cause for fear than hope. In lush and evocative prose, and populated with magical trees and a wise fox, The Story of the Hundred Promises is a big-hearted fantasy suffused with queer optimism.
This is a very soft book – and to be clear, it's really not a Beauty and the Beast retelling in the way anyone who is looking for a B&B retelling would enjoy. It's slow and sweet, a gentle exploration of various forms of queerness, especially being nonbinary in a society that doesn't know how to handle that. Another book that's not fast-paced, but is deep and lovely and rich with queer joy.
Darknesses (Darknesses, #1)
by
Lachelle Seville
Genres:
Fantasy
,
Contemporary or Urban Fantasy
,
Queer Protagonists
Representation:
Black bisexual MC, Black pansexual love interest, F/F
Goodreads
It's been a year since Oasis stumbled away from Blessed Falls with wings carved into her back and too many scars to count.

A year spent razing delusions of being an angel's vessel, proving to her brother that she doesn't belong in a psych ward, and mourning the loss of her mother's vinyl pressed ashes.

A year spent struggling to feel human again.

Enter Laura, the mesmerizing stranger who claims to hear Oasis' heartbeat, who reads her hand-written memoir like scripture, who makes her feel closer to found than lost.
Laura is the most recent face of the eternal Count Dracula, ruler of the shadows, chimera of the Devil, and embittered victim of libel.

The Van Helsing Institute have been waiting for a glimpse of the dragon's underbelly, and eagerly approach Oasis for her help in a ploy to kill Dracula for good. But not every wound from Blessed Falls has cicatrized, and Oasis realizes she may be a danger to Laura—and to herself.

Yet no one is as dangerous as Laura—the first vampire, the Devil's plaything, and the person with whom Oasis finally feels human.

Oceans of time have passed since she last had a drink, and she will not let Oasis go easily.
Very funny, very Black, and queer as fuck! This is such an amazing take on vampires, on the Dracula mythos, packed full of an incredible cast. It's officially the only version of Dracula I'll ever accept from now on. Magnifique!
Night Shine
by
Tessa Gratton
Genres:
Fantasy
,
Queer Protagonists
Representation:
F/F, major genderfluid character, minor nonbinary character
Goodreads
An orphan girl must face untold danger and an ancient evil to save her kingdom's prince in this "dark, sensuous…queer and lush" (Kirkus Reviews) fantasy perfect for fans of Girls of Paper and Fire and Tess of the Road.

How can you live without your heart?

In the vast palace of the empress lives an orphan girl called Nothing. She slips within the shadows of the Court, unseen except by the Great Demon of the palace and her true friend, Prince Kirin, heir to the throne. When Kirin is kidnapped, only Nothing and the prince's bodyguard suspect that Kirin may have been taken by the Sorceress Who Eats Girls, a powerful woman who has plagued the land for decades. The sorceress has never bothered with boys before, but Nothing has uncovered many secrets in her sixteen years in the palace, including a few about the prince.

As the empress's army searches fruitlessly, Nothing and the bodyguard set out on a rescue mission, through demon-filled rain forests and past crossroads guarded by spirits. Their journey takes them to the gates of the Fifth Mountain, where the sorceress wields her power. There, Nothing discovers that all magic is a bargain, and she may be more powerful than she ever imagined. But the price the Sorceress demands for Kirin may very well cost Nothing her heart.
Night Shine enchanted me from the start, with an incredibly beautiful world and a fascinating cast of characters. Genderfluid princes! Draconic river-spirits! Embracing your own monstrousness! Love love love!
Moon Dark Smile (Night Shine, #2)
by
Tessa Gratton
Genres:
Fantasy
,
Queer Protagonists
Representation:
Queer MC, nonbinary MC, trans MC, secondary polyamory M/NB/F
Goodreads
The fate of an Empire lies with a headstrong Heir and a restless demon in this lush YA fantasy for fans of Laini Taylor and Girl, Serpent, Thorn.

Ever since she was a girl, Raliel Dark-Smile's best friend has been the great demon that lives in the palace. As the daughter of the Emperor, Raliel appears cold and distant to those around her, but what no one understands is that she and the great demon, Moon, have a close and unbreakable bond and are together at all times. Moon is bound to the Emperor and his two consorts, Raliel's parents, and when Raliel comes of age, she will be bound to Moon as well, constrained to live in the Palace for the rest of her days.

Raliel is desperate to see the Empire Between Five Mountains, and she feels a deep kinship with Moon, who longs to break free of its bonds. When the time finally arrives for Raliel's coming of age journey, she discovers a dangerous way to take Moon with her, even as she hides this truth from her travel companion, the beautiful, demon-kissed bodyguard Osian Redpop. But Osian is hiding secrets of his own, and when a plot surfaces that threatens the Empire, Raliel will have to decide who she can trust and what she'll sacrifice for the power to protect all that she loves.
Moon Dark Smile takes place in the same world as Night Shine, a little later, with some cameos from familiar characters – but it absolutely works as a standalone if (for some odd reason) you don't want to read Night Shine. A princess on a mission to rescue a demon (demons in this verse are nothing like Christian ones, for the record) is accompanied by a trans warrior, and however you think that will end, you are mistaken. (But be assured that the ending, as unexpected as it is, is stunning.)
Strange Grace
by
Tessa Gratton
Genres:
Fantasy
,
Queer Protagonists
Representation:
F/M/M
Goodreads
Once, a witch made a pact with a devil. The legend says they loved each other, but can the story be trusted at all? Find out in this lush, atmospheric fantasy novel that entwines love, lies, and sacrifice.

Long ago, a village made a bargain with the devil: to ensure their prosperity, when the Slaughter Moon rises, the village must sacrifice a young man into the depths of the Devil's Forest.

Only this year, the Slaughter Moon has risen early.

Bound by duty, secrets, and the love they share for one another, Mairwen, a spirited witch; Rhun, the expected saint; and Arthur, a restless outcast, will each have a role to play as the devil demands a body to fill the bargain. But the devil these friends find is not the one they expect, and the lies they uncover will turn their town—and their hearts—inside out.
THREE books from one author?! Yes. Because it's Gratton. If you read the books, you'll understand!
Strange Grace is a deliciously dark, thorny book where the main characters actively reject any love-triangle nonsense, while trying to figure out What Is Up with the Devil in the forest and the bargain that binds their community. (The answer: A Lot.)
Theory (The Heretic's Guide to Homecoming #1)
by
Sienna Tristen
Genres:
Fantasy
,
Queer Protagonists
Representation:
Black asexual MC with clinical anxiety
Goodreads
WINNER OF THE 2019 READERVIEWS AWARD FOR FANTASY!WINNER OF THE 2019 IPPY AWARD FOR FANTASY!

"Life is transformation. You change or you die."

Ashamed of his past and overwhelmed by his future, Ronoah Genoveffa Elizzi-denna Pilanovani feels too small for his own name. After a graceless exit from his homeland in the Acharrioni desert, his anxiety has sabotaged every attempt at redemption. Asides from a fiery devotion to his godling, the one piece of home he brought with him, he has nothing.

That is, until he meets Reilin. Beguiling, bewildering Reilin, who whisks Ronoah up into a cross-continental pilgrimage to the most sacred place on the planet. The people they encounter on the way—children of the sea, a priestess and her band of storytellers, the lonely ghosts of monsters—are grim and whimsical in equal measure. Each has their part to play in rewriting Ronoah's personal narrative.

One part fantasy travelogue, one part emotional underworld journey, The Heretic's Guide to Homecoming is a sumptuous, slow-burning story about stories and the way they shape our lives.
I love this duology beyond the capability of words to express, but book one especially is very slow. I adored the gorgeous prose, incredible worldbuilding, and very unconventional story-shape (template?) – the sheer breathtaking BEAUTY of these books! – but you need to be willing to luxuriate in those things. If what you're looking for is a more active plot, these probably aren't for you.
My review of Theory!
My review of Practice!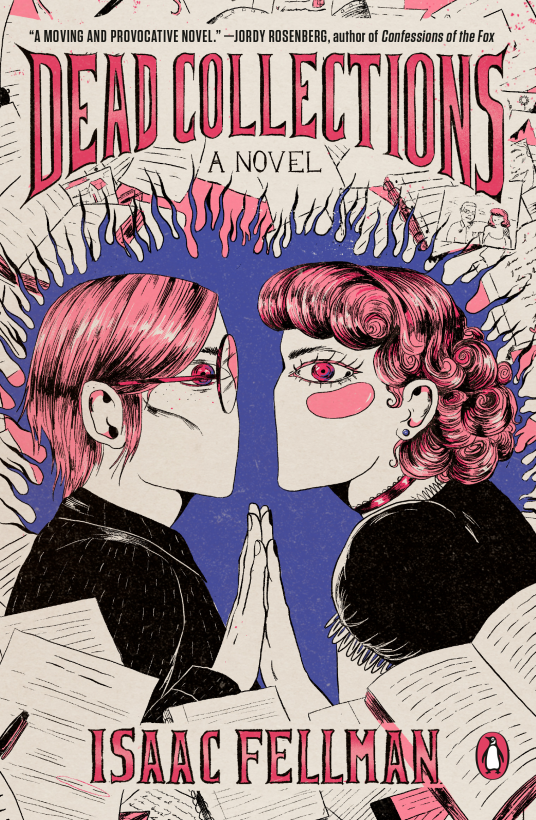 Dead Collections
by
Isaac Fellman
Genres:
Fantasy
,
Contemporary or Urban Fantasy
,
Queer Protagonists
Representation:
Trans bi/pansexual MC, bi/pansexual love interest
Goodreads
A whirlwind romance between an eccentric archivist and a grieving widow explores what it means to be at home in your own body in this clever, humorous, and heartfelt novel.

When archivist Sol meets Elsie, the larger than life widow of a moderately famous television writer who's come to donate her wife's papers, there's an instant spark. But Sol has a secret: he suffers from an illness called vampirism, and hides from the sun by living in his basement office. On their way to falling in love, the two traverse grief, delve into the Internet fandom they once unknowingly shared, and navigate the realities of transphobia and the stigmas of carrying the "vampire disease."

Then, when strange things start happening at the collection, Sol must embrace even more of the unknown to save himself and his job. DEAD COLLECTIONS is a wry novel full of heart and empathy, that celebrates the journey, the difficulties and joys, in finding love and comfort within our own bodies.
Another slower, less frenetic book that is still objectively awesome, about non-traditional vampires and various forms of genderqueerness and also, fandom. It's an absolute delight!
Stealing Thunder (Stealing Thunder, #1)
by
Alina Boyden
Genres:
Fantasy
,
High Fantasy
,
Queer Protagonists
Representation:
Desi cast and setting, hijra MC, hijra secondary characters
Goodreads
Protecting her identity means life or death in this immersive epic fantasy inspired by the Mughal Empire.

In a different life, under a different name, Razia Khan was raised to be the Crown Prince of Nizam, the most powerful kingdom in Daryastan. Born with the soul of a woman, she ran away at a young age to escape her father's hatred and live life true to herself.

Amongst the hijras of Bikampur, Razia finds sisterhood and discovers a new purpose in life. By day she's one of her dera's finest dancers, and by night its most profitable thief. But when her latest target leads her to cross paths with Arjun Agnivansha, Prince of Bikampur, it is she who has something stolen.

An immediate connection with the prince changes Razia's life forever, and she finds herself embroiled in a dangerous political war. The stakes are greater than any heist she's ever performed. When the battle brings her face to face with her father, Razia has the chance to reclaim everything she lost…and save her prince.
Hijra is a nonbinary identity from South Asia that doesn't directly translate into any Western label. In these books, Razia is analogous to a trans woman, using she/her pronouns and calling herself a woman. The second book in particular is breathtaking, but Stealing Thunder is also excellent – just be braced for sex work and what Western readers would recognise as transphobia. Neither stops Razia from going for the crown!
The Midnight Bargain
by
C.L. Polk
Genres:
Fantasy
Representation:
Brown secondary characters, brown asexual-coded secondary characters
Goodreads
Beatrice Clayborn is a sorceress who practices magic in secret, terrified of the day she will be locked into a marital collar that will cut off her powers to protect her unborn children. She dreams of becoming a full-fledged Magus and pursuing magic as her calling as men do, but her family has staked everything to equip her for Bargaining Season, when young men and women of means descend upon the city to negotiate the best marriages. The Clayborns are in severe debt, and only she can save them, by securing an advantageous match before their creditors come calling.

In a stroke of luck, Beatrice finds a grimoire that contains the key to becoming a Magus, but before she can purchase it, a rival sorceress swindles the book right out of her hands. Beatrice summons a spirit to help her get it back, but her new ally exacts a price: Beatrice's first kiss . . . with her adversary's brother, the handsome, compassionate, and fabulously wealthy Ianthe Lavan.

The more Beatrice is entangled with the Lavan siblings, the harder her decision becomes: If she casts the spell to become a Magus, she will devastate her family and lose the only man to ever see her for who she is; but if she marries—even for love—she will sacrifice her magic, her identity, and her dreams. But how can she choose just one, knowing she will forever regret the path not taken?
This is a romantic fantasy that gave me All The Feelings, especially the rage-frustration-despair Beatrice goes through in facing her society's misogyny. But there is also so much laughter and joy, and I don't think it's too much of a spoiler to assure you that there is a happy ending for everyone!
The Fox's Tower and Other Tales: A Collection of Magical Short Stories
by
Yoon Ha Lee
Genres:
Fantasy
,
Queer Protagonists
,
Sci Fi
Representation:
Assorted queer MCs, queernorm worlds
Goodreads
"Locus Award winner Lee (Phoenix Extravagant) takes on the folktale form in a collection of 25 gorgeous, magical stories, tiny jewels of worldbuilding that tap into mythic themes to feel somehow both ancient and delightfully fresh… The result is breathtaking in its playful grace." —Publisher's Weekly Starred Review

Enter a world of magic and myth, where foxes fall in love and robots build their own dragons. In The Fox's Tower and Other Tales, New York Times bestselling author Yoon Ha Lee crafts together short and moving stories of love, adventure, magic, and nature. With poetic language and intricate world building, readers will be whisked away to a different adventure with every new story. Full of fascinating creatures and LGBT+ romances, this flash fiction collection combines the classic with the contemporary in Yoon's captivating style.
Lee's collection of fantastical, mostly queer microfiction is just exquisite – the incredible imagination behind the premise of each story is just. !!! And they are soft and sweet – I think one or two have ambiguous endings, but they're mostly stories of hope and joy, in various different forms. Excellent for reading at bedtime or whenever your heart is feeling a bit bruised!
Nine Years of Silver (Love Has Claws, #1)
by
Parker Foye
Genres:
Fantasy
,
Queer Protagonists
Representation:
M/M
Goodreads
Briar Augustin, a bounty hunter, returns to his hometown on the trail of a killer. There he becomes once more entangled with his first love, Quinn Lawrence, who is as integral to Briar's hunt as he is to the mythology of Lastings. Can Briar find his bounty and return to the city, resisting the call of the sea? Or will he be drawn back into Lastings' secrets—and the arms of Quinn Lawrence?

Lastings: Where some things can only be mined out.
*
Nine Years of Silver is the first story from Love Has Claws, a speculative romance trilogy linked by the town of Lastings.

Content Warnings: mentions of abusive childhood; bloody violence; off-screen murder; drowning (real/dream); claustrophobic scenes.
Foye is MARVELLOUS, and Nine Years of Silver was one of the first reviews I ever wrote for this blog – so it has a special place in my heart. But it's also a novella about a queer selkie and a spooky seaside town, which means that it is also marvellous entirely on its own merits!
Euphoria Kids
by
Alison Evans
Genres:
Fantasy
,
Contemporary or Urban Fantasy
,
Queer Protagonists
Representation:
Nonbinary MC, trans MC, major brown character, minor character with fibromyalgia
Goodreads
Ever since the witch cursed Babs, she turns invisible sometimes. She has her mum and her dog, but teachers and classmates barely notice her. Then, one day, Iris can see her. And Iris likes what they see. Babs is made of fire.

Iris grew from a seed in the ground. They have friends, but not human ones. Not until they meet Babs. The two of them have a lot in common: they speak to dryads and faeries, and they're connected to the magic that's all around them.

There's a new boy at school, a boy who's like them and who hasn't found his real name. Soon the three of them are hanging out and trying spellwork together. Magic can be dangerous, though. Witches and fae can be cruel. Something is happening in the other realm, and despite being warned to stay away, the three friends have to figure out how to deal with it on their own terms.

Anyone who loves the work of Francesca Lia Block and delights in Studio Ghibli films will be entranced by this gorgeous and gentle young adult novel about three queer friends who come into their power.
This is a soft, dreamy book that is very gentle and sweet and magical – not fast-paced, but it really doesn't need to be. If you'd like to follow three queer kids having low-key adventures with fairies and dryads and witches, Euphoria Kids is sure to fill you with, well – euphoria!
Pet
by
Akwaeke Emezi
Genres:
Fantasy
,
Contemporary or Urban Fantasy
,
Queer Protagonists
Representation:
Black trans MC with selective mutism, queernorm world
Goodreads
A thought-provoking and haunting novel about a creature that escapes from an artist's canvas, whose talent is sniffing out monsters in a world that claims they don't exist anymore. Perfect for fans of Akata Witch and Shadowshaper.

There are no monsters anymore, or so the children in the city of Lucille are taught. Jam and her best friend, Redemption, have grown up with this lesson all their life. But when Jam meets Pet, a creature made of horns and colors and claws, who emerges from one of her mother's paintings and a drop of Jam's blood, she must reconsider what she's been told. Pet has come to hunt a monster--and the shadow of something grim lurks in Redemption's house. Jam must fight not only to protect her best friend, but also uncover the truth, and the answer to the question How do you save the world from monsters if no one will admit they exist?

In their riveting and timely young adult debut, acclaimed novelist Akwaeke Emezi asks difficult questions about what choices you can make when the society around you is in denial.
Pet was the first of Emezi's novels I read, and is still my favourite; I love the glimpse of a possible near-utopia mixed in with strange, inexplicable magic. I will put a trigger warning (which is a spoiler) under the cut, though. View Spoiler »Pet deals with off-screen child sexual abuse by a family member. « Hide Spoiler
The Brilliant Death (The Brilliant Death, #1)
by
A.R. Capetta
Genres:
Fantasy
,
Historical Fantasy
,
Queer Protagonists
Representation:
Genderfluid MCs
Goodreads
For Teodora DiSangro, a mafia don's daughter, family is fate. All her life, Teodora has hidden the fact that she secretly turns her family's enemies into music boxes, mirrors, and other decorative objects. After all, everyone in Vinalia knows that stregas--wielders of magic--are figures out of fairytales. Nobody believes they're real.

Then the Capo, the land's new ruler, sends poisoned letters to the heads of the Five Families that have long controlled Vinalia. Four lie dead and Teo's beloved father is gravely ill. To save him, Teo must travel to the capital as a DiSangro son--not merely disguised as a boy, but transformed into one.

Enter Cielo, a strega who can switch back and forth between male and female as effortlessly as turning a page in a book. Teo and Cielo journey together to the capital, and Teo struggles to master her powers and to keep her growing feelings for Cielo locked in her heart. As she falls in love with witty, irascible Cielo, Teo realizes how much of life she's missed by hiding her true nature. But she can't forget her mission, and the closer they get to the palace, the more sinister secrets they uncover about what's really going on in their beloved country--and the more determined Teo becomes to save her family at any cost.
AR Capetta writes magical queer YA, and their debut duology holds a special place in my heart, following genderfluid witches in a setting reminiscent of historical Italy. The prose is just so lovely; the magic system packs a real punch; and I'm always here for queer witches going head to head with would-be dictators!
Out of Salem
by
Hal Schrieve
Genres:
Fantasy
,
Contemporary or Urban Fantasy
,
Queer Protagonists
Representation:
Nonbinary MC, lesbian MC
Goodreads
When genderqueer fourteen-year-old Z Chilworth wakes from death after a car crash that killed their parents and sisters, they have to adjust quickly to their new status as a zombie. Always a talented witch, Z can now barely perform magic and is rapidly decaying. Faced with rejection from their remaining family members and old friends, Z moves in with Mrs. Dunnigan, an elderly witch, and befriends Aysel, a loud would-be-goth classmate who is, like Z, a loner. As Z struggles to find a way to repair the broken magical seal holding their body together, Aysel fears that her classmates will discover her status as an unregistered werewolf. When a local psychiatrist is murdered in an apparent werewolf attack, the town of Salem, Oregon, becomes even more hostile to monsters, and Z and Aysel are driven together in an attempt to survive a place where most people wish that neither of them existed.
There's no getting around the fact that Out Of Salem is weird, but that's the attraction for me! Set in a world where magic is taught like algebra and you can grab unicorn blood at the health food store, this is a standalone novel about trying to fit in when you really don't, and how to deal with bigotry when you're also magic.
No Man of Woman Born
by
Ana Mardoll
Genres:
Fantasy
,
Queer Protagonists
Representation:
Trans & nonbinary MCs
Goodreads
Destiny sees what others don't.

A quiet fisher mourning the loss of xer sister to a cruel dragon. A clever hedge-witch gathering knowledge in a hostile land. A son seeking vengeance for his father's death. A daughter claiming the legacy denied her. A princess laboring under an unbreakable curse. A young resistance fighter questioning everything he's ever known. A little girl willing to battle a dragon for the sake of a wish. These heroes and heroines emerge from adversity into triumph, recognizing they can be more than they ever imagined: chosen ones of destiny.

From the author of the Earthside series and the Rewoven Tales novels, No Man of Woman Born is a collection of seven fantasy stories in which transgender and nonbinary characters subvert and fulfill gendered prophecies. These prophecies recognize and acknowledge each character's gender, even when others do not.

Note: No trans or nonbinary characters were killed in the making of this book. Trigger warnings and neopronoun pronunciation guides are provided for each story.
I don't want to undercut Eowyn's awesomeness, but I also don't think you can argue that "I am no man!" wouldn't pack so much more punch coming from a trans or nonbinary person! This is a collection of short stories that take that idea and run with it. Need I say more???
The Tensorate Series
by
Neon Yang
Genres:
Fantasy
,
High Fantasy
,
Queer Protagonists
Representation:
East-Asian coded cast and setting, bi/pansexual MCs, trans love interest, nonbinary love interest, queernorm world
Goodreads
The Tensorate Series, which has been nominated for the Hugo, Nebula, World Fantasy, Locus, and Lambda Literary Awards, is an incomparable treasure of modern epic fantasy. Across four novellas, Neon Yang established themself as a fantasist in bold defiance of the limitations of their genre. Available now in a single volume, these four novellas trace the generational decline of an empire and unfurl a world that is rich and strange beyond anything you've dreamed.

In the Tensorate Series you will find: rebellious nonbinary scions of empire, sky-spanning nagas with experimental souls, revolutionary engineers bent on bringing power to the people, pugilist monks, packs of loyal raptors, and much, much more.

The Tensorate Series omnibus contains The Black Tides of Heaven, The Red Threads of Fortune, The Descent of Monsters, and To Ascend to Godhood
If you haven't heard of the Tensorate series, then you are in luck, because it's fabulous and you should read it! It's a series of four novellas set in a 'silkpunk' world, with very original magic, amazing not-actually-monsters, and a society where you choose your gender for yourself when you come of age. And what with the rebellion against the tyrannical empress, there's plenty of action for those looking for a more active story!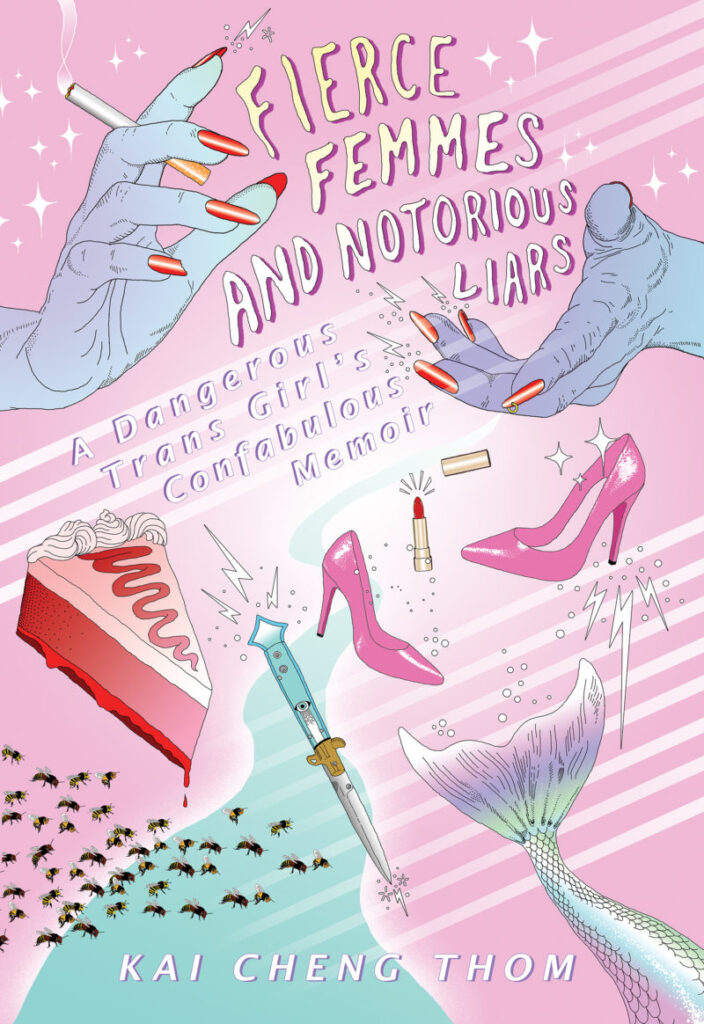 Fierce Femmes and Notorious Liars: A Dangerous Trans Girl's Confabulous Memoir
by
Kai Cheng Thom
Genres:
Fantasy
,
Contemporary or Urban Fantasy
,
Queer Protagonists
Representation:
Trans Asian-American MC, trans cast
Goodreads
Fierce Femmes and Notorious Liars: A Dangerous Trans Girl's Confabulous Memoir by Kai Cheng Thom is the highly sensational, ultra-exciting, sort-of true coming-of-age story of a young Asian trans girl, pathological liar, and kung-fu expert who runs away from her parents' abusive home in a rainy city called Gloom. Striking off on her own, she finds her true family in a group of larger-than-life trans femmes who live in a mysterious pleasure district known only as the Street of Miracles. Under the wings of this fierce and fabulous flock, Dearly blossoms into the woman she has always dreamed of being, with a little help from the unscrupulous Doctor Crocodile. When one of their number is brutally murdered, the protagonist joins her sisters in forming a vigilante gang to fight back against the transphobes, violent johns, and cops that stalk the Street of Miracles. But when things go terribly wrong, she must find the truth within herself in order to stop the violence and discover what it really means to grow up and find your family.
This is the kind of fantasy that would be called magical realism if it were from a Latine author (has anyone come up with a good alternate genre name yet???), very dreamy and strange (in a good way!) And it's about a whole bunch of fabulous trans women working their own various kinds of magics, building a place for themselves in a world that's not always kind.
Thornfruit (The Gardener's Hand, #1)
by
Felicia Davin
Genres:
Fantasy
,
Queer Protagonists
Representation:
Faceblind autistic-coded bi/pansexual MC, sapphic MC, genderfluid pansexual MC (in book 2 onwards)
Goodreads
There were two secrets in Varenx House, and Alizhan was one of them.
Alizhan can't see faces, but she can read minds. Her mysterious ability leaves her unable to touch or be touched without excruciating pain. Rescued from abandonment and raised by the wealthy and beautiful Iriyat ha-Varensi, Alizhan has grown up in isolation, using her gift to steal secrets from Iriyat's rivals, the ruling class of Laalvur. But Iriyat keeps secrets of her own.
When Alizhan discovers that she isn't the only one of her kind, and that a deadly plot threatens everyone like her, there's only one person she can trust.
Ev liked having a secret. None of the other girls in the village had a thief-friend.
Evreyet Umarsad-"Ev" to her parents and her one friend-longs to be the kind of hero she reads about in books. But the rest of the world feels impossibly far away from her life on a farm outside Laalvur. Ev will never lay eyes on the underground city of Adappyr, the stars of the Nightward Coast, or the venomous medusas that glow in the dark depths of the sea.
At least on her weekly trip to the market, Ev gets to see her thief-the strange young woman who slips by her cart and playfully steals a handful of thornfruit. When the thief needs help, Ev doesn't hesitate. Together, they uncover a conspiracy that draws them all over Laalvur and beyond.
Thornfruit is book one of The Gardener's Hand.
THE AMOUNT I LOVE THESE BOOKS, I CANNOT EVEN! Davin has created a world that does not rotate – so it doesn't experience day and night; instead, parts of the planet are in constant daylight, others in constant night, and a thin strip of 'twilight' in-between. The central relationship of the trilogy is a polyamorous triad, every one of whom is a Delight. Small stakes grow much larger very rapidly, with sea monsters and the threat of tsunamis on one side, and telepathy and memory-altering magics on the other; the worldbuilding is phenomenal; there is not one thing about this trilogy that I do not love. !!!
An Accident of Stars (Manifold Worlds, #1)
by
Foz Meadows
Genres:
Fantasy
,
Portal Fantasy
,
Queer Protagonists
Representation:
Black aroace polyamorous MC, sapphic MC, major character with pibaldism/vitiligo, minor trans rep
Goodreads
Book I of the Manifold Worlds from Hugo-nominated author Foz Meadows.

When Saffron Coulter stumbles through a hole in reality, she finds herself trapped in Kena, a magical realm on the brink of civil war.

There, her fate becomes intertwined with that of three very different women: Zech, the fast-thinking acolyte of a cunning, powerful exile; Viya, the spoiled, runaway consort of the empire-building ruler, Vex Leoden; and Gwen, an Earth-born worldwalker whose greatest regret is putting Leoden on the throne. But Leoden has allies, too, chief among them the Vex'Mara Kadeja, a dangerous ex-priestess who shares his dreams of conquest.

Pursued by Leoden and aided by the Shavaktiin, a secretive order of storytellers and mystics, the rebels flee to Veksh, a neighboring matriarchy ruled by the fearsome Council of Queens. Saffron is out of her world and out of her depth, but the further she travels, the more she finds herself bound to her friends with ties of blood and magic.

Can one girl - an accidental worldwalker - really be the key to saving Kena? Or will she just die trying?
Meadows got a lot of (well-deserved!) attention for their book A Strange and Stubborn Endurance last year – but years before, they wrote the Manifold Worlds duology, which is, in a nutshell, what happens when a queer, nonbinary person with many Thoughts about storytelling and intersectional feminism writes portal fantasy. THIS IS NOT NARNIA, AND I AM SO VERY GLAD!
Rituals (Rhapsody of Blood, #1)
by
Roz Kaveney
Genres:
Fantasy
,
Contemporary or Urban Fantasy
,
Epic Fantasy
,
Queer Protagonists
Representation:
Brown sapphic MC, sapphic MC, F/F, assorted queer secondary cast
Goodreads
Two women - and the workings of Time and Fate.

In a time too long ago for most human memory, a god asked Mara what she most wanted. She got her wish: to protect the weak against the strong. For millennia, she has avenged that god, and her dead sisters, against anyone who uses the Rituals of Blood to become a god through mass murder. And there are few who can stand against her.

A sudden shocking incident proves to Emma that the modern world is not what she thought it was, that there are demons and gods and elves and vampires. Her weapon is knowledge, and she pursues it wherever it leads her. The one thing she does not know is who she - and her ghostly lover, Caroline - are working for.

RHAPSODY OF BLOOD is a four-part epic fantasy not quite like anything you've read before: a helter-skelter ride through history and legend, from Tenochitlan to Los Angeles, from Atlantis to London. It is a story of death, love and the end of worlds - and of dangerous, witty women.
I still don't understand how this series isn't more well-known, HI, YOU ARE ALL MISSING OUT! One timeline follows a woman whose superpower is Talking Sensibly (works every time) who solves supernatural problems with her ghost girlfriend; the other timeline follows Mara, who executes would-be gods – seeing as the easiest way to become a god is by genocidal levels of human sacrifice. With Mara, we see the 'true' events that inspired myths most of us will recognise (including the time-period when God and Lucifer were boyfriends); with Emma, we have gross elves, ancient Egyptian gods, and chaos-magician drag-queens. WHAT'S NOT TO LOVE??? And then, of course, Mara and Emma meet…!
Science Fantasy
In the Watchful City
by
S. Qiouyi Lu
Genres:
Queer Protagonists
,
Science Fantasy
Representation:
Nonbinary MCs
Goodreads
In the Watchful City explores borders, power, diaspora, and transformation in an Asian-inspired mosaic novella that melds the futurism of Lavie Tidhar's Central Station with the magical wonder of Catherynne M. Valente's Palimpsest.

The city of Ora uses a complex living network called the Gleaming to surveil its inhabitants and maintain harmony. Anima is one of the cloistered extrasensory humans tasked with watching over Ora's citizens. Although ær world is restricted to what æ can see and experience through the Gleaming, Anima takes pride and comfort in keeping Ora safe from all harm.

All that changes when a mysterious visitor enters the city carrying a cabinet of curiosities from around the world, with a story attached to each item. As Anima's world expands beyond the borders of Ora to places—and possibilities—æ never before imagined to exist, æ finds ærself asking a question that throws into doubt ær entire purpose: What good is a city if it can't protect its people?
This is a stunning novella, a jewelled mosaic of stories-within-stories, with neo-gendered city-guardians and mermaids and very cool fictional sports. Although beautiful, there are elements that are not-nice – there's violence, Chinese foot-binding, etc – but it's not horror, not truly dark. It's gorgeous and poignant and I loved the mix of sci-fi elements and magic. Really not to be missed!
Phoenix Extravagant
by
Yoon Ha Lee
Genres:
Queer Protagonists
,
Science Fantasy
Representation:
East Asian-coded cast and setting, nonbinary MC
Goodreads
For generations the empire has spread across the world, nigh-unstoppable in their advance. Its power depends on its automata, magically animated and programmed with sigils and patterns painted in mystical pigments.

A symbol-painter – themselves a colonial subject – is frustrated in their work when their supply of Phoenix Extravagant dries up, and sets out to find the source. What they'll discover is darker than anything they could have imagined…
Yes, this is the second time I'm featuring Lee, but if you read them you'll see why I couldn't pick just one. Phoenix Extravagant is a very unique standalone, wherein a nonbinary artist ends up working for their country's conquerors, painting magic onto a dragon mecha. The source of that magic will make you shriek – it's awful! – but the dragon mecha will make you grin like a little kid, because, surprise! It's self-aware and has Thoughts about what's going on!
A Big Ship at the Edge of the Universe (The Salvagers, #1)
by
Alex White
Genres:
Queer Protagonists
,
Science Fantasy
Representation:
Sapphic MCs, F/F, fictional-disability disabled MC, queernorm world
Goodreads
Boots Elsworth was a famous treasure hunter in another life, but now she's washed up. She makes her meager living faking salvage legends and selling them to the highest bidder, but this time she might have stumbled on something real–the story of the Harrow, a famous warship, capable of untold destruction.

Nilah Brio is the top driver in the Pan Galactic Racing Federation and the darling of the racing world–until she witnesses the murder of a fellow racer. Framed for the murder and on the hunt to clear her name, Nilah only has one lead: the killer also hunts a woman named Boots.

On the wrong side of the law, the two women board a smuggler's ship that will take them on a quest for fame, for riches, and for justice.
SPACESHIPS AND SPELLS, DO YOU REALLY NEED TO HEAR ANYTHING MORE??? This is literally a gang of misfits thrown together in a very frantic attempt to save the universe, and I love everything about it. Drag car racing, but with mecha-magic! Battle robots! Evil assholes who are trying to become gods! A very opposites-attract sapphic love story! This series is ridiculously cool and I don't understand how so few people seem to know about it!
The Dawnhounds (The Endsong, #1)
by
Sascha Stronach
Genres:
Fantasy
,
Queer Protagonists
,
Science Fantasy
Representation:
Bi/pansexual MC, F/F, major sapphic character, major sapphic trans character, minor nonbinary characters
Goodreads
A police officer is murdered, brought back to life with a mysterious new power, and tasked with protecting her city from an insidious evil threatening to destroy it.

The port city of Hainak is alive: its buildings, its fashion, even its weapons. But, after a devastating war and a sweeping biotech revolution, all its inhabitants want is peace, no one more so than Yat Jyn-Hok a reformed-thief-turned-cop who patrols the streets at night.

Yat has recently been demoted on the force due to "lifestyle choices" after being caught at a gay club. She's barely holding it together, haunted by memories of a lover who vanished and voices that float in and out of her head like radio signals. When she stumbles across a dead body on her patrol, two fellow officers gruesomely murder her and dump her into the harbor. Unfortunately for them, she wakes up.

Resurrected by an ancient power, she finds herself with the new ability to manipulate life force. Quickly falling in with the pirate crew who has found her, she must race against time to stop a plague from being unleashed by the evil that has taken root in Hainak.
This is a mind-warpingly weird (but fantastic!) plantpunk novel with queer, mostly-immortal paladins of dead and missing gods going up against The State, with pirate queens and mushroom houses and Priests That Are Up To No Good. Drawing from Maori inspirations means The Dawnhounds immediately feels deep and viscerally different to most of our SFF fare, in a way that I adored and encourage others to experience. You very much need to read this!!!
Sci Fi
The All-Consuming World
by
Cassandra Khaw
Genres:
Queer Protagonists
,
Sci Fi
Representation:
Sapphic MC, queer cast, major nonbinary secondary character, major genderfluid/bigender secondary character
Goodreads
Maya has died and been resurrected into countless cyborg bodies through the years of a long, dangerous career with the infamous Dirty Dozen, the most storied crew of criminals in the galaxy, at least before their untimely and gruesome demise. Decades later, she and her diverse team of broken, diminished outlaws must get back together to solve the mystery of their last, disastrous mission and to rescue a missing and much-changed comrade... but they're not the only ones in pursuit of the secret at the heart of the planet Dimmuborgir.

The highly evolved AI of the galaxy have their own agenda and will do whatever it takes to keep humanity from ever regaining control. As Maya and her comrades spiral closer to uncovering the AIs' vast conspiracy, this band of violent women—half-clone and half-machine—must battle their own traumas and a universe of sapient ageships who want them dead, in order to settle their affairs once and for all.

Welcome to The All-Consuming World, the debut novel of acclaimed writer Cassandra Khaw. With this explosive and introspective exploration of humans and machines, life and death, Khaw takes their rightful place next to such science fiction luminaries as Ann Leckie, Ursula Le Guin, and Kameron Hurley.
Okay, I do understand why some people didn't enjoy this, but Khaw's prose and weird, futuristic worldbuilding – to say nothing of rabid-dog!Maya, who is worth reading a novel for all by herself! – made me swoon, and certified me as a Khaw fan for life!
Lovequake
by
T.J. Land
Genres:
Queer Protagonists
,
Sci Fi
Representation:
Pansexual MC, gay trans Deaf love interest, M/M, major Nigerian sapphic character, F/F, Nigerian acearo minor character
Goodreads
No one knows what to make of Sunday.

He's handsome. He's stylish. He's got endless amounts of cash that he splashes around like water.

But there's something just a little bit wrong about the way he talks – like he's never had a conversation before – and the way he walks – like he expects walls to simply get out of his way. Though his hair and beard are immaculately groomed, he never brushes the former or trims the latter. And he talks to the sky.

All of which are very solid, sensible reasons for Zip Fletcher, cheerfully rude Welsh sex worker, not to develop a crush on him.

Zip is, however, not a sensible man.

LOVEQUAKE is an M/M + F/F romantic scifi adventure set against the backdrop of a quintillion-year-old cosmic war.
THIS BOOK. I LOVE IT SO. Lovequake is the book I run to whenever I am really low; the first time I read it I was recovering from surgery + clinically depressed, and it still made me laugh. It is so much fun, and so clever, and so full of all the ways life on Earth is awesome, actually. This is a standalone that will make you giggle and glow, and if you have a paper copy, be prepared to hug it to your chest while squeeing!
The Future of Another Timeline
by
Annalee Newitz
Genres:
Queer Protagonists
,
Sci Fi
Representation:
Sapphic MC, F/F, BIPOC rep, trans and nonbinary rep
Goodreads
From Annalee Newitz, founding editor of io9, comes a story of time travel, murder, and the lengths we'll go to protect the ones we love.

1992: After a confrontation at a riot grrl concert, seventeen-year-old Beth finds herself in a car with her friend's abusive boyfriend dead in the backseat, agreeing to help her friends hide the body. This murder sets Beth and her friends on a path of escalating violence and vengeance as they realize many other young women in the world need protecting too.

2022: Determined to use time travel to create a safer future, Tess has dedicated her life to visiting key moments in history and fighting for change. But rewriting the timeline isn't as simple as editing one person or event. And just when Tess believes she's found a way to make an edit that actually sticks, she encounters a group of dangerous travelers bent on stopping her at any cost.

Tess and Beth's lives intertwine as war breaks out across the timeline--a war that threatens to destroy time travel and leave only a small group of elites with the power to shape the past, present, and future. Against the vast and intricate forces of history and humanity, is it possible for a single person's actions to echo throughout the timeline?
INTERSECTIONAL-FEMINIST TIME-TRAVELLERS WORKING TO COUNTER ALT-RIGHT TIME-TRAVELLERS. That is seriously all you need to know. WHO DOESN'T WANT TO READ THAT PREMISE??? And Newitz pulls it off beautifully.
Speculative Fiction
I Keep My Exoskeletons to Myself
by
Marisa Crane
Genres:
Queer Protagonists
,
Speculative Fiction
Representation:
Sapphic MC, F/F, secondary nonbinary rep
Goodreads
In a United States not so unlike our own, the Department of Balance has adopted a radical new form of law enforcement: rather than incarceration, wrongdoers are given a second (and sometimes, third, fourth, and fifth) shadow as a reminder of their crime—and a warning to those they encounter. Within the Department, corruption and prejudice run rampant, giving rise to an underclass of so-called Shadesters who are disenfranchised, publicly shamed, and deprived of civil rights protections.

Kris is a Shadester and a new mother to a baby born with a second shadow of her own. Grieving the loss of her wife and thoroughly unprepared for the reality of raising a child alone, Kris teeters on the edge of collapse, fumbling in a daze of alcohol, shame, and self-loathing. Yet as the kid grows, Kris finds her footing, raising a child whose irrepressible spark cannot be dampened by the harsh realities of the world.

With a first-person register reminiscent of the fierce self-disclosure of Sheila Heti and the poetic precision of Ocean Vuong, I Keep My Exoskeletons to Myself is a bold debut novel that examines the long shadow of grief, the hard work of parenting, and the power of queer resistance.
I'm usually not a fan of first-person, but I Keep My Exoskeletons To Myself sucked me in and didn't let me go for an instant. This is so addictive, and the voice of the narrator is so unbelievably human, that I couldn't get enough of it. Plus, just wait until The Kid grows old enough to talk, because she is BEYOND EPIC!
Blanca & Roja
by
Anna-Marie McLemore
Genres:
Queer Protagonists
,
Magical Realism
Representation:
Latina MCs, nonbinary love interest
Goodreads
The del Cisne girls have never just been sisters; they're also rivals, Blanca as obedient and graceful as Roja is vicious and manipulative. They know that, because of a generations-old spell, their family is bound to a bevy of swans deep in the woods. They know that, one day, the swans will pull them into a dangerous game that will leave one of them a girl, and trap the other in the body of a swan.

But when two local boys become drawn into the game, the swans' spell intertwines with the strange and unpredictable magic lacing the woods, and all four of their fates depend on facing truths that could either save or destroy them. Blanca & Roja is the captivating story of sisters, friendship, love, hatred, and the price we pay to protect our hearts.
Blanca & Roja is my favourite of McLemore's many gorgeous novels, but you can pick any one of them – they're all wonderful! I love this one especially because it was the first time I ever saw a nonbinary character whose identity wasn't neat and tidy and easy for cis people to understand. That still means a lot.
Plus, you know – even without that, it's an excellent book!
Amberlough (The Amberlough Dossier, #1)
by
Lara Elena Donnelly
Genres:
Queer Protagonists
,
Speculative Fiction
Representation:
Gay MC, genderqueer achillean MC, M/M
Goodreads
Le Carré meets Cabaret in this debut spy thriller as a gay double-agent schemes to protect his smuggler lover during the rise of a fascist government coup

Welcome to Amberlough City, the illustrious but corrupt cosmopolitan beacon of Gedda. The radical One State Party—nicknamed the Ospies—is gaining popular support to unite Gedda's four municipal governments under an ironclad, socially conservative vision.

Not everyone agrees with the Ospies' philosophy, including master spy Cyril DePaul and his lover Aristide Makricosta, smuggler and emcee at the popular Bumble Bee Cabaret. When Cyril's cover is blown on a mission, however, he must become a turncoat in exchange for his life. Returning to Amberlough under the Ospies' watchful eye, Cyril enters a complex game of deception. One of his concerns is safeguarding Aristide, who refuses to let anyone—the crooked city police or the homophobic Ospies—dictate his life.

Enter streetwise Cordelia Lehane, top dancer at the Bee and Aristide's runner, who could be the key to Cyril's plans—if she can be trusted. As the twinkling lights of nightclub marquees yield to the rising flames of a fascist revolution, these three will struggle to survive using whatever means—and people—necessary. Including each other.
Amberlough – and its sequels – are a decadently-written arc of the fall into fascism, and the vicious fight out of it, with extremely messy characters. Seriously, I'm not sure any of the main cast could be considered Nice People. But that's a huge part of what makes them so wonderful to read about???
One Last Stop
by
Casey McQuiston
Genres:
Queer Protagonists
,
Speculative Fiction
Representation:
Bisexual MC, lesbian Asian-American love interest, F/F or wlw, trans secondary character, Black secondary character, Jewish secondary character, secondary M/M or mlm, queer cast
Goodreads
*INSTANT NEW YORK TIMES BESTSELLER**INSTANT USA TODAY BESTSELLER**INSTANT #1 INDIE BESTSELLER*

From the New York Times bestselling author of Red, White & Royal Blue comes a new romantic comedy that will stop readers in their tracks...

For cynical twenty-three-year-old August, moving to New York City is supposed to prove her right: that things like magic and cinematic love stories don't exist, and the only smart way to go through life is alone. She can't imagine how waiting tables at a 24-hour pancake diner and moving in with too many weird roommates could possibly change that. And there's certainly no chance of her subway commute being anything more than a daily trudge through boredom and electrical failures.

But then, there's this gorgeous girl on the train.

Jane. Dazzling, charming, mysterious, impossible Jane. Jane with her rough edges and swoopy hair and soft smile, showing up in a leather jacket to save August's day when she needed it most. August's subway crush becomes the best part of her day, but pretty soon, she discovers there's one big problem: Jane doesn't just look like an old school punk rocker. She's literally displaced in time from the 1970s, and August is going to have to use everything she tried to leave in her own past to help her. Maybe it's time to start believing in some things, after all.

Casey McQuiston's One Last Stop is a magical, sexy, big-hearted romance where the impossible becomes possible as August does everything in her power to save the girl lost in time.
A tiny bit of time-travel wonkiness qualifies One Last Stop as spec-fic – and it being an utter delight qualifies it for this list! This is definitely another one of those books that just makes you glow, and there is a great deal of giggles, and so much queer joy. Yes yes YES!
Horror
Manhunt
by
Gretchen Felker-Martin
Genres:
Horror
,
Queer Protagonists
Representation:
Trans MCs, brown fat MC with chronic pain, nonbinary rep
Goodreads
Y: The Last Man meets The Girl With All the Gifts in Gretchen Felker-Martin's Manhunt, an explosive post-apocalyptic novel that follows trans women and men on a grotesque journey of survival.

Beth and Fran spend their days traveling the ravaged New England coast, hunting feral men and harvesting their organs in a gruesome effort to ensure they'll never face the same fate.

Robbie lives by his gun and one hard-learned motto: other people aren't safe.
After a brutal accident entwines the three of them, this found family of survivors must navigate murderous TERFs, a sociopathic billionaire bunker brat, and awkward relationship dynamics—all while outrunning packs of feral men, and their own demons.
Manhunt is a timely, powerful response to every gender-based apocalypse story that failed to consider the existence of transgender and non-binary people, from a powerful new voice in horror.
Genderpocalypse is a trope I generally stay away from – every instance seems to forget or mess up the existence of nonbinary people – but Manhunt is a genderpocalypse that puts trans people front and centre, and it is gross and vicious and terrifyingly incisive. If you have a strong stomach, it's a must-read!
Leech
by
Hiron Ennes
Genres:
Horror
,
Queer Protagonists
,
Sci Fi
Representation:
Agender MC
Goodreads
In an isolated chateau, as far north as north goes, the baron's doctor has died. The doctor's replacement has a mystery to solve: discovering how the Institute lost track of one of its many bodies.

For hundreds of years the Interprovincial Medical Institute has grown by taking root in young minds and shaping them into doctors, replacing every human practitioner of medicine. The Institute is here to help humanity, to cure and to cut, to cradle and protect the species from the apocalyptic horrors their ancestors unleashed.

In the frozen north, the Institute's body will discover a competitor for its rung at the top of the evolutionary ladder. A parasite is spreading through the baron's castle, already a dark pit of secrets, lies, violence, and fear. The two will make war on the battlefield of the body. Whichever wins, humanity will lose again.'
Gothic post-apocalyptic, anyone??? With a parasitic hivemind and Definitely Not Haunted manor house and monsters in the ice? Body horror galore, but with mind-fuckery, you know? And crisp, elegant prose that sneaks up on you.
Trigger warning: View Spoiler »somewhat graphic references to sexual abuse of a child. « Hide Spoiler
Hell Followed with Us
by
Andrew Joseph White
Genres:
Horror
,
Queer Protagonists
,
Sci Fi
Representation:
Achillean trans MC, achillean autistic love interest, QBIPOC secondary cast
Goodreads
Sixteen-year-old trans boy Benji is on the run from the cult that raised him—the fundamentalist sect that unleashed Armageddon and decimated the world's population. Desperately, he searches for a place where the cult can't get their hands on him, or more importantly, on the bioweapon they infected him with.

But when cornered by monsters born from the destruction, Benji is rescued by a group of teens from the local Acheson LGBTQ+ Center, affectionately known as the ALC. The ALC's leader, Nick, is gorgeous, autistic, and a deadly shot, and he knows Benji's darkest secret: the cult's bioweapon is mutating him into a monster deadly enough to wipe humanity from the earth once and for all.

Still, Nick offers Benji shelter among his ragtag group of queer teens, as long as Benji can control the monster and use its power to defend the ALC. Eager to belong, Benji accepts Nick's terms…until he discovers the ALC's mysterious leader has a hidden agenda, and more than a few secrets of his own.
Body-horror plus religious trauma plus apocalypse??? This is brilliant in its use of religious imagery, and absolutely brutally merciless in the way it embraces, and glories in, monstrousness. Very much you want a monster? i'll give you a monster vibes!
Tell Me I'm Worthless
by
Alison Rumfitt
Genres:
Horror
,
Queer Protagonists
Representation:
Trans MC, brown sapphic MC
Goodreads
Three years ago, Alice spent one night in an abandoned house with her friends Ila and Hannah. Since then, things have not been going well. Alice is living a haunted existence, selling videos of herself cleaning for money, going to parties she hates, drinking herself to sleep. She hasn't spoken to Ila since they went into the House. She hasn't seen Hannah either.

Memories of that night torment her mind and her flesh, but when Ila asks her to return to the House, past the KEEP OUT sign, over the sick earth where teenagers dare each other to venture, she knows she must go.

Together Alice and Ila must face the horrifying occurrences that happened there, must pull themselves apart from the inside out, put their differences aside, and try to rescue Hannah, who the House has chosen to make its own.

Cutting, disruptive, and darkly funny, Tell Me I'm Worthless is a vital work of trans fiction that confronts both supernatural and real-world horrors as it examines the devastating effects of trauma and the way fascism makes us destroy ourselves and each other.
It's not often that I find Horror unputdownable – but Tell Me I'm Worthless is unputdownable; even as the very worst things were happening, I couldn't tear my eyes away from the page. It's amazing and twisted and so so so fucked-up, and, ahem, I loved it.
Summer Sons
by
Lee Mandelo
Genres:
Horror
,
Queer Protagonists
Representation:
Spoilers!
Goodreads
Lee Mandelo's debut Summer Sons is a sweltering, queer Southern Gothic that crosses Appalachian street racing with academic intrigue, all haunted by a hungry ghost.

Andrew and Eddie did everything together, best friends bonded more deeply than brothers, until Eddie left Andrew behind to start his graduate program at Vanderbilt. Six months later, only days before Andrew was to join him in Nashville, Eddie dies of an apparent suicide. He leaves Andrew a horrible inheritance: a roommate he doesn't know, friends he never asked for, and a gruesome phantom that hungers for him.

As Andrew searches for the truth of Eddie's death, he uncovers the lies and secrets left behind by the person he trusted most, discovering a family history soaked in blood and death. Whirling between the backstabbing academic world where Eddie spent his days and the circle of hot boys, fast cars, and hard drugs that ruled Eddie's nights, the walls Andrew has built against the world begin to crumble.

And there is something awful lurking, waiting for those walls to fall.
I personally didn't find this super horrifying, but I think supernatural horror is where it's shelved, more or less? This is…rich and slow and creeping, untangling toxic masculinity and (maybe-even-more?)toxic academia, with hauntings and possession and razor-sharp wanting. *chef's kiss*
The Wolf Among the Wild Hunt
by
Merc Fenn Wolfmoor
Genres:
Horror
,
Queer Protagonists
Representation:
Acearo MC, acoaro secondary character, queerplatonic partners, queernorm world
Goodreads
Skythulf wants to live. Raised in the fight pits, trained to kill or be killed, he yearns for freedom that's out of reach. He's a scythewulf: a wolf-shifter considered neither fully man nor beast, his life worth nothing to his keepers…until Brennus, knight-champion of Saorlland, rescues him from certain death and offers him a new life.

When he mistakenly kills a corrupted nun, Skythulf has one chance to redeem himself and restore his honor. He must run with the Wild Hunt: an age-old trial of blood and courage, where every step hides peril and carnage. If he survives, he will be pardoned. If he fails, Brennus will die brutally at his side.

Few have ever returned from the fae-haunted land, where horrors unnamed dwell beside the enchanted and the damned. There is no rest, no relent, and no mercy.

In the Wild Hunt, you run or you die.
Wolf Among the Wild Hunt straight-up gave me nightmares, and I still want to be sick when I remember A Certain Scene…but gods, it's beautiful too. The characters and the worldbuilding and how do you make a novella pack so much of a punch?!
Absolutely do NOT attempt to read while preparing or eating food. Trust me!
(Wolfmoor has also written a ton of gorgeous SFF short story collections that are not Horror, and I do recommend those as well, for the record!)
With a Vengeance
by
Freydís Moon
Genres:
Horror
,
Queer Protagonists
,
Contemporary or Urban Fantasy
Representation:
Nonbinary latine MC, brown pansexual love interest
Goodreads
Kye Lovato left their hometown in search of a better future, but when their estranged mother passes away, they return to their parish to settle her affairs. Even though Kye escaped their traumatic past, being back in swampy Madison, Louisiana only worsens their debilitating depression, increases their dissociative episodes, and intensifies the intrusive voice plaguing their every thought.

The moment Kye steps foot into their childhood home, they know something is wrong. That night, they come face to face with the shadowy presence driving them mad: the handsome demon duke, Eli, who offers them an irresistible deal. In exchange for their soul, Eli will give them pain, pleasure, and power.

Kye set a path for themself—live fast, die young—and Eli seems like the perfect exit route. With nothing to lose, they agree.

But after an impromptu visit from a local ICE agent, Kye forms an unlikely friendship with their mother's bookkeeper and stumbles into an insidious mystery surrounding their family's homegrown alebrije business. Met with ghosts, displaced employees, and a garage filled with unfinished artwork, Kye can't help but wonder. . . What was their mother hiding? And why is a rogue officer interested in Lovato Alebrijes?

Kye is possessed, unkempt, and chasing death, but as stubborn as they are, they're the only person left alive who can resurrect the family business and carry the Lovato legacy, and their only ally is the demon possessing them.
Moon has written three amazing books at this point, and I encourage you to check them all out, but perhaps especially this very yummy, dark paranormal erotic novella that plays with demonic possession and revenge and getting to murder racists!
The Merry Spinster: Tales of Everyday Horror
by
Daniel M. Lavery
Genres:
Horror
,
Queer Protagonists
Representation:
Assorted queer cast
Goodreads
From Daniel M. Lavery comes a collection of darkly mischievous stories based on classic fairy tales. Adapted from his beloved "Children's Stories Made Horrific" series, The Merry Spinster takes up the trademark wit that endeared Lavery to readers of both The Toast and his best-selling debut Texts from Jane Eyre. The feature become among the most popular on the site, with each entry bringing in tens of thousands of views, as the stories proved a perfect vehicle for Lavery's eye for deconstruction and destabilization. Sinister and inviting, familiar and alien all at the same time, The Merry Spinster updates traditional children's stories and fairy tales with elements of psychological horror, emotional clarity, and a keen sense of feminist mischief.

Readers of The Toast will instantly recognize Lavery's boisterous good humor and uber-nerd swagger: those new to Lavery's oeuvre will delight in his unique spin on fiction, where something a bit mischievous and unsettling is always at work just beneath the surface.

Unfalteringly faithful to its beloved source material, The Merry Spinster also illuminates the unsuspected, and frequently, alarming emotional complexities at play in the stories we tell ourselves, and each other, as we tuck ourselves in for the night.
Bedtime will never be the same.

The daughter cells --The thankless child --Fear not: an incident log --The six boy-coffins --The rabbit --The merry spinster --The wedding party --Some of us had been threatening our friend Mr.Toad --Cast your bread upon the waters --The frog's princess --Good fences make good neighbors
This collection scared the everloving crap out of me; expect brutal endings and nightmare-fuel imagery, wrapped in elegant prose! (Thinking about this book still makes me flinch. I AM NOT KIDDING EVEN A LITTLE!)
I hope you found many new reads to enjoy, and feel free to leave your own recs in the comments!
Header art by Kaenith!
Related Posts