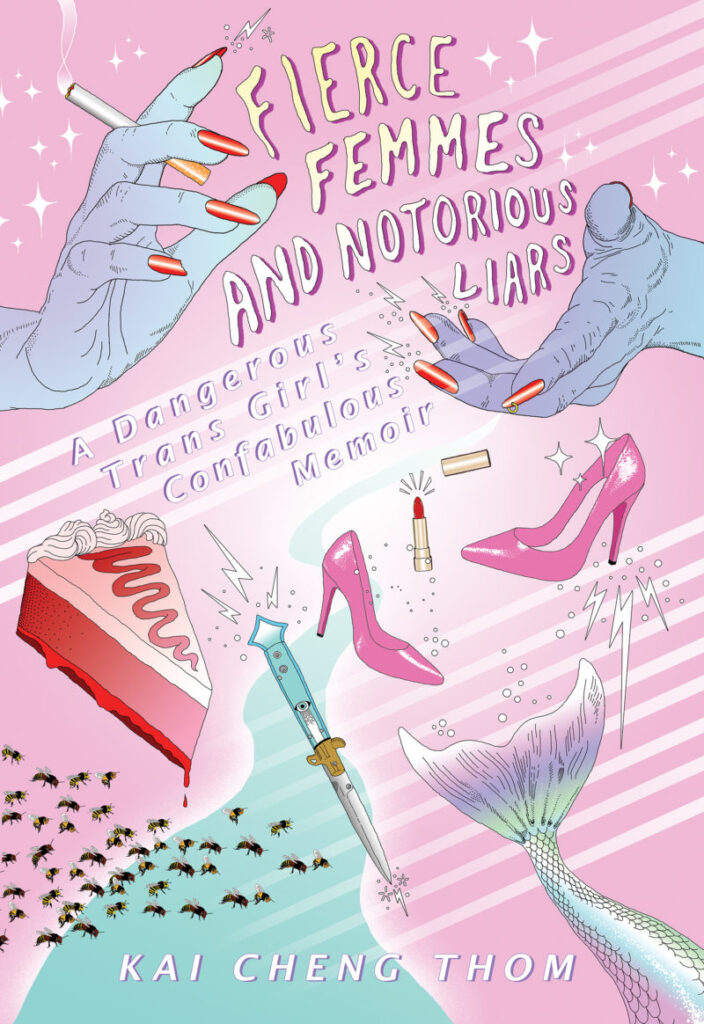 Fierce Femmes and Notorious Liars: A Dangerous Trans Girl's Confabulous Memoir
by
Kai Cheng Thom
Genres:
Queer Protagonists
,
Magical Realism
Representation:
Chinese-American trans MC, trans cast of colour, secondary F/F
PoV:
1st person, present and past tense
ISBN:
9780994047168
Goodreads
Fierce Femmes and Notorious Liars: A Dangerous Trans Girl's Confabulous Memoir by Kai Cheng Thom is the highly sensational, ultra-exciting, sort-of true coming-of-age story of a young Asian trans girl, pathological liar, and kung-fu expert who runs away from her parents' abusive home in a rainy city called Gloom. Striking off on her own, she finds her true family in a group of larger-than-life trans femmes who live in a mysterious pleasure district known only as the Street of Miracles. Under the wings of this fierce and fabulous flock, Dearly blossoms into the woman she has always dreamed of being, with a little help from the unscrupulous Doctor Crocodile. When one of their number is brutally murdered, the protagonist joins her sisters in forming a vigilante gang to fight back against the transphobes, violent johns, and cops that stalk the Street of Miracles. But when things go terribly wrong, she must find the truth within herself in order to stop the violence and discover what it really means to grow up and find your family.
I received this book for free from the publisher. This does not affect my opinion of the book or the content of my review.
Highlights
~ghosts are a girl's best friend
~heels are a girl's best weapon
~forgiveness is cake
~fight for your family
~love yourself
This is the story of how I became a dangerous girl and the greatest escape artist in the world.
I spent years waiting to read this book – and it was so worth it!
Fierce Femmes and Notorious Liars is a kind of fairytale, where mermaids and ghosts are just as real as trans girls. Putting them side by side seems as pointed as it is delightful; this is a book that says trans women are as magical as mermaids, and far more real than ghosts. The ladies of the Street of Miracles are not stereotypes or sex objects; they walk among myths, but are as human as me and you – something not everyone always remembers, or chooses to acknowledge.
West of the ocean and east of the wind, there is place they call the city of Smoke and Lights.
Thom has written a beautiful fantasy, but it's not a glamourisation of how hard it is to be a trans woman, particularly a trans woman of colour. This isn't that kind of fairytale. But neither is it as dark as the original Grimm tales, nor is it the magical horror of Angela Slatter. It's brutally honest, but there's a sweetness and a softness to it too; a celebration of community and sisterhood, gilded with witches and magic fountains and Kung Fu.
In the City of Smoke and Lights, they say, you can be everything you dreamed of. Especially if you are prone to nightmares, deep and wild.
And Thom has such an incredible way with words – I lost count of how many lines I highlighted on my ereader, sentences like golden fishhooks getting under my skin and catching me by the ribs. Many are simply beautiful, but even more were wrenching, breathtaking gut-punches that just… I won't say I understand how it feels to be a trans woman, because I don't, but Fierce Femmes hits as hard as a bedazzled knuckleduster.
my hair is dreaming itself
That line – 'my hair is dreaming itself' – is part of a poem the MC writes later in the book, and it's so moving and powerful. The image of a trans woman's hair dreaming itself into being…because of course, long hair is typically a sign of femininity, which makes it very, very meaningful for a trans person who has always had to keep their hair short.
Taller in my heels, I am closer to some dangerous heaven.
Thom packs so much power into so few words; her writing is concise and concentrated. Fierce Femmes is short, but to make it longer would have been to dilute it. It's exactly as long as it should be.
They are a pantheon of goddesses
Dangerous trans women, hot as blue stars.
Fierce Femmes is a book about being trans and what that means, about community and sisterhood, dreams and ghosts and the mythologies of the streets. It's about fighting back against hate, standing with your sisters, using lipstick to lacerate. It's about bees and mermaids and rejecting heteronormative ideals, finding yourself and refusing an ending.
It's utterly glorious, and you should read it.
Related Posts