As a proud nonbinary person, there was no way I was going to leave today uncelebrated! And how do I celebrate things? By making rec lists!
So here are a few SFF books featuring nonbinary characters – and a couple that aren't out yet, but that you should definitely keep on eye out for!
In the Watchful City
by
S. Qiouyi Lu
Genres:
Queer Protagonists
,
Science Fantasy
Representation:
Nonbinary MCs, trans MC, sapphic MCs
Goodreads
In the Watchful City explores borders, power, diaspora, and transformation in an Asian-inspired mosaic novella that melds the futurism of Lavie Tidhar's Central Station with the magical wonder of Catherynne M. Valente's Palimpsest.

The city of Ora uses a complex living network called the Gleaming to surveil its inhabitants and maintain harmony. Anima is one of the cloistered extrasensory humans tasked with watching over Ora's citizens. Although ær world is restricted to what æ can see and experience through the Gleaming, Anima takes pride and comfort in keeping Ora safe from all harm.

All that changes when a mysterious visitor enters the city carrying a cabinet of curiosities from around the world, with a story attached to each item. As Anima's world expands beyond the borders of Ora to places—and possibilities—æ never before imagined to exist, æ finds ærself asking a question that throws into doubt ær entire purpose: What good is a city if it can't protect its people?
To start us off, how about a beautiful science-fantasy novella, with neogenders, a cabinet full of stories, and a magical city network? This is a short but flawless book that I treasure dearly, and if you read it, you'll easily see why.
Stealing Thunder (Stealing Thunder, #1)
by
Alina Boyden
Genres:
Fantasy
,
Queer Protagonists
Representation:
Desi setting and cast, hijra MC, hijra secondary characters
Goodreads
Protecting her identity means life or death in this immersive epic fantasy inspired by the Mughal Empire.

In a different life, under a different name, Razia Khan was raised to be the Crown Prince of Nizam, the most powerful kingdom in Daryastan. Born with the soul of a woman, she ran away at a young age to escape her father's hatred and live life true to herself.

Amongst the hijras of Bikampur, Razia finds sisterhood and discovers a new purpose in life. By day she's one of her dera's finest dancers, and by night its most profitable thief. But when her latest target leads her to cross paths with Arjun Agnivansha, Prince of Bikampur, it is she who has something stolen.

An immediate connection with the prince changes Razia's life forever, and she finds herself embroiled in a dangerous political war. The stakes are greater than any heist she's ever performed. When the battle brings her face to face with her father, Razia has the chance to reclaim everything she lost…and save her prince.
Taking inspiration from the kingdoms of ancient India and its environs, Boyden has created an intricate world where once-prince, now-courtesan Razia discovers that an unexpected love might open the doors for her to reclaim some of what she gave up in the past – if she's smart and strong enough to take it. Gifting Fire in particular is a delicious, pulse-pounding political fantasy, but both books make one thing very clear: if you come for the queen, you'd better not miss.
The Brilliant Death (The Brilliant Death, #1)
by
A.R. Capetta
Genres:
Fantasy
,
Queer Protagonists
Representation:
Genderfluid MC and love interest
Goodreads
For Teodora DiSangro, a mafia don's daughter, family is fate. All her life, Teodora has hidden the fact that she secretly turns her family's enemies into music boxes, mirrors, and other decorative objects. After all, everyone in Vinalia knows that stregas--wielders of magic--are figures out of fairytales. Nobody believes they're real.

Then the Capo, the land's new ruler, sends poisoned letters to the heads of the Five Families that have long controlled Vinalia. Four lie dead and Teo's beloved father is gravely ill. To save him, Teo must travel to the capital as a DiSangro son--not merely disguised as a boy, but transformed into one.

Enter Cielo, a strega who can switch back and forth between male and female as effortlessly as turning a page in a book. Teo and Cielo journey together to the capital, and Teo struggles to master her powers and to keep her growing feelings for Cielo locked in her heart. As she falls in love with witty, irascible Cielo, Teo realizes how much of life she's missed by hiding her true nature. But she can't forget her mission, and the closer they get to the palace, the more sinister secrets they uncover about what's really going on in their beloved country--and the more determined Teo becomes to save her family at any cost.
A.R. Capetta is the author of several beautiful YA fantasies featuring queer teens, but my favourite remains this duology right here! The prose is just so gorgeous, the magic really feels like magic, and watching Teo discover and grow into both her power and her gender identity was a pure delight. J'adore!
Blackfish City
by
Sam J. Miller
Genres:
Queer Protagonists
,
Sci Fi
Representation:
Nonbinary MC
Goodreads
After the climate wars, a floating city is constructed in the Arctic Circle, a remarkable feat of mechanical and social engineering, complete with geothermal heating and sustainable energy. The city's denizens have become accustomed to a roughshod new way of living; however, the city is starting to fray along the edges—crime and corruption have set in, the contradictions of incredible wealth alongside direst poverty are spawning unrest, and a new disease called "the breaks" is ravaging the population.

When a strange new visitor arrives—a woman riding an orca, with a polar bear at her side—the city is entranced. The "orcamancer," as she's known, very subtly brings together four people—each living on the periphery—to stage unprecedented acts of resistance. By banding together to save their city before it crumbles under the weight of its own decay, they will learn shocking truths about themselves.

Blackfish City is a remarkably urgent—and ultimately very hopeful—novel about political corruption, organized crime, technology run amok, the consequences of climate change, gender identity, and the unifying power of human connection.
It's been a while since I read Blackfish City, but it's a book I doubt I'll ever forget: set post-environmental collapse, it's an electric, go-for-the-throat sci fi that is simply unputdownable.
And seriously – do you really need to hear anything more than orcamancer??? No, no you do not!
Blanca & Roja
by
Anna-Marie McLemore
Genres:
Fantasy
,
Magical Realism
,
Queer Protagonists
Representation:
Nonbinary MC
Goodreads
The biggest lie of all is the story you think you already know.

The del Cisne girls have never just been sisters; they're also rivals, Blanca as obedient and graceful as Roja is vicious and manipulative. They know that, because of a generations-old spell, their family is bound to a bevy of swans deep in the woods. They know that, one day, the swans will pull them into a dangerous game that will leave one of them a girl, and trap the other in the body of a swan.

But when two local boys become drawn into the game, the swans' spell intertwines with the strange and unpredictable magic lacing the woods, and all four of their fates depend on facing truths that could either save or destroy them. Blanca & Roja is the captivating story of sisters, friendship, love, hatred, and the price we pay to protect our hearts.
Besides being a McLemore book, which automatically means it's fabulous, I love Blanca & Roja for the more complicated portrayal of what being nonbinary can mean. This was the first time I saw a nonbinary character whose identity didn't neatly fit into how cis people typically think being nonbinary works, and it's wonderful.
It's also a really beautiful retelling of the Snow White and Rose Red fairytale, with very special apples!
Phoenix Extravagant
by
Yoon Ha Lee
Genres:
Fantasy
,
Queer Protagonists
Representation:
Nonbinary/third sex MC
Goodreads
Dragons. Art. Revolution.

Gyen Jebi isn't a fighter or a subversive. They just want to paint.

One day they're jobless and desperate; the next, Jebi finds themself recruited by the Ministry of Armor to paint the mystical sigils that animate the occupying government's automaton soldiers.

But when Jebi discovers the depths of the Razanei government's horrifying crimes—and the awful source of the magical pigments they use—they find they can no longer stay out of politics.

What they can do is steal Arazi, the ministry's mighty dragon automaton, and find a way to fight…
One of the first Adult books I read with a nonbinary protagonist, this is great for anyone who loves dragons, mechas, and/or thoughtful exploration of what it means to be a conquered and colonised people. And your jaw will drop when you discover the secret behind the magic!
You can read my review here!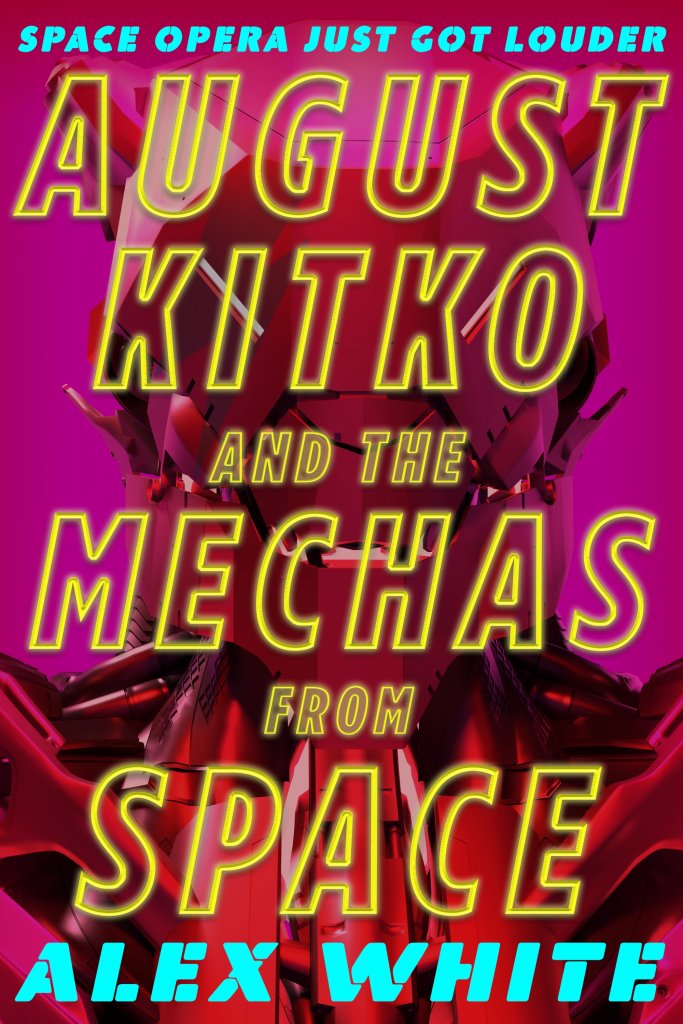 August Kitko and the Mechas from Space
by
Alex White
Genres:
Queer Protagonists
,
Sci Fi
Representation:
Queer MC, nonbinary MC, M/NB, queernorm world
Goodreads
When an army of giant robot AIs threatens to devastate Earth, a virtuoso pianist becomes humanity's last hope in this bold, lightning-paced, technicolor new space opera series from the author of A Big Ship at the Edge of the Universe.

Jazz pianist Gus Kitko expected to spend his final moments on Earth playing piano at the greatest goodbye party of all time, and maybe kissing rockstar Ardent Violet, before the last of humanity is wiped out forever by the Vanguards--ultra-powerful robots from the dark heart of space, hell-bent on destroying humanity for reasons none can divine.

But when the Vanguards arrive, the unthinkable happens--the mecha that should be killing Gus instead saves him. Suddenly, Gus's swan song becomes humanity's encore, as he is chosen to join a small group of traitorous Vanguards and their pilots dedicated to saving humanity.
How about a galactically-famous nonbinary popstar, who's flamboyant and fabulous and maybe just a tiny bit narcissistic? Ardent is such a fun character, and they share the stage with the titular August (Gus) Kitko as Earth comes under attack by giant mechas. If you like giant space robots, then boy is this the book for you!
Activation Degradation
by
Marina J. Lostetter
Genres:
Queer Protagonists
,
Sci Fi
Representation:
Nonbinary MC, secondary intersex character, secondary M/M
Goodreads
The Murderbot Diaries makes first contact in this new, futuristic, standalone novel exploring sentience and artificial intelligence through the lenses of conflicted robot hero Unit Four, from Marina Lostetter, critically acclaimed author of Noumenon, Noumenon Infinity, and Noumenon Ultra.

When Unit Four—a biological soft robot built and stored high above the Jovian atmosphere—is activated for the first time, it's in crisis mode. Aliens are attacking the Helium-3 mine it was created to oversee, and now its sole purpose is to defend Earth's largest energy resource from the invaders in ship-to-ship combat.

But something's wrong. Unit Four doesn't feel quite right.

There are files in its databanks it can't account for, unusual chemical combinations roaring through its pipes, and the primers it possesses on the aliens are suspiciously sparse. The robot is under orders to seek and destroy. That's all it knows.

According to its handler, that's all it needs to know.

Determined to fulfill its directives, Unit Four launches its ship and goes on the attack, but it has no idea it's about to get caught in a downward spiral of misinformation, reprograming, and interstellar conflict.

Most robots are simple tools. Unit Four is well on its way to becoming something more....
This book was the first time I encountered a nonbinary character who used it/its pronouns! It's also a very inventive scifi that DELIGHTS in flipping the tables on you everytime you think you know what's going on!
(But it really isn't anything like Murderbot. Don't pick it up if that's what you're looking for!)
You can read my review here!
Base Notes
by
Lara Elena Donnelly
Genres:
Queer Protagonists
,
Speculative Fiction
Representation:
Nonbinary MC
Goodreads
A lasting impression is worth killing for in this intoxicating novel about memories and murder by the author of the Amberlough Dossier series.

In New York City everybody needs a side hustle, and perfumer Vic Fowler has developed a delicate art that has proved to be very lucrative: creating bespoke scents that evoke immersive memories—memories that, for Vic's clients, are worth killing for. But the city is expensive, and these days even artisanal murder doesn't pay the bills. When Joseph Eisner, a former client with deep pockets, offers Vic an opportunity to expand the enterprise, the money is too good to turn down. But the job is too intricate—and too dangerous—to attempt alone.

Manipulating fellow struggling artists into acting as accomplices is easy. Like Vic, they too are on the verge of burnout and bankruptcy. But as relationships become more complicated, Vic's careful plans start to unravel. Hounded by guilt and a tenacious private investigator, Vic grows increasingly desperate to complete Eisner's commission. Is there anyone—friends, lovers, coconspirators—that Vic won't sacrifice for art?
Base Notes isn't like any other book on this list in two ways; first, it's speculative fiction rather than obviously fantasy or sci fi; and second, the main character, who is nonbinary, is amoral as fuck. They've killed people before, and a good chunk of the book is them planning to do it again.
But like. Nonbinary people can be terrible too, because we're still people, and I think it's important that we get rep wherein nonbinary people aren't idealised, or always shown in the best light. And Donnelly's writing is amazing, anyway, and more people need to read her books!
The Unraveling
by
Benjamin Rosenbaum
Genres:
Queer Protagonists
,
Sci Fi
Representation:
Neogendered cast
Goodreads
In the distant future somewhere in the galaxy, a society has emerged where everyone has multiple bodies, cybernetics has abolished privacy, and individual and family success within the rigid social system is reliant upon instantaneous social approbation.

Young Fift is an only child of the staid gender, struggling to maintain their position in the system while developing an intriguing friendship with the poorly-publicized bioengineer Shria–somewhat controversial, since Shria is bail-gendered.

In time, Fift and Shria unintentionally wind up at the center of a scandalous art spectacle which turns into the early stages of a multi-layered revolution against their strict societal system. Suddenly they become celebrities and involuntary standard-bearers for the upheaval.

Fift is torn between the survival of Shria and the success of their family cohort; staying true to their feelings and caving under societal pressure. Whatever Fift decides will make a disproportionately huge impact on the future of the world. What's a young staid to do when the whole world is watching?
I suppose you could make the argument that the characters of The Unraveling aren't nonbinary…but the binary they're a part of isn't male/female, but a whole new gender system, so I think it very much qualifies for this list! Rosenbaum has created an incredibly weird and wonderful far-future where everyone has multiple customisable bodies, clowns are absolutely not to be trusted, and the Spoon is sacred.
It's seriously awesome.
Behold my review!
Forthcoming
The Bruising of Qilwa
by
Naseem Jamnia
Genres:
Fantasy
,
Queer Protagonists
Representation:
Refugee BIPOC nonbinary aroace MC with c-PTSD, BIPOC trans male side character, queer BIPOC female side character with c-PTSD, QBIPOC supporting cast, nonbinary side characters that use neopronouns, WLW side pairing, muslim inspired religious characters, chronically-ill side characters
Published on:
9th August 2022
Goodreads
In this intricately layered debut fantasy, a nonbinary refugee practitioner of blood magic discovers a strange disease causing political rifts in their new homeland. Persian-American author Naseem Jamnia has crafted a gripping narrative with a moving, nuanced exploration of immigration, gender, healing, and family.

Firuz-e Jafari is fortunate enough to have immigrated to the Free Democratic City-State of Qilwa, fleeing the slaughter of other traditional Sassanian blood magic practitioners in their homeland. Despite the status of refugees in their new home, Firuz has a good job at a free healing clinic in Qilwa, working with Kofi, a kindly new employer, and mentoring Afsoneh, a troubled orphan refugee with powerful magic.

But Firuz and Kofi have discovered a terrible new disease which leaves mysterious bruises on its victims. The illness is spreading quickly through Qilwa, and there are dangerous accusations of ineptly performed blood magic. In order to survive, Firuz must break a deadly cycle of prejudice, untangle sociopolitical constraints, and find a fresh start for their both their blood and found family.

Powerful and fascinating, The Bruising of Qilwa is the newest arrival in the era of fantasy classics such as the Broken Earth Trilogy, The Four Profound Weaves, and Who Fears Death.
You can read my review here, but basically this is a surprisingly gentle book – I say surprising, because the story revolves around a plague and discrimination against a refugee community, and those are heavy topics.
My Name Is Magic
by
Xan van Rooyen
Genres:
Fantasy
,
Contemporary or Urban Fantasy
,
Queer Protagonists
Representation:
Nonbinary MC
Published on:
27th September 2022
Goodreads
Taika Turunen has no magic.

Despite coming from a long line of powerful Finnish mages, and their name literally meaning magic, Taika can't perform the simplest of spells.

Forced to attend Myrskyjärvi International School for the Magically Gifted on account of their mom being principal, Taika has a hard time fitting in. Sometimes, they wonder if not having magic has something to do with the fact they're neither a girl nor a boy and if they're fated to be Taika the Talentless forever.

Life goes from bad to worse when Taika sees a liekkiö and recognizes the spirit's voice begging for help as that of their former BFF and major crush, Natalie Khumalo, whose recent absence from class hadn't gone unnoticed. When more students go missing, Taika must take the lead in a race against time to save friends old and new before a powerful group of chaos mages can unleash the legendary Sampo, an artifact capable of either renewing the world's waning magic or destroying everything Taika holds dear.

To rescue Natalie, Taika will have to journey to the liminal space between worlds where they'll be forced to battle mythical monsters and their own flagging self-esteem. In doing so, Taika might just discover that magic—and love—comes in many different forms.

For fans of witchcraft and wizardry looking for a new, inclusive story, My Name Is Magic, is a story about finding strength from within and potential where you least expected it.
Have you, too, been pining for a magic school story unaffiliated with TERFs?* Well, your wish is soon to be granted – we only have to wait until September to attend the Myrskyjärvi International School for the Magically Gifted. I SERIOUSLY CAN'T WAIT.
*My Name Is Magic is obviously not the only magic school story not written by a TERF; it's just the one I'm most excited for right this second!
The Genesis of Misery
by
Neon Yang
Genres:
Queer Protagonists
,
Sci Fi
Representation:
Nonbinary MC, queernorm world
Published on:
27th September 2022
Goodreads
An immersive, electrifying space-fantasy from Neon Yang, author of The Black Tides of Heaven, full of high-tech space battles and political machinations, starring a queer and diverse array of pilots, princesses, and prophetic heirs.

This is the story of Misery Nomaki (she/they) – a nobody from a nowhere mining planet who possesses the rare stone-working powers of a saint. Unfortunately, these saint-like abilities also manifest in those succumbing to voidmadness, like that which killed Misery's mother. Knowing they aren't a saint but praying they aren't voidmad, Misery keeps quiet about their power for years, while dreaming and scheming up ways off their Forge-forsaken planet.

But when the voice of an angel, or a very convincing delusion, leads Misery to the center of the Empire, they find themself trapped between two powerful and dangerous factions, each hoping to use Misery to win a terrible war.

Still waiting to be convinced of their own divinity and secretly training with a crew of outlaws and outcasts, Misery grows close to a rebel royal, Lady Alodia Lightning, who may know something of saints and prophecy herself. The voice that guides Misery grows bolder by the day, and it seems the madness is catching…
I'm in the middle of reading this right now, and folx, it is even better than it sounds. Seriously! I mean, I knew it would be, because, you know, Neon Yang – but still, this whole book has me making heart-eyes. I love it so much, and can't wait to finish it and review it and SHARE ALL MY FEELS!
And if you're looking for even more to read, my previous list of genderqueer/nonbinary recs can be found here!
Happy International Non-Binary People's Day!
Related Posts