Top Ten Tuesday was created by The Broke and the Bookish and is now hosted by Jana at That Artsy Reader Girl. Check out upcoming Top Ten themes on Jana's blog!
Today's theme is Books on My Fall 2021 To-read List. I've lived in several countries that defined Fall differently, so for the purposes of this post I'm working with the Fall = Sept+Oct+Nov model. Also, some of the books that should be on this list aren't, because I've already read ARCs of them, like Summer Sons and The Last Graduate (click the titles to read my reviews), but they should still be on your Fall tbr!!!
Now with all that said: my list!
The Not-Yet-Released
The Bone Ship's Wake (The Tide Child, #3)
by
R.J. Barker
Genres:
Fantasy
,
Queer Protagonists
Representation:
Achillean MC, minor nonbinary character, queernorm world
Published on:
28th September 2021
Goodreads
Discover a brilliantly imagined epic fantasy of honor, glory, and warfare in this action-packed conclusion to the David Gemmell Award-nominated trilogy.

Joron Twiner's dreams of freedom lay shattered. His Shipwife is gone and all he has left is revenge. Leading the black fleet from the deck of Tide Child, he takes every opportunity to hurt the Hundred Isles he is given. But his time is limited.

His fleet is shrinking, the Keyshan's Rot is running through his body, and he hiding from a prophecy that says he and the avian sorcerer, the Windseer will end the entire world.

But the Sea Dragons have returned, a miracle in itself, and who is to say that if you can have one miracle, there cannot be another?
I haven't reviewed the first two books of this trilogy because frankly, I have no idea how to put that much awesome into words. But I am very much dying to get my hands on the last book – even if I desperately don't want the story to be over!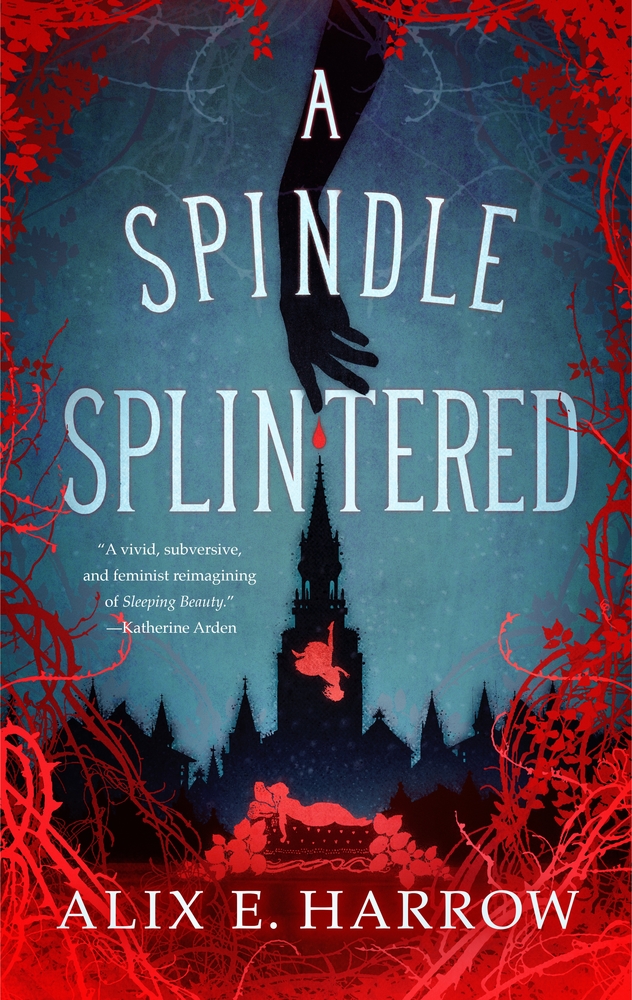 A Spindle Splintered (Fractured Fables, #1)
by
Alix E. Harrow
Genres:
Fantasy
,
Portal Fantasy
Representation:
Queer MC, secondary F/F
Published on:
5th October 2021
Goodreads
USA Today bestselling author Alix E. Harrow's A Spindle Splintered brings her patented charm to a new version of a classic story.

It's Zinnia Gray's twenty-first birthday, which is extra-special because it's the last birthday she'll ever have. When she was young, an industrial accident left Zinnia with a rare condition. Not much is known about her illness, just that no one has lived past twenty-one.

Her best friend Charm is intent on making Zinnia's last birthday special with a full sleeping beauty experience, complete with a tower and a spinning wheel. But when Zinnia pricks her finger, something strange and unexpected happens, and she finds herself falling through worlds, with another sleeping beauty, just as desperate to escape her fate.
The Ten Thousand Doors of January and Once and Future Witches are both among my all-time faves, so of course I'm pouncing on Harrow's next work! I still remember when the pitch went public as Sleeping Beauty meets the Spiderverse and I have not grown any less excited since that time!
Comfort Me With Apples
by
Catherynne M. Valente
Published on:
26th October 2021
Goodreads
A terrifying new thriller from bestseller Catherynne M. Valente, for fans of Gone Girl and Spinning Silver

Sophia was made for him. Her perfect husband. She can feel it in her bones. He is perfect. Their home together in Arcadia Gardens is perfect. Everything is perfect.

It's just that he's away so much. So often. He works so hard. She misses him. And he misses her. He says he does, so it must be true. He is the perfect husband and everything is perfect.

But sometimes Sophia wonders about things. Strange things. Dark things. The look on her husband's face when he comes back from a long business trip. The questions he will not answer. The locked basement she is never allowed to enter. And whenever she asks the neighbors, they can't quite meet her gaze...

But everything is perfect. Isn't it?
Does this sound like something I'd normally pick up? No. Am I going to read it anyway? Hells yes. It's Catherynne Valente, I will read anything and everything she writes and I will enjoy it.
A Marvellous Light (The Last Binding, #1)
by
Freya Marske
Genres:
Fantasy
,
Historical Fantasy
,
Queer Protagonists
Representation:
M/M
Published on:
2nd November 2021
Goodreads
Robin Blyth has more than enough bother in his life. He's struggling to be a good older brother, a responsible employer, and the harried baronet of a seat gutted by his late parents' excesses. When an administrative mistake sees him named the civil service liaison to a hidden magical society, he discovers what's been operating beneath the unextraordinary reality he's always known.
Now Robin must contend with the beauty and danger of magic, an excruciating deadly curse, and the alarming visions of the future that come with it--not to mention Edwin Courcey, his cold and prickly counterpart in the magical bureaucracy, who clearly wishes Robin were anyone and anywhere else.

Robin's predecessor has disappeared, and the mystery of what happened to him reveals unsettling truths about the very oldest stories they've been told about the land they live on and what binds it. Thrown together and facing unexpected dangers, Robin and Edwin discover a plot that threatens every magician in the British Isles--and a secret that more than one person has already died to keep.
I mostly distrust much-hyped books, but many trustworthy sources have assured me this is going to be epically wonderful, and now I'm impatient for it to get on my e-reader already!
The Bone Shard Emperor (The Drowning Empire, #2)
by
Andrea Stewart
Genres:
Fantasy
,
Epic Fantasy
,
Queer Protagonists
Representation:
Queernorm world, sapphic MC
Published on:
11th November 2021
Goodreads
The Bone Shard Emperor is the unmissable sequel to The Bone Shard Daughter, one of the biggest fantasy debuts of 2020 - a captivating tale of magic, revolution and mystery, where a young woman's sense of identity will make or break an empire.

The Emperor is Dead. Long live the Emperor.

Lin Sukai finally sits on the throne she won at so much cost, but her struggles are only just beginning. Her people don't trust her. Her political alliances are weak. And in the northeast of the Empire, a rebel army of constructs is gathering, its leader determined to take the throne by force.

Yet an even greater threat is on the horizon, for the Alanga - the powerful magicians of legend - have returned to the Empire. They claim they come in peace, and Lin needs their help to defeat the rebels and restore order.

But can she trust them?
I loved The Bone Shard Daughter, and although I have a few tentative guesses about where this trilogy is going, I'm pretty sure Stewart is still going to surprise and delight me!
The Nightland Express
by
J.M. Lee
Genres:
Fantasy
,
Historical Fantasy
Representation:
Biracial MC, queer rep (specifics unknown)
Published on:
22nd November 2022
Goodreads
In antebellum America, two teens bury their secrets and join the historic Pony Express, and soon discover the mortal world is not the only one on the brink of war.

Young, poor, and orphaned in rural Missouri, Jessamine Murphy frets over her very pregnant sister, not at all sure how to feed their family until the baby is born, let alone after. When Jessamine comes across a recruitment poster reading "Pony Express Special Assignment: St. Joseph, Missouri to California. Two riders wanted. Orphans preferred," her tomboy heart skips a beat: not only for the ample risk wage, but for the adventure and the chance to track down their wayward father in California. Jessamine cuts her hair, dons a pair of pants, and steps into the world as Jesse.

At the Pony Express station, Jesse meets Ben Foley, a quiet but determined boy, so secretive about his origin story there is little doubt it must be turbulent, and they become partners. They are an odd pair—one excitedly navigating the world as a boy for the first time, the other a mixed-race young man trying to defend his freedom—yet their esteem for each other grows as they head west across the United States.

As they encounter mysterious portals that carry them miles in an eyeblink and unusual creatures with uncanny glowing eyes, it becomes clear that this is no normal mission. A second, magical realm exists just below the surface of the mortal one, intertwined since the beginning of time—but the divisive violence of colonization and war are tearing the two worlds apart.

As Ben and Jesse struggle to find themselves, they discover their unlikely alliance may be the only thing that will save them . . . and the creatures and environment of two struggling worlds.
Look, years ago now, this brand-new publishing house, Erewhon Press, announced the first four titles they'd acquired – and I was beyond excited for all four of them. The Nightland Express was one of those titles, and I'm overjoyed that I'll finally be able to read it before much longer!
Dark Breakers
by
C.S.E. Cooney
,
Sharon Shinn
,
Brett Massé
Genres:
Fantasy
,
Secondary World Fantasy
Published on:
15th February 2022
Goodreads
NEW FROM WORLD FANTASY AWARD WINNER C. S. E. COONEY

"Welcome to a Gilded Era like you've never before known and will never be able to forget. C. S. E. Cooney's DARK BREAKERS will transfix and transform you, and, should you chance upon its characters in a glittering hallway, you had best be wearing your fanciest moonlight, and be ready to dance. If Titania herself were to commission a book, it would be this one."—Fran Wilde, two-time Nebula Award-winning author of UPDRAFT and RIVERLAND

A young human painter and an ageless gentry queen fall in love over spilled wine—at the risk of his life and her immortality. Pulled into the Veil Between Worlds, two feuding neighbors (and a living statue) get swept up in a brutal war of succession. An investigative reporter infiltrates the Seafall City Laundries to write the exposé of a lifetime, and uncovers secrets she never believed possible. Returning to an oak grove to scatter her husband's ashes, an elderly widow meets an otherworldly friend, who offers her a momentous choice. Two gentry queens of the Valwode plot to hijack a human rocketship and steal the moon out of the sky.

DARK BREAKERS gathers three new and two previously uncollected tales from World Fantasy Award-winning writer C. S. E. Cooney that expand on the thrice-enfolded worlds first introduced in her Locus and World Fantasy award-nominated novella DESDEMONA AND THE DEEP. In her introduction to DARK BREAKERS, Crawford Award-winning author Sharon Shinn advises those who pick up this book to "settle in for a fantastical read" full of "vivid world-building, with layer upon layer of detail; prose so dense and gorgeous you can scoop up the words like handfuls of jewels; a mischievous sense of humor; and a warm and hopeful heart."

"C. S. E. Cooney's prose is like a cake baked by the fairies—beautifully layered, rich and precise, so delicious that it should be devoured with a silver fork. Since you can't eat DARK BREAKERS, I suggest you read it slowly, savoring every slice. And if it gives you strange dreams—well, what did you expect of fairy cake?"—Theodora Goss, World Fantasy and Mythopoeic Award-winning author of The Extraordinary Adventures of the Athena Club series

"DARK BREAKERS is a magnificent parure of novellas and matched stories, a suite of jewelled and velvet tales, delicately linked and ferociously glittering. A baroquely intense confection with a core of typewriters and coal fortunes, DARK BREAKERS is compounded of voluptuous invention and ferocious structural loves—for new romances and old friends, for the works of hands, for mortality and its gifts, and all the possibilities of worlds bleeding, weeping, wandering into each other's arms."—Kathleen Jennings, World Fantasy Award-winning author of FLYAWAY

"Few people create worlds as lavish and sensual as those to spring from Cooney's effervescent imagination. Her writing isn't so much inspirational, but inspiration itself: gentry-magic spun into pages and paragraphs of glittering, fizzing, jaw-dropping beauty."—Cassandra Khaw, British Fantasy Award-nominated author of THE ALL-CONSUMING WORLD
Cooney won my eternal devotion with her collection Bone Swans, and then completely blew my mind with her novella Desdemona and the Deep – which I couldn't not put on my Best SFF of the Decade list. So you can maybe begin to imagine my reaction when I learned we were getting a whole collection of stories set in Desdemona's verse – and then my request for an ARC was approved!!! So YES, this is one of my Fall must-reads.
The Sit-Down-and-Read-Em-Already-Sia
Ember Boys (Flint and Tinder, #1)
by
Gregory Ashe
Genres:
Fantasy
,
Queer Protagonists
Representation:
Bisexual MCs
Published on:
12th August 2020
Goodreads
Emmett Bradley thinks his adventures are over. Together with his friends, he stopped an ancient evil and lived to tell about it. But life as a survivor, even as a survivor of a victory, isn't easy, and when Emmett runs away from Vehpese, Wyoming, he takes a few things with him: a battered ego, a broken heart, and his addictions. He's lucky that Jim Spencer, his former English teacher, happens to have ended up in the same small, coastal town. He's even luckier that Jim is doing everything he can to help Emmett hold himself together.

When Emmett's parents commit him to the psychiatric ward of an infamous hospital, though, Emmett finds himself struggling day to day to remember that the life he's lived—a life with monsters and psychics—is real. Every day, he finds himself a little less certain that he can trust any of his memories.

A chance encounter with a strange girl, though, forces Emmett to confront the possibility that things around him aren't quite what they seem. The hospital may not actually be a hospital. His adventures may not be over. And the ancient evil he stopped in Wyoming might have been only one strand in a larger web.

Then Emmett is attacked by a dead man, and he realizes that he's caught up in a war he doesn't understand. He must hurry to learn the truth about what's going on, and he'll need Jim's help to do it. He just has to convince his old teacher that things between them aren't too complicated already—but first, Emmett will have to convince himself.

Note: Emmett has previously appeared in the Hollow Folk series.
Ember Boys is the first book of a new series set after the events of Ashe's Hollow Folk series. As should be obvious from my review, I adored the Hollow Folk books – but when Ember Boys came out, I didn't immediately start reading because I wanted to reread the HF series first. They're dark books, and it took me a while to be in the right headspace to read them again, but I just finished my reread, so Ember Boys? Is next on my list!
The Cloudship Trader
by
Kate Diamond
Genres:
Fantasy
,
Queer Protagonists
Representation:
Nonbinary MC, queernorm world
Goodreads
While visiting a famed mountaintop market, cloudship flier Miris and nir companion, the Wind spirit Seres, find a merchant selling Star spirits imprisoned inside glass lamps.

And then ney learns that the lamps are only one piece of a cruel plot to capture and enslave Stars, a plot that could spell disaster for the peaceful relationships between people and spirits that have shaped their world for generations.

Joined by the merchant's assistant Belest, a man running from a terrible situation and desperate to mend the harm he unwittingly aided in, Miris and Seres fly north, seeking the source of the lamps so that they can end the practice before it becomes widespread and unstoppable.

On their journey, they visit wondrous places, meet healers and thieves, politicians and priests, make friends both human and not. But if they are to put a stop to the slavers' work, Miris and Belest must first learn to trust each other.
For some no-doubt terrible reason, this kept getting pushed down the tbr pile – but now my baby sis and I are going to buddy-read it! I'm excited.
City of Refuge (The Fifth Sacred Thing Book 3)
by
Starhawk
,
Jessica Perlstein
Genres:
Queer Protagonists
,
Science Fantasy
Representation:
Queer cast, MCs of colour
Goodreads
Every city needs three things: a plaza, a hearth, and a sacred tree...

In the violent, desperate world of 2048, eco-catastrophes and societal breakdown have left the country splintered. Yet amidst the ruins stands a green and flourishing city where four things are sacred—Air, Fire, Water, and Earth. When the ruthless Stewards of the Southlands invade, the people of Califia defeat them using nonviolence and magic. But they'll be back, unless the northerners can liberate the Southlands first.

Healer Madrone struggles to repair the wounds of war and deprivation. Soldier/defector River leads an Army of Liberation to the south. Bird, musician turned guerrilla, longs to return to the fight, but now he's pledged to deeper powers. How can they build a new world when people are so deeply wounded by the old?

Madrone has a dream... Build a city of refuge in the heartland of the enemy.
Even though The Fifth Sacred Thing means the world to me (you can find my review here) I didn't find out that there was a sequel until years after it was released. Then, a bit like with Ember Boys, I wanted to reread the previous book first, and it took me a while.
I'm really, really looking forward to finally sitting down with this one, though.
That's what I've got lined up this Fall! What's on your tbr list?
Related Posts