Doing this tag has started to become tradition – I have way too much fun making pie charts!
HOW MUCH HAVE YOU READ?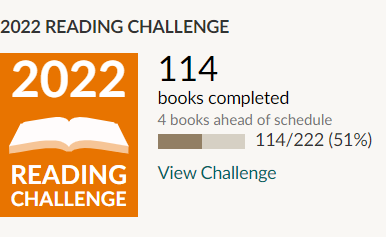 Unlike last year, I'm ahead of schedule with my Goodreads challenge at 114 books! Honestly I'm surprised, because it feels like I've had a lot of bad months, but I guess I've managed to keep reading despite that.
WHAT HAVE YOU BEEN READING?
Surprising absolutely no one, Fantasy continues to dominate my reading. But Sci Fi has doubled its share since this time last year, when it only made up 11% of my reading! LE GASP!
And Other, aka not-spec-fic, has increased too, though only a little; last year it was 5.6%, and now it's inched up to 6.1%.
My DNF rate has stayed almost exactly the same; last year it was 23.1%. But more 4★s than last year, and slightly less 5★s.
This is the first year I've made a pie chart for author ethnicity – last year I had a 'marginalised' slice, but that included things like sexual and gender identity. I don't track those things any more, because they're none of my damn business and there's no way to know how many people are in the closet (which is entirely their right) anyway.
I've got to admit, this makes me wince. I'd really like the BIPOC slice to be significantly bigger. Guess I've got to continue to work on that.
BEST BOOK/S YOU'VE READ SO FAR IN 2022
Yes, I had to include the entire Inda series; no, I regret nothing!
But seriously, there have already been so many incredible books this year. It was almost impossible to wrestle them down to 14 – I'd really like to include a whole bunch more. IT HAS BEEN A VERY GOOD BOOK YEAR THUS FAR.
BEST SEQUEL/S YOU'VE READ SO FAR IN 2022
All of these knocked it out of the park, as books and as sequels. A Choir of Lies, in particular, vastly outshines the first book in its series, if you ask me (and both work as standalones). The Hourglass Throne brought the first trilogy of the Tarot Sequence to a stunning end, whereas Inheritors of Power just upped the stakes immensely. Eee!
NEW RELEASE YOU HAVEN'T READ YET, BUT WANT TO
When most of your attention goes to ARCs, it's so easy to miss other books. I'm dying to get to all of these and have in fact started a few. Now to finish them!
MOST ANTICIPATED RELEASE/S FOR THE SECOND HALF OF THE YEAR
This year is packed with books I'm excited for; I'm in no danger of running out any time soon. These are just some of the ones I'm most grabby-hands for!
BIGGEST DISAPPOINTMENT/S
No question: this dubious honour definitely goes to Silk Fire, which is a fucking trainwreck. It has justifiably been called misogynist and racist and a whole bunch of other things, but it is also, to be perfectly candid, fucking terrible. As in, Ellor can't write and I can't believe this is a real book really being published. Urgh.
BIGGEST SURPRISE/S
One Day All This Will Be Yours and Several People Are Typing are books I read for the Subjective Chaos Kind of Awards and didn't expect to like, but actually ended up charmed by. And Daughter of Redwinter turned out to be one of my favourite books of the year, even though the cover, blurb, and author's previous books all seemed designed to make me run for cover.
NEW FAVOURITE AUTHOR/S (DEBUTS OR NEW TO YOU)
Stant Litore is a self-published author, which is the only reason I can think of that he wasn't on my radar already (it's so much harder to discover good self-published books!)
Lachelle Seville's Darknesses might be her debut, but also cemented her place in my auto-buy list of authors FOREVER by writing The Best Vampire Book.
And of course, Maya Deane, whose Wrath Goddess Sing is flawless in every way.
UNDERRATED GEMS YOU'VE DISCOVERED RECENTLY
I haven't seen anyone else talking about any of these books and THAT IS A TRAVESTY. They are all MOST EXCELLENT and more people need to read them!
My review of Ansible
My review of Incursion
My review of Darknesses
REREADS THIS YEAR
A lot of new entries in various series meant a lot of rereading previous books to refresh my memory!
BOOK/S THAT MADE YOU CRY
In a good way! Mostly. Sort of. What do you call it when a book makes you cry because it's full of so much hope???
BOOK/S THAT MADE YOU HAPPY
Each of these filled me with glee and giggles, even though none of them are purely light-hearted.
MOST BEAUTIFUL BOOK YOU'VE BOUGHT SO FAR THIS YEAR
Definitely Saint Death's Daughter. IT HAS PINK ENDCOVERS!!!
WHAT BOOKS DO YOU NEED TO READ BY THE END OF THE YEAR?
All of them??? All of them.
And a whole bunch more, but these are the five that feel the most urgent!
So there you go – a snapshot of my reading life the last half a year. Here's to the next six months being better in all the ways!