It's been a little quiet around here lately; my sincere apologies for that! There've been some health issues, and much more importantly, our household is going to be adopting two kittens! Star is blind and Galaxy can only see out of one eye, so there's plenty of catification to do to the apartment.
Anyway, let's get on to what you're here for – THIS WEEK'S BOOKS! So many of the books I've been waiting for all year (some for multiple years) are finally here!!!
The Once and Future Witches
by
Alix E. Harrow
Genres:
Fantasy
Representation:
Possibly asexual MC, F/F relationship, characters of colour, trans character
Published on:
13th October 2020
Goodreads
In 1893, there's no such thing as witches. There used to be, in the wild, dark days before the burnings began, but now witching is nothing but tidy charms and nursery rhymes. If the modern woman wants any measure of power, she must find it at the ballot box.

But when the Eastwood sisters--James Juniper, Agnes Amaranth, and Beatrice Belladonna--join the suffragists of New Salem, they begin to pursue the forgotten words and ways that might turn the women's movement into the witch's movement. Stalked by shadows and sickness, hunted by forces who will not suffer a witch to vote-and perhaps not even to live-the sisters will need to delve into the oldest magics, draw new alliances, and heal the bond between them if they want to survive.

There's no such thing as witches. But there will be.
Pretty much the second I finished reading The Ten Thousand Doors of January, I was online trying to find everything else Alix E. Harrow has ever written. At the time, there were some seriously beautiful short stories for me to read – but you can imagine my joy when I heard about her next book. And it sounds so freaking amazing!!! This is like everything I ever wanted in a single book. If you haven't yet, you should definitely read the short story The Sycamore and the Sybil, which is set in the same universe! (Though it stands alone perfectly well, and doesn't include any spoilers for the novel!)
Brothersong (Green Creek, #4)
by
T.J. Klune
Genres:
Queer Protagonists
Representation:
Queer cast, M/M or mlm
Published on:
13th October 2020
Goodreads
In the ruins of Caswell, Maine, Carter Bennett learned the truth of what had been right in front of him the entire time. And then it—he—was gone.

Desperate for answers, Carter takes to the road, leaving family and the safety of his pack behind, all in the name of a man he only knows as a feral wolf. But therein lies the danger: wolves are pack animals, and the longer Carter is on his own, the more his mind slips toward the endless void of Omega insanity.

But he pushes on, following the trail left by Gavin.

Gavin, the son of Robert Livingstone. The half-brother of Gordo Livingstone.

What Carter finds will change the course of the wolves forever. Because Gavin's history with the Bennett pack goes back further than anyone knows, a secret kept hidden by Carter's father, Thomas Bennett.

And with this knowledge comes a price: the sins of the fathers now rest upon the shoulders of their sons.
It seems like everyone who knows Klune is aware that this is the week the Green Creek series finally comes to an end. And…literally no one is ready. I know I'm not; I meant to reread the earlier books in time for this release, and I haven't managed it. I DON'T WANT THIS SERIES TO BE OVER! But at the same time, I desperately want it to be over, and for everyone to get the happy ending they deserve!
Black Sun (Between Earth and Sky, #1)
by
Rebecca Roanhorse
Genres:
Fantasy
Representation:
Indigenous Cast, queer cast (bisexual + trans)
Published on:
13th October 2020
Goodreads
A god will return
When the earth and sky converge
Under the black sun

In the holy city of Tova, the winter solstice is usually a time for celebration and renewal, but this year it coincides with a solar eclipse, a rare celestial event proscribed by the Sun Priest as an unbalancing of the world.

Meanwhile, a ship launches from a distant city bound for Tova and set to arrive on the solstice. The captain of the ship, Xiala, is a disgraced Teek whose song can calm the waters around her as easily as it can warp a man's mind. Her ship carries one passenger. Described as harmless, the passenger, Serapio, is a young man, blind, scarred, and cloaked in destiny. As Xiala well knows, when a man is described as harmless, he usually ends up being a villain.

Crafted with unforgettable characters, Rebecca Roanhorse has created an epic adventure exploring the decadence of power amidst the weight of history and the struggle of individuals swimming against the confines of society and their broken pasts in the most original series debut of the decade.
I have been waiting for Black Sun since it was just an announcement of a publishing deal. THIS IS ALSO EVERYTHING I HAVE EVER WANTED IN A SINGLE BOOK! (Isn't it amazing how everything you ever wanted can look so different in the hands of different storytellers???)
The Midnight Bargain
by
C.L. Polk
Genres:
Fantasy
Representation:
Love interest + secondary character of colour, possibly asexual secondary character
Published on:
13th October 2020
Goodreads
From the beloved World Fantasy Award-winning author of Witchmark comes a sweeping, romantic new fantasy set in a world reminiscent of Regency England, where women's magic is taken from them when they marry. A sorceress must balance her desire to become the first great female magician against her duty to her family.

Beatrice Clayborn is a sorceress who practices magic in secret, terrified of the day she will be locked into a marital collar that will cut off her powers to protect her unborn children. She dreams of becoming a full-fledged Magus and pursuing magic as her calling as men do, but her family has staked everything to equip her for Bargaining Season, when young men and women of means descend upon the city to negotiate the best marriages. The Clayborns are in severe debt, and only she can save them, by securing an advantageous match before their creditors come calling.

In a stroke of luck, Beatrice finds a grimoire that contains the key to becoming a Magus, but before she can purchase it, a rival sorceress swindles the book right out of her hands. Beatrice summons a spirit to help her get it back, but her new ally exacts a price: Beatrice's first kiss . . . with her adversary's brother, the handsome, compassionate, and fabulously wealthy Ianthe Lavan.

The more Beatrice is entangled with the Lavan siblings, the harder her decision becomes: If she casts the spell to become a Magus, she will devastate her family and lose the only man to ever see her for who she is; but if she marries—even for love—she will sacrifice her magic, her identity, and her dreams. But how can she choose just one, knowing she will forever regret the path not taken?
I was lucky enough to get an ARC of this one (my review will be up soon!) and. Just. It's so mindblowingly wonderful and gutwrenching and gorgeous. I love it so much more than I loved Witchmark! I know for a fact y'all aren't ready.
Beyond the Ruby Veil (Beyond the Ruby Veil, #1)
by
Mara Fitzgerald
Genres:
Secondary World Fantasy
Representation:
Lesbian MC, F/F or wlw
Published on:
13th October 2020
Goodreads
A dark, queer YA fantasy that's perfect for fans of the Three Dark Crowns series and Wicked Saints. After Emanuela Ragno kills the one person in Occhia who can create water, she must find a way to save her city from dying of thirst.

Emanuela Ragno always gets what she wants. With her daring mind and socialite schemes, she refuses to be the demure young lady everyone wants her to be. In her most ambitious move yet, she's about to marry Alessandro Morandi, her childhood best friend and the heir to the wealthiest house in Occhia. Emanuela doesn't care that she and her groom are both gay, because she doesn't want a love match. She wants power, and through Ale, she'll have it all.

But Emanuela has a secret that could shatter her plans. In the city of Occhia, the only source of water is the watercrea, a mysterious being who uses magic to make water from blood. When their first bruise-like omen appears on their skin, all Occhians must surrender themselves to the watercrea to be drained of life. Everyone throughout history has given themselves up for the greater good. Everyone except Emanuela. She's kept the tiny omen on her hip out of sight for years.

When the watercrea exposes Emanuela during her wedding ceremony and takes her to be sacrificed, Emanuela fights back...and kills her. Now Occhia has no one to make their water and no idea how to get more. In a race against time, Emanuela and Ale must travel through the mysterious, blood-red veil that surrounds their city to uncover the secrets of the watercrea's magic and find a way to save their people-no matter what it takes.
HERE IS ANOTHER BOOK I HAVE BEEN WAITING YEARS FOR! I first found a mention of it on Goodreads, long before there was a cover or a proper synopsis, and I've been dying to read it ever since. LESS THAN 12 HOURS NOW!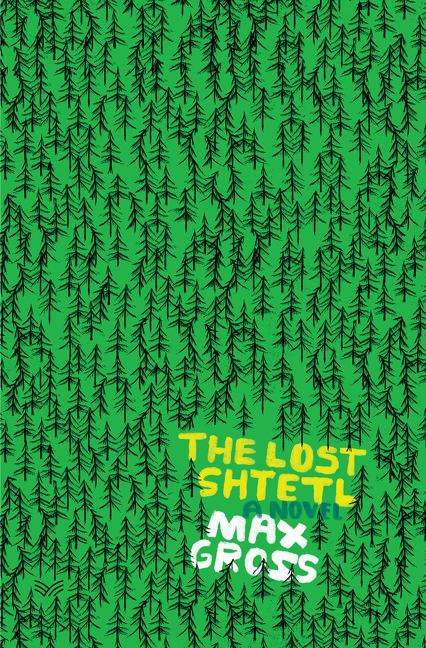 The Lost Shtetl
by
Max Gross
Representation:
Jewish MC + cast
Published on:
13th October 2020
Goodreads
A remarkable debut novel—written with the fearless imagination of Michael Chabon and the piercing humor of Gary Shteyngart—about a small Jewish village in the Polish forest that is so secluded no one knows it exists . . . until now.

What if there was a town that history missed?For decades, the tiny Jewish shtetl of Kreskol existed in happy isolation, virtually untouched and unchanged. Spared by the Holocaust and the Cold War, its residents enjoyed remarkable peace. It missed out on cars, and electricity, and the internet, and indoor plumbing. But when a marriage dispute spins out of control, the whole town comes crashing into the twenty-first century.

Pesha Lindauer, who has just suffered an ugly, acrimonious divorce, suddenly disappears. A day later, her husband goes after her, setting off a panic among the town elders. They send a woefully unprepared outcast named Yankel Lewinkopf out into the wider world to alert the Polish authorities.

Venturing beyond the remote safety of Kreskol, Yankel is confronted by the beauty and the ravages of the modern-day outside world – and his reception is met with a confusing mix of disbelief, condescension, and unexpected kindness. When the truth eventually surfaces, his story and the existence of Kreskol make headlines nationwide.

Returning Yankel to Kreskol, the Polish government plans to reintegrate the town that time forgot. Yet in doing so, the devious origins of its disappearance come to the light. And what has become of the mystery of Pesha and her former husband? Divided between those embracing change and those clinging to its old world ways, the people of Kreskol will have to find a way to come together . . . or risk their village disappearing for good.
I only learned about this one today (thanks to Evelina's review over at Avalinah's Books!) but it sounds utterly fabulous and I'm eager to read it!
Ring Shout by P. Djèlí Clark
Genres: Fantasy
Representation: Black MC
Published on: 13th October 2020
Goodreads

Nebula, Locus, and Alex Award-winner P. Djèlí Clark returns with Ring Shout, a dark fantasy historical novella that gives a supernatural twist to the Ku Klux Klan's reign of terror.

D. W. Griffith is a sorcerer, and The Birth of a Nation is a spell that drew upon the darkest thoughts and wishes from the heart of America. Now, rising in power and prominence, the Klan has a plot to unleash Hell on Earth.

Luckily, Maryse Boudreaux has a magic sword and a head full of tales. When she's not running bootleg whiskey through Prohibition Georgia, she's fighting monsters she calls "Ku Kluxes." She's damn good at it, too. But to confront this ongoing evil, she must journey between worlds to face nightmares made flesh--and her own demons. Together with a foul-mouthed sharpshooter and a Harlem Hellfighter, Maryse sets out to save a world from the hate that would consume it.
It's excellent timing for this to be released while Lovecraft Country is running; did someone coordinate that? Regardless, this sounds amazing, and like it's going to be the same kind of deeply uncomfortable read that we (meaning white people) need.
A Book of Tongues (The Hexslinger Series)
by
Gemma Files
Genres:
Fantasy
,
Queer Protagonists
Representation:
Gay MCs, M/M or mlm
Published on:
13th October 2020
Goodreads
Two years after the Civil War, Pinkerton agent Ed Morrow has gone undercover with one of the weird West's most dangerous outlaw gangs-the troop led by "Reverend" Asher Rook, ex-Confederate chaplain turned "hexslinger," and his notorious lieutenant (and lover) Chess Pargeter. Morrow's task: get close enough to map the extent of Rook's power, then bring that knowledge back to help Professor Joachim Asbury unlock the secrets of magic itself.

Magicians, cursed by their gift to a solitary and painful existence, have never been more than a footnote in history. But Rook, driven by desperation, has a plan to shatter the natural law that prevents hexes from cooperation, and change the face of the world-a plan sealed by an unholy marriage-oath with the goddess Ixchel, mother of all hanged men. To accomplish this, he must raise her bloodthirsty pantheon from its collective grave through sacrifice, destruction, and apotheosis.

Caught between a passel of dead gods and monsters, hexes galore, Rook's witchery, and the ruthless calculations of his own masters, Morrow's only real hope of survival lies with the man without whom Rook cannot succeed: Chess Pargeter himself. But Morrow and Chess will have to literally ride through Hell before the truth of Chess's fate comes clear-the doom written for him, and the entire world.
The Hexslinger trilogy was originally published a while back – I read these in 2011! – but they're being republished with fabulous new covers! Take a Western setting, make it queer as in fuck you, and add Aztec mythology: boom, you have the Hexslinger books! The Aztec element does add some pretty horrible gore at times, but damn, these are brilliant and fun, and this is a brilliant opportunity to read them if you haven't yet – all three of them are being re-released tomorrow!
ARE YOU READY? BECAUSE I AM SO NOT READY.
TOMORROW IS GOING TO BE SO GOOD, FOLX. SO, SO GOOD!