IT'S THE FIRST MUST-HAVE MONDAY OF 2022! AHHHHHHH, SO EXCITING!!!
Ahem.
2022 is starting with a BANG; we have THIRTEEN new releases this week – and one honorary mention!
Where the Drowned Girls Go (Wayward Children, #7)
by
Seanan McGuire
Genres:
Fantasy
,
Portal Fantasy
,
Queer Protagonists
Representation:
Sapphic MC, intersex MC, trans secondary character
Published on:
4th January 2022
Goodreads
Welcome to the Whitethorn Institute. The first step is always admitting you need help, and you've already taken that step by requesting a transfer into our company.
There is another school for children who fall through doors and fall back out again. It isn't as friendly as Eleanor West's Home for Wayward Children. And it isn't as safe.

When Eleanor West decided to open her school, her sanctuary, her Home for Wayward Children, she knew from the beginning that there would be children she couldn't save; when Cora decides she needs a different direction, a different fate, a different prophecy, Miss West reluctantly agrees to transfer her to the other school, where things are run very differently by Whitethorn, the Headmaster.

She will soon discover that not all doors are welcoming...
The only correct way to kick off a new year is with a new Wayward Children book! For the first time in the series, we're going to see the Other School, and I'm equal parts nervous and excited. I cannot WAIT to dive into this!
(Terrible!pun is terrible and no, I'm not even a little bit sorry!)
Cinder the Fireplace Boy: and other Gayly Grimm Tales (Rewoven Tales)
by
Ana Mardoll
Genres:
Fantasy
,
Queer Protagonists
Representation:
Assorted queer cast
Published on:
4th January 2022
Goodreads
Once upon a time there lived... a beautiful prince who kissed a frog. A cinder-smudged child who hid a secret. A princess who climbed a long braid of golden hair for love. A thumb-sized boy with the courage of a giant. And a valiant little tailor whose wit was as sharp as her needle.

These stories and many more await you in this delightful collection of classic fairy tales, lovingly retold and featuring characters who receive wonderfully queer happily-ever-afters! Let these new takes on the Brothers Grimm warm your heart and nurture your yearning to see yourself reflected in beloved favorites.

Features eight original illustrations by artist Alex Dingley.

"Mardoll has removed instances of racism, antisemitism, and Christian moralizing while introducing queer and disabled characters... a welcome, clever update of fairy tales." --Kirkus Reviews
The universe is spoiling me in giving me two of my most-anticipated reads of 2022…in the first WEEK of 2022! Mardoll wrote the excellent No Man of Woman Born, and I will always show up for queer fairy tales, so I predict this will be a massive win/win on all counts!
The Final Rider (The Final Rider, #1)
by
Elyzabeth Trickey
Genres:
Fantasy
Published on:
4th January 2022
Goodreads
Two hundred years ago, as magic began to fade, the last dragon died.

Throughout her life, Hazel has kept her head down and avoided trouble. But everything changes when she unearths and last dragon egg. Whisked away to the castle to prepare for her new life, the dragon becomes her only constant and she finds herself the target of ancient powers.

The Heir to the throne of Gaelin is dead. But in reality, Alastríona Ashcoven has been biding her time in the monster-infested Wastelands waiting for a chance to go back to the country she lost. Her luck changes when the Witch Queen offers her the army she desperately needs to reclaim her throne... And all that the Queen asks for is a vial of the dragon's blood.
It has dragons, that's really all I need to hear. I plan on reading this one to see if it's a book I can recommend to my much younger clone-sister!
Spin Me Right Round
by
David Valdes
Genres:
Queer Protagonists
,
Sci Fi
Representation:
Gay Latino MC, queer secondary characters
Published on:
4th January 2022
Goodreads
From lauded writer David Valdes, a sharp and funny YA novel that's Back to the Future with a twist, as a gay teen travels back to his parents' era to save a closeted classmate's life.

All Luis Gonzalez wants is to go to prom with his boyfriend, something his "progressive" school still doesn't allow. Not after what happened with Chaz Wilson. But that was ages ago, when Luis's parents were in high school; it would never happen today, right? He's determined to find a way to give his LGBTQ friends the respect they deserve (while also not risking his chance to be prom king, just saying…).

When a hit on the head knocks him back in time to 1985 and he meets the doomed young Chaz himself, Luis concocts a new plan-he's going to give this guy his first real kiss. Though it turns out a conservative school in the '80s isn't the safest place to be a gay kid. Especially with homophobes running the campus, including Gordo (aka Luis's estranged father). Luis is in over his head, trying not to make things worse-and hoping he makes it back to present day at all.

In a story that's fresh, intersectional, and wickedly funny, David Valdes introduces a big-mouthed, big-hearted queer character that readers won't soon forget.
Back to the Future but gay+POC??? HI YES THANK YOU I'LL TAKE TEN
The Ivory Key (The Ivory Key Duology, #1)
by
Akshaya Raman
Genres:
Fantasy
,
High Fantasy
,
Queer Protagonists
Representation:
Desi-coded cast, queernorm world, gay MC, queer secondary characters
Published on:
4th January 2022
Goodreads
Magic, a prized resource, is the only thing between peace and war. When magic runs out, four estranged royal siblings must find a new source before their country is swallowed by invading forces. The first in an Indian-inspired duology.

Vira is desperate to get out of her mother's shadow and establish her legacy as a revered queen of Ashoka. But with the country's only quarry running out of magic–a precious resource that has kept Ashoka safe from conflict–she can barely protect her citizens from the looming threat of war. And if her enemies discover this, they'll stop at nothing to seize the last of the magic.

Vira's only hope is to find a mysterious object of legend: the Ivory Key, rumored to unlock a new source of magic. But in order to infiltrate enemy territory and retrieve it, she must reunite with her siblings, torn apart by the different paths their lives have taken. Each of them has something to gain from finding the Ivory Key–and even more to lose if they fail. Ronak plans to sell it to the highest bidder in exchange for escape from his impending political marriage. Kaleb, falsely accused of assassinating the former maharani needs it to clear his name. And Riya, a runaway who cut all family ties, wants the Key to prove her loyalty to the rebels who want to strip the nobility of its power.

They must work together to survive the treacherous journey. But with each sibling harboring secrets and their own agendas, the very thing that brought them together could tear apart their family–and their world–for good.
I have heard nothing but EXTREME praise for this book from everyone who got to read it early – and if, like me, you weren't one of those early readers, they posted an excerpt on Tor.com! Definitely pouncing on this one come tomorrow!
The Starless Crown (Moon Fall, #1)
by
James Rollins
Genres:
Science Fantasy
Published on:
4th January 2022
Goodreads
An alliance embarks on a dangerous journey to uncover the secrets of the distant past and save their world in this captivating, deeply visionary adventure from #1 New York Times bestselling thriller-master James Rollins.

A gifted student foretells an apocalypse. Her reward is a sentence of death.

Fleeing into the unknown she is drawn into a team of outcasts:

A broken soldier, who once again takes up the weapons he's forbidden to wield and carves a trail back home.
A drunken prince, who steps out from his beloved brother's shadow and claims a purpose of his own.
An imprisoned thief, who escapes the crushing dark and discovers a gleaming artifact - one that will ignite a power struggle across the globe.

On the run, hunted by enemies old and new, they must learn to trust each other in order to survive in a world evolved in strange, beautiful, and deadly ways, and uncover ancient secrets that hold the key to their salvation.

But with each passing moment, doom draws closer.

WHO WILL CLAIM THE STARLESS CROWN?

I wasn't able to finish my ARC of this, but not because it's bad; I think it's amazing and will probably be one of the major hits of 2022. It was just a little too gritty for me…although I do plan on giving it another try before the year's out!
The Kindred
by
Alechia Dow
Genres:
Queer Protagonists
,
Sci Fi
Representation:
Plus-sized brown MC, queer MC
Published on:
4th January 2022
Goodreads
"Utterly swoony…an endearing reminder that true love can change the world"—J. Elle, New York Times bestselling author of Wings of Ebony

To save a galactic kingdom from revolution, Kindred mind-pairings were created to ensure each and every person would be seen and heard, no matter how rich or poor…

Joy Abara knows her place. A commoner from the lowly planet Hali, she lives a simple life—apart from the notoriety that being Kindred to the nobility's most infamous playboy brings.
Duke Felix Hamdi has a plan. He will exasperate his noble family to the point that they agree to let him choose his own future and finally meet his Kindred face-to-face.

Then the royal family is assassinated, putting Felix next in line for the throne…and accused of the murders. Someone will stop at nothing until he's dead, which means they'll target Joy, too. Meeting in person for the first time as they steal a spacecraft and flee amid chaos might not be ideal…and neither is crash-landing on the strange backward planet called Earth. But hiding might just be the perfect way to discover the true strength of the Kindred bond and expose a scandal—and a love—that may decide the future of a galaxy.
Apparently this is set in the same universe as the author's Sound of Stars, but otherwise the books are unrelated and you don't need to have read Sound to read Kindred. Which is lucky, because alien royalty and mind-bonds??? I am intrigued!
The Chosen One: A First-Generation Ivy League Odyssey
by
Echo Brown
Published on:
4th January 2022
Goodreads
Echo Brown testifies to the disappointments and triumphs of a Black first-generation college student in this fearless exploration of the first year experience.

There are many watchers and they are always white.

That's the first thing Echo notices as she settles into Dartmouth College. Despite graduating high school in Cleveland as valedictorian, Echo immediately struggles to keep up in demanding classes. Dartmouth made many promises it couldn't keep. The campus is not a rainbow-colored utopia where education lifts every voice. Nor is it a paradise of ideas, an incubator of inclusivity, or even an exciting dating scene. But it might be a portal to different dimensions of time and space—only accessible if Echo accepts her calling as a Chosen One and takes charge of her future by healing her past.

This remarkable challenge demands vulnerability, humility, and the conviction to ask for help without sacrificing self-worth.

In mesmerizing personal narrative and magical realism, Echo Brown confronts mental illness, grief, racism, love, friendship, ambition, self-worth, and belonging as they steer the fates of first-generation college students on Dartmouth's campus. The Chosen One is an unforgettable coming-of-age story that bravely unpacks the double-edged college transition—as both catalyst for old wounds and a fresh start.
I'm not 100% sure this is SFF, but it sounds like there might at least be magical realism elements? Either way, I suspect this is going to be a powerful read.
Waking Romeo
by
Kathryn Barker
Genres:
Sci Fi
Published on:
4th January 2022
Goodreads
Kathryn Barker's Waking Romeo is a spectacularly genre-bending retelling of Romeo & Juliet asking the big questions about true love, fate, and time travel

Year: 2083. Location: London. Mission: Wake Romeo.

It's the end of the world. Literally. Time travel is possible, but only forward. And only a handful of families choose to remain in the "now," living off of the scraps left behind.

Among them are eighteen-year-old Juliet and the love of her life, Romeo. But things are far from rosy for Jules. Romeo lies in a coma and Jules is estranged from her friends and family, dealing with the very real fallout of their wild romance.

Then a mysterious time traveler, Ellis, impossibly arrives from the future with a mission that makes Juliet question everything she knows about life and love.
Can Jules wake Romeo—and rewrite her future?
I have no idea what I think about this, but I'm very willing to give it a go! Must confess, I don't recall any other Romeo and Juliet retellings that feature time-travel…
Bad Gods
by
Gaie Sebold
Genres:
Science Fantasy
Published on:
4th January 2022
Goodreads
A critically acclaimed, fun, smart, inclusive take on a classic fantasy trope, with gorgeous cover art by Discworld artist Stephen Player

All Tastes! • All Species! • All Currencies!

You can find anything in Scalentine, the city of portals, but you won't find a better brothel than the Red Lantern. And its proprietor, Babylon Steel (ex-mercenary, ex-priestess, ex… lots of things), means to keep it that way.

But a prurient cult are protesting in the streets, sex workers are disappearing, and Babylon has bills to pay. When the powerful Diplomatic Section hires her – off the books – to find a missing heiress, she has to take the job.

And then her past starts to catch up with her...
I think this is a new edition of a book that was previously titled Babylon Steel, but that in no way makes it less interesting! Also, excellent call on the new cover, I love it ALL THE MUCH!
Tiger Honor (Thousand Worlds, #2)
by
Yoon Ha Lee
Genres:
Queer Protagonists
,
Science Fantasy
Representation:
Nonbinary Asian-coded MC
Published on:
4th January 2022
Goodreads
Sebin, a young tiger spirit from the Juhwang Clan, wants nothing more than to join the Thousand World Space Forces and, like their Uncle Hwan, captain a battle cruiser someday. But when Sebin's acceptance letter finally arrives, it's accompanied by the shocking news that Hwan has been declared a traitor. Apparently, the captain abandoned his duty to steal a magical artifact, the Dragon Pearl, and his whereabouts are still unknown. Sebin hopes to help clear their hero's name and restore honour to the clan.

Nothing goes according to plan, however. As soon as Sebin arrives for orientation, they are met by a special investigator named Yi and his assistant, a girl named Min. Yi informs Sebin that they must immediately report to the ship Haetae and await further instructions. Sebin finds this highly unusual, but soon all protocol is forgotten when there's an explosion on the ship, the crew is knocked out, and the communication system goes down. It's up to Sebin, three other cadets, and Yi and Min to determine who is sabotaging the battlecruiser. When Sebin is suddenly accused of collaborating with the enemy, the cadet realizes that Min is the most dangerous foe of all...
I believe this is a companion novel to Lee's Dragon Pearl – well, it says so in the description, doesn't it? – although I'm not clear on whether you need to read that first. I do plan on reading both, though, because they both sound marvellous!
ANTIFA SPLATTERPUNK
by
Eric Raglin
,
John Baltisberger
,
Patrick Barb
,
Donyae Coles
,
Jonathan Louis Duckworth
,
J.V. Gachs
,
Cynthia Gomez
,
Joe Koch/Joanna Koch
,
Kathe Koja
,
M. Lopes da Silva
,
Sarah Peploe
,
Sam Richard
,
Ana E. Robic
,
Keith Rosson
,
Max D. Stanton
,
Caias Ward
,
Gordon B. White
Genres:
Fantasy
,
Horror
,
Sci Fi
Published on:
6th January 2022
Goodreads
Fascism didn't die in 1945. Its grave was only temporary. Rising again, this undead ideology shambles into the present, gathering power and spreading destruction wherever it goes.

This monster stalks the pages of ANTIFA SPLATTERPUNK, in which sixteen horror writers explore fascism's many terrors: police wielding strange bioweapons against the public, white supremacists annihilating their enemies through dark magic, and TV personalities vilifying all who defy the rising fascist tide.

But these stories are resistance: Nazi-killing demons, Confederate-slaying witches, and everyday people punching fascists in the teeth. Among the gore is a glimmer of hope that one day this monster will return to its grave and never rise again.
This pinged my radar when I heard Kathe Koja wrote the foreword, but let's be honest, I'm immediately interested in anything anti-fascist, weirdly enough. Splatterpunk is, um, a genre I do not usually delve into, but I did promise myself I would try out more horror this year, and this seems an excellent place to start!
Poised in Either Eye
by
B. Pigeon
,
Fell A. Marsh
Genres:
Fantasy
,
Queer Protagonists
Representation:
Queer MCs
Published on:
8th January 2022
Goodreads
In Velzexus, a realm vastly different from but adjacent to our own, unspoken rules and traditions govern an ancient and powerful species: dragons.

A dragon's hoard is its pride, and a dragon's pride is its everything: an assurance of millennia well-spent, of battles fought and won, of riches stolen and primordial agendas advanced. But pride cannot exist without a counterpart in shame—and for dragons, superior beings who outshine even the gods, nothing is more taboo than humanity.

For Mateo, assuming a human form was supposed to mean a clean break from the austere and artless world of dragons. For Zephyr, a trip to the Human Realm provides an opportunity to prove himself. When the two meet, Zephyr's plans and the stability of Mateo's human life are both thrown into question…
Queer dragons??? That's really all I need to hear; it's certainly enough to gain Poised in Either Eye a spot on my Unmissable SFF of 2022 list! I'm really excited for this one, with talk of hoards and hints at very cool worldbuilding in the description. And dragons in human form! YES PLEASE, I'LL TAKE 11 THANK YOU!!!
Honorary Mention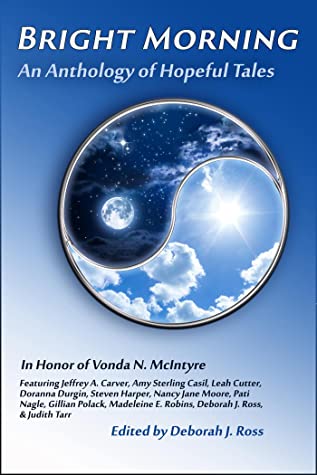 Bright Morning
by
Jeffrey A. Carver
,
Amy Sterling Casil
,
Leah Cutter
,
Doranna Durgin
,
Steven Harper
,
Nancy Jane Moore
,
Pati Nagle
,
Gillian Polack
,
Madeleine E. Robins
,
Deborah J. Ross
,
Judith Tarr
Genres:
Fantasy
,
Sci Fi
Goodreads
Vonda N. McIntyre preferred to keep her author's biography short and sweet: "Vonda N. McIntyre writes science fiction." While true, this modest claim conceals accomplishments that earned her multiple accolades and an enduring place among the most influential fantasy and science fiction writers of the 20th and 21st centuries.

Even more important to the authors of this tribute anthology, McIntyre was a kind and generous supporter of other writers. In Bright Morning, eleven career writers of science fiction, fantasy, and other genres share stories of hope in her honor, along with their memories of working with McIntyre. Profits from the anthology will benefit a charity that promotes literacy for children all over the world.
This was published last month, but I only heard about it this week and wanted to draw attention to it! I'm always in favour of stories about hope, and both McIntyre and child literacy are excellent reasons to create an anthology. It's not in paperback for a while (I think there should be a trade paperback edition later this month?) but you can nab a copy of the ebook from all the usual suspects.
That's all I've got for this week! Did I mess a book I should know about? Will you be reading any of these? Let me know!
Related Posts