2022 is shaping up to be another freaking FANTASTIC year for SFF! There are so many books I'm excited for, although I'll be updating this list as more books get announced, pub dates get set, and covers get revealed!
At the moment, I'm only including books that have an announced publication date. Please feel free to comment and correct me on what kind of representation a book has!
But for now, check out the fantasy and sci-fi books releasing in 2022 – mostly Adult, mostly queer – that I consider absolutely unmissable!
January
Where the Drowned Girls Go (Wayward Children, #7)
by
Seanan McGuire
Genres:
Fantasy
,
Portal Fantasy
Representation:
Sapphic MC, intersex MC, secondary trans character
Published on:
4th January 2022
Goodreads
Welcome to the Whitethorn Institute. The first step is always admitting you need help, and you've already taken that step by requesting a transfer into our company.

There is another school for children who fall through doors and fall back out again. It isn't as friendly as Eleanor West's Home for Wayward Children. And it isn't as safe.

When Eleanor West decided to open her school, her sanctuary, her Home for Wayward Children, she knew from the beginning that there would be children she couldn't save; when Cora decides she needs a different direction, a different fate, a different prophecy, Miss West reluctantly agrees to transfer her to the other school, where things are run very differently by Whitethorn, the Headmaster.

She will soon discover that not all doors are welcoming...
You can't start the year right without a new Wayward Children book, and EEE! We're finally getting a look at the Other School! I am equal parts excited and worried. I NEED CORA TO BE OKAY, OKAY???
Cinder the Fireplace Boy: and other Gayly Grimm Tales (Rewoven Tales)
by
Ana Mardoll
Genres:
Fantasy
,
Queer Protagonists
Representation:
Queer cast
Published on:
4th January 2022
Goodreads
Once upon a time there lived... a beautiful prince who kissed a frog. A cinder-smudged child who hid a secret. A princess who climbed a long braid of golden hair for love. A thumb-sized boy with the courage of a giant. And a valiant little tailor whose wit was as sharp as her needle.

These stories and many more await you in this delightful collection of classic fairy tales, lovingly retold and featuring characters who receive wonderfully queer happily-ever-afters! Let these new takes on the Brothers Grimm warm your heart and nurture your yearning to see yourself reflected in beloved favorites.

Features eight original illustrations by artist Alex Dingley.
Mardoll wrote the wonderful collection No Man of Woman Born, exploring the 'I am no man' trope with trans and nonbinary protagonists, so hell yes, I'm Very Interested in seeing their take on fairytales. Gimme!
Poised in Either Eye
by
B. Pigeon
,
Fell A. Marsh
Genres:
Fantasy
,
Queer Protagonists
Representation:
Queer MC, M/M
Published on:
8th January 2022
Goodreads
In Velzexus, a realm vastly different from but adjacent to our own, unspoken rules and traditions govern an ancient and powerful species: dragons.

A dragon's hoard is its pride, and a dragon's pride is its everything: an assurance of millennia well-spent, of battles fought and won, of riches stolen and primordial agendas advanced. But pride cannot exist without a counterpart in shame—and for dragons, superior beings who outshine even the gods, nothing is more taboo than humanity.

For Mateo, assuming a human form was supposed to mean a clean break from the austere and artless world of dragons. For Zephyr, a trip to the Human Realm provides an opportunity to prove himself. When the two meet, Zephyr's plans and the stability of Mateo's human life are both thrown into question…
I am always looking for more dragons, and I will absolutely take them in human form, yes I will.
Servant Mage
by
Kate Elliott
Genres:
Fantasy
,
Secondary World Fantasy
Representation:
Bi/pansexual MC, agender secondary character, polyamory
Published on:
18th January 2022
Goodreads
In Kate Elliott's Servant Mage, a lowly fire mage finds herself entangled in an empire-spanning conspiracy on her way to discovering her true power.

They choose their laws to secure their power.

Fellion is a Lamplighter, able to provide illumination through magic. A group of rebel Monarchists free her from indentured servitude and take her on a journey to rescue trapped compatriots from an underground complex of mines.

Along the way they get caught up in a conspiracy to kill the latest royal child and wipe out the Monarchist movement for good.

But Fellion has more than just her Lamplighting skills up her sleeve…
MORE DRAGONS! And hi, I'm not in love with the little shovel hidden in the corner of the cover or anything, nope. Elliott is a master worldbuilder, so while I'm not sure what to expect in terms of story, I know it's still going to blow me away.
February
Base Notes
by
Lara Elena Donnelly
Genres:
Fantasy
,
Queer Protagonists
Representation:
Nonbinary MC
Published on:
1st February 2022
Goodreads
A lasting impression is worth killing for in this intoxicating novel about memories and murder by the author of the Amberlough Dossier series.

In New York City everybody needs a side hustle, and perfumer Vic Fowler has developed a delicate art that has proved to be very lucrative: creating bespoke scents that evoke immersive memories—memories that, for Vic's clients, are worth killing for. But the city is expensive, and these days even artisanal murder doesn't pay the bills. When Joseph Eisner, a former client with deep pockets, offers Vic an opportunity to expand the enterprise, the money is too good to turn down. But the job is too intricate—and too dangerous—to attempt alone.

Manipulating fellow struggling artists into acting as accomplices is easy. Like Vic, they too are on the verge of burnout and bankruptcy. But as relationships become more complicated, Vic's careful plans start to unravel. Hounded by guilt and a tenacious private investigator, Vic grows increasingly desperate to complete Eisner's commission. Is there anyone—friends, lovers, coconspirators—that Vic won't sacrifice for art?
I'm a huge fan of the Amberlough Dossier, and I am also one of those people fascinated by scents and perfumes, so this is a mega win/win for me! Also, murder. Murder always makes things more interesting.
Dark Breakers
by
C.S.E. Cooney
,
Sharon Shinn
,
Brett Massé
Genres:
Fantasy
,
Secondary World Fantasy
Published on:
15th February 2022
Goodreads
NEW FROM WORLD FANTASY AWARD WINNER C. S. E. COONEY

"Welcome to a Gilded Era like you've never before known and will never be able to forget. C. S. E. Cooney's DARK BREAKERS will transfix and transform you, and, should you chance upon its characters in a glittering hallway, you had best be wearing your fanciest moonlight, and be ready to dance. If Titania herself were to commission a book, it would be this one."—Fran Wilde, two-time Nebula Award-winning author of UPDRAFT and RIVERLAND

A young human painter and an ageless gentry queen fall in love over spilled wine—at the risk of his life and her immortality. Pulled into the Veil Between Worlds, two feuding neighbors (and a living statue) get swept up in a brutal war of succession. An investigative reporter infiltrates the Seafall City Laundries to write the exposé of a lifetime, and uncovers secrets she never believed possible. Returning to an oak grove to scatter her husband's ashes, an elderly widow meets an otherworldly friend, who offers her a momentous choice. Two gentry queens of the Valwode plot to hijack a human rocketship and steal the moon out of the sky.

DARK BREAKERS gathers three new and two previously uncollected tales from World Fantasy Award-winning writer C. S. E. Cooney that expand on the thrice-enfolded worlds first introduced in her Locus and World Fantasy award-nominated novella DESDEMONA AND THE DEEP. In her introduction to DARK BREAKERS, Crawford Award-winning author Sharon Shinn advises those who pick up this book to "settle in for a fantastical read" full of "vivid world-building, with layer upon layer of detail; prose so dense and gorgeous you can scoop up the words like handfuls of jewels; a mischievous sense of humor; and a warm and hopeful heart."

"C. S. E. Cooney's prose is like a cake baked by the fairies—beautifully layered, rich and precise, so delicious that it should be devoured with a silver fork. Since you can't eat DARK BREAKERS, I suggest you read it slowly, savoring every slice. And if it gives you strange dreams—well, what did you expect of fairy cake?"—Theodora Goss, World Fantasy and Mythopoeic Award-winning author of The Extraordinary Adventures of the Athena Club series

"DARK BREAKERS is a magnificent parure of novellas and matched stories, a suite of jewelled and velvet tales, delicately linked and ferociously glittering. A baroquely intense confection with a core of typewriters and coal fortunes, DARK BREAKERS is compounded of voluptuous invention and ferocious structural loves—for new romances and old friends, for the works of hands, for mortality and its gifts, and all the possibilities of worlds bleeding, weeping, wandering into each other's arms."—Kathleen Jennings, World Fantasy Award-winning author of FLYAWAY

"Few people create worlds as lavish and sensual as those to spring from Cooney's effervescent imagination. Her writing isn't so much inspirational, but inspiration itself: gentry-magic spun into pages and paragraphs of glittering, fizzing, jaw-dropping beauty."—Cassandra Khaw, British Fantasy Award-nominated author of THE ALL-CONSUMING WORLD
I am blessed enough to have an ARC of this, and I've already had to invent new words to try and describe it. Y'all aren't ready.
I did my merely-mortal best to review it, if you need convincing!
Bitter
by
Akwaeke Emezi
Genres:
Magical Realism
Representation:
Black MC
Published on:
15th February 2022
Goodreads

From National Book Award finalist Akwaeke Emezi comes a companion novel to the critically acclaimed PET that explores both the importance and cost of social revolution--and how youth lead the way.

After a childhood in foster care, Bitter is thrilled to have been chosen to attend Eucalyptus, a special school where she can focus on her painting surrounded by other creative teens. But outside this haven, the streets are filled with protests against the deep injustices that grip the city of Lucille.

Bitter's instinct is to stay safe within the walls of Eucalyptus . . . but her friends aren't willing to settle for a world that's so far away from what they deserve. Pulled between old friendships, her artistic passion, and a new romance, Bitter isn't sure where she belongs--in the studio or in the streets. And if she does find a way to help the revolution while being true to who she is, she must also ask: at what cost?

This timely and riveting novel--a companion to the National Book Award finalist Pet--explores the power of youth, protest, and art.
If you didn't love Emezi's book Pet, you're just Wrong, and this is a prequel!!! I'm not 100% sure it will be outright SFF, but given what we saw of Pet, I'm willing to bet on it. Either way it's definitely going to be a must-read.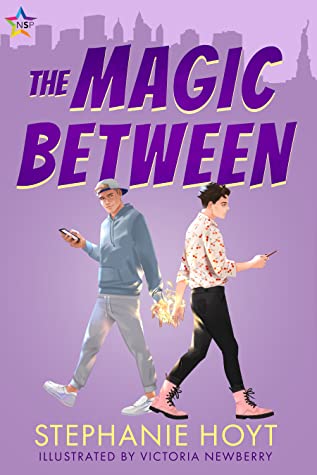 The Magic Between
by
Stephanie Hoyt
Genres:
Fantasy
,
Queer Protagonists
Representation:
Bisexual MC with clinical anxiety, M/M, secondary sapphic characters, secondary F/F
Published on:
15th February 2022
Goodreads
In a world where everyone has magic coursing through them, legend says magic itself craves a mate. Legend says those with opposite magics have the greatest chance of forming the unbreakable Bond it desires.

A.B. Cerise is an obsessive compulsive pop star with the ability to turn invisible. He's an out bisexual with absolutely no belief in Bonds. He has a love-bruised heart, thinks dating in the spotlight is a hassle at best and a nightmare at worst, and has no intention of going through it all over again.

Matthew Hellman-Levoie is the NHL's number one goalie prospect, the youngest in a hockey dynasty, and one of the rare few who can see the unseeable. He's a straight man who wears his heart on his sleeve, has grown up searching for a Bond, and dreams of finding the love of his life.

Legend never said anything about what to do when sparks fly between two people opposite in more ways than just magic.
Listen. L I S T E N. This book is PERFECT and you must read it. Again, I was blessed with an ARC, so I Know. End of discussion.
But you can, if you wish, read my full review here!
The Thousand Eyes (The Serpent Gates, #2)
by
A.K. Larkwood
Genres:
Fantasy
,
Secondary World Fantasy
,
Queer Protagonists
Representation:
Lesbian MC, F/F, Gay MC
Published on:
15th February 2022
Goodreads
The sequel to A. K. Larkwood's stunning debut fantasy, The Unspoken Name, The Thousand Eyes continues The Serpent Gates series--perfect for fans of Jenn Lyons, Joe Abercrombie, and Ursula K. Le Guin.

Two years ago, Csorwe and Shuthmili defied the wizard Belthandros Sethennai and stole his gauntlets. The gauntlets have made Shuthmili extraordinarily powerful, but they're beginning to take a sinister toll on her. She and Csorwe travel to a distant world to discover how to use the gauntlets safely, but when an old enemy arrives on the scene, Shuthmili finds herself torn between clinging to her humanity and embracing eldritch power.

Meanwhile, Tal Charossa returns to Tlaanthothe to find that Sethennai has gone missing. As well as being a wizard of unimaginable power, Sethennai is Tal's old boss and former lover, and Tal wants nothing to do with him. When a magical catastrophe befalls the city, Tal tries to run rather than face his past, but soon learns that something even worse may lurk in the future. Throughout the worlds of the Echo Maze, fragments of an undead goddess begin to awaken, and not all confrontations can be put off forever...
Don't pretend like you haven't been waiting for more of Csorwe's story; you're not that good an actor, my friend. I admit, I initially thought The Unspoken Name was a standalone, but I did NOT complain when I heard we were getting a sequel! Just look at that description! LOOK AT IT! I neeeeeeeeds!
Age of Ash (The Kithamar Trilogy, #1)
by
Daniel Abraham
Genres:
Fantasy
,
Secondary World Fantasy
,
Queer Protagonists
Representation:
Sapphic PoV character
Published on:
15th February 2022
Goodreads
From New York Times bestselling and critically acclaimed author Daniel Abraham, co-author of The Expanse, comes a monumental epic fantasy trilogy that unfolds within the walls of a single great city, over the course of one tumultuous year, where every story matters, and the fate of the city is woven from them all.

Kithamar is a center of trade and wealth, an ancient city with a long, bloody history where countless thousands live and their stories unfold.

This is Alys's.

When her brother is murdered, a petty thief from the slums of Longhill sets out to discover who killed him and why. But the more she discovers about him, the more she learns about herself, and the truths she finds are more dangerous than knives.

Swept up in an intrigue as deep as the roots of Kithamar, where the secrets of the lowest born can sometimes topple thrones, the story Alys chooses will have the power to change everything.
I am possibly the one biped on Earth who has been pining for Abraham to come back to Fantasy, and I tell you, I SHRIEKED OUT LOUD when I found out he'd written a new Fantasy novel!!! I was capital-e Enthralled the whole way through while reading this. Yesssss!
The Embroidered Book
by
Kate Heartfield
Genres:
Fantasy
,
Historical Fantasy
Published on:
17th February 2022
Goodreads
'Power is not something you are given. Power is something you take. When you are a woman, it is a little more difficult, that's all'

1768. Charlotte arrives in Naples to marry a man she has never met. Two years later, her sister Antoine is sent to France to marry another stranger. In the mirrored corridors of Versailles, they rename her Marie Antoinette.

But the sisters are not powerless. When they were only children, Charlotte and Antoine discovered a book of spells – spells that seem to work, with dark and unpredictable consequences.

In a world of vicious court politics, of discovery and dizzying change, Charlotte and Antoine use their secret skills to redefine their lives, becoming the most influential women of the age.

But every spell requires a sacrifice. As love between the sisters turns to rivalry, they will send Europe spiralling into revolution.
The only thing better than an SFF book is a SPELLBOOK and this is BOTH (kinda). I really don't know much about the history of this area, especially during this time period, but honestly my fate was sealed once I saw the title. The EMBROIDERED book??? I have many questions and they are all 'can I have this now, please???'
Especially after reading an excerpt, which you can check out here!
Inheritors of Power
by
Juliette Wade
Genres:
Queer Protagonists
,
Sci Fi
,
Secondary World No Magic
Representation:
Two ace MCs, one gay MC, secondary trans character, queernorm castes
Published on:
22nd February 2022
Goodreads
The third book of The Broken Trust continues a deadly battle for power in this sociological sci-fi novel where brother is pitted against brother.

Many years have passed since the Eminence Nekantor and Heir Adon seized power, and life in Pelismara has found a fragile equilibrium under Nekantor's thumb. Now the Imbati Service Academy suspects that Xinta, Manservant to the Eminence, may have taken control of Nekantor for his own sinister purposes, endangering what peace still remains. Imbati Catín, an Academy prodigy, vows service to Adon, balancing two core purposes — to advance her Master's designs on power, and to determine the full extent of Xinta's influence.

When a trash hauler named Akrabitti Corbinan walks into a place he doesn't belong, everything falls out of balance. Catín, who is investigating this newly discovered hidden library, immediately arrests Corbinan for trespassing. Nekantor then seizes Corbinan, believing he's a spy who sought to topple the government, and Xinta vanishes him before Catín can determine his intent. What was Corbinan really seeking? What dangerous information does the library contain, that Xinta might seek to control? And what might happen if someone more dangerous finds Corbinan first?
I have made no secret of the fact that I am utterly in love with this series, and I have no reason to believe this third installment will be anything other than epic. Even if that blurb makes me want to run around flailing because I am ANXIOUS but it's the FUN KIND of anxious and I CANNOT EVEN!
:edited to add: even more amazing than I was expecting. You can read my review here!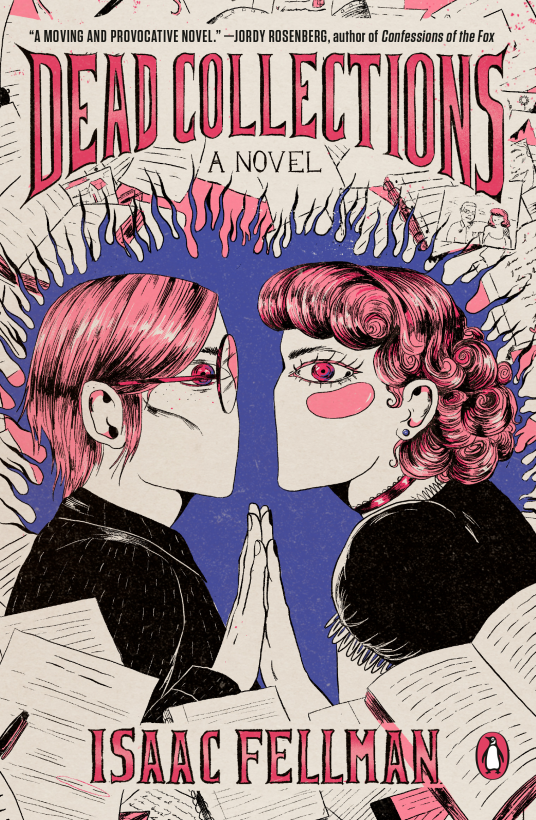 Dead Collections
by
Isaac Fellman
Genres:
Fantasy
,
Queer Protagonists
Representation:
Trans MC, bi/pansexual MC
Published on:
22nd February 2022
Goodreads
A whirlwind romance between an eccentric archivist and a grieving widow explores what it means to be at home in your own body in this clever, humorous, and heartfelt novel.

When archivist Sol meets Elsie, the larger than life widow of a moderately famous television writer who's come to donate her wife's papers, there's an instant spark. But Sol has a secret: he suffers from an illness called vampirism, and hides from the sun by living in his basement office. On their way to falling in love, the two traverse grief, delve into the Internet fandom they once unknowingly shared, and navigate the realities of transphobia and the stigmas of carrying the "vampire disease."

Then, when strange things start happening at the collection, Sol must embrace even more of the unknown to save himself and his job. DEAD COLLECTIONS is a wry novel full of heart and empathy, that celebrates the journey, the difficulties and joys, in finding love and comfort within our own bodies.
I have yet to be convinced that this is a real book, it sounds so perfect I'm 99% sure that I dreamed it up. But I hope I'm wrong, because you can't read in dreams, and I VERY MUCH need to read this!
Manhunt
by
Gretchen Felker-Martin
Genres:
Horror
,
Queer Protagonists
,
Sci Fi
Representation:
Trans MCs
Published on:
22nd February 2022
Goodreads
Y: The Last Man meets The Girl With All the Gifts in Gretchen Felker-Martin's Manhunt, an explosive post-apocalyptic novel that follows trans women and men on a grotesque journey of survival.

Beth and Fran spend their days traveling the ravaged New England coast, hunting feral men and harvesting their organs in a gruesome effort to ensure they'll never face the same fate.

Robbie lives by his gun and one hard-learned motto: other people aren't safe.
After a brutal accident entwines the three of them, this found family of survivors must navigate murderous TERFs, a sociopathic billionaire bunker brat, and awkward relationship dynamics―all while outrunning packs of feral men, and their own demons.

Manhunt is a timely, powerful response to every gender-based apocalypse story that failed to consider the existence of transgender and non-binary people, from a powerful new voice in horror.
I read it, it gave me nightmares, and it was so, so worth it. If you are good with books that do not tone themselves down for anyone, that play hard and laugh in your face when it makes you uncomfortable, then you definitely need to preorder Manhunt because it is EXCELLENT.
You can read my review here!
March
Our Lady of Mysterious Ailments
by
T.L. Huchu
Genres:
Fantasy
Representation:
Black MC
Published on:
8th March 2022
Goodreads
Ropa Moyo's ghostalking practice has tanked, desperate for money to pay bills and look after her family she reluctantly accepts a job to look into the history of a coma patient receiving treatment at the magical private hospital Our Lady of Mysterious Ailments. The patient is a teenage schoolboy called Max Wu, and healers at the hospital are baffled by the illness which has confounded medicine and magic.

Ropa's investigation leads her to the Edinburgh Ordinary School for Boys, one of only the four registered schools for magic in the whole of Scotland (the oldest and only one that remains closed to female students).

But the headmaster there is hiding something and as more students succumb Ropa learns that a long-dormant and malevolent entity has once again taken hold in this world.

She sets off to track the current host for this spirit and try to stop it before other lives are endangered.

Opening up a world of magic and adventure, Our Lady of Mysterious Ailments by T. L. Huchu is the second book in the Edinburgh Nights series.
The first book in this series completely wowed me, and I can't wait to get back to Ropa and her weird, magical Edinborough with all its ghosts! Literal and metaphorical…
From Dust, a Flame
by
Rebecca Podos
Genres:
Fantasy
,
Queer Protagonists
Representation:
F/F
Published on:
8th March 2022
Goodreads
Hannah's whole life has been spent in motion. Her mother has kept her and her brother, Gabe, on the road for as long as she can remember, leaving a trail of rental homes and faded relationships behind them. No roots, no family but one another, and no explanations.

All of that changes on Hannah's seventeenth birthday when she wakes up transformed, a pair of golden eyes with knife-slit pupils blinking back at her from the mirror—the first of many such impossible mutations. Promising that she knows someone who can help, her mother leaves Hannah and Gabe behind to find a cure. But as the days turn to weeks and their mother doesn't return, they realize it's up to them to find the truth.

What they discover is a family they never knew, and a history more tragic and fantastical than Hannah could have dreamed—one that stretches back to her grandmother's childhood in Prague under the Nazi occupation, and beyond, into the realm of Jewish mysticism and legend. As the past comes crashing into the present, Hannah must hurry to unearth their family's secrets—and confront her own hidden legacy in order to break the curse and save the people she loves most, as well as herself.
I've been in love with Podos' writing since The Wicked and the Wise, and I'm so excited that we're getting another SFF book from her! AND it's built around Jewish folklore?! AND it's queer?! Hello? Excuse me??? What did I do to deserve this, I must make notes so I do it again!
Last Exit
by
Max Gladstone
Genres:
Fantasy
,
Queer Protagonists
Representation:
Sapphic MC, Indigenous American MC, Achillean hispanic MC, major secondary Black character
Published on:
8th March 2022
Goodreads
Ten years ago, Zelda led a band of merry adventurers whose knacks let them travel to alternate realities and battle the black rot that threatened to unmake each world. Zelda was the warrior; Ish could locate people anywhere; Ramon always knew what path to take; Sarah could turn catastrophe aside. Keeping them all connected: Sal, Zelda's lover and the group's heart.

Until their final, failed mission, when Sal was lost. When they all fell apart.
Ten years on, Ish, Ramon, and Sarah are happy and successful. Zelda is alone, always traveling, destroying rot throughout the US.

When it boils through the crack in the Liberty Bell, the rot gives Zelda proof that Sal is alive, trapped somewhere in the alts.

Zelda's getting the band back together—plus Sal's young cousin June, who has a knack none of them have ever seen before.

As relationships rekindle, the friends begin to believe they can find Sal and heal all the worlds. It's not going to be easy, but they've faced worse before.

But things have changed, out there in the alts. And in everyone's hearts.

Fresh from winning the Hugo and Nebula Awards, Max Gladstone weaves elements of American myth--the muscle car, the open road, the white-hatted cowboy--into a deeply emotional tale where his characters must find their own truths if they are to survive.
Gladstone apparently can't settle on any one corner of the genre, and I love it! Last Exit sounds very different from everything else he's written (or co-written) so far, and I am EXTREMELY excited. Hunting through the multiverses for your lost girlfriend??? Yep, sign me up, I am 110% not-ready but hit me anyway!
The Reinvented Heart
by
Jane Yolen
,
Seanan McGuire
,
Lisa Morton
,
Premee Mohamed
,
Naomi Kritzer
,
Mercedes M. Yardley
,
Cat Rambo
,
Jennifer Brozek
Genres:
Queer Protagonists
,
Sci Fi
Representation:
Nonbinary MCs
Published on:
10th March 2022
Goodreads
What happens when emotions like love and friendship span vast distances — in space, in time, and in the heart?

Science fiction often focuses on future technology and science without considering the ways social structures will change as tech changes — or not. What will relationships look like in a complicated future of clones, uploaded intelligences, artificial brains, or body augmentation? What stories emerge when we acknowledge possibilities of new genders and ways of thinking about them?

The Reinvented Heart presents stories that complicate sex and gender by showing how shifting technology may affect social attitudes and practices, stories that include relationships with communities and social groups, stories that reinvent traditional romance tropes and recast them for the 21st century, and above all, stories that experiment, astonish, and entertain.
I love SFF that explores new or non-traditional relationship formats or family structures – and this is a whole anthology built around just that!!! With a truly impressive author line-up, too!
April
Saint Death's Daughter
by
C.S.E. Cooney
Genres:
Fantasy
,
Secondary World Fantasy
,
Queer Protagonists
Representation:
Queer MC, nonbinary love interest
Published on:
12th April 2022
Goodreads
Fun, froofy and glorious: a coming-of-age story in a new trilogy from World Fantasy Award-winning author C.S.E Cooney

Life gets complicated when Death gets involved.

To be born into a family of royal assassins pretty much guarantees that your life is going to be... rather unusual. Especially if, like Miscellaneous "Lanie" Stones, you also have a vicious allergy to all forms of violence and bloodshed, and an uncanny affinity for bringing the dead back to life.

To make matters worse, family debt looms – a debt that will have to be paid sooner rather than later if Lanie and her sister are to retain ownership of the ancestral seat, Stones Manor. Lanie finds herself courted and threatened by powerful parties who would love to use her worryingly intimate relationship with the goddess of death for their own nefarious ends. But the goddess has other plans...
THIS.
THIS RIGHT HERE.
I DO NOT KNOW IF I CAN SURVIVE THIS NONPAREIL OF A BOOK.
I DON'T KNOW IF THE REST OF YOU CAN EITHER.
BUT IT'S A BOOK ABOUT A NECROMANCER, SO I GUESS IF WE EXPIRE, LANIE CAN JUST BRING US BACK.
…SHE'LL BE GETTING A LOT OF PRACTICE, I SUSPECT.
Sanctuary
by
Andi C. Buchanan
Genres:
Fantasy
,
Queer Protagonists
Representation:
Nonbinary MC, neurodivergent MC, assorted queer cast
Published on:
12th April 2022
Goodreads
Morgan's home is a sanctuary for ghosts.

The once-grand, now dilapidated old house they live in has become a refuge for their found family. From Morgan's partner Araminta, an artist with excellent dress sense, to Theo, a ten-year-old with an excess of energy, to quiet telekinesthetic pensioner Denny, all of them consider this haunted house their home. In a world that wasn't built for their queer, neurodivergent selves, they've made it into a place they belong.

Together they welcome not just the ghosts of the house's former inhabitants, but any who need somewhere to belong. Both the living and the dead can find themselves in need of a sanctuary.

When a collection of ghosts trapped in old bottles are delivered to their door, something from the past is unleashed. A man who once collected ghosts – a man who should have died centuries before – suddenly has the house under his control. Morgan must trust their own abilities, and their hard-won sense of self, to save their home, their family, and the woman they love.
Queer found family with nonbinary and neurodivergent MCs??? Adventure + cosiness??? Sweetheart ghosts??? I WANT!
Amongst Our Weapons (Rivers of London #9)
by
Ben Aaronovitch
Genres:
Fantasy
Representation:
Black MC
Published on:
12th April 2022
Goodreads
Now in hardcover, the ninth book of the bestselling Rivers of London urban fantasy series returns to the adventures of Peter Grant, detective and apprentice wizard, as he solves magical crimes in the city of London.

This next book in the bestselling UK series follows Peter Grant, an ordinary constable turned magician's apprentice, as he solves crimes across London in a sensational blend of inventive urban fantasy, gripping mystery thriller, and hilarious fantasy caper.
I've been in love with, and following, this series for years and years, and I have no idea where it's going after the last book, but I'm dying to find out!
The Language of Roses
by
Heather Rose Jones
Genres:
Fantasy
,
Queer Protagonists
Representation:
Arospectrum MC/s
Published on:
14th April 2022
Goodreads
A Beauty. A Beast. A Curse. This is not the story you know.

Join author Heather Rose Jones on a new and magical journey into the heart of a familiar fairytale. Meet Alys, eldest daughter of a merchant, a merchant who foolishly plucks a rose from a briar as he flees from the home of a terrifying fay Beast and his seemingly icy sister. Now Alys must pay the price to save his life and allow the Beast, the once handsome Philippe, to pay court to her.

But Alys has never fallen in love with anyone; how can she love a Beast? The fairy Peronelle, waiting in the woods to see the culmination of her curse, is sure that she will fail. Yet, if she does, Philippe's sister Grace and her beloved Eglantine, trapped in an enchanted briar in the garden, will pay a terrible price. Unless Alys can find another way…
I've followed Jones' writing career since Daughter of Mystery; her queer, historical-fantasy series, Alpennia, is a delight. So hell yes, I want to read her sapphic take on Beauty & the Beast! Especially since it was featured in LGBTQ Reads' list of arospectrum reads!
Spear
by
Nicola Griffith
Genres:
Fantasy
,
High Fantasy
,
Queer Protagonists
Representation:
Sapphic MC
Published on:
19th April 2022
Goodreads
A spellbinding and subversive queer recasting of Arthurian myth by the legendary author of Hild

The girl knows she has a destiny before she even knows her name. She grows up in the wild, in a cave with her mother, but visions of a faraway lake come to her on the spring breeze, and when she hears a traveler speak of Artos, king of Caer Leon, she knows that her future lies at his court.

And so, brimming with magic and eager to test her strength, she breaks her covenant with her mother and, with a broken hunting spear and mended armour, rides on a bony gelding to Caer Leon. On her adventures she will meet great knights and steal the hearts of beautiful women. She will fight warriors and sorcerers. And she will find her love, and the lake, and her fate.

Nebula and Lambda Award-winning author Nicola Griffith returns with Spear, a glorious queer retelling of Arthurian legend, full of dazzling magic and intoxicating adventure.
Griffith is one of my favourite authors and I'm so excited to see her take on the King Arthur mythos! With BONUS POINTS because it's queer!!!
Osmo Unknown and the Eightpenny Woods
by
Catherynne M. Valente
Genres:
Fantasy
Published on:
26th April 2022
Goodreads
From New York Times bestselling author Catherynne M. Valente comes an inventive new fantasy following a boy journeying away from the only home he's ever known and into the magical realm of the dead in order to fulfill a bargain for his people.

Osmo Unknown hungers for the world beyond his small town. With the life that Littlebridge society has planned for him, the only taste Osmo will ever get are his visits to the edge of the Fourpenny Woods where his mother hunts. Until the unthinkable happens: his mother accidentally kills a Quidnunk, a fearsome and intelligent creature that lives deep in the forest.

None of this should have anything to do with poor Osmo, except that a strange treaty was once formed between the Quidnunx and the people of Littlebridge to ensure that neither group would harm the other. Now that a Quidnunk is dead, as the firstborn child of the hunter who killed her, Osmo must embark on a quest to find the Eightpenny Woods—the mysterious kingdom where all wild forest creatures go when they die—and make amends.

Accompanied by a very rude half-badger, half-wombat named Bonk and an antisocial pangolin girl called Never, it will take all of Osmo's bravery and cleverness to survive the magic of the Eightpenny Woods to save his town…and make it out alive.
I would literally, and happily, read anything Valente decided to publish – she was the first name that ever went on my auto-buy-author list! But I'm even surer then usual that I'm going to love this book – Valente shared drafts of the early chapters on her Patreon, and I was star struck, ok? And no, I feel exactly zero embarassment about one of my most anticipated reads being MG, thank you. DON'T BE A HATER.
Kaikeyi
by
Vaishnavi Patel
Genres:
Fantasy
Representation:
Asexual Desi MC
Published on:
26th April 2022
Goodreads
"Patel's mesmerizing debut shines a brilliant light on the vilified queen from the Ramayana….This easily earns its place on shelves alongside Madeline Miller's Circe." –Publishers Weekly (starred review)

"I was born on the full moon under an auspicious constellation, the holiest of positions—much good it did me."

So begins Kaikeyi's story. The only daughter of the kingdom of Kekaya, she is raised on tales about the might and benevolence of the gods: how they churned the vast ocean to obtain the nectar of immortality, how they vanquish evil and ensure the land of Bharat prospers, and how they offer powerful boons to the devout and the wise. Yet she watches as her father unceremoniously banishes her mother, listens as her own worth is reduced to how great a marriage alliance she can secure. And when she calls upon the gods for help, they never seem to hear.

Desperate for some measure of independence, she turns to the texts she once read with her mother and discovers a magic that is hers alone. With this power, Kaikeyi transforms herself from an overlooked princess into a warrior, diplomat, and most favored queen, determined to carve a better world for herself and the women around her.

But as the evil from her childhood stories threatens the cosmic order, the path she has forged clashes with the destiny the gods have chosen for her family. And Kaikeyi must decide if resistance is worth the destruction it will wreak—and what legacy she intends to leave behind.

A stunning debut from a powerful new voice, Kaikeyi is a tale of fate, family, courage, and heartbreak—of an extraordinary woman determined to leave her mark in a world where gods and men dictate the shape of things to come.
I'm loving how many feminist retellings we've been getting the last few years – but I think this is the one I've been most excited for. FIRST, it's not a retelling of Greek mythology, which automatically makes me happy because, as original as many retellings are, I am Very Tired of Greek mythology. SECOND, it's putting a villainess front and center!!! Not a Disney villainess (awesome as many of them are) but an ancient, literally Epic villainess.
This is gonna be SO GOOD.
May
When Women Were Dragons
by
Kelly Barnhill
Genres:
Fantasy
,
Historical Fantasy
,
Queer Protagonists
Representation:
Sapphic MC
Published on:
3rd May 2022
Goodreads
A slyly funny, utterly original, triumphantly feminist novel, by the Newbery award-winning author of The Girl Who Drank the Moon, about the Mass Dragoning of 1955 in which 300,000 women spontaneously transform into dragons...and change the world.

Alex Green is a young girl in a world much like ours. But this version of 1950's America is characterized by a significant event: The Mass Dragoning of 1955, when hundreds of thousands of ordinary wives and mothers sprouted wings, scales and talons, left a trail of fiery destruction in their path, and took to the skies. Seemingly for good. Was it their choice? What will become of those left behind? Why did Alex's beloved Aunt Marla transform but her mother did not? Alex doesn't know. It's taboo to speak of, even more so than her crush on Sonja, her schoolmate.

Forced into silence, Alex nevertheless must face the consequences of dragons: a mother more protective than ever; a father growing increasingly distant; the upsetting insistence that her aunt never even existed; and a new "sister" obsessed with dragons far beyond propriety. Through loss, rage, and self-discovery, this story follows Alex's journey as she deals with the events leading up to and beyond the Mass Dragoning, and her connection with the phenomenon itself.

In this timely and timeless speculative novel, award-winning author Kelly Barnhill boldly explores rage, memory, and the limitations of girlhood. When Women Were Dragons exposes a world that wants to keep women small--their lives and their prospects--and examines what happens when they rise en masse and take up the space they deserve.
MASS DRAGONING
MY TWO NEW FAVOURITE WORDS IN THE ENGLISH LANGUAGE
THAT'S REALLY ALL I NEED TO HEAR
*whispers* MASS DRAGONING!!!
Rebel Skies
by
Ann Sei Lin
Genres:
Fantasy
Representation:
Asian-coded cast
Published on:
5th May 2022
Goodreads
Teen fantasy adventure set in a world of flying ships and sky cities, where chosen ones have the ability to bring paper to life and work as Crafters - people who hunt wild paper spirits called shikigami. Inspired by Asian culture and exploring themes of empire, slavery and freedom.

Kurara has never known any other life than being a servant on board the Midori, but when her party trick of making paper come to life turns out to be a power treasured across the empire, she joins a skyship and its motley crew to become a Crafter. Taught by the gruff but wise Himura, Kurara learns to hunt shikigami - wild paper spirits who are sought after by the Princess.

But are these creatures just powerful slaves for the Crafters and the empire, or are they beings with their own souls - and yet another thing to be subjugated by the powerful Emperor and his Princess?
Honestly, I knew I had to have this book before I even got to the description – look at that freaking cover!!! And THEN the blurb on top of that?! SOLD.
Siren Queen
by
Nghi Vo
Genres:
Fantasy
,
Historical Fantasy
,
Queer Protagonists
Representation:
Chinese-American sapphic MC
Published on:
10th May 2022
Goodreads
From award-winning author Nghi Vo comes a dazzling new novel where immortality is just a casting call away.

It was magic. In every world, it was a kind of magic.

"No maids, no funny talking, no fainting flowers." Luli Wei is beautiful, talented, and desperate to be a star. Coming of age in pre-Code Hollywood, she knows how dangerous the movie business is and how limited the roles are for a Chinese American girl from Hungarian Hill—but she doesn't care. She'd rather play a monster than a maid.

But in Luli's world, the worst monsters in Hollywood are not the ones on screen. The studios want to own everything from her face to her name to the women she loves, and they run on a system of bargains made in blood and ancient magic, powered by the endless sacrifice of unlucky starlets like her. For those who do survive to earn their fame, success comes with a steep price. Luli is willing to do whatever it takes—even if that means becoming the monster herself.

Siren Queen offers up an enthralling exploration of an outsider achieving stardom on her own terms, in a fantastical Hollywood where the monsters are real and the magic of the silver screen illuminates every page.
What do you want from me, it's Nghi Vo, if you don't preorder her books immediately you are quite simply Wrong and we cannot be friends.
Someone in Time: Tales of Time-Crossed Romance
by
Jonathan Strahan
,
Nina Allan
,
Zen Cho
,
Rowan Coleman
,
Jeffrey Ford
,
Sarah Gailey
,
Theodora Goss
,
Elizabeth Hand
,
Alix E. Harrow
,
Ellen Klages
,
Lavanya Lakshminarayan
,
Margo Lanagan
,
Seanan McGuire
,
Sam J. Miller
,
Sameem Sadiqui
,
Catherynne M. Valente
,
Carrie Vaughn
Genres:
Queer Protagonists
,
Sci Fi
Representation:
Nonbinary MCs, queer MCs
Published on:
10th May 2022
Goodreads
Anthology of inclusive tales of people through time looking for one another and for ways for the world to be better.

Love brought together or torn apart by time travel.

This anthology is the latest collection of time-travel romance sci-fi short stories from prominent, award-winning sci-fi authors including Nina Allan, Carrie Vaughn, and Seanan McGuire. Follow timetravelers of all genders as they go backward and forward in time, sometimes to save the one they love, other times as a sacrifice, and others simply because it's their job. Some travel through memory, others through dreams, and others still through time machines to touch people who would otherwise be out of reach, and to join them together. Some of the stories are funny, some are sad and poignant, some are tales of fresh love and some of love forever lost, but they all are rather wonderful.

Including stories by: Alix E. Harrow, Zen Cho, Seanan McGuire, Sarah Gailey, Jeffrey Ford, Nina Allan, Elizabeth Hand, Lavanya Lakshminarayan, Catherynne M. Valente, Sam J. Miller, Rowan Coleman, Margo Lanagan, Sameem Siddiqui, Theodora Goss, Carrie Vaughn, Ellen Klages
Time-travel is not, in and of itself, a trope I'm very interested in. But inclusive time-travel? You have my attention! And with that line-up of authors, you are most definitely keeping my attention!
Dark Factory
by
Kathe Koja
Genres:
Queer Protagonists
,
Sci Fi
Representation:
M/M
Published on:
10th May 2022
Goodreads
Welcome to Dark Factory! You may experience strobe effects, Y reality, DJ beats, love, sex, betrayal, triple shot espresso, broken bones, broken dreams, ecstasy, self-knowledge, and the void.

Dark Factory is a dance club: three floors of DJs, drinks, and customizable reality, everything you see and hear and feel. Ari Regon is the club's wild card floor manager, Max Caspar is a stubborn DIY artist, both chasing a vision of true reality. And rogue journalist Marfa Carpenter is there to write it all down. Then a rooftop rave sets in motion a fathomless energy that may drive Ari and Max to the edge of the ultimate experience.

Dark Factory is Kathe Koja's wholly original new novel from Meerkat Press that combines her award-winning writing and her skill directing immersive events to create a story that unfolds on the page, online, and in the reader's creative mind.
As with Bitter, I'm not 100% sure that Dark Factory is SFF – but I'm willing to bet on it. I fell in love with Koja's writing with her Under the Poppy trilogy, which was queer historical fiction, but quite a lot of her work has supernatural elements…which the description of Dark Factory seems to hint or tease at…
I'll love it regardless. What's really interesting? Dark Factory is an immersive, multi-media experience. You can 'just' read the book, or you can interact with the club and character on social media or the website darkfactory.com. How cool is that?!
You can read my review here!
The Hourglass Throne
by
K.D. Edwards
Genres:
Fantasy
,
Queer Protagonists
Representation:
Gay MC, bi/pan love interest, M/M, queernorm world, secondary asexual character, secondary nonbinary character
Published on:
17th May 2022
Goodreads
As Rune Saint John grapples with the challenges of assuming the Sun Throne, a powerful barrier appears around New Atlantis's famed rejuvenation center. But who could have created such formidable magic . . . what do they want from the immortality clinic . . . and what remains of the dozens trapped inside?

Though Rune and his lifelong bodyguard Brand are tasked with investigating the mysterious barrier, Rune is also busy settling into his new life at court. Claiming his father's throne has irrevocably thrown him into the precarious world of political deception, and he must secure relationships with newfound allies in time to keep his growing found family safe. His relationship with his lover, Addam Saint Nicholas, raises additional political complications they must navigate. But he and Brand soon discover that the power behind the barrier holds a much more insidious, far-reaching threat to his family, to his people, and to the world.

Now, the rulers of New Atlantis must confront an enemy both new and ancient as the flow of time itself is drawn into the conflict. And as Rune finds himself inexorably drawn back to the fall of his father's court and his own torture at the hands of masked conspirators, the secrets that he has long guarded will be dragged into the light—changing the Sun Throne, and New Atlantis, forever.

The climax of the first trilogy in the nine-book Tarot Sequence, The Hourglass Throne delivers epic urban fantasy that blends humor, fast-paced action, and political intrigue.
It's impossible to overstate how much I love this series, and I am SHREIKING at the thought of this, the finale of the first trilogy! This is going to HURT, and I'm still running toward it at the speed of light. If you haven't read the earlier books yet, WHAT ARE YOU STILL DOING HERE GO READ THEM!!!
Darknesses (Darknesses, #1)
by
Lachelle Seville
Genres:
Fantasy
,
Queer Protagonists
Representation:
F/F, Black sapphic love interest
Published on:
19th May 2022
Goodreads
It's been a year since Oasis stumbled away from Blessed Falls with wings carved into her back and too many scars to count.

A year spent razing delusions of being an angel's vessel, proving to her brother that she doesn't belong in a psych ward, and mourning the loss of her mother's vinyl pressed ashes.

A year spent struggling to feel human again.

Enter Laura, the mesmerizing stranger who claims to hear Oasis' heartbeat, who reads her hand-written memoir like scripture, who makes her feel closer to found than lost.

Laura is the most recent face of the eternal Count Dracula, ruler of the shadows, chimera of the Devil, and embittered victim of libel.

The Van Helsing Institute have been waiting for a glimpse of the dragon's underbelly, and eagerly approach Oasis for her help in a ploy to kill Dracula for good. But not every wound from Blessed Falls has cicatrized, and Oasis realizes she may be a danger to Laura—and to herself.

Yet no one is as dangerous as Laura—the first vampire, the Devil's plaything, and the person with whom Oasis finally feels human.

Oceans of time have passed since she last had a drink, and she will not let Oasis go easily.
I have been promised sapphics and Black vampires, and the excerpt on the author's website hooked me immediately! I'm just utterly in love with the idea of a vampire who insists on burning copies of Dracula, and I am INTENSELY INTRIGUED by Oasis' backstory! The vessel of an angel??? My fingers are crossed for a Van Helsing (2004)-esque reveal, but even if that's not the direction this goes in, I still want to read it SO BAD!
June
The Last Stand of Mary Good Crow (The Crystal Calamity, #1)
by
Rachel Aaron
Genres:
Fantasy
,
Historical Fantasy
Representation:
Biracial MC
Published on:
1st June 2022
Goodreads
Deadwood meets The Lord of the Rings in this Epic Fantasy of the West!

Hungry darkness, haunted guns, tunnels that move like snakes—the crystal mines of Medicine Rocks, Montana are a place only the bravest and greediest dare. Discovered in 1866, the miraculous rock known as crystal quickly rose to become the most expensive substance on the planet, driving thousands to break the treaties and invade the sacred buffalo lands of the Sioux. But mining crystal risks more than an arrow in the chest. The beautiful rock has a voice of its own. A voice that twists minds and calls unnatural powers.

A voice that turns men into monsters.

Mary Good Crow hears it. Half white, half Lakota, rejected by both, she's forged a new life guiding would-be miners through the treacherous caves. To her ears, the crystal sings a beautiful song, one the men she guides would gladly burn her as a witch for hearing. So, when an heiress from Boston arrives with a proposition that could change her life, Mary agrees to push deeper into the caves than she's ever dared.
But there are secrets buried in the Deep Caves that even Mary doesn't know. The farther she goes, the closer she gets to the voice that's been calling her all this time. A voice that could change the bloody story of the West, or destroy it all.
Rachel Aaron has been an auto-buy author for me since Nice Dragons Finish Last back in 2014 – so you'd better believe I hit the preorder button minutes after getting her newsletter about her new book! Sure, this sounds pretty different from anything she's written before – but that only makes it more exciting!!!
To Catch a Moon
by
Rym Kechacha
Genres:
Fantasy
Representation:
Mexican MC
Published on:
2nd June 2022
Goodreads
Mexico City, 1955. The painter Remedios Varo sits in her kitchen with her friend, the artist Leonora Carrington. Together they let their imaginations soar beyond their canvases to create new worlds.

In the surreal landscape of her imagination, Varo's creations take on a life and power of their own. A wheeled spirit of the earth kidnaps a baby star; a woman who is half owl draws herself a daughter; a juggler entrances a crowd of grey-cloaked men, a lion and a goat. The rules that govern this world bend and creak, old alliances break, and an impending apocalypse forges the most unlikely of friendships.
I'm simply enchanted by this premise, and hypnotised by that cover – and the annotated excerpt posted to Civilian Reader absolutely cinched it!
Wrath Goddess Sing
by
Maya Deane
Genres:
Fantasy
,
Epic Fantasy
,
Queer Protagonists
Representation:
Trans MC
Published on:
7th June 2022
Goodreads
Drawing on ancient texts and modern archeology to reveal the trans woman's story hidden underneath the well-known myths of The Iliad, Maya Deane's Wrath Goddess Sing weaves a compelling, pitilessly beautiful vision of Achilles' vanished world, perfect for fans of Song of Achilles and the Inheritance trilogy.

The gods wanted blood. She fought for love.

Achilles has fled her home and her vicious Myrmidon clan to live as a woman with the kallai, the transgender priestesses of Great Mother Aphrodite. When Odysseus comes to recruit the "prince" Achilles for a war against the Hittites, she prepares to die rather than fight as a man. However, her divine mother, Athena, intervenes, transforming her body into the woman's body she always longed for, and promises her everything: glory, power, fame, victory in war, and, most importantly, a child born of her own body. Reunited with her beloved cousin, Patroklos, and his brilliant wife, the sorceress Meryapi, Achilles sets out to war with a vengeance.

But the gods--a dysfunctional family of abusive immortals that have glutted on human sacrifices for centuries--have woven ancient schemes more blood-soaked and nightmarish than Achilles can imagine. At the center of it all is the cruel, immortal Helen, who sees Achilles as a worthy enemy after millennia of ennui and emptiness. In love with her newfound nemesis, Helen sets out to destroy everything and everyone Achilles cherishes, seeking a battle to the death.

An innovative spin on a familiar tale, this is the Trojan War unlike anything ever told, and an Achilles whose vulnerability is revealed by the people she chooses to fight...and chooses to trust.
Hi excuse me pardon me hi hello beg your pardon TRANS WOMAN ACHILLES?!
We are being blessed with TRANS WOMAN ACHILLES
And a GLORIOUSLY EVIL HELEN
And 'the gods wanted blood. she fought for love.'
?!?!?!
*IINCOHERENT SHRIEKING*
Hell Followed with Us
by
Andrew Joseph White
Genres:
Queer Protagonists
,
Sci Fi
Representation:
Trans gay MC, autistic gay MC, assorted queer and BIPOC secondary characters
Published on:
7th June 2022
Goodreads
Sixteen-year-old trans boy Benji is on the run from the cult that raised him—the fundamentalist sect that unleashed Armageddon and decimated the world's population. Desperately, he searches for a place where the cult can't get their hands on him, or more importantly, on the bioweapon they infected him with.

But when cornered by monsters born from the destruction, Benji is rescued by a group of teens from the local Acheson LGBTQ+ Center, affectionately known as the ALC. The ALC's leader, Nick, is gorgeous, autistic, and a deadly shot, and he knows Benji's darkest secret: the cult's bioweapon is mutating him into a monster deadly enough to wipe humanity from the earth once and for all.

Still, Nick offers Benji shelter among his ragtag group of queer teens, as long as Benji can control the monster and use its power to defend the ALC. Eager to belong, Benji accepts Nick's terms…until he discovers the ALC's mysterious leader has a hidden agenda, and more than a few secrets of his own.
I already read this and people. PEOPLE. You are not even a little bit ready!!! The biblical imagery and biblical FUCKERY and and and. !!! MONSTROUSNESS and how that intersects with TRANSNESS and everything is messy and everything hurts and all of it is GLORIOUS!
You can read my review over here!
In the Heart of Hidden Things
by
Kit Whitfield
Genres:
Fantasy
Representation:
Neurodivergent MC
Published on:
9th June 2022
Goodreads
Everyone knows that if you fall afoul of the People, you must travel the miles to Gyrford, where uncounted generations of fairy-smiths have protected the county with cold iron, good counsel and unvarnished opinions about your common sense.
But shielding the weak from the strong can make enemies. Ephraim Brady has money and power, and the bitter will to hurt those who cross him. And if he can't touch elder farrier Jedediah Smith, he can harm those the Smiths care about.
The Smiths care about Tobias Ware, born on a night when the blazing fey dog Black Hal roared past the Wares' gate. Tobias doesn't understand the language or laws of men, and he can't keep away from the Bellame woods, where trespass is a hanging offence. If Toby is to survive, he needs protection.
It should be a manageable job. Jedediah Smith has a head on his shoulders, and so too (mostly) does his son Matthew. Only Matthew's son John has turned out a little . . . uncommon. But he means well.
It wasn't his fault the bramble bush put on a berry-head and started taking offence. Or that Tobias upset it. But John's not yet learned that if you follow the things other folk don't see, they might drag those you love into the path of ruin.
Whitfield is a CRIMINALLY underappreciated worldbuilding-master, so I genuinely CANNOT WAIT to see her take on the Fae (you simply must check out her earlier books to see what she did with werewolves and mermaids!) And then I'm EXTRA excited because faerie smiths are a relatively rare part of the folklore – we hardly ever get to see them, and here Whitfield is giving us awhole novel about them! HI YES I'LL TAKE ELEVEN THANK YOU!
The Dawnhounds
by
Sascha Stronach
Genres:
Queer Protagonists
,
Science Fantasy
Representation:
Brown queer cast, sapphic MCs, F/F
Published on:
14th June 2022
Goodreads
Gideon the Ninth meets Black Sun in this queer, Māori-inspired debut fantasy about a police officer who is murdered, brought back to life with a mysterious new power, and tasked with protecting her city from an insidious evil threatening to destroy it.

The port city of Hainak is alive: its buildings, its fashion, even its weapons. But, after a devastating war and a sweeping biotech revolution, all its inhabitants want is peace, no one more so than Yat Jyn-Hok a reformed-thief-turned-cop who patrols the streets at night.

Yat has recently been demoted on the force due to "lifestyle choices" after being caught at a gay club. She's barely holding it together, haunted by memories of a lover who vanished and voices that float in and out of her head like radio signals. When she stumbles across a dead body on her patrol, two fellow officers gruesomely murder her and dump her into the harbor. Unfortunately for them, she wakes up.

Resurrected by an ancient power, she finds herself with the new ability to manipulate life force. Quickly falling in with the pirate crew who has found her, she must race against time to stop a plague from being unleashed by the evil that has taken root in Hainak.
I was lucky enough to read the first edition of this, which was FREAKING MINDBLOWING and already one of the best books I've ever read – but this new edition is EXPANDED, we will be getting EVEN MORE AWESOMENESS, and in particular Stronach has promised that it's now even weirder, queerer, and more indigenous than before!!! HI CAN YOU TELL I'M EXCITED?!
The Grief of Stones (The Cemeteries of Amalo, #2)
by
Katherine Addison
Genres:
Fantasy
,
Secondary World Fantasy
,
Queer Protagonists
Representation:
Achillean MC
Published on:
14th June 2022
Goodreads
In The Grief of Stones, Katherine Addison returns to the world of The Goblin Emperor with a direct sequel to The Witness For The Dead...

Celehar's life as the Witness for the Dead of Amalo grows less isolated as his circle of friends grows larger. He has been given an apprentice to teach, and he has stumbled over a scandal of the city—the foundling girls. Orphans with no family to claim them and no funds to buy an apprenticeship. Foundling boys go to the Prelacies; foundling girls are sold into service, or worse.

At once touching and shattering, Celehar's witnessing for one of these girls will lead him into the depths of his own losses. The love of his friends will lead him out again.
The only thing I didn't love about The Witness for the Dead was that it was a standalone – but it WASN'T one, so Grief retroactively perfects Witness before it's even published! And I have no doubt it's going to be freaking wonderful in its own right too – I love the world Addison created here, and Celehar is a sweetheart who deserves nothing but good things!
The Ballad of Perilous Graves
by
Alex Jennings
Genres:
Fantasy
,
Queer Protagonists
Representation:
Black trans MC
Published on:
21st June 2022
Goodreads
In a fantastical version of New Orleans where music is magic, a battle for the city's soul brews between two young mages, a vengeful wraith, and one powerful song in this vibrant and imaginative debut.

Nola is a city full of wonders. A place of sky trolleys and dead cabs, where haints dance the night away and Wise Women keep the order, and where songs walk, talk and keep the spirit of the city alive. To those from Far Away, Nola might seem strange. To failed magician, Perilous Graves, it's simply home. Then the rhythm stutters.

Nine songs of power have escaped from the magical piano that maintains the city's beat and without them, Nola will fail. Unexpectedly, Perry and his sister, Brendy, are tasked with saving the city. But a storm is brewing and the Haint of All Haints is awake. Even if they capture the songs, Nola's time might be coming to an end.
I've never visited in real life, but I love New Orleans as a story setting, and the premise of Ballad sounds so new and unique! Music = magic is really all I need to hear, honestly. HI YES SIGN ME THE HELL UP!
Not Good for Maidens
by
Tori Bovalino
Genres:
Fantasy
,
Historical Fantasy
,
Queer Protagonists
Representation:
Asexual MC, bisexual MC
Published on:
21st June 2022
Goodreads
Salem's Lot meets The Darkest Part of the Forest in this horror-fantasy retelling of Christina Rossetti's "Goblin Market."
Lou never believed in superstitions or magic--until her teenage aunt Neela is kidnapped to the goblin market.
The market is a place Lou has only read about--twisted streets, offerings of sweet fruits and incredible jewels. Everything--from the food and wares, to the goblins themselves--is a haunting temptation for any human who manages to find their way in.
Determined to save Neela, Lou learns songs and spells and tricks that will help her navigate this dangerous world and slip past a goblin's defenses--but she only has three days to find Neela before the market disappears and her aunt becomes one of them forever.
If she isn't careful, the market might just end up claiming her too.
The decadence of Fantasy has always been massively appealing to me, and the decadence of Fantasy food even moreso, so I was DESTINED to be all over a Goblin Market retelling. THERE MIGHT EVEN HAVE BEEN A PROPHECY.
And it's queer?!
DEFINITELY A PROPHECY.
Driftwood Orphans
by
Paul Krueger
Genres:
Fantasy
Published on:
23rd June 2022
Goodreads
Before she was betrayed and left for dead, Tenny was many things: prodigal daughter of the Driftwood City underworld. Leader of the Thorn Orphans, the gang fighting for a better tomorrow. City shaman, able to bend her home's boroughs to her will. Partner-in-crime to Cole, the runaway rich boy with powers just like hers.

But that was all before.

Four years later, Tenny is an exile, sleepwalking through life and waiting to die. But a chance encounter puts her on a bloody path back to the life she left behind. Friendless and powerless, she returns to Driftwood City, only to find a world where the Thorn Orphans have finally won. A better tomorrow, today.

And all that progress tethered to the heartbeat of the friend who ordered her death.
Her city. Her vengeance. It's an impossible choice.

But if Tenny wants to survive, she'll have to choose one.
I really loved Steel Crow Saga, although I was very late to it, so of course I want to pounce on Krueger's next book! It sounds like it's going to be quite different to Crow, but that isn't a problem for me!
Against All Gods
by
Miles Cameron
Genres:
Fantasy
Published on:
23rd June 2022
Goodreads
The gods play their games, looking down on the mortal realm and moving men as pawns. Sacrificing lives, towns, even civilisations as they make moves against each other, oblivious to and uncaring of the suffering it causes.

They are above it all: worshipped, emulated and admired.

Yet there is one among them who exists to sow chaos, to challenge the way of things, and to stir up trouble. One who sees the gods growing indolent and contented and selfish . . . and who is ready to meddle in the world of men. Not as part of the immortal game, but because they believe it's possible for men to challenge . . . and even topple . . . the gods themselves.

An epic which draws on the Greek mythology of gods and heroes, this new trilogy is a must read for fans of Dan Simmons and Madeline Miller alike.
I've been in love with Cameron's SFF for YEARS, from the Traitor Son Cycle up to Artifact Space, his first sci-fi – so I am EXTREMELY EXCITED for his next fantasy novel! Overthrowing the gods, you say??? I'll bring the popcorn!
Also I freaking love that tagline – 'Absolute power corrupts…eternally' indeed!
July
The Moonday Letters
by
Emmi Itäranta
Genres:
Queer Protagonists
,
Sci Fi
,
Science Fantasy
Representation:
Queer MC, nonbinary spouse
Published on:
5th July 2022
Goodreads
A gripping sci-fi mystery wrapped in an LGBTQIA love story that bends space, time, myth and science.

Lumi is an Earth-born healer whose Mars-born spouse Sol disappears unexpectedly on a work trip. As Lumi begins her quest to find Sol, she delves gradually deeper into Sol's secrets – and her own.
While recalling her own path to becoming a healer under the guidance of her mysterious teacher Vivian, she discovers an underground environmental group called Stoneturners, which may have something to do with Sol's disappearance. Lumi's search takes her from the wealthy colonies of Mars to Earth that has been left a shadow of its former self due to vast environmental destruction. Gradually, she begins to understand that Sol's fate may have been connected to her own for much longer than she thought.

Part space-age epistolary, part eco-thriller, The Moonday Letters is also a love story between two individuals from very different worlds.
Emmi Itäranta is a Finnish author whose translated works I have DEVOURED, and I'm delighted we're getting another one translated! I'm not clear on what kind of queer rep we're getting here, but everything I've heard about it just sounds amazing: references to the Sumerian goddess Inanna, Nordic paganism, shamanist healing, biotechnology… And I'm excited for what I've heard about the worldbuilding specifically. Can't wait!
Aaand here's my review!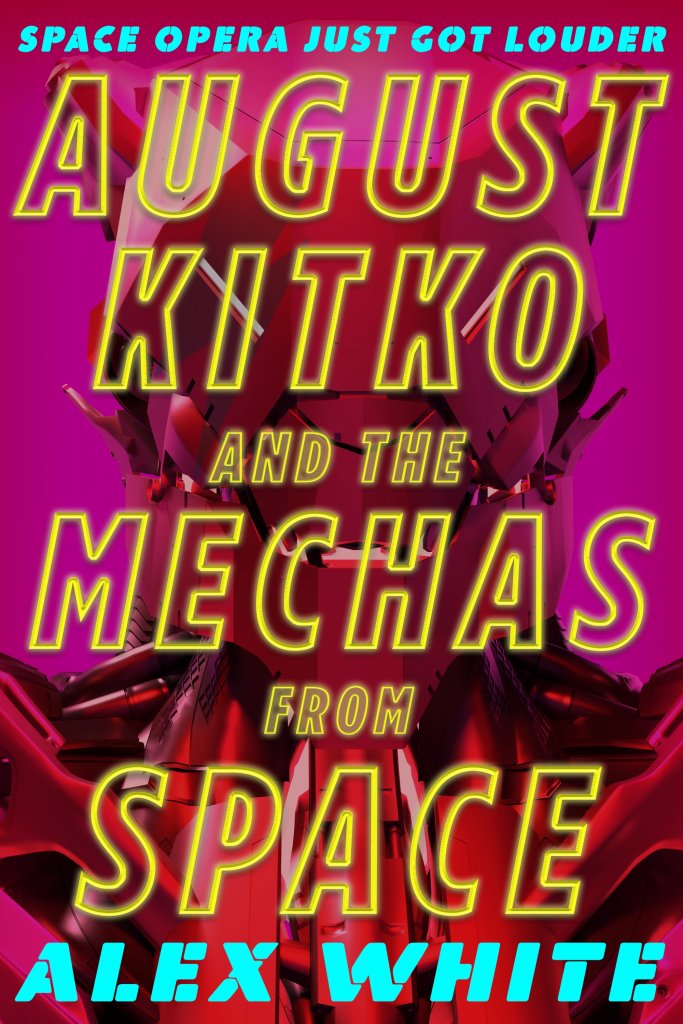 August Kitko and the Mechas from Space
by
Alex White
Genres:
Queer Protagonists
,
Sci Fi
Representation:
Queer MC, nonbinary MC, M/NB
Published on:
12th July 2022
Goodreads
When an army of giant robot AIs threatens to devastate Earth, a virtuoso pianist becomes humanity's last hope in this bold, lightning-paced, technicolor new space opera series from the author of A Big Ship at the Edge of the Universe.

Jazz pianist Gus Kitko expected to spend his final moments on Earth playing piano at the greatest goodbye party of all time, and maybe kissing rockstar Ardent Violet, before the last of humanity is wiped out forever by the Vanguards--ultra-powerful robots from the dark heart of space, hell-bent on destroying humanity for reasons none can divine.

But when the Vanguards arrive, the unthinkable happens--the mecha that should be killing Gus instead saves him. Suddenly, Gus's swan song becomes humanity's encore, as he is chosen to join a small group of traitorous Vanguards and their pilots dedicated to saving humanity.
Alex White's Salvagers trilogy is one of my all-time faves, so of course I'm going to pounce on whatever he writes next – especially when it sounds as cool as this does!
A Half-Built Garden
by
Ruthanna Emrys
Genres:
Queer Protagonists
,
Sci Fi
Representation:
Queernorm world, sapphic MC, F/F, major character with prosthetic limb, secondary trans characters, multiple neogenders
Published on:
26th July 2022
Goodreads
A literary descendent of Ursula K. Le Guin, Ruthanna Emrys crafts a novel of extraterrestrial diplomacy and urgent climate repair bursting with quiet, tenuous hope and an underlying warmth. A Half-Built Garden depicts a world worth building towards, a humanity worth saving from itself, and an alien community worth entering with open arms. It's not the easiest future to build, but it's one that just might be in reach.

"A Half-Built Garden deserves to be the first contact novel that defines a generation." —Seanan McGuire

On a warm March night in 2083, Judy Wallach-Stevens wakes to a warning of unknown pollutants in the Chesapeake Bay. She heads out to check what she expects to be a false alarm--and stumbles upon the first alien visitors to Earth. These aliens have crossed the galaxy to save humanity, convinced that the people of Earth must leave their ecologically-ravaged planet behind and join them among the stars. And if humanity doesn't agree, they may need to be saved by force.

The watershed networks aren't ready to give up on Earth. Decades ago, they rose up to exile the last corporations to a few artificial islands, escape the dominance of nation-states, and reorganize humanity around the hope of keeping their world liveable. By sharing the burden of decision-making, they've started to heal the wounded planet.

But now corporations, nation-states, and networks all vie to represent humanity to these powerful new beings, and if any one accepts the aliens' offer, Earth may be lost. With everyone's eyes turned skyward, everything hinges on the success of Judy's effort to create understanding, both within and beyond her own species.
Alien invasion stories? Pass.
Social Justice Warrior aliens out to save Earth whether humans like it or not??? HELLS YES!
A Strange and Stubborn Endurance
by
Foz Meadows
Genres:
Fantasy
,
Secondary World Fantasy
,
Queer Protagonists
Representation:
Brown cast, gay MCs, M/M, major mute character, secondary nonbinary character, secondary trans character, queernorm culture
Published on:
26th July 2022
Goodreads
"Many a reader longing for a sense of homecoming in the realm of romantic fantasy will find it in A Strange and Stubborn Endurance."—Jacqueline Carey

"Stolen me? As soon to say a caged bird can be stolen by the sky."

Velasin vin Aaro never planned to marry at all, let alone a girl from neighboring Tithena. When an ugly confrontation reveals his preference for men, Vel fears he's ruined the diplomatic union before it can even begin. But while his family is ready to disown him, the Tithenai envoy has a different solution: for Vel to marry his former intended's brother instead.

Caethari Aeduria always knew he might end up in a political marriage, but his sudden betrothal to a man from Ralia, where such relationships are forbidden, comes as a shock.

With an unknown faction willing to kill to end their new alliance, Vel and Cae have no choice but to trust each other. Survival is one thing, but love—as both will learn—is quite another.

Byzantine politics, lush sexual energy, and a queer love story that is by turns sweet and sultry. Foz Meadows' A Strange and Stubborn Endurance is an exploration of gender, identity, and self-worth. It is a book that will live in your heart long after you turn the last page.
Meadow's Manifold Worlds duet are some of my fave books in all the world, so Strange and Stubborn Endurance would have made this list even if it didn't sound wonderful in its own right (which it does) or have praise from Jacqueline Carey on the cover (which it also does!)
*grabby hands*
August
The Book Eaters
by
Sunyi Dean
Genres:
Fantasy
,
Queer Protagonists
Representation:
Lesbian MC, asexual secondary character
Published on:
9th August 2022
Goodreads
Sunyi Dean's The Book Eaters is a contemporary fantasy debut. It's a story of motherhood, sacrifice, and hope; of queer identity and learning to accept who you are; of gilded lies and the danger of believing the narratives others create for you.

Out on the Yorkshire Moors lives a secret line of people for whom books are food, and who retain all of a book's content after eating it. To them, spy novels are a peppery snack; romance novels are sweet and delicious. Eating a map can help them remember destinations, and children, when they misbehave, are forced to eat dry, musty pages from dictionaries.

Devon is part of The Family, an old and reclusive clan of book eaters. Her brothers grow up feasting on stories of valor and adventure, and Devon—like all other book eater women—is raised on a carefully curated diet of fairytales and cautionary stories.

But real life doesn't always come with happy endings, as Devon learns when her son is born with a rare and darker kind of hunger—not for books, but for human minds.
Listen. LISTEN. As much as the idea of physically destroying books horrifies me on a VISCERAL level, it is simply not humanly possible for me to not LOVE the idea of people who EAT books!!! And different genres having different flavours?! I haven't read this yet and hi, I'm already in love.
SIA NEEEEDS!
Although if you need some extra convincing, you can read an excerpt over at HarperVoyager, or check out my review!
The Bruising of Qilwa
by
Naseem Jamnia
Genres:
Fantasy
,
Queer Protagonists
Representation:
All QPoC cast, nonbinary aroace MC
Published on:
9th August 2022
Goodreads
In this intricate fantasy novella, a refugee practitioner of blood magic finds a strange disease that causes political rifts in their new homeland. Persian-American author Naseem Jamnia is a vital new voice who has crafted a gripping narrative layered with themes of persecution, healing, and family. The Bruising of Qilwa is the newest arrival in the era of new fantasy classics such as the Broken Earth Trilogy (The Fifth Season), The Four Profound Weaves, and Who Fears Death.

Firuz-e Jafari is one of the fortunate ones who have emigrated to the Democratic Free State of Qilwa. Firuz has escaped the slaughter of other traditional Sassanid blood-magic practitioners. They have a good job at a free healing clinic in Qilwa; a kindly new employer, Kofi; and a gifted new student, Afsoneh, a troubled orphan refugee.

But Firuz and Kofi have discovered a terrible new disease which leaves mysterious bruises on its victims. The illness is spreading quickly through Qilwa, and there are dangerous accusations of ineptly-performed blood magic. In order to survive, Firuz must break a deadly cycle of prejudice while finding a fresh start for their both their blood and found family.
A Persian-inspired setting packed full of queerness??? Refugees and blood magic??? FOUND FAMILY??? Yep, this is gonna be AWESOME!
And to prove it, here's an excerpt posted to Gizmodo! (Warning, there's discussions of plague and it gets a bit gruesome describing a corpse.)
Finally: my review!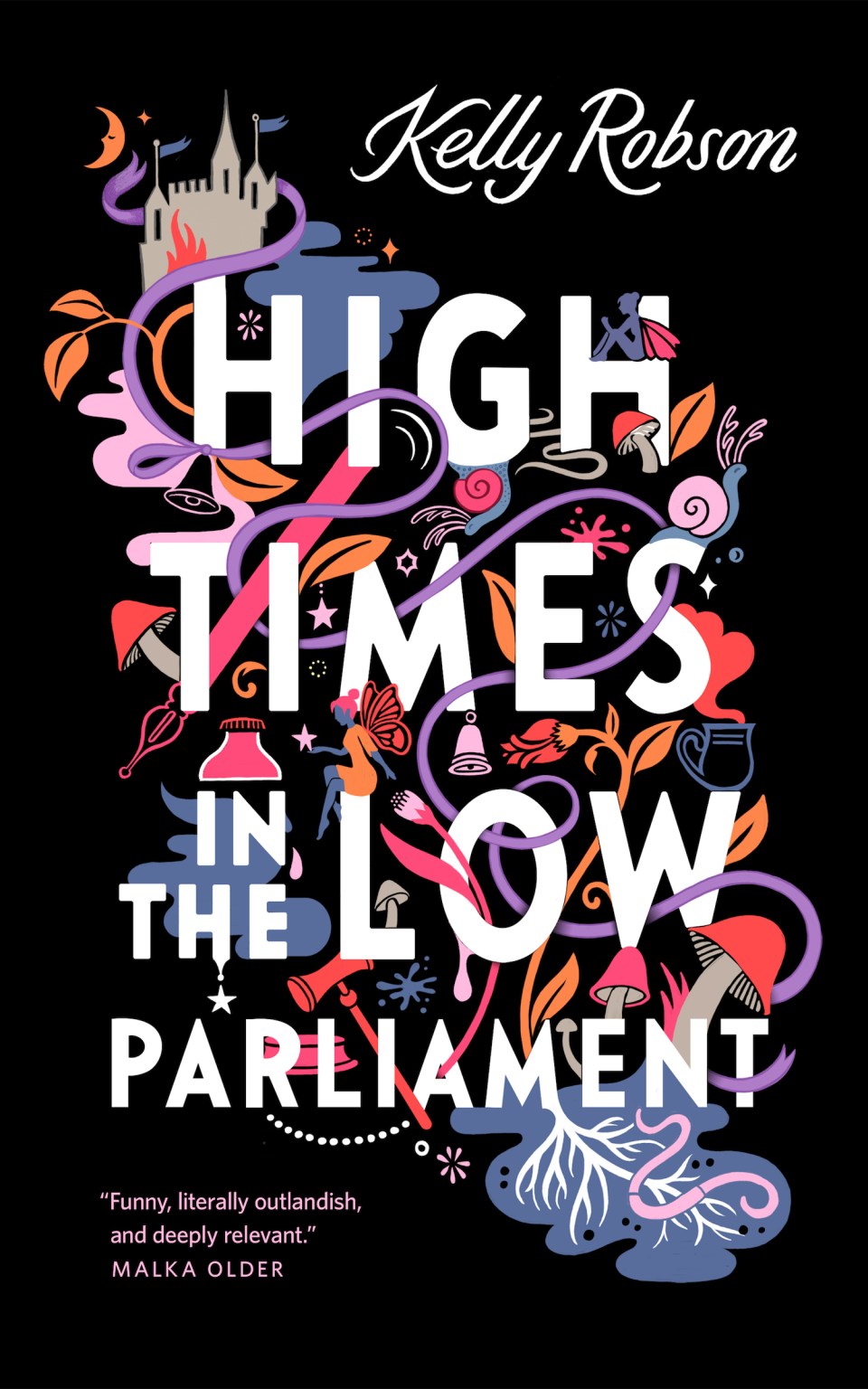 High Times in the Low Parliament
by
Kelly Robson
Genres:
Fantasy
,
Queer Protagonists
Representation:
Lesbian MC
Published on:
9th August 2022
Goodreads
Kelly Robson is back with fairies, scribes, and many many kisses in High Times in the Low Parliament.

Lana Baker is Aldgate's finest scribe, with a sharp pen and an even sharper wit. Gregarious, charming, and ever so eager to please, she agrees to deliver a message for another lovely scribe in exchange for kisses and ends up getting sent to Low Parliament by a temperamental fairy as a result.

As Lana transcribes the endless circular arguments of Parliament, the debates grow tenser and more desperate. Due to long-standing tradition, a hung vote will cause Parliament to flood and a return to endless war. Lana must rely on an unlikely pair of comrades—Bugbite, the curmudgeonly fairy, and Eloquentia, the bewitching human deputy—to save humanity (and maybe even woo one or two lucky ladies), come hell or high water.
Everything I've heard about this book strongly suggests it's going to be extremely hilarious, and then toss in faeries, scribes, and parliaments in on top of that??? Um, yes, I am Very Here for this!
The Women Could Fly
by
Megan Giddings
Genres:
Fantasy
,
Historical Fantasy
,
Queer Protagonists
Representation:
Black bisexual MC
Published on:
9th August 2022
Goodreads
Reminiscent of the works of Margaret Atwood, Shirley Jackson, and Octavia Butler, a biting social commentary from the acclaimed author of Lakewood that speaks to our times--a piercing dystopian novel about the unbreakable bond between a young woman and her mysterious mother, set in a world in which witches are real and single women are closely monitored.

Josephine Thomas has heard every conceivable theory about her mother's disappearance. That she was kidnapped. Murdered. That she took on a new identity to start a new family. That she was a witch. This is the most worrying charge because in a world where witches are real, peculiar behavior raises suspicions and a woman--especially a Black woman--can find herself on trial for witchcraft.

But fourteen years have passed since her mother's disappearance, and now Jo is finally ready to let go of the past. Yet her future is in doubt. The State mandates that all women marry by the age of 30--or enroll in a registry that allows them to be monitored, effectively forfeiting their autonomy. At 28, Jo is ambivalent about marriage. With her ability to control her life on the line, she feels as if she has her never understood her mother more. When she's offered the opportunity to honor one last request from her mother's will, Jo leaves her regular life to feel connected to her one last time.

In this powerful and timely novel, Megan Giddings explores the limits women face--and the powers they have to transgress and transcend them.
I don't care how many times you conflate feminism with witchcraft, I am always going to be excited for it! I mean, I suspect reading about a world where marriage is mandatory for women is going to raise my blood pressure – but when a book is getting comped to Butler and Atwood, and features WITCHES, how can I possibly turn it down?!
The Monsters We Defy
by
Leslye Penelope
,
L. Penelope
Genres:
Fantasy
,
Historical Fantasy
Representation:
Black MC, Black cast
Published on:
9th August 2022
Goodreads
A woman able to communicate with spirits must assemble a ragtag crew to pull off a daring heist to save her community in this timely and dazzling historical fantasy that weaves together African American folk magic, history, and romance.

In the summer of 1925, along Washington, DC's "Black Broadway", a malevolent entity has begun preying on Negro residents. Twenty-three-year-old Clara Johnson is determined to discover what's going on in her community. Using her natural ability to talk with spirits, she begins to investigate, but a powerful spirit tasks her with a difficult quest: steal an ancient, magical ring from the finger of a wealthy socialite.

When Clara meets Israel Lee, a supernaturally enhanced jazz musician also vying for the ring, the two decide to work together. They put together an unlikely team including a former circus freak, a pickpocketing Pullman Porter, and an aging vaudeville actor to pull off an impossible heist.

But a dangerous spirit interferes at every turn and conflict in the spirit world is leaking out into the human world. With different agendas, even if Clara and Israel pull off the heist, only one of them can truly win.
Yesssss, this sounds freaking MARVELOUS in every respect! Black women saving themselves and their communities with SPIRITS, plus a SUPERNATURALLY ENHANCED jazz musician?! I have no idea what 'supernaturally enhanced' will look like but I do not care, I'm here for it.
Also ONLY ONE OF THEM CAN WIN, HI YES I AM SOLD SO HARD!
The Oleander Sword
by
Tasha Suri
Genres:
Fantasy
,
High Fantasy
,
Queer Protagonists
Representation:
Desi-coded cast, sapphic MCs, F/F
Published on:
16th August 2022
Goodreads
The prophecy of the nameless god—the words that declared Malini the rightful empress of Parijatdvipa—has proven a blessing and curse. She is determined to claim the throne that fate offered her. But even with the strength of the rage in her heart and the army of loyal men by her side, deposing her brother is going to be a brutal and bloody fight.

The power of the deathless waters flows through Priya's blood. Thrice born priestess, Elder of Ahiranya, Priya's dream is to see her country rid of the rot that plagues it: both Parijatdvipa's poisonous rule, and the blooming sickness that is slowly spreading through all living things. But she doesn't yet understand the truth of the magic she carries.

Their chosen paths once pulled them apart. But Malini and Priya's souls remain as entwined as their destinies. And they soon realize that coming together is the only way to save their kingdom from those who would rather see it burn—even if it will cost them.
It's Tasha Suri, she's Unmissable by default! And her 2022 book is a follow-up to Jasmine Throne?! Did you not READ Jasmine Throne?! Of course the sequel is a must-read, what kind of fool would suggest otherwise?! We STAN Malini and Priya in this house!!!
Second Spear (Mkalis Cycle, #2)
by
Kerstin Hall
Genres:
Fantasy
Published on:
16th August 2022
Goodreads
Kerstin Hall's Second Spear is the thrilling follow-up to the Nommo Award finalist, The Border Keeper.

After surviving the schemes of a vengeful goddess and learning some shattering truths about her former life, the warrior Tyn feels estranged from her role guarding her ruler. Grappling with knowledge of her identity, she unleashes her frustrations on all the wrong people.

When an old enemy returns wielding an unstoppable, realm-crushing weapon and Tyn is swept up in the path of destruction, she must make a choice about who she is and who she wants to be.
I freaking ADORED the first book in this series, The Border Keeper – I was so excited when I heard there was going to be a sequel!!! And honestly, that excitement has not lessened even a little bit in all the time since. EEE!
Tinderbox
by
Wendy A. Simpson
Genres:
Fantasy
Representation:
Black MC
Published on:
16th August 2022
Goodreads
A tinderbox, three huge hounds within, and an underground kingdom of old magic. Fans of Sarah J. Maas and Holly Black, myth and magic, fairy tales and fantasy will love the dark adventures of the Riven Isles.

Isbet returns home to find the witch who raised her murdered and her prized possession, the Tinderbox stolen. She discovers a common man has used it to seize the throne. The same who conquered Prince Bram's kingdom. Isbet's goals are vengeance and reclaim the Box. For Bram, it is to free his homeland. When they are summoned to an underground kingdom, they must set aside their personal desires as they learn dark fey are bringing an ancient source of magic back to life. If they cannot halt the rise of the old magic, it will tear apart the Riven Isles.
The Tinder Box is one of my favourite fairytales, but I guess it's a bit more obscure; I don't see retellings of it very often, so I made a truly UNGODLY noise when I discovered Simpson's new book! AND it has a Black lead (always awesome, when most people default to Anderson stories being white), AND it's calling itself Epic Fantasy! There's even a sequel already lined up! HEE!
Tune in Tomorrow
by
Randee Dawn
Genres:
Fantasy
,
Portal Fantasy
Published on:
16th August 2022
Goodreads
A funny, thrilling and mysterious adventure into the world of alternate reality television... Perfect for fans of Jasper Fforde and Christopher Moore.

She's just a small town girl, with big mythic dreams.

Starr Weatherby came to New York to become… well, a star. But after ten years and no luck, she's offered a big role – on a show no one has ever heard of. And there's a reason for that. It's a 'reality' show beyond the Veil, human drama, performed for the entertainment of the Fae.

But as Starr shifts from astounded newcomer to rising fan favorite, she learns about the show's dark underbelly – and mysterious disappearance of her predecessor. She'll do whatever it takes to keep her dream job – though she might just bring down the show in the process.
Reality TV for the Fae is the coolest of concepts, and I can't wait to dive in and see what Dawn has done with it!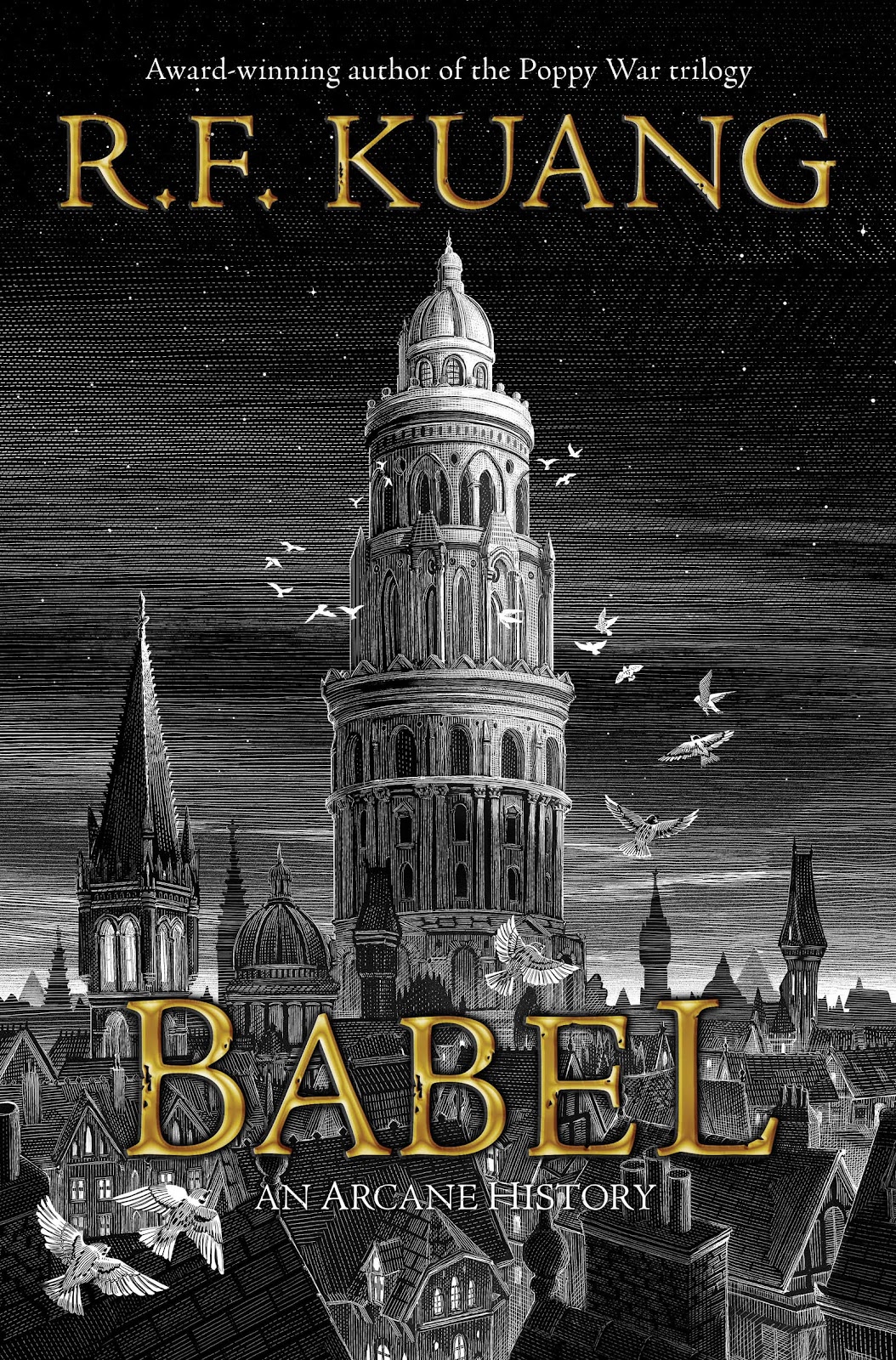 Babel: Or the Necessity of Violence: An Arcane History of the Oxford Translators' Revolution
by
R.F. Kuang
Genres:
Fantasy
,
Historical Fantasy
Representation:
BIPOC MCs
Published on:
18th August 2022
Goodreads
A new dark academic fantasy by the New York Times bestselling author of The Poppy War

Traduttore, traditore: An act of translation is always an act of betrayal.

Oxford, 1836.

The city of dreaming spires.

It is the centre of all knowledge and progress in the world.

And at its centre is Babel, the Royal Institute of Translation. The tower from which all the power of the Empire flows.

Orphaned in Canton and brought to England by a mysterious guardian, Babel seemed like paradise to Robin Swift.

Until it became a prison…

But can a student stand against an empire?

An incendiary new novel from award-winning author R.F. Kuang about the power of language, the violence of colonialism, and the sacrifices of resistance.
Obviously Kuang requires no introduction, but I might be even more excited for Babel than I was for The Poppy War trilogy. For one thing, I'm a wimp and struggled with how dark the Poppy War books are; and for another, although I'm not English I did spend most of my childhood in the UK, and absorbed the near-mythic status of Oxford. I'm half-lrish and half-Welsh, and no, that's not the same as being not-white, but it does mean I know a bit about losing your culture and your language to English colonisation.
On top of wanting to see English power burn and dance on its ashes, I'm enchanted by the idea of translation as magic. One of the earlier descriptions for this book mentioned scholars from colonized nations use silver bars to manifest the meaning "lost" in translation to magical effect, and I'm dying to know ALL ABOUT THAT, PLEASE AND THANK YOU.
I haven't bothered – I already know I'm going to love this – but you can read an excerpt if you need more convincing!
The Very Secret Society of Irregular Witches
by
Sangu Mandanna
Genres:
Fantasy
,
Contemporary or Urban Fantasy
Representation:
Brown MC
Published on:
23rd August 2022
Goodreads
A warm and uplifting novel about an isolated witch whose opportunity to embrace a quirky new family—and a new love—changes the course of her life.

As one of the few witches in Britain, Mika Moon knows she has to hide her magic, keep her head down, and stay away from other witches so their powers don't mingle and draw attention. And as an orphan who lost her parents at a young age and was raised by strangers, she's used to being alone and she follows the rules...with one exception: an online account, where she posts videos "pretending" to be a witch. She thinks no one will take it seriously.

But someone does. An unexpected message arrives, begging her to travel to the remote and mysterious Nowhere House to teach three young witches how to control their magic. It breaks all of the rules, but Mika goes anyway, and is immediately tangled up in the lives and secrets of not only her three charges, but also an absent archaeologist, a retired actor, two long-suffering caretakers, and…Jamie. The handsome and prickly librarian of Nowhere House would do anything to protect the children, and as far as he's concerned, a stranger like Mika is a threat. An irritatingly appealing threat.
As Mika begins to find her place at Nowhere House, the thought of belonging somewhere begins to feel like a real possibility. But magic isn't the only danger in the world, and when a threat comes knocking at their door, Mika will need to decide whether to risk everything to protect a found family she didn't know she was looking for....
Mandanna won me over forever with her 2012 Lost Girl, which is about cloning, not Peter Pan, and is beyond excellent. So to hear she's written a book about WITCHES, one of my favourite things?! I already have it preordered and I regret NOTHING!
If you need more convincing, though, you can read the first chapter over here!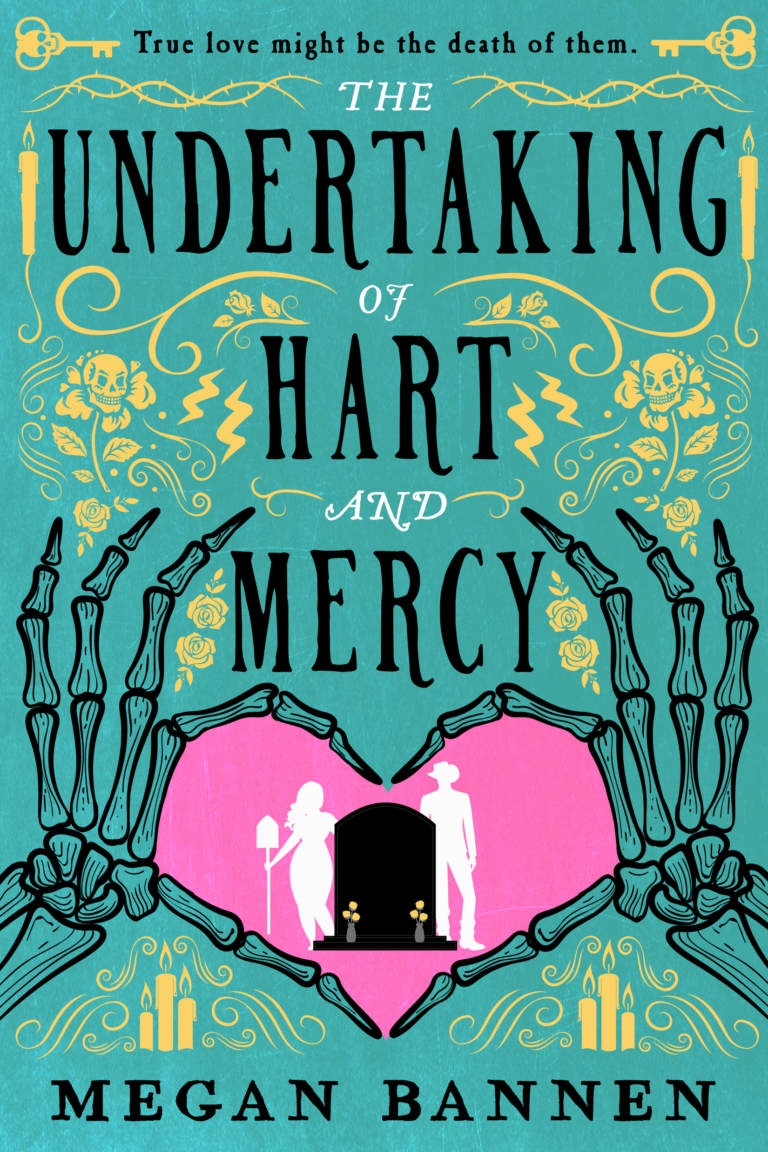 The Undertaking of Hart and Mercy
by
Megan Bannen
Genres:
Fantasy
Published on:
23rd August 2022
Goodreads
Hart Ralston is a demigod and a marshal, tasked with patrolling the wasteland of Tanria. The realm the exiled old gods once called home is now a forsaken place where humans with no better options or no better sense come seeking adventure or spoils, but more often end up as drudges: reanimated corpses inhabited by the souls of those who've died in Tanria before. Hart tells himself that his job is simple: neutralize the drudges with a quick zap to the appendix and deliver them back to polite society at the nearest undertaker's, leaving the whys and hows of the drudge problem for men without the complexities of a god in their family tree. But working alone, Hart's got nothing but time to ponder exactly those questions he'd most like to avoid.

Too much time alone is the opposite of Mercy Birdsall's problem. Since her father's decline, she's been single-handedly keeping Birdsall & Son undertakers afloat in small-town Eternity—despite definitely not being a son, and in defiance of sullen jerks like Hart Ralston, who seems to have a gift for showing up right when her patience is thinnest. The work's not the problem—Mercy's good at it, better than any other Birdsall—but keeping all her family's plates spinning singlehandedly, forever, isn't how Mercy envisioned her future.

After yet another run-in with the sharp-tongued Mercy, Hart considers she might have a point about his utter loneliness being a bit of a liability. In a moment of sentimentality, he pens a letter addressed simply to "A Friend," and entrusts it to a nimkilim, an anthropomorphic animal messenger with an uncanny connection to the gods, (and in Hart's case, a bit of a drinking problem). Much to his surprise, an anonymous letter comes back in return, and a tentative friendship is born.

If only Hart knew he's been baring his soul to the person who infuriates him most–Mercy. As the two unlikely pen pals grow closer, the truth about Hart's parentage and the nature of the drudges creeps in. And suddenly their old animosity seems so small in comparison to what they might be able to do: end the drudges forever. But at what cost?
This sounds like it has the potential to be funny and sweet, in a really interesting fantasy world. Also, grouchy love interests? Gods? Anonymous pen-pals??? Yep, yep, yep!
Begin the World Over
by
Kung Li Sun
Genres:
Historical Fantasy
Representation:
Black gay MC, M/M, queer secondary characters, BIPOC cast
Published on:
30th August 2022
Goodreads
Begin the World Over is a fictional alternate history of how the Founders' greatest fear—that Black and indigenous people might join forces to undo the newly formed United States—comes true.

In 1793, as revolutionaries in the West Indies take up arms, James Hemings, has little interest in joining the fight for liberté —talented and favored, he is careful to protect his relative comforts as Thomas Jefferson's enslaved chef. But when he meets Denmark Vesey, James is immediately smitten. The formidable first mate persuades James to board his ship, on its way to the revolt in St. Domingue. There and on the mainland they join forces with a diverse cast of characters, including a gender nonconforming prophetess, a formerly enslaved jockey, and a Muskogee horse trader. The resulting adventure masterfully mixes real historical figures and events with a riotous retelling of a possible history in which James must decide whether to return to his constrained but composed former life, or join the coalition of Black revolutionaries and Muskogee resistance to fight the American slavers and settlers.
Look, I'm not going to pretend to be super deep about this: I just want to see the fledgeling USA torn down and set on fire by freed slaves and First Nations peoples taking their land back. I'm shallow like that.
A Taste of Gold and Iron
by
Alexandra Rowland
Genres:
Fantasy
,
Queer Protagonists
Representation:
Brown cast, gay MC, bisexual/demisexual autistic-coded MC, secondary pansexual character, secondary asexual nonbinary character, tertiary nonbinary characters, queernorm world
Published on:
30th August 2022
Goodreads
"A delicious tangle of romance, fealty, and dangerous politics."--Tasha Suri
The Goblin Emperor meets Magnificent Century in Alexandra Rowland's A Taste of Gold and Iron, where a queer central romance unfolds in a fantasy world reminiscent of the Ottoman Empire.

Kadou, the shy prince of Arasht, finds himself at odds with one of the most powerful ambassadors at court--the body-father of the queen's new child--in an altercation which results in his humiliation.

To prove his loyalty to the queen, his sister, Kadou takes responsibility for the investigation of a break-in at one of their guilds, with the help of his newly appointed bodyguard, the coldly handsome Evemer, who seems to tolerate him at best. In Arasht, where princes can touch-taste precious metals with their fingers and myth runs side by side with history, counterfeiting is heresy, and the conspiracy they discover could cripple the kingdom's financial standing and bring about its ruin.
There may come a day I do not immediately preorder any new book of Rowland's, but it is NOT THIS DAY!!!
And if you need convincing, you can read the whole first chapter right here!
Or my absolutely glowing review!
Moon Dark Smile (Night Shine, #2)
by
Tessa Gratton
Genres:
Fantasy
,
Queer Protagonists
Representation:
Assorted nonbinary and genderfluid cast
Published on:
30th August 2022
Goodreads
The fate of an Empire lies with a headstrong Heir and a restless demon in this lush YA fantasy for fans of Laini Taylor and Girl, Serpent, Thorn.

Ever since she was a girl, Raliel Dark-Smile's best friend has been the great demon that lives in the palace. As the daughter of the Emperor, Raliel appears cold and distant to those around her, but what no one understands is that she and the great demon, Moon, have a close and unbreakable bond and are together at all times. Moon is bound to the Emperor and his two consorts, Raliel's parents, and when Raliel comes of age, she will be bound to Moon as well, constrained to live in the Palace for the rest of her days.

Raliel is desperate to see the Empire Between Five Mountains, and she feels a deep kinship with Moon, who longs to break free of its bonds. When the time finally arrives for Raliel's coming of age journey, she discovers a dangerous way to take Moon with her, even as she hides this truth from her travel companion, the beautiful, demon-kissed bodyguard Osian Redpop. But Osian is hiding secrets of his own, and when a plot surfaces that threatens the Empire, Raliel will have to decide who she can trust and what she'll sacrifice for the power to protect all that she loves.
Night Shine was, for me, one of those books you tuck deep inside the most secret compartment of your heart and keep it forever – so you cannot even begin to imagine my reaction when I learned we were getting a sequel!!! I am SO VERY READY to get back to this world and meet all these new characters and fall in love all over again!
The Spear Cuts Through Water
by
Simon Jimenez
Genres:
Fantasy
,
High Fantasy
,
Queer Protagonists
Published on:
30th August 2022
Goodreads
Two warriors shepherd an ancient god across a broken land to end the tyrannical reign of a royal family in this new epic fantasy from the author of The Vanished Birds.

ONE OF THE MOST ANTICIPATED BOOKS OF 2022—Tordotcom, BookPage, LitHub

The people suffer under the centuries-long rule of the Moon Throne. The royal family—the despotic emperor and his monstrous sons, the Three Terrors—hold the countryside in their choking grip. They bleed the land and oppress the citizens with the frightful powers they inherited from the god locked under their palace.

But that god cannot be contained forever.

With the aid of Jun, a guard broken by his guilt-stricken past, and Keema, an outcast fighting for his future, the god escapes from her royal captivity and flees from her own children, the triplet Terrors who would drag her back to her unholy prison. And so it is that she embarks with her young companions on a five-day pilgrimage in search of freedom—and a way to end the Moon Throne forever. The journey ahead will be more dangerous than any of them could have imagined.

Both a sweeping adventure story and an intimate exploration of identity, legacy, and belonging, The Spear Cuts Through Water is an ambitious and profound saga that will transport and transform you—and is like nothing you've ever read before.
It's funny, I read The Vanished Birds because I loved the sound of Spear and wanted to get an idea of Jimenez's writing…and then I fell completely in love with Birds, so now I'm even more excited for Spear then I was before! If Jimenez can write such incredible queer scifi, I can't begin to imagine how fabulous his fantasy will be!
September
Unraveller
by
Frances Hardinge
Genres:
Fantasy
Published on:
2nd September 2022
Goodreads
Kellen and Nettle live in a world where anyone can create a life-destroying curse, but only one person has the power to unravel them. But not everyone is happy he can do so and, suddenly, he's in a race to save both himself and all those who have been touched by magic…

A spell-binding new tale from the master of speculative fiction.
By definition, anything Hardinge chooses to write is Unmissable. By definition!
Luda: A Novel
by
Grant Morrison
Genres:
Contemporary or Urban Fantasy
Published on:
6th September 2022
Goodreads
A drag queen initiates her protégée into the magical arts in this phantasmagoric epic, the first novel from the legendary comics writer and New York Times bestselling author.

Luci LaBang is a star: For decades this flamboyant drag artist has cast a spell over screen and stage. Now she's the leading lady in a smash hit musical. But as time takes its toll, Luci fears her star is beginning to dim.

When Luci's co-star meets with a mysterious accident, a new ingenue shimmers onto the scene: Luda, whose fantastical beauty and sinister charm infatuate Luci immediately . . . and who bears a striking resemblance to Luci herself at a much younger age.

Luda begs Luci to share the secrets of her stardom and to reveal the hidden tricks of her trade. For Luci LaBang is a mistress of the Glamour, a mysterious discipline that draws on sex, drugs, and the occult for its trancelike, transformative effects.

But as Luci tutors her young protégée, their fellow actors and crew members begin meeting with untimely ends. Now Luci wonders if Luda has mastered the Glamour all too well . . . and exploited it to achieve her dark ambitions.

What follows is an intoxicating descent into the demimonde of Gasglow, a fantastical city of dreams, and into the nightmarish heart of Luda herself: a femme fatale, a phenomenon, a monster, and, perhaps, the brightest star of them all.
Drag queens + magic??? Yep, I'm sold!
Nona the Ninth (The Locked Tomb, #3)
by
Tamsyn Muir
Genres:
Queer Protagonists
,
Science Fantasy
Published on:
13th September 2022
Goodreads
Her city is under siege.

The zombies are coming back.

And all Nona wants is a birthday party.

In many ways, Nona is like other people. She lives with her family, has a job at her local school, and loves walks on the beach and meeting new dogs. But Nona's not like other people. Six months ago she woke up in a stranger's body, and she's afraid she might have to give it back.

The whole city is falling to pieces. A monstrous blue sphere hangs on the horizon, ready to tear the planet apart. Blood of Eden forces have surrounded the last Cohort facility and wait for the Emperor Undying to come calling. Their leaders want Nona to be the weapon that will save them from the Nine Houses. Nona would prefer to live an ordinary life with the people she loves, with Pyrrha and Camilla and Palamedes, but she also knows that nothing lasts forever.

And each night, Nona dreams of a woman with a skull-painted face...
I wanted to laugh out loud when we got the announcement that the Locked Tomb trilogy was not, in fact, going to be limited to three books – I mean, it's so on brand! Everything ELSE about this series has taken us by surprise, so why not the number of books in it, too? It delights me! Plus, how can it NOT be delightful to hear, oh, BY THE WAY, that series you love??? You're getting EVEN MORE OF IT! How is that not a win???
Also, l already love Nona. I, too, would be fed up of zombies getting in the way of my birthday party!
Notorious Sorcerer
by
Davinia Evans
Genres:
Fantasy
,
Queer Protagonists
Representation:
Queer MC, M/M
Published on:
13th September 2022
Goodreads
In a city filled with dangerous yet heavily regulated alchemical magic, a man from the slums discovers he may be its only hope to survive certain destruction in this wickedly entertaining fantasy debut.

Ever since the city of Bezim was shaken half into the sea by a magical earthquake, the Inquisitors have policed alchemy with brutal efficiency. Nothing too powerful, too complicated, too much like real magic is allowed–and the careful science that's left is kept too expensive for any but the rich and indolent to tinker with. Siyon Velo, a glorified errand boy scraping together lesson money from a little inter-planar fetch and carry, doesn't qualify.

But when Siyon accidentally commits a public act of impossible magic, he's catapulted into the limelight. Except the limelight is a bad place to be when the planes themselves start lurching out of alignment, threatening to send the rest of the city into the sea.

Now Siyon, a dockside brat who clawed his way up and proved himself on rooftops with saber in hand, might be Bezim's only hope. Because if they don't fix the cascading failures of magic in their plane, the Powers and their armies in the other three will do it for them.
You definitely have my attention when the first interaction between the MC and their love interest is called a 'meet snark', and the bits and pieces I've seen of Evans' prose gives me heart-eyes. Also, I'm always going to show up for SFF that takes on classism, and it sounds like that's going to be an important part of Notorious Sorcerer!
Thief Mage Beggar Mage
by
Cat Hellisen
Genres:
Fantasy
,
Queer Protagonists
Representation:
Achillean MC
Published on:
13th September 2022
Goodreads
Tet is no longer a priest-mage; thrown out from his temple and cursed by his gods to return a stolen relic. With every passing year, the curse works deeper into his flesh, breaking and twisting him until finally, driven by pain, Tet makes a drastic play to escape the gods.

His luck turns sour, and the escape costs him his soul, drawing his death even closer when he is captured by the despotic White Prince. In order to escape the prince, retrieve his soul and break the curse, Tet must form a fragile alliance with a man he cannot trust. An alliance made brittle by lies and deception; one that may take his heart as well as his soul.

Thief Mage, Beggar Mage is a lush, queer reimagining of Andersen's The Tinderbox, embroidered with dreams, secret identities, stolen magic, giant spectral dogs, clockwork monsters, prophetic dragons, and the grand games of gods and humans.
Two The Tinder Box retellings in one year!!! But really, if you want to catch a Sia, 'lush queer fantasy' is all the bait you need! It certainly doesn't hurt that Hellisen is already one of my favourite authors – all together, this really couldn't be any more my thing if it were written specifically for me!
No Gods for Drowning
by
Hailey Piper
Genres:
Fantasy
,
Horror
,
Queer Protagonists
Representation:
Sapphic MC, F/F
Published on:
20th September 2022
Goodreads
IN THE BEGINNING, MAN WAS PREY.

WITHOUT THE GODS, THEY'LL BE PREY AGAIN.

The gods have fled. Monsters threaten to invade the city of Logos, hunting mankind as they did in the olden days. In the midst of it all, a serial killer has begun ritually sacrificing victims—to lure the gods back and stop the imminent destruction, or for a more sinister purpose?

Lilac Antonis wants to stop the impending destruction of her city by summoning her mother, a blood god—even if she has to slit a few throats to do it. But evading her lover Arcadia and her friends means sneaking, lying, and even spilling the blood of people she loves.

Alex and Cecil of Ace Investigations have been tasked with hunting down the killer, but as they close in—not knowing it is their close friend they're hunting—the detectives realize the gods may not have left willingly, and must uncover the truth before Lilac summons the wrong god, who may have come back just to destroy them all.

Set in an alternate reality which updates mythology to near-modern day, NO GODS FOR DROWNING is part hunt for a serial killer, part noir detective story, and unlike anything you've ever read before
There is nothing about this premise that I do not adore with all my heart, and although I don't know the specifics yet, I'm pretty sure Piper has yet to publish anything that doesn't have a queer lead – and I doubt she'd start now!
I waaaaaaaaaaaaaaaaaaaaant!
My Name Is Magic
by
Xan van Rooyen
Genres:
Fantasy
,
Contemporary or Urban Fantasy
,
Queer Protagonists
Representation:
Nonbinary MC
Published on:
27th September 2022
Goodreads
Taika Turunen has no magic.

Despite coming from a long line of powerful Finnish mages, and their name literally meaning magic, Taika can't perform the simplest of spells.

Forced to attend Myrskyjärvi International School for the Magically Gifted on account of their mom being principal, Taika has a hard time fitting in. Sometimes, they wonder if not having magic has something to do with the fact they're neither a girl nor a boy and if they're fated to be Taika the Talentless forever.

Life goes from bad to worse when Taika sees a liekkiö and recognizes the spirit's voice begging for help as that of their former BFF and major crush, Natalie Khumalo, whose recent absence from class hadn't gone unnoticed. When more students go missing, Taika must take the lead in a race against time to save friends old and new before a powerful cabal of chaos mages can unleash the legendary Sampo, an artifact capable of either renewing the world's waning magic or destroying everything Taika holds dear.

To rescue Natalie, Taika will have to journey to the liminal space between worlds where they'll be forced to battle mythical monsters and their own flagging self-esteem. In doing so, Taika might just discover that magic—and love—comes in many different forms.

For fans of witchcraft and wizardry looking for a new, inclusive story, My Name Is Magic, is a story about finding strength from within and potential where you least expected it.
I enjoyed Rooyen's previous book, By The Blood of Rowans – and I'm even more excited for My Name is Magic!!! Not just a magic school story, but a magic school story SET IN FINLAND?! With a nonbinary MC?! Going up against chaos mages?!
HI EXCUSE ME BEG YOUR PARDON I NEED THIS YESTERDAY!!!
The Golden Enclaves (The Scholomance #3)
by
Naomi Novik
Genres:
Fantasy
Representation:
Biracial Desi MC
Published on:
27th September 2022
Goodreads
Saving the world is a test no school of magic can prepare you for in the triumphant conclusion to the New York Times bestselling trilogy that began with A Deadly Education and The Last Graduate.

Almost singlehandedly--although backed by an increasingly large cadre of genuine friends--El has changed the nature of the Scholomance forever. But now that she is back in the real world, how will the lessons she learned inside the school apply? Will her grandmother's prophecy come true? Will she really spell the doom of all the enclaves forever?

As the quest to save her one true love ramps up, however, El is about to learn the most significant lesson of all--the dire truth on which the enclaves and the whole stability of the magical world are founded. And being El, she is not likely to let it lie....
It has been many months and I am STILL screaming over the ending of the previous book, so HELLS YES I NEED THIS IMMEDIATELY!
The Genesis of Misery
by
Neon Yang
Genres:
Queer Protagonists
,
Sci Fi
Representation:
Nonbinary MC
Published on:
27th September 2022
Goodreads
An immersive, electrifying space-fantasy from Neon Yang, author of The Black Tides of Heaven, full of high-tech space battles and political machinations, starring a queer and diverse array of pilots, princesses, and prophetic heirs.

This is the story of Misery Nomaki (she/they) – a nobody from a nowhere mining planet who possesses the rare stone-working powers of a saint. Unfortunately, these saint-like abilities also manifest in those succumbing to voidmadness, like that which killed Misery's mother. Knowing they aren't a saint but praying they aren't voidmad, Misery keeps quiet about their power for years, while dreaming and scheming up ways off their Forge-forsaken planet.

But when the voice of an angel, or a very convincing delusion, leads Misery to the center of the Empire, they find themself trapped between two powerful and dangerous factions, each hoping to use Misery to win a terrible war.

Still waiting to be convinced of their own divinity and secretly training with a crew of outlaws and outcasts, Misery grows close to a rebel royal, Lady Alodia Lightning, who may know something of saints and prophecy herself. The voice that guides Misery grows bolder by the day, and it seems the madness is catching…
The Tensorate series is a gods-damn masterpiece, so I would have been excited no matter WHAT Yang wrote next – but a nonbinary Joan of Arc giant mecha retelling?! Are you KIDDING me, YES, good gods ALL THE YESES EVER!
The Two Doctors Górski
by
Isaac Fellman
Genres:
Fantasy
Published on:
27th September 2022
Goodreads
Annae, a brilliant graduate student in psychiatric magic and survivor of academic abuse, can't stop reading people's minds. This is how she protects herself, by using her abilities to give her colleagues what they each want out of their relationship with her.

When Annae moves to the UK to rebuild her life and finds herself studying under the infamous, misanthropic magician Marec Górski, she sees inside his head a dangerous path to her redemption. Annae now faces two choices—follow in Dr. Górski's lead, or break free of a lifetime of conditioning to follow her own path.
All I needed to hear was 'psychiatric magic'. PSYCHIATRIC MAGIC, IS THAT NOT THE COOLEST THING???
Whereas 'not being able to stop reading people's minds' sounds absolutely appalling. I predict seeing how these two premises combine is going to be extremely interesting!
Leech
by
Hiron Ennes
Genres:
Horror
,
Queer Protagonists
,
Sci Fi
Representation:
Nonbinary MC
Published on:
27th September 2022
Goodreads
In an isolated chateau, as far north as north goes, the baron's doctor has died. The doctor's replacement has a mystery to solve: discovering how the Institute lost track of one of its many bodies.

For hundreds of years the Interprovincial Medical Institute has grown by taking root in young minds and shaping them into doctors, replacing every human practitioner of medicine. The Institute is here to help humanity, to cure and to cut, to cradle and protect the species from the apocalyptic horrors their ancestors unleashed.

In the frozen north, the Institute's body will discover a competitor for its rung at the top of the evolutionary ladder. A parasite is spreading through the baron's castle, already a dark pit of secrets, lies, violence, and fear. The two will make war on the battlefield of the body. Whichever wins, humanity will lose again.'
I'm always hesitant with horror, but something about Leech has had me mesmerised since I first heard about it. So read it I shall!
October
The Nightland Express
by
J.M. Lee
Genres:
Fantasy
,
Historical Fantasy
,
Queer Protagonists
Representation:
Trans MC
Published on:
11th October 2022
Goodreads
In antebellum America, two teens bury their secrets and join the historic Pony Express, and soon discover the mortal world is not the only one on the brink of war.
Young, poor, and orphaned in rural Missouri, Jessamine Murphy frets over her very pregnant sister, not at all sure how to feed their family until the baby is born, let alone after. When Jessamine comes across a recruitment poster reading "Pony Express Special Assignment: St. Joseph, Missouri to California. Two riders wanted. Orphans preferred," her tomboy heart skips a beat: not only for the ample risk wage, but for the adventure and the chance to track down their wayward father in California. Jessamine cuts her hair, dons a pair of pants, and steps into the world as Jesse.

At the Pony Express station, Jesse meets Ben Foley, a quiet but determined boy, so secretive about his origin story there is little doubt it must be turbulent, and they become partners. They are an odd pair—one excitedly navigating the world as a boy for the first time, the other a mixed-race young man trying to defend his freedom—yet their esteem for each other grows as they head west across the United States.

As they encounter mysterious portals that carry them miles in an eyeblink and unusual creatures with uncanny glowing eyes, it becomes clear that this is no normal mission. A second, magical realm exists just below the surface of the mortal one, intertwined since the beginning of time—but the divisive violence of colonization and war are tearing the two worlds apart.

As Ben and Jesse struggle to find themselves, they discover their unlikely alliance may be the only thing that will save them . . . and the creatures and environment of two struggling worlds.
I have been waiting for The Nightland Express for years, and I will wait years more if I have to, because I have no doubt whatsoever that it will be worth the wait. But it's true that I'm crossing my fingers that I won't have to. Between the premise, the cover, and the publisher (who has yet to let me down) Express promises to tick ALL OF MY BOXES.
When the Angels Left the Old Country
by
Sacha Lamb
Genres:
Fantasy
,
Historical Fantasy
,
Queer Protagonists
Representation:
Nonbinary MC, disabled MC, Jewish sapphic MC
Published on:
18th October 2022
Goodreads
In publishing-speak, here's what we at the LQ office sometimes describe as the Queer lovechild of Sholem Aleichem and Philip Roth:

Uriel the angel and Little Ash (short for Ashmedai) are the only two supernatural creatures in their shtetl (which is so tiny, it doesn't have a name other than Shtetl). The angel and the demon have been studying together for centuries, but pogroms and the search for a new life have drawn all the young people from their village to America. When one of those young emigrants goes missing, Uriel and Little Ash set off to find her.

Along the way the angel and demon encounter humans in need of their help, including Rose Cohen, whose best friend (and the love of her life) has abandoned her to marry a man, and Malke Shulman, whose father died mysteriously on his way to America.

But there are obstacles ahead of them as difficult as what they've left behind. Medical exams (and demons) at Ellis Island. Corrupt officials, cruel mob bosses, murderers, poverty. The streets are far from paved with gold.

With cinematic sweep and tender observation, Sacha Lamb presents a totally original drama about individual purpose, the fluid nature of identity, and the power of love to change and endure.
An angel and a demon studying together for centuries! Tracking down missing people! Dealing with America! I feel immensely sympathetic towards them, and I absolutely need to know how it all goes down!!!
Into the Riverlands
by
Nghi Vo
Genres:
Fantasy
,
Queer Protagonists
Representation:
Nonbinary MC, queernorm world
Published on:
25th October 2022
Goodreads
The Hugo, Locus, Igynte Award Finalist and Crawford Award-Winning Series
"A remarkable accomplishment of storytelling."—NPR on The Empress of Salt and Fortune

Wandering cleric Chih of the Singing Hills travels to the riverlands to record tales of the notorious near-immortal martial artists who haunt the region. On the road to Betony Docks, they fall in with a pair of young women far from home, and an older couple who are more than they seem. As Chih runs headlong into an ancient feud, they find themselves far more entangled in the history of the riverlands than they ever expected to be.

Accompanied by Almost Brilliant, a talking bird with an indelible memory, Chih confronts old legends and new dangers alike as they learn that every story—beautiful, ugly, kind, or cruel—bears more than one face.
Again: it's Nghi Vo! Specifically, it is Nghi Vo once again writing the adventures of nonbinary story-collecting monk Chih!!! YAY, I SAY TO THEE, YAY!!!
November
The World We Make
by
N.K. Jemisin
Genres:
Fantasy
,
Contemporary or Urban Fantasy
,
Queer Protagonists
Representation:
QBIPOC cast
Published on:
1st November 2022
Goodreads
Three-time Hugo Award-winning and New York Times bestselling author N.K. Jemisin crafts "a glorious fantasy" (Neil Gaiman) -- a story of culture, identity, magic, and myths in contemporary New York City, in the final book of the Great Cities Duology.

Every great city has a soul. A human avatar that embodies their city's heart and wields its magic. New York? She's got six.

But all is not well in the city that never sleeps. Though Brooklyn, Manny, Bronca, Venezia, Padmini, and Neek have temporarily managed to stop the Woman in White from invading--and destroying the entire universe in the process--the mysterious capital "E" Enemy has more subtle powers at her disposal. A new candidate for mayor wielding the populist rhetoric of gentrification, xenophobia, and "law and order" may have what it takes to change the very nature of New York itself and take it down from the inside. In order to defeat him, and the Enemy who holds his purse strings, the avatars will have to join together with the other Great Cities of the world in order to bring her down for good and protect their world from complete destruction.
It goes without saying that anything by NK Jemisin is an Unmissable! Especially the next (AND LAST) book in the Great Cities Duology – who wasn't enchanted by The City We Became???
I have no idea how Jemisin can wrap it all up in one more book, but I have no doubt it'll be epic beyond words!
Even Though I Knew the End
by
C.L. Polk
Genres:
Fantasy
,
Queer Protagonists
Representation:
Sapphic MC
Published on:
8th November 2022
Goodreads
"Stylish supernatural noir with a heart and a thrumming pulse. I devoured it." —Laini Taylor

C. L. Polk turns their considerable powers to a fantastical noir. A magical detective dives into the affairs of Chicago's divine monsters to secure a future with the love of her life. This sapphic period piece will dazzle anyone looking for mystery, intrigue, romance, magic, or all of the above.

An exiled augur who sold her soul to save her brother's life is offered one last job before serving an eternity in hell. When she turns it down, her client sweetens the pot by offering up the one payment she can't resist — the chance to have a future where she grows old with the woman she loves. To succeed, she is given three days to track down the White City Vampire, Chicago's most notorious serial killer. If she fails, only hell and heartbreak await.
The Midnight Bargain completely blew me away, and now Polk wants to write about deals with the devil and sapphics trying to get their souls back? (…Maybe? I now realise that the blurb doesn't actually say that, maybe the deal is the augur gets to grow old with her lady-love and then still goes to Hell! Would Polk be so cruel??? PERHAPS!)
EITHER WAY I'M HERE FOR IT.
Africa Risen: A New Era of Speculative Fiction
by
Sheree Renée Thomas
,
Oghenechovwe Donald Ekpeki
,
Zelda Knight
Genres:
Fantasy
,
Sci Fi
Representation:
Black cast
Published on:
8th November 2022
Goodreads
From an award-winning team of editors comes an anthology of thirty-two original stories showcasing the breadth of fantasy and science fiction from Africa and the African Diaspora.

A group of cabinet ministers query a supercomputer containing the minds of the country's ancestors. A child robot on a dying planet uncovers signs of fragile new life. A descendent of a rain goddess inherits her grandmother's ability to change her appearance—and perhaps the world.

Created in the legacy of the seminal, award-winning anthology series Dark Matter, Africa Risen celebrates the vibrancy, diversity, and reach of African and Afro-Diasporic SFF and reaffirms that Africa is not rising—it's already here.
The THRILL I got when I saw that title – not some variation of Africa Rising, which we've all seen before, but Africa Risen. HELLS YES!
The only thing wrong with this is that I have to wait until November to read it!
The Stars Undying
by
Emery Robin
Genres:
Queer Protagonists
,
Sci Fi
Representation:
Queer MC
Published on:
8th November 2022
Goodreads
A spectacular space opera debut perfect for readers of Ann Leckie's Ancillary Justice and Arkady Martine's A Memory Called Empire, inspired by the lives and loves of Cleopatra and Julius Caesar.

Princess Altagracia has lost everything. After a bloody civil war, her twin sister has claimed not just the crown of their planet Szayet but the Pearl of its prophecy, a computer that contains the immortal soul of Szayet's god. Stripped of her birthright, Gracia flees the planet—just as Matheus Ceirran, Commander of the interstellar Empire of Ceiao, arrives in deadly pursuit with his volatile lieutenant, Anita. When Gracia and Ceirran's paths collide, Gracia sees an opportunity to win back her planet, her god, and her throne…if she can win the Commander and his right-hand officer over first.

But talking her way into Ceirran's good graces, and his bed, is only the beginning. Dealing with the most powerful man in the galaxy is almost as dangerous as war, and Gracia is quickly torn between an alliance that fast becomes more than political and the wishes of the god—or machine—that whispers in her ear. For Szayet's sake, and her own, Gracia will need to become more than a princess with a silver tongue. She will have to become a queen as history has never seen before—even if it breaks an empire.
Ann Leckie and Arkady Martine are two of my favourite authors, so comps to them immediately make me sit up and take notice! Even better – 'inspired by the lives and loves of Cleopatra and Julius Caesar'?! You know how every kid goes through either a dinosaur phase or an Ancient Egypt phase? I WAS AN ANCIENT EGYPT KID. I am so here for Cleopatra retellings!
To say nothing of rival twins, divine AIs, and some-as-yet-unspecified queer rep (though I suspect Anita is inspired by Mark Antony, who was a favourite of Caesar's and whom Cleopatra also loved, so I'm leaning towards a love triangle/throuple thing with Gracia as bi or pansexual)! CAN YOU TELL I'M EXCITED???
Tread of Angels
by
Rebecca Roanhorse
Genres:
Fantasy
Published on:
15th November 2022
Goodreads
Celeste, a card sharp with a penchant for trouble, takes on the role of advocatus diaboli, to defend her sister Mariel, accused of murdering a Virtue, a member of the ruling class in the mining town of Goetia, in a new world of dark fantasy from the New York Times bestselling author of Black Sun.

High in the remote mountains, the town of Goetia is booming as prospectors from near and far come to mine the powerful new element Divinity. Divinity is the remains of the body of the rebel Abaddon, who fell to earth during Heaven's War, and it powers the world's most inventive and innovative technologies, ushering in a new age of progress. However, only the descendants of those that rebelled, called Fallen, possess the ability to see the rich lodes of the precious element. That makes them a necessary evil among the good and righteous people called the Elect, and Goetia a town segregated by ancestry and class.

Celeste and Mariel are two Fallen sisters, bound by blood but raised in separate worlds. Celeste grew up with her father, passing in privileged Elect society, while Mariel stayed with their mother in the Fallen slums of Goetia. Upon her father's death, Celeste returns to Goetia and reunites with Mariel. Mariel is a great beauty with an angelic voice, and Celeste, wracked by guilt for leaving her sister behind, becomes her fiercest protector.

When Mariel is accused of murdering a Virtue, the powerful Order of the Archangels that rule Goetia, Celeste must take on the role of Advocatus Diaboli (Devil's Advocate) and defend her sister in the secretive courts of the Virtue. Celeste, aided by her ex-lover, Abraxas, who was once one of the rebels great generals, sets out to prove Mariel innocent. But powerful forces among the Virtues and the Elect mining barons don't want Celeste prying into their business, and Mariel has secrets of her own. As Celeste is drawn deeper into the dark side of Goetia, she unravel a layer of lies and manipulation that may doom Mariel and puts her own immortal soul at risk, in this dark fantasy noir from the bestselling mastermind Rebecca Roanhorse.
I love books about angels and nephilim, seeing how different authors put their own spin on them. This is a set-up I definitely haven't come across before, and I can't wait to dig into the worldbuilding and see how the story plays out!
The Scratch Daughters (Scapegracers, #2)
by
H. A. Clarke
Genres:
Fantasy
,
Queer Protagonists
Representation:
Queer cast
Published on:
22nd November 2022
Goodreads
It's been a wild year for Sideways Pike. After forming a coven with the three most popular girls in school and developing a huge crush on a mysterious stranger named Madeline, Sideways' Halloween was ruined by finding out that Madeline wasn't trying to make out with her, but to steal Sideways' specter, the force that gives witches the ability to cast magic spells. From Madeline's perspective, it's not her fault: after a doomed relationship with one of the creepy near-identical Chantry Boys turned into a witch hunt, they took her specter, so, really, she's only borrowing Sideways' until she can recover her own and punish the Chantrys.

The specter-less Sideways is in a horrid, distracted mood, unable to do magic and with part of her consciousness tied to Madeline's, on the lam as she uses Sideways' specter to hunt Chantrys. The other Scapegracers are much jollier, heading into the winter holidays having set up shop as curse crafters for girls in their school who've been done wrong by guys. When Sideways—through Madeline—gets a flash of how to track down both her foes at once, she asks the Scapegracers to help entrap them, only to be told her plan is unsafe and unwise. So if she's going to find Madeline, her only ally is Mr. Scratch, the inky book demon currently inhabiting her as life support until she gets her spectre back.

Sideways is used to being an outcast loner, and is desperate to do magic again, so she's not going to let little barriers like facing an betraying crush and a family of six demented witch hunters practically alone stop her. But she and her trusty stolen bike are in for a bumpy ride...
This was one of my most-anticipated books of 2021, and then the release had to be pushed back, so now it's one of my most-anticipated books of 2022! I don't care how long it takes, I will wait FOREVER to get back to Sideways and Clarke's breathtaking prose.
December
Where it Rains in Colour
by
Denise Crittendon
Genres:
Sci Fi
Representation:
Black cast
Published on:
13th December 2022
Goodreads
Swazembi is a blazing, color-rich utopia and the vacation center of the galaxy. This idyllic, peace-loving world is home to waterless seas, filled with cascading neon vapors, where tourists and residents alike soar from place to place in a swift wind force called The Sweep. No one is used to serious trouble here, especially Lileala.

Lileala is a pampered, young 50-year-old whose radiance has just earned her the revered title of Rare Indigo, the highest and most sacred of honours. But, her perfect lifestyle is shattered when a band of drug-addicts from a dying planet come up with a way to infect her with a fatal skin disease. They succeed and the unthinkable happens – Lileala Walata Sundiata loses her ability to shimmer. Where her skin should glisten like diamonds mixed with coal, instead it dulls and forms scar tissue. And she starts to hear voices in her head.

Distraught over her condition, she flees to the village where her Rare Indigo predecessor, Ahonotay, is said to be hiding. Ahonotay reveals a destiny to Lileala that awakens a new power inside her and she realises her whole life, and the galaxy, is about to change…
When the publishing deal for this was announced, they called it Afro-futuristic, which always makes my ears perk up – and then a blurb describing a color-rich utopia? Destinies and Rare Indigos?? An MC who is revered for her ability to literally shimmer??? YEP, I WANT, GIMME, MAKING ME WAIT TILL DECEMBER IS JUST CRUEEEEEEEL!
And just LOOK at that COVER! *heart eyes*
Basically, IT'S GOING TO BE A MOST EXCELLENT BOOK-YEAR!
Related Posts