FIVE books this week, including new installments in some very big series and a book from one of my auto-buy authors!
Osmo Unknown and the Eightpenny Woods
by
Catherynne M. Valente
Genres:
Fantasy
Published on:
26th April 2022
Goodreads
From New York Times bestselling author Catherynne M. Valente comes an inventive new fantasy following a boy journeying away from the only home he's ever known and into the magical realm of the dead in order to fulfill a bargain for his people.

Osmo Unknown hungers for the world beyond his small town. With the life that Littlebridge society has planned for him, the only taste Osmo will ever get are his visits to the edge of the Fourpenny Woods where his mother hunts. Until the unthinkable happens: his mother accidentally kills a Quidnunk, a fearsome and intelligent creature that lives deep in the forest.

None of this should have anything to do with poor Osmo, except that a strange treaty was once formed between the Quidnunx and the people of Littlebridge to ensure that neither group would harm the other. Now that a Quidnunk is dead, as the firstborn child of the hunter who killed her, Osmo must embark on a quest to find the Eightpenny Woods—the mysterious kingdom where all wild forest creatures go when they die—and make amends.

Accompanied by a very rude half-badger, half-wombat named Bonk and an antisocial pangolin girl called Never, it will take all of Osmo's bravery and cleverness to survive the magic of the Eightpenny Woods to save his town…and make it out alive.
Could I possibly be more excited for this??? No, no I physically could not! First off, it's by Valente, which means it's already a drop-everything-and-read-it book. Secondly, it's a genderbent Persephone retelling drawing on Finnish folklore, and no, there is no part of that sentence I do not adore. Thirdly, I read long-ago drafts of the early chapters on Valente's Patreon, and they were amazing. And finally, I defy anyone to listen to this excerpt of the audiobook and not fall immediately and completely in love!
(And yes, I raised my hands and said the words.)
The Damning Stone (Tales From Verania, #5)
by
T.J. Klune
Genres:
Fantasy
,
Queer Protagonists
Published on:
26th April 2022
Goodreads
A year has passed since the Dark Wizard Myrin attempted to take control of the Kingdom of Verania. Though the scars of the final battle remain, Veranians have come together in unity in order to rebuild. Good King Anthony sits on the throne once more, with Morgan of Shadows at his side.

However, a king is not immortal. One day, Anthony will step down, paving the way for his son, Grand Prince Justin, to assume the throne.

And Justin wants anything but.

Unfortunately for him, he finds himself with bigger things to worry about than just becoming the ruler of a country. At the celebration of the might of Verania and its people, a delegation arrives, led by a man who calls himself a magician. This man represents the King of Yennbridge, who has come to claim what was promised to him years before: the hand of the firstborn son of the King and Queen of Verania.

With his ridiculous friends at his side—Sam, Ryan, Kevin, Gary and Tiggy—Justin sets out to make the visiting king's life a living hell. Which, of course, backfires spectacularly, and when the dust settles, Justin finds his friends changed in ways he can't expect, leaving him standing alone.

Except he's not as alone as he thinks, given the King of Yennbridge will do anything to prove he's worthy of the frozen heart of the Ice Prince.

Prince Justin has finally met his match.

Let the games begin.
I haven't caught up with this series yet, so I very carefully did not read the description for fear of spoilers, but I'm still excited!!!
Kaikeyi
by
Vaishnavi Patel
Genres:
Fantasy
,
High Fantasy
,
Queer Protagonists
Published on:
26th April 2022
Goodreads
"Patel's mesmerizing debut shines a brilliant light on the vilified queen from the Ramayana….This easily earns its place on shelves alongside Madeline Miller's Circe." –Publishers Weekly (starred review)

"I was born on the full moon under an auspicious constellation, the holiest of positions—much good it did me."

So begins Kaikeyi's story. The only daughter of the kingdom of Kekaya, she is raised on tales about the might and benevolence of the gods: how they churned the vast ocean to obtain the nectar of immortality, how they vanquish evil and ensure the land of Bharat prospers, and how they offer powerful boons to the devout and the wise. Yet she watches as her father unceremoniously banishes her mother, listens as her own worth is reduced to how great a marriage alliance she can secure. And when she calls upon the gods for help, they never seem to hear.

Desperate for some measure of independence, she turns to the texts she once read with her mother and discovers a magic that is hers alone. With this power, Kaikeyi transforms herself from an overlooked princess into a warrior, diplomat, and most favored queen, determined to carve a better world for herself and the women around her.

But as the evil from her childhood stories threatens the cosmic order, the path she has forged clashes with the destiny the gods have chosen for her family. And Kaikeyi must decide if resistance is worth the destruction it will wreak—and what legacy she intends to leave behind.

A stunning debut from a powerful new voice, Kaikeyi is a tale of fate, family, courage, and heartbreak—of an extraordinary woman determined to leave her mark in a world where gods and men dictate the shape of things to come.
An epic re-imagining of the Ramayana, with an asexual lead! CAN YOU SAY AWESOME???
The Discord of Gods (A Chorus of Dragons, #5)
by
Jenn Lyons
Genres:
Fantasy
,
Epic Fantasy
,
Queer Protagonists
Published on:
26th April 2022
Goodreads
The Discord of Gods marks the epic conclusion to Jenn Lyons's Chorus of Dragon series, closing out the saga that began with The Ruin of Kings, for fans of Brandon Sanderson and Patrick Rothfuss.

The end times have come.

Relos Var's final plans to enslave the universe are on the cusp of fruition. He believes there's only one being in existence that might be able to stop him: the demon Xaltorath.
As these two masterminds circle each other, neither is paying attention to the third player on the board, Kihrin. Unfortunately, keeping himself classified in the "pawn" category means Kihrin must pretend to be everything the prophecies threatened he'd become: the destroyer of all, the sun eater, a mindless, remorseless plague upon the land. It also means finding an excuse to not destroy the people he loves (or any of the remaining Immortals) without arousing suspicion.

Kihrin's goals are complicated by the fact that not all of his "act" is one. His intentions may be sincere, but he's still being forced to grapple with the aftereffects of the corrupted magic ritual that twisted both him and the dragons. Worse, he's now tied to a body that is the literal avatar of a star - a form that is becoming increasingly, catastrophically unstable. All of which means he's running out of time.

After all, some stars fade - but others explode.
Another series I'm not quite up to date on, but!!! IT'S THE FINAL BOOK OF THE CHORUS OF DRAGONS!!! I'm screaming into my pillow. Just a bit. !!!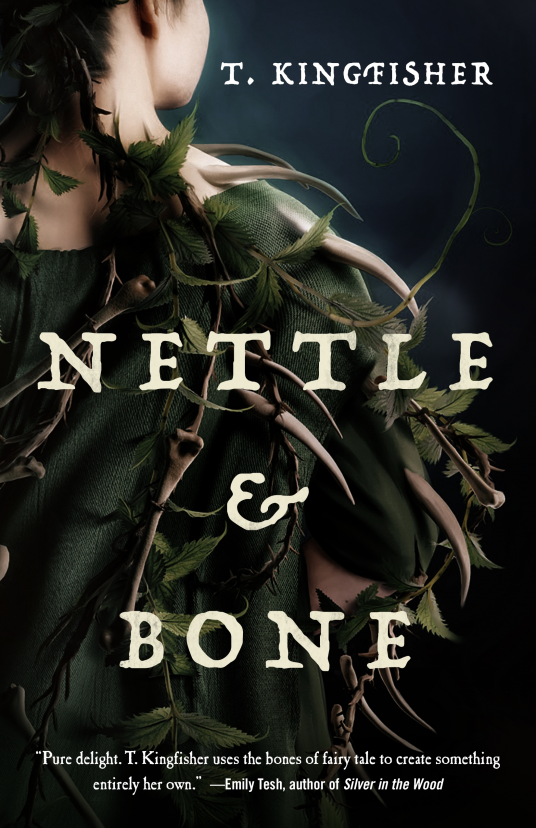 Nettle & Bone
by
T. Kingfisher
Genres:
Fantasy
Published on:
26th April 2022
Goodreads
With her signature mix of the grim and the delightful, award-winning author T. Kingfisher takes the old bones of fantasy and fairytale and makes them into something entirely new in this enchanting adventure.

After years of seeing her sisters suffer at the hands of an abusive prince, Marra—the shy, convent-raised, third-born daughter—has finally realized that no one is coming to their rescue. No one, except for Marra herself.

Seeking help from a powerful gravewitch, Marra is offered the tools to kill a prince—if she can complete three impossible tasks. But, as is the way in tales of princes, witches, and daughters, the impossible is only the beginning.

On her quest, Marra is joined by the gravewitch, a reluctant fairy godmother, a strapping former knight, and a chicken possessed by a demon. Together, the five of them intend to be the hand that closes around the throat of the prince and frees Marra's family and their kingdom from its tyrannous ruler at last.

"Nettle & Bone is the kind of book that immediately feels like an old friend. Fairytale mythic resonance meets homey pragmatism in this utterly delightful story. It's creepy, funny, heartfelt, and full of fantastic characters I absolutely loved!" —Melissa Caruso, author of The Tethered Mage
This isn't the book I'd give to someone who's never read Kingfisher's work before, but it's a perfectly lovely standalone for those who've read some of her other books!
Will you be reading any of these? Did I miss any releases I should know about? Let me know!
Related Posts