Top Ten Tuesday was created by The Broke and the Bookish and is now hosted by Jana at That Artsy Reader Girl. Check out upcoming Top Ten themes on Jana's blog!
Sometimes it's executive dysfunction…and sometimes it's just that I have nothing to say that hasn't already been said by other reviewers, but there are many books I read, love – and don't review.
This is even more the case with 'backlist' books – books I read in 2019 or earlier, that I want to review so more people hear about them…but that I somehow never sit down to write.
So: here's 10 books that I adored beyond reason, but have never gotten a proper review from me!
Kushiel's Dart (Phèdre's Trilogy, #1)
by
Jacqueline Carey
Genres:
Epic Fantasy
,
Queer Protagonists
Representation:
Bisexual MC, normalised queerness, sex positive, sex work
Goodreads
A nation born of angels, vast and intricate and surrounded by danger... a woman born to servitude, unknowingly given access to the secrets of the realm...

Born with a scarlet mote in her left eye, Phédre nó Delaunay is sold into indentured servitude as a child. When her bond is purchased by an enigmatic nobleman, she is trained in history, theology, politics, foreign languages, the arts of pleasure. And above all, the ability to observe, remember, and analyze. Exquisite courtesan, talented spy... and unlikely heroine. But when Phédre stumbles upon a plot that threatens her homeland, Terre d'Ange, she has no choice.

Betrayed into captivity in the barbarous northland of Skaldia and accompanied only by a disdainful young warrior-priest, Phédre makes a harrowing escape and an even more harrowing journey to return to her people and deliver a warning of the impending invasion. And that proves only the first step in a quest that will take her to the edge of despair and beyond.

Phédre nó Delaunay is the woman who holds the keys to her realm's deadly secrets, and whose courage will decide the very future of her world.

Not since Dune has there been an epic on the scale of Kushiel's Dart-a massive tale about the violent death of an old age and the birth of a new. It is a novel of grandeur, luxuriance, sacrifice, betrayal, and deeply laid conspiracies. A world of cunning poets, deadly courtiers, deposed rulers and a besieged Queen, a warrior-priest, the Prince of Travelers, barbarian warlords, heroic traitors, and a truly Machiavellian villainess... all seen through the unflinching eyes of an unforgettable heroine.
Kushiel's Dart is, as I've repeatedly stated, one of my favourite books in all the world; it was formative for me both as a reader of fantasy, and as a queer girl-shaped person. Carey's writing is some of the most exquisite around, and her worldbuilding is probably what inspired my worldbuilding obsession, so.
Maybe I need a few more years of reviewing practice before I'm up to the challenge of doing Kushiel's Dart justice…
The Girl Who Circumnavigated Fairyland in a Ship of Her Own Making (Fairyland, #1)
by
Catherynne M. Valente
,
Ana Juan
Genres:
Fantasy
Goodreads
Twelve-year-old September lives in Omaha, and used to have an ordinary life, until her father went to war and her mother went to work. One day, September is met at her kitchen window by a Green Wind (taking the form of a gentleman in a green jacket), who invites her on an adventure, implying that her help is needed in Fairyland. The new Marquess is unpredictable and fickle, and also not much older than September. Only September can retrieve a talisman the Marquess wants from the enchanted woods, and if she doesn't . . . then the Marquess will make life impossible for the inhabitants of Fairyland. September is already making new friends, including a book-loving Wyvern and a mysterious boy named Saturday.

With exquisite illustrations by acclaimed artist Ana Juan, Fairyland lives up to the sensation it created when the author first posted it online. For readers of all ages who love the charm of Alice in Wonderland and the soul of The Golden Compass, here is a reading experience unto itself: unforgettable, and so very beautiful.
The same is absolutely true of The Girl Who Circumnavigated Fairyland in a Ship of Her Own Making; I love it more than my current skill with words can express. I don't care that it's listed as MG; this is a book that belongs on absolutely everyone's shelf.
An Illusion of Thieves (Chimera, #1)
by
Cate Glass
Genres:
Secondary World Fantasy
Representation:
Bisexual MC (?), sex work
Goodreads
In Cantagna, being a sorcerer is a death sentence.

Romy escapes her hardscrabble upbringing when she becomes courtesan to the Shadow Lord, a revolutionary noble who brings laws and comforts once reserved for the wealthy to all. When her brother, Neri, is caught thieving with the aid of magic, Romy's aristocratic influence is the only thing that can spare his life—and the price is her banishment.

Now back in Beggar's Ring, she has just her wits and her own long-hidden sorcery to help her and Neri survive. But when a plot to overthrow the Shadow Lord and incite civil war is uncovered, only Romy knows how to stop it. To do so, she'll have to rely on newfound allies—a swordmaster, a silversmith, and her own thieving brother. And they'll need the very thing that could condemn them all: magic.
Illusion of Thieves is the first book in the Chimera trilogy and…I adore it. I know Glass under her other writing name, and loved her books for her incredible attention to worldbuilding detail. That shines in this series, but the Chimera books are also intricately fun, with characters I unabashedly adore.
Unnatural Magic
by
C.M. Waggoner
Genres:
Secondary World Fantasy
Representation:
Nonbinary gender, gender non-conforming
Goodreads
A "brilliant and terrifically fun"* debut novel brings an enchanting new voice to fantasy.

Onna can write the parameters of a spell faster than any of the young men in her village school. But despite her incredible abilities, she's denied a place at the nation's premier arcane academy. Undaunted, she sails to the bustling city-state of Hexos, hoping to find a place at a university where they don't think there's anything untoward about providing a woman with a magical education. But as soon as Onna arrives, she's drawn into the mysterious murder of four trolls.

Tsira is a troll who never quite fit into her clan, despite being the leader's daughter. She decides to strike out on her own and look for work in a human city, but on her way she stumbles upon the body of a half-dead human soldier in the snow. As she slowly nurses him back to health, an unlikely bond forms between them, one that is tested when an unknown mage makes an attempt on Tsira's life. Soon, unbeknownst to each other, Onna and Tsira both begin devoting their considerable talents to finding out who is targeting trolls, before their homeland is torn apart…

*Kat Howard, Alex Award-winning author of An Unkindness of Magicians
…Okay, I'm starting to see a pattern here: Unnatural Magic is another of my favourite books, the 'trolls not gender roles' book that is just pure delight from start to finish. It's one of those books that makes me hug my ereader and roll around making ridiculous squeaky noises with a great big grin on my face. I urge everyone to pick it up!
The Ten Thousand Doors of January
by
Alix E. Harrow
Genres:
Historical Fantasy
,
Secondary World Fantasy
Representation:
MC of Colour
Goodreads
In the early 1900s, a young woman searches for her place in the world after finding a mysterious book in this captivating and lyrical debut.
In a sprawling mansion filled with peculiar treasures, January Scaller is a curiosity herself. As the ward of the wealthy Mr. Locke, she feels little different from the artifacts that decorate the halls: carefully maintained, largely ignored, and utterly out of place.

Then she finds a strange book. A book that carries the scent of other worlds, and tells a tale of secret doors, of love, adventure and danger. Each page turn reveals impossible truths about the world and January discovers a story increasingly entwined with her own.
If you somehow haven't heard of this one, or read it yet, I'm envious, because it's breathtakingly wonderful. Which is probably why I haven't dared try to actually review it.
Hm. Possibly a booktuber video that's just happy!screaming and flailing might get my points across???
Escaping Exodus
by
Nicky Drayden
Genres:
Sci Fi
,
Queer Protagonists
Representation:
Cast of Colour, matriarchy, polyamory, F/F
Goodreads
Escaping Exodus is a story of a young woman named Seske Kaleigh, heir to the command of a biological, city-size starship carved up from the insides of a spacefaring beast. Her clan has just now culled their latest ship and the workers are busy stripping down the bonework for building materials, rerouting the circulatory system for mass transit, and preparing the cavernous creature for the onslaught of the general populous still in stasis. It's all a part of the cycle her clan had instituted centuries ago—excavate the new beast, expand into its barely-living carcass, extinguish its resources over the course of a decade, then escape in a highly coordinated exodus back into stasis until they cull the next beast from the diminishing herd.

And of course there wouldn't be much of a story if things didn't go terribly, terribly wrong.
Escaping Exodus is completely out there in the best of ways – but it's not wacky or comedic; it's deep and beautiful and queer to the core. A polyamorous matriarchy living inside living space-beasts??? And it's even better than it sounds!
The Library of the Unwritten (Hell's Library #1)
by
A.J. Hackwith
Genres:
Fantasy
Representation:
Pansexual MC, F/F
Goodreads
In the first book in a brilliant new fantasy series, books that aren't finished by their authors reside in the Library of the Unwritten in Hell, and it is up to the Librarian to track down any restless characters who emerge from those unfinished stories.

Many years ago, Claire was named Head Librarian of the Unwritten Wing-- a neutral space in Hell where all the stories unfinished by their authors reside. Her job consists mainly of repairing and organizing books, but also of keeping an eye on restless stories that risk materializing as characters and escaping the library. When a Hero escapes from his book and goes in search of his author, Claire must track and capture him with the help of former muse and current assistant Brevity and nervous demon courier Leto.

But what should have been a simple retrieval goes horrifyingly wrong when the terrifyingly angelic Ramiel attacks them, convinced that they hold the Devil's Bible. The text of the Devil's Bible is a powerful weapon in the power struggle between Heaven and Hell, so it falls to the librarians to find a book with the power to reshape the boundaries between Heaven, Hell....and Earth.
I think every writer, and would-be-writer, sat up and paid attention when we heard this one pitched. A library of unfinished books??? I was so worried this wouldn't live up to its premise, and I guess it didn't – it OUTdid it!
Stray (Touchstone, #1)
by
Andrea K. Höst
Genres:
Science Fantasy
Goodreads
On her last day of high school, Cassandra Devlin walked out of exams and into a forest. Surrounded by the wrong sort of trees, and animals never featured in any nature documentary, Cass is only sure of one thing; alone, she will be lucky to survive.

The sprawl of abandoned blockish buildings Cass discovers offers her only more puzzles. Where are the people? What is the intoxicating mist which drifts off the buildings in the moonlight? And why does she feel like she's being watched?

Increasingly unnerved, Cass is overjoyed at the arrival of the formidable Setari. Whisked to a world as technologically advanced as the first was primitive, where nanotech computers are grown inside people's skulls, and few have any interest in venturing outside the enormous whitestone cities, Cass finds herself processed as a 'stray', a refugee displaced by the gates torn between worlds. Struggling with an unfamiliar language and culture, she must adapt to virtual classrooms, friends who can teleport, and the ingrained attitude that strays are backward and slow.

Can Cass ever find her way home? And after the people of her new world discover her unexpected value, will they be willing to let her leave?
Andrea K. Host is one of my auto-buy authors, but as a self-published author not nearly enough people have heard of her. Her Touchstone trilogy is my joint-fave of all her works – especially because it uses so many tropes I usually hate (like being written in diary-format) and makes me love them!
Sawkill Girls
by
Claire Legrand
Representation:
Bisexual, Lesbian, Asexual, F/F
Goodreads
Beware of the woods and the dark, dank deep.

He'll follow you home, and he won't let you sleep.

Who are the Sawkill Girls?

Marion: the new girl. Awkward and plain, steady and dependable. Weighed down by tragedy and hungry for love she's sure she'll never find.

Zoey: the pariah. Luckless and lonely, hurting but hiding it. Aching with grief and dreaming of vanished girls. Maybe she's broken—or maybe everyone else is.

Val: the queen bee. Gorgeous and privileged, ruthless and regal. Words like silk and eyes like knives, a heart made of secrets and a mouth full of lies.

Their stories come together on the island of Sawkill Rock, where gleaming horses graze in rolling pastures and cold waves crash against black cliffs. Where kids whisper the legend of an insidious monster at parties and around campfires.

Where girls have been disappearing for decades, stolen away by a ravenous evil no one has dared to fight… until now.
I'm sorry: on-page asexual rep, in a book where magically-gifted girls have to fight demons – and the patriarchy? I don't have words for how much I freaking love this book, okay??? It's also a perfect standalone, for any one who's not up to starting a new series right now!
The God Eaters
by
Jesse Hajicek
Genres:
Secondary World Fantasy
,
Queer Protagonists
Representation:
Gay, M/M or mlm, Indigenous MC
Goodreads
Imprisoned for 'inflammatory writings' by the totalitarian Theocracy, shy intellectual Ashleigh Trine figures his story's over. But when he meets Kieran Trevarde, a hard-hearted gunslinger with a dark magic lurking in his blood, Ash finds that necessity makes strange heroes... and love can change the world.
God Eaters, God Eaters, how I do love thee. *happy sigh* That blurb is totally useless, but I don't blame it, because I don't know how to describe it either. I want to say something powerful about Hajicek's use of language, and the incredible take on gods and mythology, magic and colonialism and queerness. Just.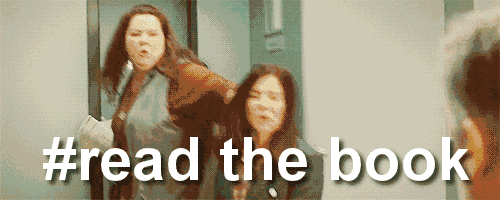 That's my 10! Any books you need to review, and haven't yet?
Related Posts